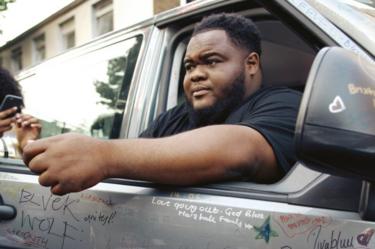 Photo exhibition showcases the people tackling the impact of poverty in 21st Century Britain. The focus of the new exhibition showcases those trying to help their struggling neighbours. And four people making a difference in their communities explain how they became involved.
'I want to be a spark in the plug'
Battersea and Brixton helped shape Micah Lammie into the man he is today, so now he is repaying the debt. "Life was difficult as a kid from a one-parent family," the 30-year-old said. "I was defiant and in a lot of trouble at school. It takes a village to raise a child so I didn't just learn from my parents, I learned from everyone in community. "Those are things I want to continue on, raising our next generation." He initially found work in call centres then a chance encounter at a funeral with Brixton Soup Kitchen founder Solomon Smith gave him his true calling.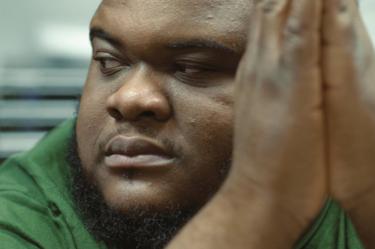 A chance meeting saw him end up at the Brixton Soup Kitchen. "I've known Solomon from back in the day," Micah said. "I asked to get involved and I've never looked back."Now he is the centre manager of the service which offers food and legal advice to rough sleepers and the community. "It's a safe haven for misunderstood people. Everything starts somewhere, there's been ups and downs but we're helping people. I want to be a spark in the plug, I won't change the world but I'll invest in a person who will."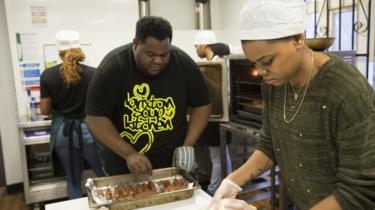 Micah is now its centre manager
'I knew hunger'
After having experienced her own financial struggles, Mary Brennan saw her neighbours in Cross Green, Leeds, were also facing difficulties. "I knew hunger and poverty," the 68-year-old said.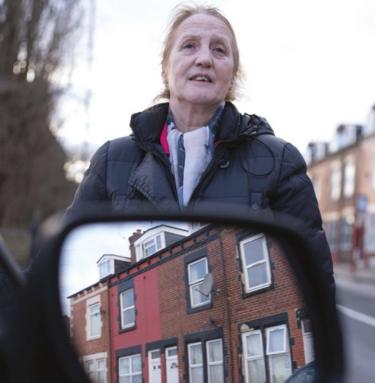 "It used to be just families round here, then landlords started bedding seven people in four-bedroom terraced houses. I noticed they were hungry."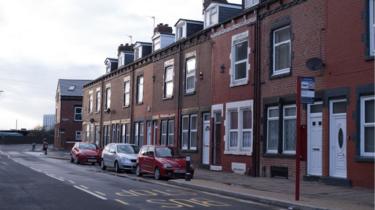 Image copyrightJILLIAN EDELSTEIN
So she helped set up Community Unity, a neighbourhood group that runs a lunch club at St Hilda's Church and created a garden on a disused railway bridge where the community can pick their own food."We don't have many facilities round here, no shop where you can buy fresh food and [there's] terrible problems with transport," she added.
'If you're poor, you can't afford ideas'
Poverty can be a barrier to creativity because people can't afford either the money or time to do it, according to Steve Arnott. The 44-year-old from Hull said hip-hop helped him through a tough childhood and he saw how it could do the same for others. "Hip-hop has always been my love," he said. "There were local workshops which weren't getting many kids because families couldn't afford the fares into town. "I had idea of taking it to them."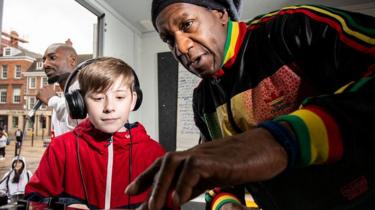 The workshops were aimed at helping children in the community. In 2017, his hometown was the UK City of Culture, so he launched the Beats Bus – a mobile recording studio which he takes into the communities to attract youngsters eager to learn more about hip-hop, DJing, break-dancing and graffiti art. "If you're poor, you can't afford the time to create ideas," Steve said. "The Beats Bus is trying to change that, bringing free studio time to talented kids."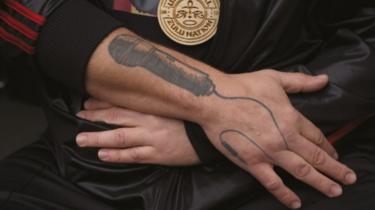 Steve has a tattoo of a microphone on his forearm.
'There's no shame in being poor through no fault of your own'
The issues blighting the Sholes area of Wigan are being tackled by Barbara Nettleton. She previously spearheaded a residents' association to reduce anti-social behaviour and improve services, before taking over the running of the Sunshine House community centre. The site opened in 2005, runs art groups and youth projects with a view to helping people find work. It also operates three shops in the area offering necessities including second-hand clothes and prams, toys and baby clothes.
Barbara Nettleton was a bit shy about being photographed. "When the mines, steelworks and mills closed years ago, it took the apprenticeships away, broke families and industrial areas like ours," Barbara said. There is no shame in being poor when you work hard all your life and end up poor. God judges a nation by how it treats the poor in the society. Jesus said, in Matthew 25:40-46 whoever cares for the poor by feeding them, gives them water to drink or had provided shelter for the "least of these" receives JESUS. The poor are priceless in God's sight because HE created them in HIS OWN IMAGE AND LIKENESS. Bible says value of material possessions is not true measure of quality of human life in God's sight as mankind thinks. Its loving care and fair share of all the resources provided by God as Marslow hierarchy shows God counts towards eternal life.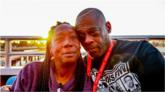 This homeless couple moved in with a millionaire in America. The homeless couple moved in with the millionaire after living on California's streets for 20 years Greg and Marie invited to stay in the home of the millionaire. The local businessman asked if they wanted to share his $4m home. A year later other rich neighbours complain so call police tells us about homelessness crisis in the Western countries. Luke 16 says a rich man enjoyed all great wealth on earth but ended in hell for abuse of the poor Lazarus who went into heaven and is comforted by Abraham. So God judges mankind by how HIS RESOURCES are shared on this earth. Gospel of Matthew 25, 34-46 34 says, KING of Kings "Jesus will say to those on His right, 'Come in, you who are blessed by my Father God because you the fed poor and you clothe them by your kindness, you did it to me so enter heaven. You didn't do it to show off to get praise of people but you did it genuinely from kibdness of your heart to help those who are worse off than you. 
Produced by Hannah Long-Higgins, Chelsea Bailey and Cody Godwin; edited by Hannah Long-Higgins.
The film is part of the BBC's Crossing Divides season and a collaboration with the San Francisco Chronicle. Read Otis Taylor Jr's column on Greg and Marie.
Picture Britain: Our People, Our Poverty was commissioned by the Joseph Rowntree Foundation and created by photographer Jillian Edelstein and investigative journalist Stephen Armstrong. It will be at Borough Market, London, from 20 February to 8 March.
More on this story
Disabled people 'pulled into poverty' as benefits fall short

Joseph Rowntree Foundation urges 'new deal' on poverty

Poverty costs UK £78bn a year, Joseph Rowntree Foundation says
Photo exhibition showcases people tackling poverty