Using defibrillator recently installed at a boy's school highlights urgent training for public to use them. A 15-year-old's life is saved by father after Ethan Askew started to feel ill in sports class and told his teacher before he stopped breathing and collapsed in his arms. Stuart Askew works as premises manager at Steiner Academy school at Much Dewchurch in Herefordshire, which his son attends, and ran to deliver emergency aid. He said afterwards: It was very scary, but I remembered we had a defibrillator so didn't doubt it will be OK ending. NHS England and NHS Scotland are joining British Heart Foundation and Microsoft over next 12 months to create database of defibrillators across UK. The move is in response to figures of public-access to defibrillators used is less than 3% of out-of-hospital cardiac arrests British Heart Foundation says it "significantly reduces the survival chances of tens of thousands of people each year." Stuart says the device was "very easy" to use, acknowledges considering the stressful circumstances. "Thank God this terrible and frightening experience turned into life saving of son. Ambulance arrived in five minutes and Ethan was taken to the hospital and put in induced coma. Tests revealed one of his coronary arteries is too narrow as random genetic condition and because he exercised so much, not enough oxygen was getting to his heart.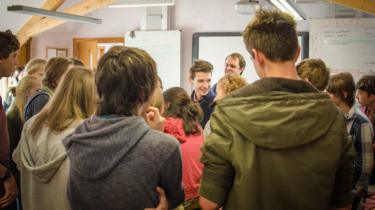 Three days after his operation Ethan surprised his friends at school and was filled in on what went on at school the day he collapsed. Ethan had surgery to replace his artery. Now 16, he says he's fully recovered and "even better than before." He says it feels like a bizarre dream. "I still can't believe it happened. Honestly I can't remember anything from that day. I can remember the day before and I can't remember anything in past until I woke up from my induced coma and then after that it was a bit hazy." And he was not fully aware it was his Dad that saved him. "Everything was so overwhelming, I didn't really acknowledge it that much. I kind of just accepted everything that happened from then on. "They only told me they put it in two days before after I came out of hospital, so was quite a surprise."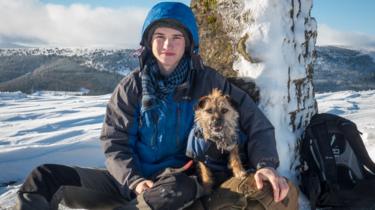 Ethan was hiking in the Brecon Beacons six months after his collapse. But Stuart says things could be very different. "He was due to go on his Duke of Edinburgh silver expedition the week after, which means he'd have been in the middle of the Brecon Beacons. We're so fortunate that it happened within sight almost of a community defibrillator." The first thing Stuart did when he went back to work was to register the defibrillator with the West Midlands Ambulance service. He says people shouldn't be scared to use them in an emergency, even if they haven't had any first aid training. "Have the confidence that the device is there to help. As soon as you unzip pack only one or two buttons to press and the device tells you what to do. "Don't be afraid and just know that you're doing some good – you have the potential to save someone's life having the guts to go get this device is really is having confidence to grab it to help save somebody's life. Airports, village halls, railway stations and nationwide is now available so look out for them. You can help save 30,000 people who suffer cardiac arrest away from hospital each year.  Chances of survival are as high as 75 per cent if defibrillation is delivered rapidly. British Heart Foundation said at least 230 lives are saved already. A heart attack is the main cause of cardiac arrest, when the heart stops effectively pumping blood around body and goes into ventricular fibrillation, meaning the muscles are contracting randomly rather than regularly so heart stops. A defibrillator uses electricity to shock the heart out of this lethal rhythm and back to normal. From the moment one stops breathing, it takes four minutes before brain starts to die. Applying a controlled shock within five minutes of collapse provides best chance of survival. For every minute heart stopped, chances of staying alive reduced by 14 per cent. It is important to remember you can be someone to use defibrillator,' says Clive James, St John Ambulance trainer. The AED automatically carries out many of the key stages of resuscitation, such as recognising electrocardiogram rhythm (ECG). 'This assesses whether the heart is shockable,' says James. 'In 80 per cent of cases it will be.'
Shoppers at Westfield practice using a defibrillator, 10,000 AEDs placed in shopping centres, airports, village halls and railway stations. If cardiac arrest has not occurred, rhythm incompatible, a shock not administered. So sensitive are machines they assess how strong the shock needs to be so most city's Tube and train stations, international airports, churches, schools or in the markets to provide AEDs on sites placed in small white boxes on walls around these places to notice in advance in case you need to help someone. Open the box and lift out the AED to find a small package containing two sticky pads you plug into the main AED box similar to a child's lunchbox. Its latest technology of adhesive pads for better contact with skin than traditional paddles. The gyms need AED trained volunteers to help the fitness instructors during emergency. A defibrillator pack has turn on machine instruction's so voice says put pads on a patient's chest and press buttons.
Carefully lay the two large, white sticky pads on bare chest, one up near right shoulder and the other down by the left ribs. The normal-electro impulse starts in the top right-hand side of the heart and passes to the bottom left-hand side. The machine's electricity pass through heart's normal route. The AED tells you it checks heart rhythm. 'Clear!' Means press the orange shock button if heart in arrest, the shock brings back rhythm but for training pads no current runs through. It is crucial to remember the medic and onlookers take care not to touch patient. 'There are no recorded cases of injury, but it's not worth risking an electric shock. Importance of AEDs is remember to locate and use them and be sure to supply at least three in small premises and 20 in large complexes of playing sports centres. Clinically dead for minutes saved by the defibrillator available and someone prepared to use it. Defibrillators need onsite training for volunteers to test out AED on dummy. Shoppers be aware where its available, as public allowed its use in emergency. Ideally people should be trained, but lack of training shouldn't stop use,' says Dr Jasmeet Soar, of the Resuscitation Council, body behind recent change in regulation. Studies show schoolchildren are able to turn them on and follow the instructions. Trained first-aider may not be at the sight of collapsed patient so people can help save lives. Generis, 37, saved two lives using defibrillator said  help save someone. He felt buzz as the paramedics arrived and they told him he brought patients back.' If one suffers cardiac arrest there's a good chance of survival thanks to AED in sports and social clubs. AEDs are everywhere. And that's very reassuring.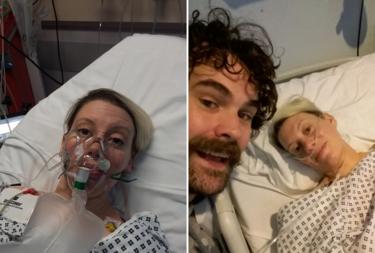 Its always recommended to see a doctor for regular check ups if you feel unwell with changes in your body you cannot understand. It may be the sign of other health issues so take your life seriously and get help immediately. A commedian last year found she had arrhythmogenic right ventricular cardiomyopathy, ARVC condition similar to the Premier League footballer Fabrice Muamba's collapse on the pitch during an FA Cup game in 2012. He recovered although his heart stopped for 78 minutes, but it ended his career as a top-flight footballer. Paul F Taylor's wife Becky Shorrocks spent two weeks in hospital, where she was eventually diagnosed with ARVC. The condition is rare but they think there are more people living with it unawares Shorrocks says. With 80% of people it's found post-mortem so pretty lucky that they did discovered it." After diagnosis, Shorrocks was fitted with an internal defibrillator, which shocks her when her heart rate rises to a dangerous level. Above all take a personal care of health, eat, rest, sleep, drink plenty of water. Remember God is life Giver so honour and preserve life. It is good to press the chest to kick start or give the kiss of life. Learn more about reviving people using massage in places where there is no defibrillator. People use massage and rely totally on prayer in the Mighty Name of Jesus of Nazareth to raise the dead. GLORY be to God.
http://www.sja.org.uk, bhf.org.u