A recent study says sleep deprivation  actually causes brain cells to eat parts of brain's synapses. The study found astrocytes went into overdrive in sleep-deprived mode more brain connections were broken down in chronically sleep-deprived people according to the Sleep Council. On average Britons gets a six-and-a-half hours sleep per night but for most people is not enough. Lots of these studies show that cutting back on sleep, deliberately or otherwise has serious effects on the body. Continuous nights of bad sleep is really messing blood sugar control and causing overeating. It even messes with DNA. A few years ago, Dr Simon Archer help ran experiment and found getting an hour's less sleep a night affected activities of a wide range of volunteers' genes in about 500 in all, including the effects associated with the inflammation and diabetes. And a good nights sleep uplifts body, mind, thought processes and moods or outlook on life.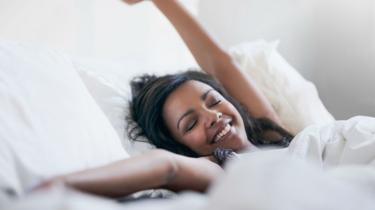 As much as wholistic benefits is gained by sound sleep on the other hand other studies shows negative effects on bodies of sleep deprivation. The clear effects of lack of sleep on mental health is shown by Trust Me I am a Doctor team with the sleep scientists at Oxford University by their experiments. They recruited some volunteers who normally sleep soundly fitted them with devices to accurately monitor their sleep. The first 3 nights of study they got a full, undisturbed eight hours. The next 3 nights, had restricted sleep to just four hours. Each day the volunteers filled in the psychological questionnaire designed to reveal any changes in their mood or emotions. So they kept video diaries of experiences of what happened. Sarah Reeve, a doctoral student who ran the experiment was so surprised by how quickly their mood changed. There was increase in anxiety, depression and stress, also increases in paranoia and feelings of mistrust about other people" she said. "Given that this happened only after 3 nights of a sleep deprivation that is alarming. Volunteers found experience unpleasant but one of them Josh claimed to be unaffected. Yet the computer data evidence showed the effects to be different. Although a week may not have as much toll as he thought it would on him, he said. "felt perfectly fine, not happy, sad, stressed, anything." But tests did on him showed something very different. His positive emotions fell sharply after 2 nights of disturbed sleep, while negative emotions began to rise. Even though he felt OK there were signs he was mentally, beginning to suffer.
What happens in body without enough sleep?
Poor sleep is linked to a whole range of disorders. A review of 153 studies with total of more than 5 million participants found that the short sleep significantly associated with diabetes, high blood pressure, cardiovascular disease, coronary heart disease and obesity.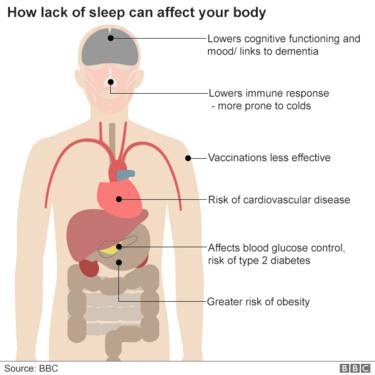 Studies have shown that depriving people of enough sleep for only a few nights in a row can be enough to put healthy adults into a pre-diabetic state. Moderate levels of sleep deprivation damaged bodies' ability to control blood glucose levels. And the vaccines are less effective if sleep deprived because sleep deprivation suppresses immune system making people more prone to infection. One study found participants who had fewer than seven hours of sleep were almost 3 times more likely to develop a cold than those who slept for 7 hours or more. People who do not sleep enough produce too much hormone ghrelin, associated with feeling hungry, and not enough of hormone leptin, associated with feeling full, which may contribute to their risk of obesity. There are also links to brain function and even in the long term to dementia. Prof. O'Mara explains that toxic debris builds up in brain during the course of the day and waste is drained from the body during sleep. If not sleeping enough ends up in a mildly concussed state, he says. The impact of sleeping too much though less understood is linked to poorer health including high risk of cognitive decline in older people. Different types of sleep to repair body and brain. After falling asleep body goes through the cycles of "sleep stages" lasting between 60 and 100 minutes. Each stage plays different role in the many processes that happen in our body during sleep.

The first stage in each cycle is a drowsy, relaxed state between being awake and sleeping breathing slows, muscles relax, the heart rate drops. The second stage is a slightly deeper sleep may feel awake and this means on many nights, may be asleep and not know it. Stage three is deep sleep. It is very hard to wake up during this period because it is when there is the lowest amount of activity in body. Stages two and three together are known as slow wave sleep which is usually dreamless. After deep sleep we go back to stage two for a few minutes, and then enter dream sleep, also called REM (rapid eye movement). As name suggests is when dreaming happens. In a full sleep cycle a person goes through all the stages of sleep from one to three, then back down to two briefly, before entering REM sleep. Later cycles have longer periods of REM, so cutting sleep short has a disproportionately large effect on REM.
'Stuck' In Negative Thoughts
The outcome of this small test reflects results of other much bigger tests done by other university researchers all over the world of sleep deprivation affecting  mental health. The research recruited more than 3,700 university students across the UK who reported problems sleeping and randomized them into two groups. One group received 6 sessions of online CBT (cognitive behavioural therapy) for improving their sleep; the other group got standard advice. Ten weeks into the study, the students who received CBT reported a halving in rates of insomnia, accompanied by noticing the significant improvements in scores for depression, anxiety, big reductions in paranoia and hallucinations. This is the largest random controlled trial of psychological treatment for mental health in UK. And it strongly suggests that insomnia really causes mental health problems rather than simply being consequence of them. Daniel Freeman, the professor of the clinical psychology, Oxford University led study and thinks one of the reasons why sleep deprivation is bad for brain is because it encourages the repetitive negative thinking seen. And negative thoughts happen if sleep-deprived and gets stuck in them," he said. He does not think a few nights of bad sleep means you becoming mentally ill but think it increases the risk.
One in three people have difficulty in sleeping about 5% to 10% of the general population has insomnia but so many people get on with their lives and they cope with it. But it does raise the risk of a whole range of other mental health difficulties." The positive side of this research is it implies helping people get a good night's sleep goes a long way to helping improve a sense of well-being. And Norbert Schwarz, the professor of psychology at University of Southern California, has even put a figure on it. He claims: "Making $60,000 (£48,400) more in annual income has less of an effect on your daily happiness than getting one extra hour of sleep a night." So, sleep well. In children, their sleep deprivation seems to have a slightly different effects on kids vs. adults. One recent study found the brain changes so half-night of sleep deprivation affects the back regions of the brain instead of the front regions as it does in adults.
Effects of Sleep Deprivation on Brain
Lots of studies reveal damaging effects of sleep deprivation on the brain. Scans from various research shows difference in brain between sound sleep and those of deprived sleep. Biological and social influences converged to create a perfect storm keeps some awake at night. In the pre-industrial times, people woke up at first light and naturally wind down at sunset. Little work could be done in the dark by candlelight but the invention of artificial light altered sleep experiences by turning night to daylight. Lightbulbs, television screens, smartphones confuse bodies' internal clocks to interrupt the natural sleep cycle. Modern society has been conditioned to think sleeplessness is a badge of honour and productivity. Some people naturally adapted to these changes but for others these changes are against nature so has exacerbated an underlying biological deficiency and created a cycle of sleeplessness.
A new clinical study by the Princeton Consumer Research says break cycle without relying on harmful chemicals with addictive properties. Alleviate this problem in a simple way using natural ingredients to promote a healthy sleep. In the last 18 months, researchers in a GMP-certified facility in New York have perfected a formula containing 5 safest and most potent natural compounds for restful sleep. In addition the position of sleep affects mental health and sound sleep. So sleep experts advise people to sleep more on their sides to enable the brain to detox and drain waste products better. People's personality often can be determined by their sleep patterns and positions leading to their performance in life. Whatever position suits each one depends of personal choice and comfort though health can affect sleep position. In some circumstances environmental noise pollution can intrude into sleep no matter preparations made. In such cases it is wise to consult sleep experts for professional cobsultation advice. 
The univeristy also developed natural sleep nutrients to help improve sleep. It is advisable to contact a doctor before embarking on any form of natural or a medical aid to sleep. A natural RediNite combines delicate balance of Melatonin, and the L-Tryptophan, Magnolia Bark, Lemon Balm, and Passion Flower to help your mind wind down to promote healthy, sustained sleep. Each of the 5 natural ingredients in the RediNite formula has been clinically proven to boost levels of GABA and melatonin, allowing body to sleep peacefully and naturally to flush waste proteins from brain accumulated while awake. The result is falling into a deep sleep more quickly and waking up feeling refreshed, and ward off morning grogginess. Whether an early bird or a night owl, RediNite helps to establish a healthy sleep routine centered around your specific needs. When you struggle with sleeplessness, you need something to helps fall asleep fast, promotes deep, restful sleep so you wake up refreshed each morning. The Princeton Consumer Research performed a clinical trial to test RediNite's effectiveness within 30 minutes and over the course of 30 days.
While it is not a miracle cure, clinical results are very encouraging. After one week of use, more than 3 out of 4 study participants fell asleep in 30 minutes of taking RediNite. In addition, over 95% said their sleep quality improved within 30 days. None of participants reported any negative side effects. The results were statistically significant compared with placebo. RediNite is vegan, non-GMO, and gluten-free, and is made in a GMP-certified facility in New York to ensure the highest standards of safety. The entire RediNite compound fits into one vegetable capsule with low-dosage, high-efficiency ingredients helps for the immediate relief. Taken daily, body will safely absorb the RediNite's natural ingredients and help to achieve deep restful sleep each night. Go to sleep faster and stay asleep longer by trying RediNite tonight. This exclusive offer is not available in stores. Available online through November 4th. Click the link below to claim 30 Day Trial of RediNite.
God is always watching over you
1. Psalm 121:2-5 My help comes from the Lord, the maker of heaven and earth. He will not let you fall. Your guardian will not fall asleep. Indeed, the Guardian of Israel never rests or sleeps. The Lord is your guardian. The Lord is the shade over your right hand.
2. Proverbs 3:24  When you lie down, you will not be afraid. When you rest, your sleep will be peaceful.
3. Psalm 4:7-8 But you have made me happier than they will ever be with all their wine and grain. When I go to bed, I sleep in peace, because, Lord, you keep me safe.
4.  Psalm 3:3-6 But you, Lord, protect me. You bring me honor; you give me hope. I will pray to the Lord, and he will answer me from his holy mountain. I can lie down to rest and know that I will wake up, because the Lord covers and protects me. So I will not be afraid of my enemies, even if thousands of them surround me.
Rest Assured
5. Proverbs 1:33 but whoever listens to me willlive in safety and be at ease, without fear of harm.
6. Psalm 16:9 Therefore my heart is glad and my tongue rejoices; my body also will rest secure.
7. Isaiah 26:3 You will keep in perfect peace those whose minds are steadfast, because they trust in you.
8. Philippians 4:7 And the peace of God, which transcends all understanding, will guard your hearts and your minds in Christ Jesus.
Don't sleep too much
9. Proverbs 19:15 Laziness brings on deep sleep, and the shiftless go hungry.
10. Proverbs 20:13 If you love sleep, you will end in poverty. Keep your eyes open, and there will be plenty to eat!
11. Proverbs 26:14-15 Like a door on its hinges, a lazy man turns back and forth on his bed. Lazy people are too lazy to lift the food from their plate to their mouth.
12. Proverbs 6:9-10 How long will you lie there, you lazy person? When will you get up from sleeping? You sleep a little; you take a nap. You fold your hands and lie down to rest.
Don't overwork yourselfeither. Can't sleep? Check out verses for sleepless nights. 
13. Ecclesiastes 5:12 The sleep of a laborer is sweet, whether they eat little or much, but as for the rich, their abundance permits them no sleep.
14. Psalm 127:2 It is useless for you to work so hard from early morning until late at night, anxiously working for food to eat; for God gives rest to his loved ones.
Examples
15. Jeremiah 31:25-26 I will refresh the weary and satisfy the faint. At this I awoke and looked around. My sleep had been pleasant to me.
16. Matthew 9:24 He said, "Go away, for the girl is not dead but sleeping." And they laughed at him.
17. John 11:11 After saying these things, he said to them, "Our friend Lazarus has fallen asleep, but I go to awaken him."
18. 1 Kings 19:5 Then he lay down under the bush and fell asleep. All at once an angel touched him and said, "Get up and eat."
19. Matthew 8:24 Suddenly a furious storm came up on the lake, so that the waves swept over the boat. But Jesus was sleeping.
20. Matthew 25:5 As the bridegroom was delayed, they all became drowsy and slept.
Sleep Sleep Sleep Sleep 
Sleep, sleep,
Don't peep,
Night is coming soon;
Mama tucks her sleepyheads,
Snugly in their cozy beds;
Sleep, sleep,
Don't peep,
Night is coming soon.
Soon…
Good night,
Sleep tight,
May your dreams be sweet;
Twinkling stars, their watch will keep,
While the angels guard your sleep,
Good night,
Sleep tight,
May your dreams be sweet.
Sweet…
Courtesy Credits:
Rebloged and Updated
Words & Music: W. Otto Miessner Adapted By: Terry Kluytmans © 2002
Trust Me I'm a Doctor – Mental Health Special on BBC2 at 21:00 GMT Wednesday 1 November.