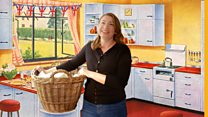 Submitting to my husband like it's 1959 made me traditional wife: #TradWives. A growing movement of women who promote ultra-traditional gender roles in the family. A search of the hashtag '#tradwife' on social media shows images of cooked dinners and freshly-baked cakes with captions like, "A woman's place is in the home" or "Trying to be a man is waste of woman." Term 'tradwife' is controversial because of its associations with far right, in the United States. But many self-described tradwives reject that association. Alena, who lives in UK, says it's "submitting to and spoiling her husband like it's 1959" and supporting a return to "traditional English manners, lifestyle and values."
A modern 21st Century woman wants  marriage on her own terms regardless of traditional expectations it's her way or the highway without compromise. Its a contradiction of wanting to play a role of married life but live as single woman with/out child/ren runs a shock wave to traditional family duty of commitment. A freestyle modern marriage competes with man on equal terms, pay their way contributes to mortgage, bills and calls the shorts. Quite confusing modern men totally unprepared for modern roles. Its women who seem to earn more than men who decide to exchange traditional role to become breadwinner to bring home the bacon. Paternity leave is three months with paid leave seems enough proposition but time taken off to care for newborn not enough.
If returns to work who pays the bills or cares for baby if both of parents work, do not have nanny, grandparents, au pairs? Will part time work be enough to cover costs of running a home including the needs of their baby? There is a vast difference between wo/men's nurturing in most countries. Women with career ambitions ask men, who like to spend time with families to become stay home dad is conundrum of painful choices. If leaves baby at day care centre must pay all the costs including sending food and nappies for the baby plus costs of care for baby. Women who hold positions of power in the workplace that culture is stacked against the women particularly those who combine marriage and career with motherhood. Those who give up a fulltime work as house wives are seen as lazy and work shy. Those who work and don't have full time with baby are mom shamed as uncaring? Can women ever do anything right?
Produced and filmed by Alex Gatenby
Executive Producer: Rob Brown
Commissioning Editor: Nisha Diu