Thyroid gland plays role in regulating metabolism. Abnormal thyroid has a major impact on control of diabetes. Untreated thyroid  disorder increases a risk of diabetic  complications and can aggravate diabetes  symptoms.
Low carbs foods are effective in helping control blood sugar and is safe for most people. If taking medication for diabetes you must work with healthcare advisers to adjust medication before changing to any diet. Need for medication insulin is reduced if healthy nutrition is effective.
Many people with diabetes, prediabetes improve health with dietary changes. So changes reduce or eliminate a diabetes medication to help lose weight. D
iabetes blood sugar, glucose disorder. Insulin in pancreatic hormone lowers blood sugar moving it out of bloodstream to a body's cells.
Type 1 diabetes
is autoimmune or pancreas damaged not produce insulin. This diabetes is diagnosed in childhood occurs in adults. T
ype 2 diabetes defect to produce insulin by pancreas insulin deficient insulin resistance makes blood sugar level rise. Excess glucose in blood damages blood vessels. Body tissue can't use glucose for energy and sugar stays in bloodstream not entering cells. High glucose level high blood sugar is type 2 diabetes. Insulin-resistant person has too much insulin in the blood due to the pancreas dysfunction insulin-producing beta cells. Pancreas has two problems of inability to use insulin, pancreas sends insulin to flood body's insulin receptors overcome resistance if the blood sugars normal. Too much beta cell function lost pancreas not use excess insulin increase fat in body. Leads to weight gain insulin resistance cycle high insulin level.
Diet and exercise help decrease insulin resistance and weight gain can prevent or reverse diabetes. Doctor's use blood glucose meter to test blood sugar: Less than 100 mg/dL (5.6 mmol/L ) after fasting overnight, and up to 140 mg/dL (7.8 mmol/L ) two hours after a meal
Prediabetes: Between 100-125 mg/dL (5.6-7.0 mmol/L) after fasting overnight
Diabetes: 126 mg/dL (7.0 mmol/L) or higher after fasting overnight, or higher than 200 mg/dL (11.1 mmol/L) at any time
Glucometer readings are not considered accurate enough to make a diagnosis of diabetes or prediabetes. If blood sugar is high on a glucometer, ask your doctor to run a regular blood test to confirm diagnosis. Single abnormal blood sugar not enough diabetes two needed. If on a low-carbohydrate diet concerned about measurements find out how a low-carb diet affects blood sugar measurements. If blood turns "too sweet" glucose levels rise. Sugar in blood comes from liver in food eaten. You can't control amount of sugar liver makes, but control foods you eat. Foods are a macronutrients (major nutrients): carbohydrate, protein or fat. Combined two or three macronutrients.
Carbohydrates and blood sugar
Foods turn into glucose digested called carbohydrates, carbs in bloodstream is blood glucose or blood sugar.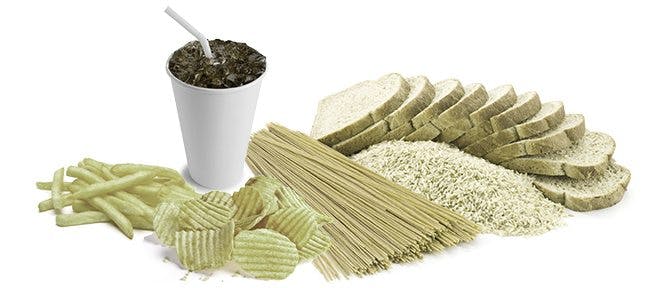 More carbohydrate in a meal, the more sugar is absorbed into bloodstream and higher blood sugar. Bread, rice, pasta, potatoes turn to sugar when digested. A potato raise blood sugar as 9 teaspoons of sugar based on genetics and insulin sensitivity. Eggs, poultry, meat, seafood and tofu is moderate amount protein in a meal has little effect on blood sugar. A healthy diet fat has little effect on blood sugar. Excess cheese proteins, fat foods can raise blood cholesterol. Doughnuts, French fries carbohydrate, fat high in these foods raise blood sugar. The carbs convert to glucose sugar in the blood. To lower blood sugar with diet remove the foods that raise blood sugar from diet?  Best foods controlling diabetes a picture is worth a thousand words are delicious foods eaten in moderation don't raise blood sugar.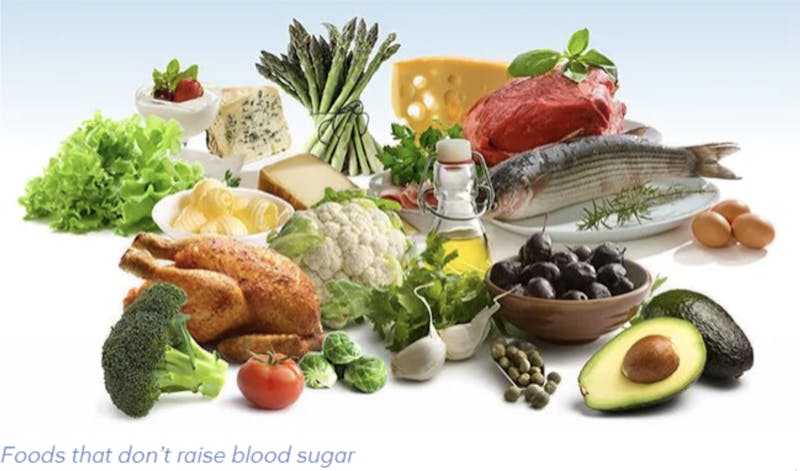 Many people with type 2 diabetes diet of low-carb foods clinicians says first meal, blood sugar improves. A medications of insulin is reduced, weight is lost, health improves. People feel better, have more energy or alertness. Foods low in carbs control blood sugar is safe for people. If taking medications for diabetes work with healthcare provider to adjust your medications. Research shows low-carb diets are a safe and effective option for treating type 2 diabetes. Evidence show systematic reviews and meta-analyses of randomized controlled trials highest quality. A meta-analysis found that low-carb diets reduced need for a diabetes medication and improved certain bio-markers in people with type 2 diabetes. Reduced the haemoglobin A1c (HbA1c), triglycerides, blood pressure; increases high-density lipoprotein (HDL) "good" cholesterol. 94% of those in low-carb group reduced or stopped insulin use. 25% HgbA1c in normal range no need of medications disease in remission. 35% did the same with metformin two-year high proportion of continued sustained improvements in glycemic control. The evidence type 2 diabetes does not have to be progressive irreversible disease. It is treatable disease of effective lifestyle intervention when consistently used.
Credit Curtesy Images & References:
NHS Diabetes & Healthy Eating Lifestyle
Glucose build-up in bloodstream due to insulin resistance SOURCE: 1) Discover (Dec 2005, Vol 26, No.12).
"Anatomy of A Deadly Disorder." page 65 (graphic). 2)5A11316 (Type 2 Diabetes)
Dr. David, Unwin Sugar Foods, How to reverse type 2 diabetes: