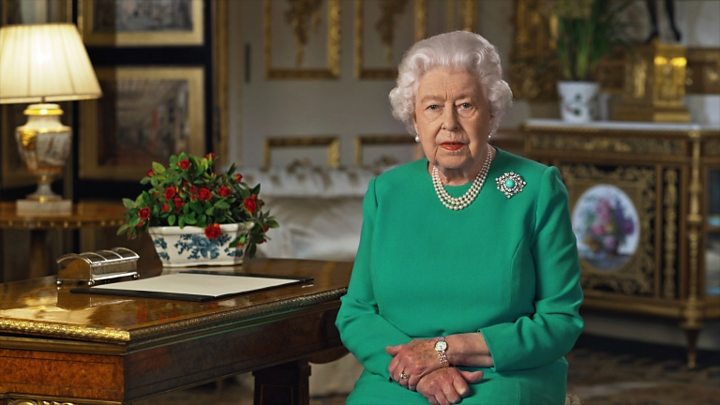 The Queen's royal speech addressed the nation with a message titled, "we will meet again" to tell people life goes on despite Covid-19. The Palace  stressed unity and giving thanks to the frontline workers so the broadcast is designed to reassure and inspire all people, in times like this. People across the UK gathered to watch the Queen's address. But most of all the recast of coronavirus crisis is a defining moment for all nations forever in efforts to save vulnerable lives. NHS staff under enormous pressure to work without PPE adequate equipment. With Second World War metaphors around at the moment, the Queen remembers by a direct reference to her first radio broadcast in 1940. Then, Queen a young princess and her sister Margaret spoke to the children who were evacuated.
The Queen: "We will be with our friends again we will be with our families again we will meet again." Reminds of times of innocence of childhood and sacrifices earlier generation of a long perspective on Britain's history. Echoes of a struggle of the 1940s defined Britain's self-image, through broadcast. Winston Churchill said, after fall of France in 1940, after a thousand years Britons say, "still finest hour." The Queen says history will judge the nation and "those that come after us will say Britons of this generation are as strong as any." "Life of who we are isn't part of our past," "it defines our present and our future." The Queen celebrated communal feeling existing today by an  applause for care and essential workers. She said, "expression of our national spirit" and "symbols of rainbows drawn by children" displayed on the windows share hope in perilous times. The talk of peaceful national traits, "self-discipline" "quiet, good-humoured resolve" "fellow-feeling" of common good of the nation.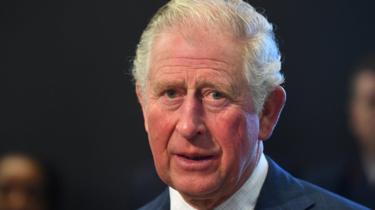 The Queen's eldest son, Prince Charles, spent seven days in isolation on testing positive for coronavirus. The queen's speech is about collective effort to help each other. "Together we are tackling a disease," she said. "If we remain united and resolute, we will overcome it." "We will succeed," she insisted, "and success belongs to each and every one of us." So was time for some great-grandmotherly wisdom occupying often lonely position, offered her thoughts to all alone in self-isolation. In UK, almost all front pages carry photograph of Queen, delivering address to nation from Windsor Castle.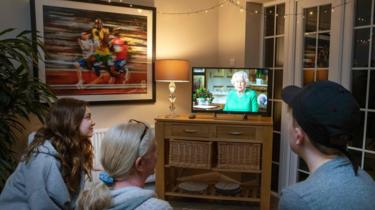 A family in Hampshire watched Queen's TV address on coronavirus outbreak as The Daily Mirror and the Sun pick out the same message for headlines: "We will meet again." For the Daily Mail, the historic address evoked the memories of Vera Lynn and "Britain's Blitz spirit." Thd Guardian's sketch writer John Crace says monarch's address is  "clear moral leadership" many political leaders have failed to provide in the current crisis. It is only a certain amount of head of state who can speak in times like these but a reference to the government's efforts to tackle the outbreak is notably absent. It is important to support each other and to pray for prime minister in hospital with the Corona virus.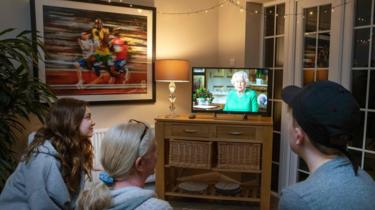 The Queen's speech encourages people to seek God, if a believer pray, meditate or non believer reflect. God's earth faces things happening globally affects as the Bible in Isaiah 24 says apocalyptic event will happen to whole earth. 1. The LORD God makes earth empty to waste it. God distort plans of earth scatter inhabitants abroad. 2. Cataclysmic events shakes the people priests, servants, masters, maids, mistress, buyer, seller, lender, borrower creditor, debtor 3 The land is so empty its plundered as the LORD's said. 4 The earth mourns, languishes and haughty proud panic. 5. The earth is destroyed as inhabitants transgressed God's laws by breaking Covenant. 6. So curse devoures earth and all who dwell in it so desolate. The inhabitants of the earth are burned, and few men are left. 7. The new wine fails, vine languishes, the merry-hearted sigh. 8 The sound of tambourine ceases, noise of jubilants end, joy of harp cease. 9 They shall not drink wine with a song, strong drink is bitter to who drinks it. A 10 city of confusion is broken down the  houses are shut up so no one goes in. 11 There is cry for wine in streets, joy and pleasure of land is gone 12 The city is desolate gates struck with destruction. Prime minister hospitalized in intensive care unit as Covid-19 affects globally.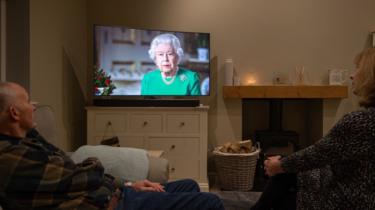 The Queen's prayer is said for nations as 13. Land shake like olive trees, gleaning of grapes. 14 They will lift up their voice and sing; People sing on balconies and the majesty of the LORD is heard aloud from the sea. 15 Glorify the LORD at the dawn of light so name of the LORD God of Israel heard in coastlands of the sea. 16 From ends of earth we hear songs: "GLORY to the righteous God but some say, "I am ruined, ruined! Woe to me! Treacherous dealers deal treacherously. 17 Fear and snare on the inhabitants of earth. 18 All who flee from noise by fear fall into pit and are caught in snare. The windows on high open and foundations of earth is shaken. 19 The earth broken, splits open is shaken. 20 The earth shall reel to and fro like drunkard shakes. So transgressions shall be heavy it will fall and not rise again. 21 And shall come to pass that day the LORD  will punish the exalted ones on the earth and kings of the earth. 22 They are gathered together as prisoners shut in a prison after many days will be punished. 23 The moon will change, sun flare for the LORD of hosts reign at Mount Zion Jerusalem with HIS people GLORIOUSLY on earth.
We'll meet again
Don't know where
Don't know when
But I know we'll meet again some sunny day
Keep smiling through
Just like you always do
'Till the blue skies drive the dark clouds far away
So will you please say hello
To the folks that I know
Tell them I won't be long
They'll be happy to know
That as you saw me go
I was singing this song
We'll meet again
Don't know where
Don't know when
But I know we'll meet again some sunny day
We'll meet again
Don't know where
Don't know when
But I know we'll meet again some sunny day
Keep smiling through
Just like you always do
'Til the blue skies drive the dark
clouds far away
So will you please say hello
To the folks that I know
Tell them I won't be long
They'll be happy to
That as you saw me go
I was singing this song
We'll meet again
Don't know where
Don't know when
But I know we'll meet again some sunny day
1 God be with you till we meet again;
By His counsels guide, uphold you,
With His sheep in love enfold you;
God be with you till we meet again.
Till we meet, till we meet,
Till we meet at Jesus' feet;
Till we meet, till we meet,
God be with you till we meet again.
2 God be with you till we meet again!
'Neath His wings protecting hide you,
Daily manna still provide you;
God be with you till we meet again!
3 God be with you till we meet again!
When life's perils thick confound you,
Put His arms unfailing round you;
God be with you till we meet again!
4 God be with you till we meet again!
Keep love's banner floating o'er you,
Smite death's threaten wave before you. God be with you till we meet again!
During self-isolation trust God in Christ.
A 99-year-old war veteran raised £23m for NHS to be guest of honour to open Nightingale hospital in Harrogate. He aimed to raise £1,000 for NHS Charities Together to complete 100 laps in garden before his 100th birthday. The veteran, born in Keighley, West Yorkshire appear via video link at opening on Tuesday. He said its an honour and chance to thank NHS workers directly. May God bless all NHS workers sacrificing their precious lives in the frontlines to help others in these times. Thank you all soooo much.
Capt Tom, lives in Marston Moretaine in Bedfordshire, said: "I am still amazed by the amount of kindness and generosity from UK public who continue to give in spite uncertain times for many. "I think the amount raised demonstrates how much we all value the dedication and sacrifices made by our NHS workers. I fought during a war they are fighting in a war too. NHS Charities Together said is truly inspired and humbled by his efforts. What a great example to us all no matter what we are going through to do what it takes to help and support others. No effort is too small too insignificant to make a difference. Its so encouraging God bless him.
Simon Stevens, the NHS chief executive, said: "On behalf of the NHS our heartfelt thanks go to Captain Tom Moore for his remarkable fundraising efforts for NHS charities. "Inviting Captain Moore to be our guest of honour at opening of NHS Nightingale Yorkshire and Humber is to thank him. The Harrogate Convention Centre will be used for 500 beds the first of the field hospitals to be built outside a city. The veteran, served in Myanmar in Second World War, praised by Duke of Cambridge, described as a "one-man fundraising machine." Prince William  donated undisclosed amount. God bless him and the royal family and all people.