Father ALMIGHTY LORD GOD the MOST HIGH GOD in Jesus' Name we call YOU through the Holy Spirit and pray to use water to drink to live or wash ourselves. Thank you for precious gift of water we pray and ask you to bless this water in the Mighty Name of Jesus. Thank YOU God for blessing water to continue to enjoying this gift. In Genesis 1:2, You sanctified water in the beginning, Your Spirit hovered above the waters. Peter 3:5 says "the heavens and earth formed out of water and by water by the Word of God. Hebrews 11:3 says through faith we understand world formed by Word of God so the things seen are made from invisible unseen things. YOU Sanctified water in the Holy Bible brings life into the seas and rivers miraculously by God's Spirit to sustain life. We have life because we drink water and live earthly life. Thank YOU GOD for the water and food from earth irrigated fertile land by water to bring life to creation. We bless water in rivers in YOUR HOLY NAME; We bless lakes, oceans, ice deposits, mountains, sources of water and under surface of earth and atmosphere. 80% of the body and earth is water to sustain life. We bless water in our body, LORD God, bless us in Jesus Name. As water quenches thirst in Mark 9:41, clean our body to circulate blood flow distributing oxygen. Jesus the Living Water talked to the Samaritan woman in John 4:9-14. So Water from Jesus satisfies and refreshes releasing new life. References to water in Bible by Early Church practices used water to clean, detox, release new life. Living Water restores life, brings health joy and happiness to help deepen faith in God. Water is important in our lives because the body needs water to live. It is said without water body survives not more than 7days in good health. We are cleaned and redeemed by Living water Jesus Christ. Our LOVING FATHER GOD ALMIGHTY we thank YOU for leading your people through waters of the Red Sea to freedom to the Promised Land.
The waters parted to save Israel but the same waters drowned Egyptians after God heard their cries so delivered them. God remembered Covenant made with Abraham and descendant King David to put Seed on his Throne. Thank you Jesus for passing through the deep waters of death to open the way of salvation for us. Send the Holy Spirit to sanctify this water to wash us as we use the water. Jesus was buried and rose again so all in Christ rise with him to find freedom as God's Children in Christ forever. We praise you, LOVING FATHER, for the gift of YOUR Son Jesus baptized in the River Jordan. You sanctified water in person of YOUR SON Jesus Christ baptized in water in river by John the Baptist. Your Spirit came on Him to reveal Him YOUR Beloved Son to hear Jesus your true Messiah. He sent followers to baptize all who turn to Him sanctified by baptism with water in the Name of God the Father the Son and the Holy Spirit. Now, Father, we ask you to bless this water so those baptized in it are cleaned in water of life so filled with YOUR Spirit to know they are beloved as YOUR children, safe in Christ forever. As YOU sanctified water in Holy Scripture miraculously to wash lepers clean and cured Naaman, army commander from Syria healed. Clean water sprinkled on a person after prayer clean impurities of idols. In Ezekiel 36:25 God sprinkles the clean water to clean all the uncleanness from all idols to clean you in the Mighty Name of Jesus. Clean water washes the defilement to understand God's WILL in restored conscience. Effects of spiritual filth is cleaned by a sprinkling of clean water to make pure, clean, healed. Pool of Bethesda is a living history testimony of water to clean, heal sick. Jesus healed disabled man on Sabbath waiting for 38 years for the angel to stir the water.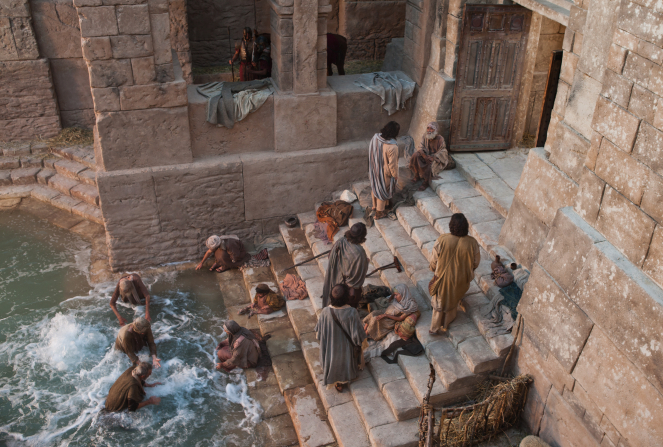 Holy Spirit open "eyes of understanding to see things of God better than before in Ephesians 1 :18. God creates man in HIS OWN Image to give understanding if Spirit joined to God through the soul. Sin contaminates so separates from God flow of Holy Spirit hindering answers to prayer. Clean water restores to God and gives a righteous relationship to God to understand God better, gain knowledge, insight into God's plans and purpose for your life. Clean water sprinkled on you brings the living Presence of God to you so a better worshipper. The clean water, sprinkled with washing of water by the word washes and regenerates the mind, body, Spirit and soul made alive to God in Mercy by the Grace of God, restoring the glory of man obtained by salvation in Christ. So sprinkles clean water from heaven God's dwelling place drops on you cleans by miracle power operating on you washes sin so the Light of God, comes to expel darkness so your deeds are reproved in John 3:19, 20 so we see light in God's Light. Gospel is preached as faith comes by hearing Word of God in Spirit and in Truth it penetrates your mind and heart to stir your conscience. So you shine more towards perfect day in Prov. 4:18. You read Scriptures more so hear the Truth to increase belief and Trust God and Obey HIM more. So the sprinkling of clean water on you keeps you in harmony with God. Abomination of sin and curse of the law is removed by God from you to submit to the WILL of God in humility. God sprinkles clean water to remove stiff stubborn neck to please God. Your conscience is cleaned from guilt and weight of sin to enjoy the blessings of God by Jesus Atoning Blood He who believes in Me, as the Scripture has said, out of his heart will flow rivers of living water in John 7:38. The reward of faith is great and endless. So believer enjoys life more even more abundantly in Jesus Name. The River of Life cleans iniquity that pollutes to defiles Spirit of God stops vile abominations in Christ.
Jesus heals self-loathing self-abhorrence blocking eyes from love of HOLY God so cleans to renew Spirit to receive pardon forgiveness in Christ purifying efficacy. And Jesus Walks on Water in Matthew 14:22-36; Mark 6:45-56; John 6:16-24 to teach us to keep our eyes on Jesus. Let us keep looking up to Jesus the author and finisher of our faith. He makes it a point that by faith Peter too could walk on water. This event is significant for a lesson in faith in this biblical account to prove Jesus did a miracle of walking on the water to convince His disciples that He was indeed the Son of God and not a ghost as they thought. And the Blood of Jesus sets you free from sin and sorrow to wash away guilt of filthy sin. A clean heart bears now fruits of Holy Spirit in Galatians 5:23 so is gentle, kind, tender, submissive obedient to Word of God. You set your heart on the things above seated in Heavenly places in the world but not part of it so shapes and forms, your affection to love God im Christ love people as Jesus dwells in your heart sits at the right hand of God. Clean water sprinkled on body changes you to new creation in Christ, old things pass away. The love of God shed abroad in your heart by the Holy Spirit kindles joy of the LORD GOD in you a testimony to all who see you. Jesus washed the feet of disciples by water to make clean and Peter said,  "Lord, not my feet only, but my hands and my head." Jesus said,"If I wash you not you have no part with me, a person who has a bath needs to wash feet as the whole body is clean. A clean water sprinkled on you cleans face eyes washes away mucky life. Christ blood washes renewed Spirit daily continually to keep you clean. Ephesians 5:26 says you are made holy, cleaned by washing with water through the Word of God as water clean believers to heal and make whole. The word of God is sharper than two-edged sword, cuts through marrow and bones discern thoughts of the mind and hearts. GOD knows inner thoughts of the mind and sees deep into hearts. Anything not of God is flushed out by Living Water ministered in Jesus Name.
Petitions to God, direct prayer to God to grant specific requests used in the Bible, the Church's writings, rabbinic literature, Torah, Talmud.
Invoke Holy Spirit of God Calling upon the Holy Spirit of God to help evoke Spirit of God through prayer to support an individual or group. Sometimes cannot pray ourselves so the Holy Spirit intercedes for us through our groanings and tears.
Focus on God in Christ helps to train a person praying to focus on Almighty God by meditating on the word of God. So worthy to enter His Presence through Jesus Blood.
Divine Support Prayer to God in Jesus Name to help seek Divine support through Spirit of God.
Transforms Life by prayer to seek God to change our human nature through prayer to strengthen us to live according to the word of God.
For prayer of Intercession GOD says in Jeremiah 29:7 S

eek PEACE in city you live, pray to 

LORD

 God for city's peace is your peace… 

11 

I know the thoughts I think towards you says the

LORD

 God thoughts of peace so not of evil to give you an expected hope in the end. 

12

So call on ME, pray to ME and I will hear you. 

13

Seek and find ME, Search for ME with all your heart.
USES OF SALT FOR PRAYER IN BIBLE 
The phrase 'the salt of the earth' from Bible, in Matthew 5:13 says you are the salt of the earth: but if salt loses savour how can it salt. Excellent meaning of the salt of earth by Jesus refers to value of salt in same way believers are valued by God. Salt is used as symbol of sacred sign in ancient Israel in Numbers 18:19 and 2 Chronicles 13:5 as a salt covenant of friendship so eating salt together is sign of friendship. Penalty for violating a salt a covenant was death. Salt cleans rivers to remove the toxic bitterness to restore life referenced in Scripture in 2 Kings 2:19-22 as prophet Elijah poured the salt into Jericho's water springs. The water was detoxified and made pure once salt was released into it. Jesus refers to salt in Luke 14:34-35 about believer's impact on the earth by His teachings in the Bible. Salt is important it paid wages of Roman army so word, 'sal' + ary = salary. Salt enhances food taste and is a preservative. Salt keeps roads safe in the winter against slippery roads and to prevent chaos on roads and pedestrians falling. Salt is used in saline treatments and salt is mixed with water to hydrate body fluid level to restore health by mouth or drip in veins into the body. Salt is sprinkled directly onto surfaces and with prayer to consecrate property dedicated to God to restore premises invaded by the evil spirit demons. Salt is sprinkled in rooms or across threshold or in other places to invoke God's Divine protection cover. In time of Jesus salt is used to clean and to sanctify by special deliverance prayers in church. Salt is given to people before entering Catholic church for a baptism many times in a year in specific rites of cross traced on forehead, tasted blessed salt repeated often. Augustine blessed regularly with sign of Cross  seasoned with God's salt. Salt used to heal a mind drenched or weakened by stress of the world. Salt is used to bless catechumens or in the baptism of infants in church. 
Gather and consecrate salt.
Read aloud Psalm 103.
Obtain clean natural water.
Sprinkle holy salt in water
Pray over the water solution
Invoke Holy Spirit on water
Ask God and Jesus to Intervene
Use your Holy water in Jesus Name
Thank God for answer to prayer
Testify of the Goodness of God.
OIL USED TO ANOINT/PRAY IN BIBLE
Use of oil in Scripture is multi-faceted so involves anointing of priests or released to heal. God uses the rivers and the land involving elements for visual prayer in God's perspective to redeem or heal in Leviticus 25:23-24 or 2 Chronicles 7:14. Premium expensive perfume in Song of Solomon 1:12; 4:13–14 and gospels' show woman anointed Jesus in Mark 14:3; and John 12:3. Spikenard is a pure perfumery in King James Version but translations say "pure nard." Spikenard has a strong, distinctive aroma essential oil quality that clings to skin and hair so continues to give off scent perfume for a longer time. Some have the medicinal properties seethed in herbs as special ingredients used depends on a purpose for it. Mary of Bethany broke alabaster jar of spikenard in John 12:3  to wash Jesus' feet with the oil as her best offering to show appreciation of her love for Him. This jar of spikenard ointment was of high value but poured it out on Him. Her extravagant gift it to show the best gift is worthy of her Lord, so she was willing to give everything as act of worship seen in Numbers 18:29. In John 12:7 Jesus told Judas the oil gift offered by her is valuable gift anointing Son of God is the Ultimate Sacrifice for world's sin in John 1:29; 2 Corinthians 5:12. Mary's act of anointing Jesus' feet is a form of worship. And anointing oil is mentioned 20 times in Scripture used in Old Testament to pour on the head of high priest and descendants. Sprinkled in tabernacle on furnishings to mark as holy and set apart to the LORD God in Exodus 25:6; Leviticus 8:30; Numbers 4:16. The special "holy, anointing oils," are strictly forbidden from reproducing for personal use in Exodus 30:32-33. The recipe for anointing oil in Exodus 30:23-24 contains myrrh, cinnamon and other natural ingredients. Anointing oil used in Mark 6:13 by the disciples is to anoint the sick and heal them. In Mark 14:3-9, Church elders anoint sick with oil for healing. In Hebrews 1:8-9 Christ lasts forever anointed by God, oil of gladness and Holy Ghost fire sent on Pentecost.
And the oil is a symbol of Holy Spirit in the Bible as in the parable of the wise and foolish virgins in Matthew 25:1-13. Christians anointed by the Holy Spirit are led into all Truth by God's Grace and Comfort so anointing from Holy One of God makes you know God's Truth in 1 John 2:20. In the Bible olive oil is used to light lamps in Leviticus 24:2; Exodus 27:20. Olive oil is used for anointing in Exodus 30:23 – 25 or part of grain offering in Leviticus 2:1–10. The kings are anointed with olive oil sign, chosen by God to rule in 1 Samuel 16:1. Olive oil is used to sanctify priests in Exodus 29:7 and tabernacle and all furnishings in Exodus 40:9. Olive oil used in cooking as trees grow in Israel in Deuteronomy 8:7–8 and people use it for butter or animal fats. So olive oil symbolize joy and health in Jeremiah 31:12; Hebrews 1:9. In time of judgment olive oil is said to fails in Joel 1:10. Modern churches are built literally like times of Jesus and have practical application using water, salt and oil to heal and deliver in Jesus Name. Believers use anointing from God through Holy Spirit, the same yesterday, today and forever in Jesus Name. Jesus and disciples ministered using water as token symbol from God accordingly to express their faith in the Name of Jesus. Depending on needs of each church the water, salt and oil is used to minister and to deliver in Jesus' Mighty Name. Thank God in Jesus Name for these gifts used by all who believe in using them today. Even if your church does not use these items you can still be healed in Jesus Name by prayer of faith yourself or in agreement with others as one believer defeats a thousand, so two defeats ten thousand according to the wisdom of God. Some prayers in private closet answered as the corporate prayer depending on needs in Jesus Name. It is good to understand Biblical principles to educate yourself to study to answer those who ask questions concerning the use of water, salt and oil for prayers in the church today. The Holy guides each person to choose water, salt and oil as they prefer to use to minister in Jesus Name. Thanks and GLORY to God, Glory to Jesus for restoring mankind's glory by forgiveness of sin so made whole again.