Bronchospy intubation is a pulmonary function testing overview describing the bronchoscopy procedures and what it can be used for according to the experts from National Heart, Lung and Blood Institute. Information pamphlet by the Thoracic Society describes the fiberoptic bronchoscopy and reasons its used and risks. After a procedure pulmonologist will be able to tell you how the airways look right away.
Lab results take longer one to four days, time varies depending on the type of a test. Bronchoscopy is safe and painless procedure though first few days after a procedure may experience sore throat, cough, muscle aches or a hoarseness. Serious side effects uncommon but if experiences a chest pain, develop fever, difficulty breathing cough up more than tablespoon blood contact pulmonologist the immediately for further check up.
A patient is required not to eat or drink after midnight before their procedure. If taking insulin, a regular essential oral medications pulmonologist gives special instructions to follow to ensure health is good for best results of bronchoscopy. If allergic to sedative or any medications notify doctor before the procedure takes place. If given sedation, must be driven home following procedure so arrange for a ride. Cannot eat or drink anything until numbness in throat wears off in which one to two hours.
Pulmonologist use the bronchoscopy to determine and assess the causes of lung problem. Bronchoscopy is used when a patient has: ​Lung Infections, Lung Spot (abnormal finding in an X-ray film or CT scan), Ongoing Lung Collapse, Bleeding, Tumors, Excess Mucus, Noisy Breathing/ Airway Narrowing, Airway Blockages of (piece of food, foreign objects in a lung). Before beginning procedure some given medication like Novocain, which numbs your nose and throat area helps prevent need to cough or gag during procedure.
Also for Diagnostic procedure, Alveolar hemorrhage, Malignancies, Infections or for immuno- compromised patients. Equipment Materials of Bronchoscope. Vacuum and light sources plus a Saline solution. Specimen trap. Given sedative through IV line help relaxes feel sleepy.  May have no memory of test preformed.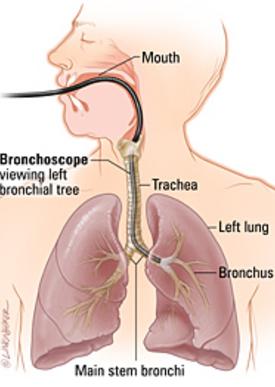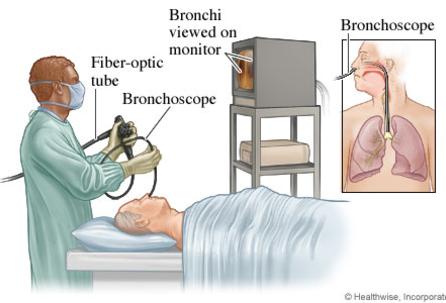 Bronchoscopy procedure allows your pulmonologist to examine your lung's airways, bronchi, bronchioles, carrying air from windpipe to lungs. Procedure: a tube-like instrument bronchoscope is inserted through nose or mouth run down into lung airways. The tube's tiny camera at tip carries images to a video screen. A procedure take 20 minutes, set up or post procedure observation takes about 2 hours. Some patients requested to be in Department for observation in rare cases stay in hospital overnight.
A patient went to hospital complaining of back pain and fever doctors pulled the 7.8-inch blood clot shaped bronchial tube from his lungs. He had a breathing difficulty, low blood pressure, coughing up blood by doctors' accounts published in BMJ Case Reports. He was placed in Imperial College Healthcare NHS Trust intensive care unit in London receiving treatment for sepsis on ventilator. A CT scan show pulmonary blockage in lung.
The clot stuck to his lungs impaired his breathing tube then removed from his lung. (BMJ Case Reports 2019). He began coughing up blood, doctors discovered through a bronchoscopy he had a "large pale blood clot" stuck inside his lungs so breathing tube optimum performance minister. Attempts to remove it through suction unsuccessful. Owing to the time of night, resources required for rigid bronchoscopy unavailable," his doctors wrote in case report. "Having verified a grade I view of the epiglottis, the patient was paralyzed, sedated and extubated under suction in effort to remove ETT and contiguous clot.
Removing clot immediately improved breathing, but body could not recover from another underlying ailment. (BMJ Case Reports 2019) The removal was a success and so his breathing improved immediately, but he could not recover from his various other ailments. Photos of procedure show blood clot attached to end of endotracheal tube as removed from the patient's chest. Another shows the clot formed in a perfect cast of the bronchial tube, and measured longer than his doctor's finger. Video camera shows some objects on bronchoscopy. 
For three years a 30 year old man went to the hospital complaining about pain in his left leg and occasional chest pain. Never had thrombosis prior blood clots complications thought it was pain from bicycle riding or skating falls over the years. When he told his doctor about his inability to breathe and the chest pains further tests done revealed blood clot in his legs the first time. Several attempts to medically flush it in theatre intensive and critical care shifted the clot into his lung. Blood transfusion to help increase oxygen circulation due to his low blood pressure did not work. So clot lodged in his lungs, affected his breathing despite the air bag high tech ventilations. By the time a final attempt to flush it without bronschopy, using veins his exhausted body with low oxygen did not make it. If you read this article go for check up and do not be shy you are bothering doctor that is his job. If having a chest or back or leg pain with difficulty breathing get checked to be safe than sorry. If unable to afford medical bills or medication tell people around you to help with costs. If you hide illness it costs more to pay the funeral bills as same people for pay for burial ceremony. Above all, loved ones prefer you live to continue in this life as long as possible on earth. With medical advances do yourself a favour to get checked before it's too late, prevention is better than cure. And listen to those encouraging you to get checked. Some willing to give you lift to appointments and accompany you if you ask them in advance to put you in diaries. And look after yourself and loved one's priceless gift of life and value life. Foreign objects in lungs or other part of body unknown to person so get checked early and insist on scan even if reassured you are doing fine. Its your body that goes through the painful changes so if in pain or if feeling uncomfortable get checked early anyway.