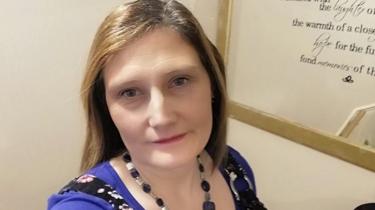 Caroline was fed by the Food banks yet once a successful career woman earning £50k. Now living on £35 week benefit had financial difficulties after the birth of her second child. She went from earning £50,000 a year to relying on a food bank said she will "never be able to thank" its volunteers enough for the help given. Caroline was living and working in the Netherlands, running an employment agency, when she became pregnant. After the end of a relationship and facing housing and health problems she is living on £35 a week." She said she would encourage anyone who was struggling financially to seek help from a food bank. Caroline, who wants to use her first name only said without help of support from Stoke-on-Trent food bank "I don't know where I would be right now." "The volunteers are amazing people," she said. "The biggest thing in my experience is you are not judged, no matter what your background, nothing matters, just that you are made aware so educated in where to go to get help and move you from that situation."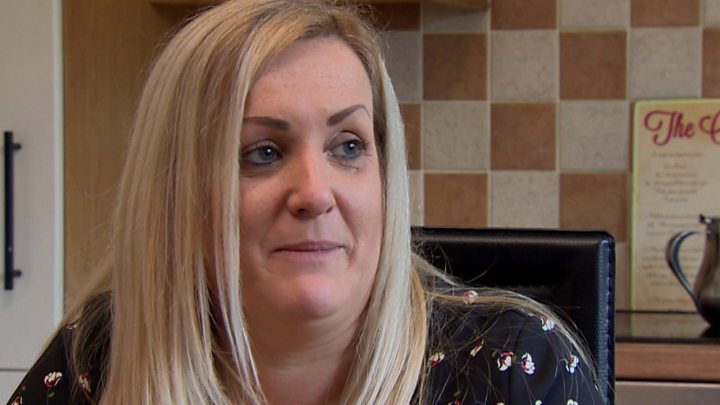 People talking about using food banks said, "It means they can eat get healthy." She earned up to €1,000 in week with a commission before becoming pregnant with her daughter now nine. Caroline returned to England about 18 months later fell pregnant with her son, seven, but the relationship with her children's father broke down and he remained in the Netherlands. She had no support with childcare and complications after her children's births left her unable to work full time. Rising damp in their privately rented home meant she was spending £400 a month on utilities and had to top-up the rental payments not fully covered by housing benefit. She said at times it felt like "chaos" where she had "no control over anything." "I had ebbs and waves when living off barely anything," she said. And so while volunteering at children's centres given her first token for the food bank.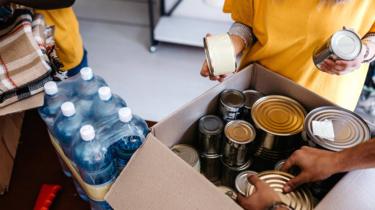 Caroline said staff at Stoke-on-Trent food bank are "angels" And by collecting food once a month staff helped signpost her towards other support services. She was too proud to admit I needed help, she said. But I don't think pride has any part to play these days in visiting a food bank because, if you need help, it is one of the best places you can go." Caroline, who lives in Stone, added: "I am hoping for a brighter future. I am settled so the children are settled, I do not have debts, it feels amazing to be in this position. So "When I was at my lowest I never would have seen myself where I am now. "But if it were to happen again, I will go back to a food bank. These threats are always there for anybody, anything can happen around that corner."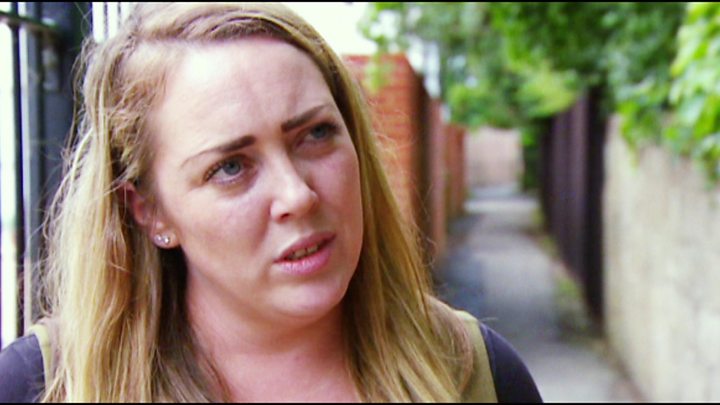 Sarah too got help after she was seeking help from a food bank among millions of people suffering poverty in Britain. It is interesting people assume there in no poverty in advanced countries. So think people collect gold on the streets to live lavish super abundant lifestyles. This is far from the reality of millions suffering unable to feed themselves, unemployed disabled, wait three to six months to be assessed for basic necessities of life. And without money many starve to death in silence as treated like scum of the earth. Do not be fooled life is glamorous for all in Britain especially those taking huge loans given to human traffickers liars who promise them "jobs" in Britain. The truth machines took over millions of jobs, electric cars soon no needs for the humans drivers. AI robots will work so there is real concern of job losses as big brands close and lay off millions of workers globally. Do not let anyone fool you to deceive you about the wealth or riches in Britain. The carefully managed manicured lawns and riches are not just freely available as traffickers promised. Beware of lies people caged in shipping containers suffocate and found dead in Britain. People overloaded on purpose to drown at sea exploited by traffickers. Errol Graham death: Nottingham man starved after benefit stopped in Britain.
Errol Graham had history of depression and the relatives of this man starved to death after his benefits stopped said this evil cruel system is "not fit for purpose." Errol Graham, 57, weighed four-and-a-half stone (28.5kg) when his body was found by bailiffs who broke into his Nottingham council flat to evict him. An inquest found his loss of income caused huge distress."Daughter-in-law Alison Turner said it was "heartbreaking… it's horrific to die like that." The case raised in Commons by Debbie Abrahams MP, called for independent inquiry of cases people died after Department for Work and Pensions (DWP) reviewed care.
Mr Graham's last contact with officials approached about rent arrears. After rarely seen lost contact from DWP and his employment and support allowance (ESA) was stopped in August 2017. This affected his housing benefit it ceased on 10 October. 'No food in his flat' the last official contact with housing provider Nottingham City Homes, heard shouting and punching door on visit in February 2018. PC Emily Dunn told inquest no signs Mr Graham injured but he "looked very thin." She added there was no food in the property, other than a couple of tins of fish in cupboard five years out of date. The flat had no gas, no electricity, inquest heard, with "significant mail" by front door. The medical cause of death was recorded as starvation. As assistant coroner Dr Elizabeth Didcock said: "The sudden loss of all income, and the threat of eviction caused huge distress, worry, and significant financial hardship. "Loss of income and housing final devastating stressors had a significant effect on his mental health. "Safety net surrounding vulnerable people like Errol in British society had holes within it."
MP Debbie Abrahams said treatment of some claimants a "serious concern" Miss Turner told BBC: "It is so heartbreaking, horrific, for someone to die like that, the failure he suffered, he didn't deserve it. "Its shocking the system is not fit for purpose. "He was without money for six to eight months. "Errol didn't physically bring himself to talk to strangers or ask for level of help lost out not here today." Sophie Corlett of mental health charity Mind, said: "Its the most vulnerable who we hear are slipping through net. "This gentleman as many people have lifelong conditions unlikely to change yet they are recalled again and again for face to face "assessments" people find very challenging." DWP said its establishing a serious case panel to review its work. A spokesman added: "This tragic complex case and our sympathies are with Mr Graham's family." Over 5000 people in UK died in 2019 from austerity poverty. Benefits officials' apologise after mum's suicide due to her benefits stopped.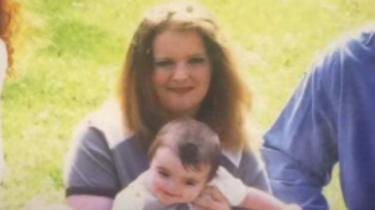 Jodey Whiting suffered physical and mental health issues. The mother of a disabled woman who took her own life after some benefits stopped was given a personal apology by government officials. Jodey Whiting, 42, from Stockton, had some payments stopped after she missed a capability assessment because she was in hospital with pneumonia. The Department for Work and Pensions (DWP) later admitted mistakes were made and paid the family compensation. Senior officials travelled to Teesside to explain what changes have been made. Ms Whiting, a mother of nine, suffered physical and mental health issues, curvature of spine and a brain cyst, and took 23 tablets each day. Following her death in 2017, an independent inquiry found the DWP did not follow procedures to telephone and visit Ms Whiting after she missed the appointment. Process of complaints takes too long so people suffer without food, rent or heating living in the cold.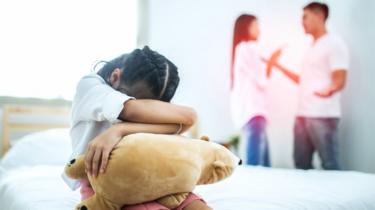 The most serious complaints about DWP agencies like Child Maintenance Service sometimes take years to be resolved. So children go to school without breakfast. Some become homeless, sleeping in the streets in freezing cold begging for food. People with the most serious complaints on Department for Work and Pensions (DWP) wait 18 months before the case is investigated. BBC Radio 4's Money Box learnt nearly two-third of investigations miss the target to be solved in 20 weeks. A man in dispute with one of its agencies called the delay "obscene." The DWP said it understands "the impact of waiting for investigation has on people and their families." The most common complaints to DWP includes failure to follow proper procedures, excessive delays and poor customer service. Alan, not his real name, said it took four-year wait in total before his case is resolved. He complained to the government-run Child Maintenance Service (CMS) in November 2017. It took thousands of pounds of redundancy payment from his bank account. The dispute made his existing mental health problems worse left him "flatlining" he says. Unable to work is "getting poorer by the day." And drained so 'Exhausted' by procedure after 18 months, Alan's case unresolved was given the permission to complain to Independent Case Examiner (ICE) and CMS, pension payments and disability benefits. Alan's complaint accepted, but took more than a year before someone was assigned to investigate it. After that Money Box saw figures suggesting two-thirds of cases take longer than 20-week target half take six months or longer. So this means that hundreds of people face a wait of more than two years for their complaints to be resolved once accepted by ICE. Many die before their case dealt with and becomes too late in one of the richest nations in the world. Money is returned to chest while millions die in austerity poverty Britain. The universal credit rollout is delayed again to 2024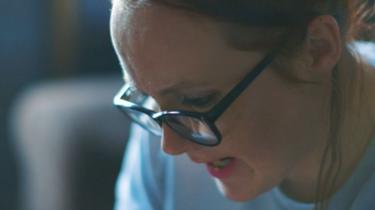 Paula's universal credit payment wasn't enough to live on its cuts down payment so sanctions people deprived. "It scares people" and siphons money to assessors not doctors who cut people off payment new delay pushed to September 2024. It denies claimants would lose money as a result of the change. Discussions lead to delays recorded by the BBC team series Universal Credit: Inside Welfare State, on Tuesday. Six payments into one beset by problems, with claimants wait five to six weeks for the payments to start and many reports of people falling into debt, and having to resort to food banks as a consequence.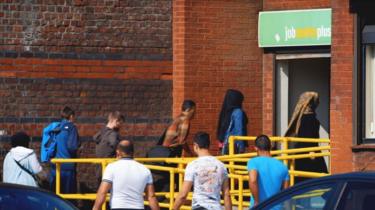 People transferring to universal credit have to wait five to six weeks for first payment. Addvance loan payments of the benefit introduced to help people through the five weeks with no money coming is blamed for putting claimants into debt. Once the benefit finally comes through, payments are reduced to pay off the advance loaned claimants. These changing circumstances such as moving in with new partner affect some people. Fewer people report changes because it is said by film-makers allowed access to meetings inside Department of Work and Pensions. Officials ponder what to do to help as programme shows Bolton mum Paula struggling to feed family as her universal credit. Payment of £500 a month with deductions paid for loans of five-week wait. It includes rent, council tax, water bills, bus fares, electric and gas bills, shoes clothes for winter cold months,  TV licence, food. She ends up at food bank Paula told debt counsellor.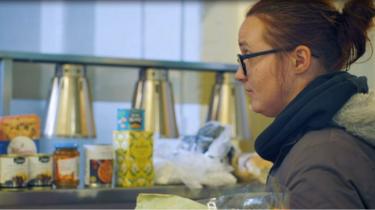 Paula goes to a local food bank for food donated by the public to help the people starving. Universal credit cut off money of family without support falling into a loan taken in advance repayment." She added benefit deductions to pay off the advance, leave people "constantly trying to catch up" often without food or basic necessities of life. Neil Couling, a senior civil servant in charge of rollout for past five years, is filmed telling a Whitehall meeting: "We've got a lot of anecdotal evidence of people scared of universal credit. "It's serious issue for us, in terms of completing the project by December but I'm urging people not to panic." The people seen as "projects" by privileged without understanding of poverty in UK cause more harm than good to the poor.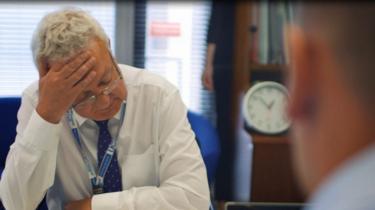 Three, six, nine months doesn't matter if headline says: 'Delay, disaster he says'."I will say, 'Go safe, put claimants first and I'll take beating.'"'Hugely embarrassing' Despite problems, Mr Couling thinks the universal credit if implemented will be successful as "right thing to do." System to form bedrock of social security in the next 30 years." Expects universal credit to continue to grow with 2.6m people in  September last year: "Cannot put brakes on, if we get something wrong disrupts their lives got no alternative bank to go to get help we are payer of last resort." Labour Shadow Work Pension Secretary Margaret Greenwood says news "hugely embarrassing" for government called for universal credit to be scrapped. The public have little faith in it many afraid of it," said Ms Greenwood. Government says universal credit introduced slowly. Its "biggest change to welfare system in a generation, bringing six benefits into one monthly payment offering support to the most vulnerable people in society said Mr Quince. Sad its least in society in need deprived to cater for the richest billionaires in society who can afford to provide for themselves. The stipends of £500million for repairs and £80 million annual pocket money plus £21 million lose change, £5 billion to cut 45 minute train journey millions dies in austerity poverty Britain. Some are given tents to sleep in freezing cold. Decaying corpse found at Harlow's 'human warehouse'
A cleaner at a troubled former office block used to house homeless revealed she and other staff discovered a "weeks-old corpse" in a room. Tania resigned from her job after being asked to clean room where man's body was discovered in June 2019. Investigation by BBC East and Panorama found evidence security staff "lost control"at Templefields House in Harlow Essex. The building described as "human warehouse" by a tenant, BBC found hundreds of families rehoused by London boroughs in office blocks and industrial estates in Harlow  living next to drug addicts and ex-prisoners. Robert Halfon MP for Harlow describe practice "social cleansing." Essex Police confirms death not treated suspicious. Identity of dead man was not disclosed.
Residents complained of isolation and surrounded by warehousing or business centres. Tania did not want surnamed used became employee of the landlord Caridon, with partner Matt who is head of security at Templefields after they lived at the block as tenants. "The smell hits you before you opened door, there were flies everywhere its awful," she said. "He'd been there five or six weeks decomposed."The couple said a number of people took their own lives at the time they lived and worked there. Current staff told undercover BBC reporter other tenants died. A reporter was told "we've cleaned a dead man's room was found hanging waited for the body bag stood in hallway to make sure no-one come in while he was cleared." So management at building concerned with getting room cleaned and letting it out to a new tenant, Tania said. "I was in complete shock, but it was more of a concern to get another room needed to be cleaned that day", she told the BBC.
Property owner Caridon's statement is "We break mould in social housing and stigma given to social tenants. "Unlike other private developers offer housing-related support to tenants vulnerable within community." "We successfully helped tenants turn their lives around with supportive service provided going above and beyond for individuals." The ordinary people treated this way many once successful in society. Their lives is made worse by austerity poverty that lacks resources for proper care. Many lost homes as mental health patients in  the community system so overwhelmed they are abandoned without adequate care. Sadly things are getting worse the way things are being handled.Disabled people 'pulled into poverty' as benefits falls short. Sydney, cares for disabled mother, says the current system isn't working for her. Half 14 million people living in poverty in the UK are disabled or live with someone who is, research for a charity suggests. Joseph Rowntree Foundation blames high cost of coping with disability and struggles disabled people face in finding job to pay enough to live on after bills. Executive director Claire Ainsley said plight fundamentally wrong. Government says it is committed to tackling poverty, spending £55bn this year on benefits for the disabled people. Annual report, published for Friday, the charity urges: reform of benefits system to make it more flexible for jobs to help people with disabilities progress out of low pay. Correlation between disability and poverty analysis demonstrates how closely connected the two are across the UK. The "shamefully high numbers" of disabled people put in poverty by social security system fails to protect them. Its a fact disability as indicator of poverty shows economy is not working for all, Ms Ainsley said.
Researchers found compared with rest of population people with disabilities less likely to be working or worked an average 13 fewer hours a week. Live in households worse off by £200 a week. So almost 4.5 million of informal adult carers in UK, s quarter living in poverty, with working-age female carers at risk. A ingle mum-of-three Jennifer Hobbs cares for both12-year-old son, Nathan, with neurodevelopmental disorder, and elder son Stanley 15 has heart problems so time-consuming gave up cleaning job relies on food banks. "It really infuriates me," Jennifer from Bristol told BBC. Not much help out there for families with a disabled adult children forget disabled children turn are disabled adults. Think to myself, what's going to happen to my son when my son gets older if he can't work because of his disabilities. He will get penalised and end up on the dole or on disability benefits for the rest of his life. "I don't want him to have to resort to food banks, like I do."
Jen Hobbs from Bristol cares for two disabled sons. Imran Hussain, Action for Children's policy and campaigns director, said austerity problems with universal credit left too many families like Jennifer's "fighting to keep their heads above water" and called their predicament "frankly appalling." He urged ministers to:
provide more support to help parents with caring responsibilities find work
restore the real value of children's benefits to pre-austerity levels
Disability benefits are supposed to help people cope with the extra costs related to their conditions but research by disability equality charity Scope has shown they fall short. Households with disabled members are also much more likely to claim other income-related benefits, which have been frozen for the past four years while prices have risen, says Scope. James Taylor, its head of policy and campaigns, said findings were shocking, but not surprising. "Life costs much more for disabled people on average £583 a month. "Huge numbers of disabled people denied opportunity to get into and stay in work cost more in terms support." Department for Work and Pensions wanted one million more disabled people to be in work by 2027 compared with 2017 consulted on how businesses can support disabled people to thrive in work. It plans to introduce national strategy for disabled people. Its interesting £80 million can fix big Ben clock but no funds for the NHS hospitals with shortage of doctors and the nurses overworked by unGodly hours. So many overwhelmed are suffering needlessly others commit suicide due to extreme time tables and inhumane long hours of cutting budgets. Some doctors work for days without sleep as happening in one of the most advanced nations on earth.
Rebloged and Updated
The benefits for the disabled people.
More on this story
Scottish charities hand out almost 600,000 food parcels in 18 months

Bedford foodbank promotes 'reverse advent calendar' for January

Student forced to turn to food bank by loan delay

Food banks: 'I hung around outside, embarrassed to go in'