Fire has not taken our souls and that is all that really counts," Garcia said. "We have people left is more important than any things," Jones said. But we have lost everything we had because the fire took everything but has not taken our souls and that's all that really counts," Garcia said. In the midst of fire adversity and a tragedy is poignant symbols reminding people to be strong in spite of problems. Most going back after the fire destroyed thousands of homes plus other facilities will rebuild the entire town of Paradise. The town was enveloped by "firestorm rained hell down," said Butte the county sheriff, Kory Honea. There was no time to save whole town because fire spread at the rate greater than a football field in a minute. Focus turned into rescuing people from houses overtaken by flame and Jerry Garcia's wife, Sharon, wasn't interested in returning to the town they lived for decades but changed her mind planning on returning to rebuild new Paradise town. Isaiah 43:2 says you pass through the waters God is with you and when you pass through floods it will not overflow you and when you go into fire, it will not burn you. So survivors of fire have been rescued alive despite risks to their lives. Biblical unnatural wildfires are hard to contain due to combination of factors. Bible Signs of the end times of Biblical last days end time prophecy predict fires so complex beyond natural seasonal fires regularly contained. The property and life destroyed by fire and flood really damages communities. Yet in spite of all these natural disasters of earthquakes, floods, wildfires in Bible prophecy news people have hope. And news reports every week talks about a disaster of hurricanes, storms, tempests, fire and flood, disasters by sea and land, globally. Isaiah 43:2 predicts you to pass through the waters, through the floods and fire but God is with you. I can hear you screaming if God is with you why did HE not prevent you passing through the floods or driving, walking through a fire. Floods, fires, famines, droughts and pestilence are the four horsemen riding bringing these upon the earth predicted in the Book of Revelations in the Bible.
The coming storms of extreme weather and climate changes intensify terrifying with harzards in the future preceding Rapture and later the Second Coming of Jesus. Apocalypse doomsday tribulation is going since the time of Christ but now floods, tornadoes, locusts are part of the end time birth pangs. Apocalypse, final judgment of man and destruction of the world by fire in Bible imagery is a real event on earth. All people are affected whether religious or not floods, fires, storms, unusual seven thunders in Bible prophecy demands the attention of all the people on the earth. Bible signs are these startling events floods hurricanes, tornadoes, in earthquakes, casualties by sea and land. The Bible says one-third of trees, people will perish due to weather fuelling fires in the last days. Fires get worse due to complex building material and high tech lifestyle links community the houses and closeness of homes. The Word of God warns that the heavens and earth existing are stored up for fire, but kept until the day of judgment and destruction of Great / Tribulations. It is the warning to heed and take seriously because structures must be designed to limit damage to life and property. Fires from thunders, earthquake, hurricane, floods are unpredictable. This is why it is good to prepare for survival or those who lost lives their souls to go back into heaven. This is not the time to be angry at God to blame HIM because thousands of years of warning is given to prepare against such times. Whether religious or not God does what he forewarned and it affects unbelievers lives too. Camp fire named by road near origin is the most destructive fire in state history and the deadliest killing so many people and still so many more unaccounted for. More than 10,000 homes is destroyed by the fire largely in the Paradise town of 27,000. Also gone are 366 commercial buildings and a third of town's schools. There is so much to rebuild, but before that can begin, authorities must finish sifting through the ashes to find what's left of those who didn't make it out in time. Some may never be recovered and returning evacuees may find remains if authorities missed some sheriff warned.
Still, residents are eager to return home, or at least to the rubble that remains. So how does a town nearly wiped off maps rise from the ashes? It's a question with no easy answers. Since disaster began, local government officials emphasized the commitment to rebuilding the town, though its location means fire is always a risk. But it will probably take at least five to 10 years to restore the town, and it takes longer for individual residents, said Robert B Olshansky, an expert in post-disaster recovery. Rescue workers search areas to discover the suspected human remains in homes destroyed by Camp Fire Friday in Paradise California. "I'm confident they're going to rebuild but it's going to be tough," Olshansky said. "The people there five years from now may not be same ones now. There are going to be a lot of households for whom it may still be a disaster."Like pure gold, the refiner's fire remove dross for a more beautiful and better buildings than before. This refining is to strengthen the enduring human soul or spirit as overcomers in life. Zechariah 13:9 says a third will be through fires to refine them like pure silver to test them as gold is tested. The spirit of grace and of supplications will help those look up to God to deliver and sustain them. And Isaiah 48:10 also states I refined you not as silver and tested you in fire to refine you in the furnace of suffering. Tests by the fire of suffering as silver is refined in a furnace. Like a refiner's fire people are tested like exams are for promotion to higher spiritual level by the believers desiring God. And the painful sufferings are temporary on the earth compared to the joyful experience of victory. As fire strengthens bricks or wood, silver, gold, God refines mankind as Daniel and friends joined by Jesus in Babylon Iraq survived. Physical fire becomes a symbol of redemption testing a faithful believer to prove love and confidence in God. As Jesus was in the fire with Daniel so by Holy Spirit's POWER of God, some survived location, speed, help, support of others. Christians who died, the souls go straight to God in heaven for absence from body means presence with God. So Jesus told believers, I advise you to buy from Me gold refined by fire to become spiritually rich, wear white garments, and clothe yourself in righteousness and holiness. God accepts people as they are so call upon God in Jesus Name.
The town cannot be rebuilt in the way it was federal officials warned the county, but some have hopeful vision for future. Newer schools, a sewer system instead of outdated septic tanks to be safer from fires. "If we are going to rebuild, we are going to rebuild community where this never happens," said former fire chief's town evacuation operation coordinator, Jim Broshears. The risk of fire is always present in forest area, high in the Sierra foothills and surrounded by canyons on two sides. The town experienced at least four evacuations due to fire in 10 years. Close to 200 homes lost in 2008 fires. But this was a worst-case scenario. Now, as community prepares to rebuild it must construct safer, more modern buildings, and perhaps look at how its forests are managed, Broshears said. "We have an opportunity to build forest in the model of pre-European settlement conditions," Broshears said. That is going to be more resilient forest. Currently, the western sierras densely wooded not necessarily the best model for forests to get through fires, said Thomas Scott an expert on wildfire at the University of California, Berkeley. That's because second-growth forests, woodland regrown after harvest carry fire further and faster than trees there before. Ideas of a pre-Columbian forest generally means not suppressing early summer fires, and removing some younger trees to create a more widely spaced forest. Forest management is not about harvesting trees, but thinning the forest to protect the community. "You get back a more pre-Columbian forest then that means it's less likely to trap all those people in the town," Scott said. Even with that approach there will still be fires, they would just be less likely to start at the crest of the sierras and stop at the Central Valley, he said. Fire is a process Californians live with, manage and stop thinking of as a foe, Scott said. The Paradise fire is special case because of sufficient fuels around the city which let the fire come in number of different ways," Scott said. So homeowners can make properties less vulnerable to fire, ensuring roof not flammable with dried leaves, vegetation or creating defensible space. Fires driven by strong wind can't be fought but with most fuel in the area burned up Paradise probably safe from fire for awhile but not forever and the rest of the state at risk most of the year. Not wanting to sound heartless, has to accept if you live in burnable landscape, climate changing may be "when" house burns not "if" a house burns," Scott said.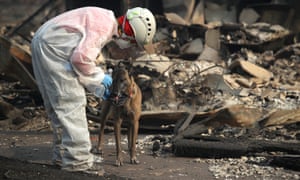 The new Paradise rebuilding starts once the fire, currently burning 221 sq miles at 45% containment, is extinguished, and then hazardous ash and rubble cleaned up, it could take about a year. Butte county is advising residents on what to do when they return but they acknowledge could be weeks or months away. There is almost no gas, electricity, safe water and no emergency services, police station and fire station survived as did the town hall. Air is hazardous, with risk of falling tree limbs ongoing, and what's left of homes, incinerated belongings and kitchen appliances are probably toxic. Residents are permitted to return but few will have anywhere to stay. The fire destroyed town so chances of successful rebuilding is much higher compared with other natural disasters, Olshansky said, thanks to insurance. As support from state, federal government loans, funding of a Federal Emergency Management Agency, will aid the town in recovery. Including constructing new public buildings Paradise unified school district lost three of nine schools, others sustained significant damage to rebuild. Before the fire residents approved $61m bond to fund buildings and equipments updates. Until students return to schools still standing, district looking at online programs Superintendent Michelle John said. Other school districts volunteered to take additional students. The rescue worker use cadaver dogs as they search Paradise Gardens apartments for more victims of the Camp fire in Paradise on Friday. Schools are key, Olshansky said; residents typically return to areas hit by disaster if schools continue to operate. Challenge in Santa Rosa communities hit by last year's Tubbs fire, destroyed 3,000 homes. And so finding qualified contractors to rebuild the schools and homes damaged in Paradise estimated at least two to three times Santa Rosa experience, mayor, Jody Jones, said. "So having enough capable contractors to go round not slow things down building is challenge," Olshansky said. Town is working on streamlining the process of building inspections and permits mayor said looking at support small businesses with high bankruptcy after disasters. It is thinking about the long-term's tough, decisions the mayor added. The town's council members, 17 police officers, and dozens of firefighters lost homes along with thousands of others so will rebuild. "We have people, more important than any things," Jones said. Though lost the sentimental and highly valued material things but it has not taken our souls and that's all that really counts," Garcia said. "That's why we're going back." What an amazing statement made because Jesus said real true life does not constitute the material possession accumulated. Years of hard work, sacrifices, generations of inheritance burnt down within last few days. Yet people still cling to love, hope assured knowing mourning may last for night season of painful loss or suffering but joy comes in the morning. May God strengthen the weak ones to help their unbelief and increase their faith in God in Christ. Above all, God does test run of to warn of worse unquenchable fires in hell and gnashing of teeth by groanings. These fires reveal preview of the worse fires of judgement of wrath of God. This is the time to decide to live for God to be in God's Kingdom or to ignore God's fire alarm warning hellfire not escaped. Do not let anyone deceive you a loving God will not punish by fire because Sodom and Gomorrah was burnt by fire. Live life to full but remember that you are created in God's Image whether you are a believer or not, will one day in future face God's future judgement. Take a full advantage as survivor, advise yourself you do not want to be anywhere near hell fire which is a million times hotter than the paradise fires. Faith in God and good fire insurance has buoyed Barbara Kramer, 79, whose two-bedroom home and car were destroyed. Apparently, lost everything but haven't lost anything she said. "We're Christians and everything we have belongs to the LORD so if it is gone, it's just things." Thanksgiving is a time of gratitude gratitude reflection for survival even if only in clothes on body. Thanksgiving gives hope of assurance to Trust GOD HIMSELF to provide again as HE did before. So is confident to rebuild but knew some don't understand how one can lose everything they worked for their whole lives and not feel any loss of devastation sadness. Thank God for the ones with fire insurance taken care of so booked into a Hotels for weeks or as long as necessary. Others are in a make shift temporary accommodation at the moment trying to figure their future.