Global Earth Day highlights destruction of environment by this hotel made with waste collected from European beaches. In addition, recycled waste regenerates fuel from rubbish so the hotel points out damage to emphasize an overwhelming rate of superabundance. So highlighting huge tons of waste daily, environmental campaigners built this temporary hotel largely from rubbish in Italy's capital Rome to raise awareness of European beach pollution. Save the Beach Hotel is taking guests for 4days only, adorned with debris from the world's beaches. It had 5 rooms, reception lined with 12 tonnes of rubbish, including toys, cans, car exhaust pipes. Danish supermodel Helena Christensen, who has stayed at the hotel, said it was a striking work of art. "When inside the house, there are walls as would be in normal house but they are all made of inorganic waste," Ms Christensen, also an environmental campaigner told the BBC.
The hotel opened to guests until 7 June and the outside is completely covered in everything thrown away at the beaches. You can basically go around that hotel to look at a lot of very personal objects so some makes you wonder what makes the human beings throw things away on the beach. The hotel, stands beside 2nd Century Castel Sant'Angelo on the banks of the Tiber, created by German artist HA Schult. We are in the trash time," he was quoted as telling AFP news agency. "We produce trash and we will be trash. This hotel is the mirror of the situation. "We have to change the world, before world changes us." Would be guests at the hotel will have to hurry to book a room as opened from 3-7 June, and bookings hard to come by on 5 June which marks World Environment Day. Another similar hotel is made entirely of rubbish opened Spanish capital Madrid.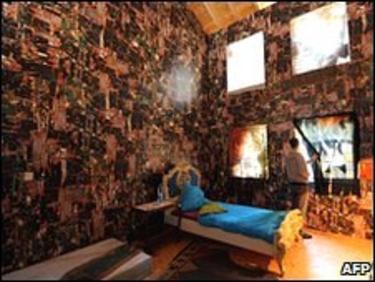 Environmentalism needs to be taken very seriously as walls of BeachGarbage Hotel is covered with detritus deposited by tide in Europe and the waste found in dumps and some items bought at flea markets. There is a big gap between the rate of production and purchasing new items used once and discarded despite being in perfect condition. The idea of keeping anything to be reused by some people seems hoarding so minimalists prefer using item and get another again when the time arrives. The disposable instant generation grow with too much super abundance taken for granted. The impact affects outsourced regions that do not benefit from the huge profits of constantly changing products for thrill of novelty and boredom of resuse. Still many lack awareness of how long item takes from seed, growth, to processing stage of fabric knitting and weaving to garments, cost of transporting, whole sale storage, retail rent, maintenance in shops to buyer affects environmental carbon footprints reflected in weather changes. Advertising and irresponsible marketing, consumerism damage earth causing imbalance of carbon cycle and destroys natural habitat beauty. So acid rain falls with toxic chemicals on plants ruining crops, rivers hence the droughts and famines damaging earth. The desire to only use brand new things always is the cause of not reusing perfectly good items because after event thrown away.