Alex/Kate's story
I decided to detach myself from looks and my personality to create popular person I could. I could have been a guy, but I thought 'let's explore something different.' I thought it will be interesting to be a woman on social media and look at the issues that brings. First of all I was going to use a model's picture, but my girlfriend pointed out I'd need to talk about picture with conviction. Its completely her idea to use the picture. It helped me to have a more compelling story. It started off that I was trying to create the most popular person, but it developed into wanting to raise the awareness of social media fake identity. My audience is young, impressionable and so I thought The Circle was a safe environment to explore as we were told there would be people saying they are something they're not. But when I was in there, that idea got lost quite quickly.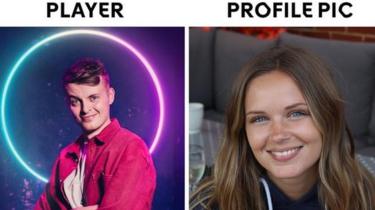 Alex use girlfriend's photo to pretend to be Kate because when you're stuck in a room for three weeks and you've only got eight people to talk to, you build up relationships with people. You forget they might be fake. After a while it does not matter because you're interested in their personality. I was really wishing Christopher, actually 22-year-old called Sinead who used granddad's photo, into existence. I think people felt that way about Kate. The personality was initially made up. I wrote myself a bio and tried to stick to it but I realised I was woefully underprepared. Like for example when Aiden a female contestant talked about snatching her eyebrows, I had no clue what she meant. And then we had to debate certain topics, like Brexit. I had my own views, and I've got a degree in politics, but I didn't want to be belittling or patronising, so I played it safe.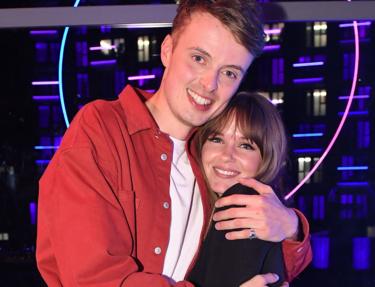 Alex with his girlfriend Millie whose pictures provided the face of made-up character Kate. The same happened with some of the questions about sexual stuff. I thought 'I built boring character, she can't have a sexy side' but everyone else thought I was just on the fence. So I found the whole situation mentally draining. I lost my appetite, ended up second-guessing everything I was writing on the app. I realised everything I said counted towards my rating. There were a few times I thought 'I've had enough now, I'm going home to my family'. And it was difficult thinking the UK public might be against me, and Millie might have been exposed to the hype and the criticism. So I just thought 'stuff it, I'm going to be myself now.' I started having fun and I went up in the ratings against contestants to give each other marks out of five. Towards the end I think people figured something out and realised Kate's personality had changed but they can't have known the extent of it. I never wanted to glorify catfishing. In a safe environment we'd been told people might be fake. To me, catfishing is emotional manipulation but I played a fake character. I've been catfished myself before and I wanted to raise awareness of it in a controlled, social experiment. I had tried to protect Dan by friend-zoning him but I had to try to protect my game plan too. He may be a woman himself, for all I knew.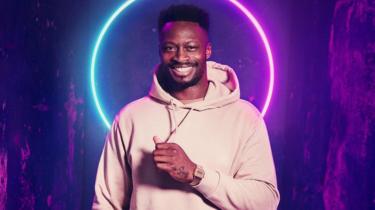 Dan found himself getting closer to Kate who was really Alex. I was so nervous to meet him at the end of the series and was almost desperate for him to be my friend. We had to sit together in a small room alone for 35 minutes, which was one of the most challenging things I've had to do. The pair since met up for lunch and smoothed over the situation. It's still not sunk in I won. I went into the final, thinking fellow finalist Sian had been top of the table to win. And when it came to public vote, I thought 'I'm playing someone fake' so I thought I had no chance. But winning showed me my personality as me after four weeks of being fake had been noticed.
Show's psychologist says:
The TV psychologist Honey Langcaster-James worked with Channel 4 on the series as it was aired and on The Circle Uncovered, being broadcast on Tuesday at 10.25pm. She said the series showed those who weren't being truthful ended up feeling guilty "when they realised a real human being was on the other end of the screen."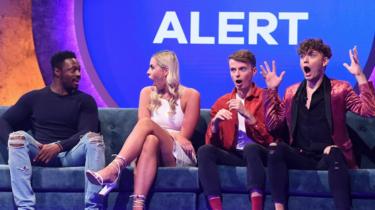 Contestants Dan, Sian, Alex and Freddie react to the news there will be a public vote during the final. "There was a real inner tension for Alex, between playing the game and grappling with the moral dilemma of doing that as he got closer to players," she said. "But interestingly, Alex's popularity as a player grew when he started being himself more. "I think it shows that as much as you set out to show this version of yourself on social media, people connect with you more when they know the real you that you think and feel." She said, public voted for Alex to win because they saw the "journey" he went on during the show, and realised his deception "wasn't being done maliciously in The Circle as Alex Hobern became 'Kate.' This experiment teaches people don't depend on words from online "doctored characters" who con trusting innocent people linked to organised crime human trafficking. Do not give money to catfish scammers who dupe victims badly and disappear with money so learn from TV Circle.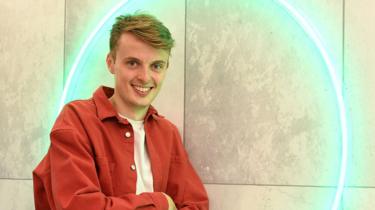 Many people lost millions dollars through manipulations of catfish so necessary to learn from TV Circle how social media affects lives. It's interesting the older woman who pretended to be a young had a gut feeling about Kate and warned Dan in vain. Dan preferred to alert Kate of his suspicion but Kate reassured him there was no problem. This classic mistake gives feedback to catfish to convince victim harder and to dupe them more. Kate won't have won without the emotional investment of Dan who truly trusted Kate's words. This goes on daily online with scam letters, catfish photos used to deceive people to lure them to part with money to 'help meet up' and consolidate the relationship. Sadly damaged reputation of some online dating that hurt people badly who lost their lifetime savings. They lost trust in genuine people who date them later, as effects and scars of their loses is often projected onto them. Be careful and be aware not to make life commitment by the virtual photo of catfish. Dan learned the hard way just as many realised they were conned by men pretending to be women to dupe them. Some insecure about their size, weight, shape also use catfish to pretend to be a model or use a photo of another famous person online to deceive victim. Scam is revealed after they physically meet and see they do not look like photo used online. Others never find catfish scammer changing identity daily like chameleon to dupe people. Tell friends about potential relationships and listen to gut feelings of friends. Do not wear a love goggle blinded by manipulations to refuse to see sense to save yourself from online scam pain and hardships. 
More on this story
The Circle's Dan: 'I was furious about TV catfishing'

The Circle: Alex/Kate wins Channel 4's reality show 

9 October 2018