Blacks live in UK since recorded history of sailors, traders and settlers before slaves arrived from 1450. And modern archaeology techniques and historical research show blacks in Roman Britain from African heritage of all classes. The fourth-century ivory bangle lady York's  skeleton in Sycamore Terrace in 1901 is between 18 and 23 years old. She was of a higher-status adult female of an North African descent who died in York in 4th century AD. Her skeleton is found with bracelets, silver, bronze pendants, glass earrings, beads, blue glass jug, mirror. A piece of bone inscribed with this words "Hail, sister may you live in God." Her skeleton is in Yorkshire Roman Gallery Museum in York. Reconstructed remain show the North African DNA. Her flagon openwork, ivory inscription plaque in the grave reads SOROR AVE VIVAS IN DEO,"Hail sister may you live in God" is evidence of the Christian population in late Roman York. Plaque of Christian existence and grave good's alignment of grave is north-south not east-west. This strongly suggests the lady interred had connections with Christian community. Ivory Bangle Lady's rich burial found in York's cranial features mixed white and black ancestry. Grave of stone contained jet bracelet, ivory bangle of great wealth of time. Evident presence in the Roman Britain of residents from a multiethnic Romanised North Africans in Britain.
Another 'Beachy Head Lady' from a sub-Saharan Africa lived in East Sussex 200 AD. Africans travelled into Britain long before arrival of Romans. Burial site of Roman London cemeteries shows their settlement of are multi cultural society. Bioarchaeology DNA analysis of graves and church records and grave goods by London various archaeologist Museum identify many burials of these people of black African ancestry. Some travelled to or UK born in London before Roman period. Evidence of people with African includes North African ancestry before Roman Britain. The craniometric study of 22 individuals from Southwark are of Roman London abd found four African ancestry. And isotopic analysis of their bones evident of childhoods spent in a climate warmer than Roman Britain. A lot ancient documents in archives show black Africans were in Britain. Soldiers in the Roman army and others recruited in North Africa fought in battles and the crusaders had blacks alongside them.
Autosomal DNA analysis of one of four individuals in a Roman London found he had Black ancestry, with brown eyes, dark brown or black hair. Bone isotopes of individual male is aged over 45 years, spent his childhood in London region of multiethnic Romanised North Africans. Inscriptions of inhabitants involved in a military show some of upper echelon of society. The Augustan History, of Roman emperor Septimus Severus' to Hadrian's Wall in 210 AD inspection of wall said its mocked by "Ethiope" soldier holding a garland of cypress-boughs. So Severus ordered him away, 'frightened' by his dark skin colour saw his act appearance as omen. The "Ethiope" its written said: "You have been all things, you have conquered all things, now, O conqueror be a god." The Black Britain's history of two millennia show black people born, lived and died here. Their history of political activism or historic struggle and artistic roles exist despite adversity. Social history of black people shaped societies and cultures lived in. The Cheddar Man, first modern Britain had blue eyes and 'dark to black skin' as his fossil unearthed in 1903 in Gough's Cave in Cheddar Gorge, Somerset tests show black heritage. His face revealed "dark to black" skin and piercing blue eyes. Britain's oldest complete skeleton  known Cheddar man by the pioneering research has given scientists clues into what our first ancestor looked like.
This is the most accurate model of what the scientists think the very first British man looked like. The Cheddar man had lived around 300 generations ago in the area some believe he still has ancestors living in Somerset. Research suggested dates to the Mesolithic period and lived in Britain when its almost completely depopulated. He is thought to have died in his twenties and had a good diet. And according to historians, his tribe was one of the first groups of people to move back into Britain at the end of the last Ice Age. He had dark to black skin, blue eyes and dark curly hair. This findings are a dramatic departure from earlier reconstructions depicting first Britains as lighter skinned male. Experts say this surprising find shows paler complexion and lighter hair in northern Europeans is a more recent development. Professor Ian Barnes research leader at  Natural History Museum said "It's not just skin colour that's interesting it's combination of features" that makes him look like the others seen today. Researchers carried out an examination of his DNA with a facial reconstruction of his fossil for the Channel 4 show First Britains: Secrets of a 10,000 year old man. Natural History Museum scientist's modern techniques extracts DNA from fragments of ancient bones, and teamed up with specialists at UCL to carry out extensive analysis. The result passed to Dutch artists Alfons and Adrie Kennis specialist palaeontological model makers. Another black African pioneer recognized in c.125 to 350 is the Beachy Head Lady shown here.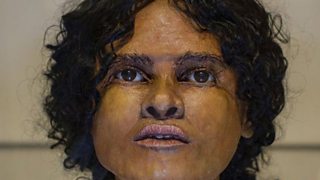 Scientists determined this woman was around 30 years old when she died. Her  remains give insight into long history of Africans in Britain. In 1953, her remains as the Beachy Head Lady were found in East Sussex. Her skeleton show origins from Sub-Saharan Africa date to around 125 AD. In 2012 the archaeologists again found her skeletons. Using 19th Century Analysis revealed this skeleton, named Beachy Head Lady after the Eastbourne beauty spot where she was discovered, belonged to the woman of sub-Saharan African descent of 125 AD. She lived in England most of her life and held a high position in Roman society. Is first black Briton confirming African presence in Britain from second, third centuries. In 2013, another skeleton discovered in Fairford, Gloucestershire by the forensic anthropologist revealed to be of a sub-Saharan African woman. Remains dated between the years 896 and 1025. Local historians believe she was either a slave or a bonded servant. Oil paintings of the aristocratic families from period shows artists positioned black people on edges or rear of canvasses to gaze at masters and mistresses. In 'hierarchy of power relationships,' they were placed next to dogs and domestic animals. As shared by the art critic and the novelist David Dabydeen, 'more or less on same status,' their humanity effaced, exist in pictures as solitary mutes, aesthetic foils to their owners' economic fortunes.
The flow of culture and ideas from East to West some scholars argue Crusades played a part in bringing Africans into Britain. Some in Britain as prisoners captured as done in Crusades period or they may have come into England as visitors. Some sub-Saharan Christians from Sudan and Ethiopia took part in Crusades on the side of Europe against Muslims of Middle East. A documented evidence of people of African descent coming and settling in England appears in sixteenth century baptism, marriages and burials of people of African descent found in church records and the official records. The scribe who drew image in the Abbreviato might have seen African man who came to England as a prisoner or visitor following one of the Crusades during the period. Most were called the Moors or blackamoors and referred to  for record purposes than racism bias of the nineteenth century still rife today.
Ipswich Man' is the skeleton of a man found in Ipswich, Suffolk and made the subject of a BBC documentary History Cold Case. This skeleton was discovered during a series of archeological digs  carried out from 1993-2006 in cemetery of the Greyfriars monastery in Ipswich, Suffolk. The Ipswich Man buried there between 1258 and 1300 and through forensic investigation by Professor Sue Black at University of Dundee, found to have direct African ancestry challenges the popular idea that the first people of African descent arrived in Britain in the mid-twentieth century. Dame Professor Sue Black one of the leading forensic anthropologists in her field and her research team at Centre for Anatomy Human Identification (CAHID) work with organizations like United Nations, police and intelligence services. They conducted forensic research all over the world including African countries and study local differences in chromosomes, effects climate and diet have on teeth, bone density and bone structure. The Ipswich Man came from Tunis in North Africa found in Greyfriars monastery where Ipswich man was buried, built by Robert Tiptoft. Tiptoft was a colleague of Richard de Clare and both went on a Crusades in 1270. Payments for their activities during Crusades recorded in the Pipe Rolls (papers written in Latin recording expenditure). In the Flores Historiarum, a medieval history, it states De Clare brought 'four captive Saracens' with him to England from Tunis in 1272. Ipswich Man one of the four because of De Clare and Tiptoft's relationship. The scientific investigations of the Ipswich Man's bones concluded he died from a spinal abscess by latter end of his life would have seriously incapacitated his movement. It is likely during those last years he was cared for at the Greyfriars monastery. The Ipswich Man buried in the grounds of friary in a single grave. Historical research says poor man or slave unlikely to be buried this way. Due to his grave's location inside cemetery it is probable Ipswich Man was Christian at time of his death and connected to the friary. This is because Pope Innocent IV stated only 'friars and their families' buried in cemeteries of the Greyfriars. 
Philippa of Hainault 24 June c.1310 to 15 August 1369 Queen of England wife of King Edward III. Edward promised in 1326 to marry her within following two years. She was married to Edward first by proxy when Edward dispatched Bishop of Coventry "to marry her in his name in Valenciennes city in county of Hainaut in October 1327. The marriage celebrated in York Minster on 24 January 1328 in months of Edward accession to throne of England. And in August 1328 fixed his wife's dower. The blacks brought English words of African origin like aardvark is Afrikaans word, meaning the earth or ground or pig. So apartheid is Afrikaans policy separated development and living. Banana is West African, Wolof banana. Banjo is Bantu mbanza. Basenji breed of dog from the Congo. Biltong is Afrikaans cured meat. Tumpani is large drum, Asante Ghana.
The second black queen of Britain  is Charlotte of Mecklenburg-Strelitz was the wife of King George III. Queen Charlotte 19 May 1744 – 17 November 1818. Born Sophia Charlotte of Mecklenburg-Strelitz on 19 May 1744, youngest daughter of Duke Charles Louis Frederick, Mecklenburg-Strelitz and Princess Elizabeth Albertina of Saxe-Hildburghausen. She served as a Queen consort of Great Britain and Ireland from her wedding in 1761 until the union of the two kingdoms in 1801. She was the queen consort of United Kingdom of Great Britain and Ireland until her death in17 November 1818 Kew Palace, Richmond. Her children  includes: George IV of United Kingdom,  William IV of the United Kingdom. These queens had Moorish features and tanned but portrayed whiter than mixed race. Its from 12th century, the empire caused black peoplepeople's numbers to swell from 15th and 18th centuries. John Hawkins, England's first slave trader in 1562 sailed the Barbican from Plymouth with three other ships and to violently kidnap 400 Africans in Guinea, trading them in West Indies. Between 1562 and 1567 Hawkins and his cousin Francis Drake made three voyages to capture more slaves from West Africa it then called Guinea Coast.
Researchers found ancient DNA preserved in elephant tusks among the cargo of a 487-year-old shipwreck. A forensic examination of the 100 tusks pinpointed the devastation caused to elephant population by centuries of ivory trade by white for over a thousand years. On this single ship, researchers found genetic evidence of 17 distinct herds of the threatened animals. Today scientists find only four of those herds surviving in Africa. The tusks were so well preserved in the cold water off the Namibian coast scientists were able to find out the diets the elephants had, revealed where they lived and were hunted. The wreck is Portuguese trading vessel the Bom Jesus, which went missing on its way to India in 1533, found by chance in 2008 in a coastal diamond mine, making it the oldest known shipwreck in southern Africa.
The ivory in cargo hold was part of the vast haul of cargo, copper ingots, gold, silver and coins. Archaeologists found personal effects and navigation equipment on ship. Ashley Coutu, archaeologist, University of Oxford, specialises in genetic and chemical analysis of artefacts said It is an incredible find, well preserved," she told BBC News. With slaves came tons of elephant tusks. However after independence of African countries ivory is banned tons of tusks burnt and wasted. At  first smaller numbers, were ferried into the ports of London, Liverpool and Bristol on ships brought imperial products like tea, sugar, cotton, coffee, rum, fruit, wine, slaves tobacco, oil, ivory elephant tusks to enrich the national economy. Guinea coin named after West African region area from which hundreds of thousands of indigenous people seized against their will. Slave trade from 17th – 18th century in Britain used the African guinea coin units of currency. Like Apache, Pontiac, Cherokee or the Zulu tribes named tthings, vehicles after these natives. Some blacks in Britain were brought in by planters, government officials, and military and naval officers returning to the United Kingdom. Slaves were seen as reassuring companions to the lonely white expatriates on long voyages back to UK island away for decades. Other black people offered to commanders of slaving vessels as gifts and later sold in domestic service at quayside auctions or coffee-houses in London. They were given names as John Limehouse, Tom Camden. Early in 16th century, Africans arrived in London as Catherine of Aragon travelled to London brought African group attendants with her. Africans trumpeters served Henry VII and Henry VIII in London when trade lines opened between London and West Africa. The record of African in London in 1593 named Cornelius Africans found themselves working as butlers or the household attendants in many aristocratic families. Their duties or their chief function was to look at as decorative. They were the symbol of status, the human equivalents of porcelain, textiles, wallpaper, lacquered and pieces English nobility bought to display of their wealth. People dressed in fancy garb, heads wrapped in bright turban, on basis of looks skin tones like Lord Mansfield Dido.
Dido here in this photo played crucial role in Lord Manfield's understanding of black slaves in Britain. Dido a family member and his brother the Captain's daughter lived with, cared for by Lord Mansfield. Her ability to influence him by researching the plight of black slaves helped paved the way shaped minds to abolish slavery in Britain. Women sewn bags with hidden notes inside to boycott slave products in UK. Manchester mill workers refused to use slave cotton from America leading to closure of mills. So Abraham Lincoln wrote to thank them for helping to stop the triangular slave trade in Britain. London resident falsely perceived rapid increase of black population Elizabeth I declared black "Negroes, black Moors" be arrested and expelled from UK but it did not lead to legislation. The Africans continued to live in Britain despite such racist negative attitudes. British empire expanded and African, Caribbean slaves still shipped on seas work plantations in Caribbean or in America. One of black musicians of six trumpeters in the royal retinue of Henry VIII in a Westminster Tournament Roll manuscript dates from 1511 revealed. Royal livery is mounted on horseback a man identified as John Blanke blacke trumpeter, listed in payment accounts of Henry VIII and father, Henry VII. A group of Africans at court of James IV, Scotland includes the drummer, "More Taubronar" and John Blanke paid wages for their services.
Westminster Tournament Roll shows  John Blanke, wearing a brown turban latticed with yellow. Trade lines opened from London to West Africa the people from this area began coming to Britain on board the merchant and slaving ships. A merchant John Lok brought several captives to London in 1555 from Guinea now West Africa. Voyage accounts in Hakluyt said they: "were tall, strong men could well agree with our meates and drinkes. A colde moyst aire somewhat offend them."During a later 16th century to first two decades of the 17th century, 25 people in the records of a small parish of St. Botolph's in Aldgate identified as "blackamoors."  In a period of war with Spain between 1588 and 1604, there was an increase in the number of people reaching England from Spanish colonial expeditions in parts of Africa. The English freed many of these captives from enslavement on Spanish ships. They arrived in England a by-product of the slave trade; some of mixed-race African, Spanish, and interpreters, sailors. American historian Ira Berlin classified as Atlantic Creoles or Charter Generation of slaves, multi-racial workers in North America. After slaver John Hawkins arrived in London with another 300 captives from West Africa, slave trade was entrenched by 17th century. Hawkins although embarked on three expeditions lobbyist joined forces to kidnap more slaves for plantations in Caribbean and America.
Blackamoor servants were seen as the fashionable novelty popular in homes of wealthy and Queen Elizabeth I. Other servant "John Come-quick, blackemore" a servant to Capt Thomas Love. Others in parish registers includes Domingo "a black neigro servaunt unto Sir William Winter" buried xxviith daye of August [1587] and the "Frauncis a Blackamoor servant to Thomas Parker" was buried in January 1591. Some freed workers, employed as servants and entertainers to wealthy. Some work in ports or chattel labour. The black population of several hundred during Elizabethan period settlement actively discouraged by Queen Elizabeth I's privy council. Archival records of 360 African people between 1500 to 1640 in England and Scotland. Racist reaction to black people and biracial parentage, George Best argued in 1578 black skin was not from heat of the sun in Africa but was caused by biblical damnation. Reginald Scot associated black skin witchcraft, in his book Discoverie of Witchcraft. As an unprepossessing devil in 1584 "horns on his head, fire in mouth, tail, eyes bison's, fangs like dog, claws like bear, skin like niger and voice roaring like lion. Such racist views spread in Britain by playwrights and royalty. But black slaves were coach porters of King James VI of Scotland yet Black people seen as different, common without white 'virtues' unless English subject born on the island and a citizen. 
Moors enslaved British and Europeans for over 300 years before English joined European slavery of blacks. From 1500s to 1600s took around 35,000 European Christian slaves to the Barbary Coast in Tripoli, Tunis, Moroccan, Algiers. The Barbary corsairs took British ships 466 in 1609, 1616 and 27 by Plymouth, Baltimore in Ireland, in 1625. In 1682′ of 160 British ships taken by Algerians from 1677 to 1680. Sailors taken on ships 7,000 to 9,000, fishermen and coastal villagers into Africa, Spain, Italy. Thousands taken by slave raiders from the coasts of Valencia, Andalusia, Calabria, Sicily till none left to capture. White slaves in Barbary men and women Christians of impoverished families. 8,500 slaves needed annually to replenish about 850,000 captives over the century from 1580 to 1680. For 250 years from 1530 to 1780, 1,250,000 over a tenth of Africans taken in slavery. The Arabic black Moors influenced English words like coffee from kahveh, lemon is from laimum limon in France, Alcohol is from al kohl, algebra is from al jebr.
By 1596, Queen Elizabeth I privy council issued letters to lord mayors of major cities that "of late divers blackmoores brought into this realm, of the kind of people there are already here to manie." Sir Thomas Sherley, Caspar Van Senden, merchant of Lübeck tries to capitalise on this by petitioning Elizabeth I's Privy Council to transport slaves captured in Africa to Lisbon, to sell them there. The relevant Privy Council Letters of July 1596 and draft proclamation papers of Robert Cecil attempt to deport captives from England. Van Senden and Sherley did not succeed in correspondence with Sir Robert Cecil. In 1601 Elizabeth issues proclamation expressing how "highly is discontented to understand those great number of Negroes and blackamoors as informed carried into this realm" again licensing van Senden to deport them. A proclamation of 1601 stated  blackamoors fostered, powered here to great annoyance of the queen's own liege people, covet relief, those people consume." "Most are infidels, having no understanding of Christ or His Gospel."  In March 2019 two skeletons found on the Mary Rose have Southern European or North African ancestry; one found to be wearing leather wrist-guard bearing arms of Catherine of Aragon and royal arms of England is thought to possibly be Spanish or North African, the other, known as "Henry" genetic makeup. Henry's mitochondrial DNA showed his ancestry is from Southern Europe, Near East, or North Africa. Dr Sam Robson from the University of Portsmouth "ruled out" Henry as black or sub-Saharan African origin. And Dr Onyeka Nubia cautioned the number on board Mary Rose had heritage beyond Britain was not representative of whole of England was not one-off.  Travelled through Spain or Portugal to arrive in Britain. Jacques Francis, seen as a slave by some historians, described himself in Latin as "famulus" a servant, slave or attendant. Francis was born on an island coast of Guinea, Arguin Island, off the coast of Mauretania. He worked as a diver for Pietro Paulo Corsi in his salvage operations on sunken St Mary  and St Edward of Southampton and the other ships as Mary Rose, which sunk in Portsmouth harbour. Corsi was accused of theft, Francis stood by him in English court. With help from an interpreter, he had support his master as innocent. The depositions in case displayed negative attitudes towards slaves or black people as witnesses. Studies of the blackamoors early modern Britain shows minority continuing presence. Others did a back-breaking labour all their lives under the hot sun. Slavery was legal in Britain till 1772 though it continued another 400 years. Images of black people in family portraits of the rich and wealthy.
William Sesreko of Anomabo in Ghana, a kings son was rescued from slavery by a British queen from the Bahamas. His father entrusted him to the captain of a ship to be educated in Britain. But that captain betrayed his father so sold him to a slave master in the Bahamas. Then a Fanti trader found him in Bahamas and informed his father in Gold Coast. His father negotiated his release from slavery to regain his freedom after 40 years. He lived in England among high society and was well respected as royal among aristocrats of his time. Slavery of whites and blacks is devastating to both sides. Often the good deeds of genuine misionaries misquoted as slave masters. White slavery is not celebrated in Black History month or the Sidique slavery of Africans by Moors into India. Slavery is by greedy few who sell off humans and perpetrate wars that forcefully acquire slaves. All whites and all blacks are not racist slave traders. So Africans suffered damaged by slavery consequences and past colonialism impacts still felt today. People are God's creation, maltreatment of people is an offence to God. Though slavery in Deuteronomy 28 is permitted by God its punishment for a stiffnecked rebellion. People need God's mercy and forgiveness in Christ for slavery justice.
Dr Johnson forbade his black servant to buy food for his cat. And Black men and women found life in UK preferable to lives of punishing work others faced in the West Indies. Though comparatively well treated, they were not treated as fully human and equal to white people. Some were paraded as commodities on show, others displayed naked to portray size of their buttocks. Dehumanised and treated as property of masters. During this era there was a small rise of black people arriving in London. Britain was involved with the tri-continental slave trade between Europe, Africa and the Americas. Black slaves were attendants to sea captains and ex-colonial officials as well as traders, plantation owners and military personnel. This marked growing evidence of the black presence in the northern, eastern and southern areas of London. There were also small numbers of free slaves and the seaman from West Africa and South Asia. Many people were forced into beggary due to lack of jobs and racial discrimination. There is evidence that black men and women were discriminated against by dealing with law because of their skin colour. In 1737 George Scipio accused of stealing Anne Godfrey's washing so case rested on if or not Scipio was only black man in Hackney at time.
William Hogarth's engraving Four Times of Day: Noon (1738) shows black London resident. Evidence of African presence in LondonEngland from Roman times to the present day experience racism. By 1750s London home of many Black people, Jews, Irish, Germans and  Huguenots. In 1764 Gentleman's Magazine reported its '  near 20,000 Negroe servants.' So number of black residents in London through the registered burial. People of London viewed blacks, less human.  These views expressed in slave sale advertisement led black activists Olaudah Equiano, Ignatius Sancho and  Quobna Ottobah Cugoano campaign to stop racism. By support of other British activists demand Blacks freed from slavery. Supporters involved in this movements workers and other nationalities of urban poor.  At this time the slavery of whites was forbidden, but the legal statuses of these practices were not clearly defined. Free black slaves could not be enslaved, but blacks who brought as slaves to Britain considered property of their owners. It was in this era Lord Mansfield declared slaves who fled from his master could not be taken by force or sold abroad, in case of Somerset v Stewart. This verdict fuelled numbers of Blacks that escaped slavery, and help send slavery into decline. In same period many slave soldiers who fought on the side of the British in American War arrived in London. These soldiers were deprived of pensions and many of them poverty-stricken reduced to begging on streets. Blacks in London lived among white areas of Mile End,  Stepney, or Paddington and St Giles. Majority of people lived servants to wealthy whites. Holy Church records Woodchurch Cheshire of baptism on 16 May 1784, of "Robert Cleaveland a Black boy of about 15 years old." And St. Anne Manchester of baptism on 17 February 1786 of "William Ballard a child about eight years old son of late William Tate late of the Isle de Las on the Winward coast of Africa.
Many labeled "Black Poor," low wage soldiers, seafarers and plantation workers.During the late 18th century publications, memoirs written about "black poor." Writings of Equiano, unofficial spokesman for Britain's Black community. Memoir of his life titled The Interesting Narratives of Life of Olaudah Equiano. Equiano became a landowner in Cambridgeshire, married Susannah Cullen, from Soham. His daughters were born and baptised there. In 1787 4,000 blacks were transported from London resettled in colony of Sierra Leone with help from Committee for Relief of the Black Poor. In 18th century and freed Black American slaves who fought for the Crown in American Revolutionary War, Black Loyalists. In 1787, hundreds of London's black poor include the East Indian seamen known lascars agreed to go to West African colony on condition they retain the status of British subjects, live in freedom under the protection of the British Crown, and be defended by the Royal Navy. Some white people with them said Committee for Relief of Black Poor. Lovers, wives and widows of the black men. 1200 Black Loyalists, former American slaves freed resettled in Nova Scotia join new colony. Black presence in northern, eastern, southern areas of London, had one most famous slave a sea captain Sambo, fell ill after arriving in England and consequently buried in Lancashire. His plaque and gravestone stand to this day. Small numbers of free slaves, seamen from West Africa, South Asia, beg as discriminated against.
A 1651 painting of this Scottish noble woman Elizabeth Maitland, Duchess of Lauderdale with her black servant. In 1687, "Moor" was given freedom of the city of York. He is listed in the freemen's rolls as "John Moore – blacke." He is the only black man or woman found to date in York. And the British merchants in the transatlantic slave trade important factor in development of Western Black British community. The communities flourish in port cities in slave trade of Liverpool and Bristol. By 1795 Liverpool had 62.5 per cent European Slave Trade. Liverpool home to Britain's oldest black community, dating at least to the 1730s. Some Liverpudlians trace black heritage in city back to ten generations. Early black settlers in the city, seamen, the mixed-race children of traders sent to be educated in England, servants, and freed slaves. In 1787, Thomas Clarkson, English abolitionist said in Manchester "I was surprised to find a great crowd of black people standing round the pulpit about forty or fifty of them. Evidence of black men and women discriminated against in dealings by the law because of skin colour. In 1737, George Scipio was accused of stealing Anne Godfrey's washing, case rested on if Scipio only black man in Hackney at time. Ignatius Sancho, black writer, composer, decent shopkeeper, voter Westminster, wrote  despite being in Britain since age two he felt "a lodger." Sancho said a, "national antipathy of prejudice" of native whites Britons to wooly headed brethren. And Sancho frustrated so many stereotyping their black neighbours. The financially independent householder the first black of African origin voted in parliamentary elections in Britain, a time 3% of British population were allowed to vote. 
A 1744 painting of Hon. John Spencer, his only son and their black servant. In 1764, The Gentleman's Magazine said its  "supposed to be 20,000 Negro servants." Morning Gazette said 30,000 in country as whole but numbers were "alarmist" exaggerations. Same year the party for black men or women in Fleet Street pub so unusual and written in newspapers. Their presence in the country started a heated outbreak of distaste for colonies of Hottentots. Modern historians say the parish lists, baptism, marriage registers and sales contracts 10,000 black people lived in Britain in 18th century. Others put the number at 15,000. In 1772, Lord Mansfield put number of black people in country at 15,000 but to most modern historians its 10,000. Black population 0.1% of overall London population 1787. Black female population less than 2% of overall Afro-Caribbean population. The 1780s end of American Revolutionary Wat hundreds of black loyalist America resettled in Britain. Some emigrated to Sierre Leonne helped by Committee for Relief of black poor suffers destitution.
Composer, shopkeeper Ignatius Sancho  was first black person of African origins to vote in parliamentary elections was symbol of humanity of Africans of the immoral slave trade. Ignatius Sancho engraved by Francesco Bartolozzi first African prose writer in England. Sancho financial independence householder the first black British voter. Born on slave ship, Sancho orphan Sancho was taken to England. Was butler but intelligence noted by employer Duke of Montagu who sponsored his creative endeavors. Sancho wrote plays, poetry, music, shop in Westminster meeting place for black writers, artists and musicians. Sancho counted Samuel Johnson, Laurence Sterne and David Garrick friends. First part of my life unlucky, placed in family who judged ignorance the best and only security for obedience. Slavery was not legal in England. Cartwright decision of 1569 resolved England was "too pure an air for slave to breathe in. Black African slaves bought and sold in England in the eighteenth century. Slavery not legally contested until Somerset case of 1772, James Somersett black slave of Virginia. Lord Chief Justice W.M. Earl Mansfield  Somerset do not force to leave England against his will, "The determinations go further master cannot by force compel him to go out of the kingdom.
Slavery common law despite previous ruling in 1706 declaration clarified by Lord Chief Justice Holt. Slavery not legal in Britain ignored argument slaves as property not be considered people. A slave owner Thomas Papillon took his black servant "to be in nature and quality of my goods and chattel. In 1731 the Lord Mayor of London ruled "no Negroes to be bound apprentices to Tradesman or Artificer of City ruling, forced to work as servants.  Black Londonet unpaid servants were slaves in disguise. In the 1750s, London home of Blacks, Germans, Irish, Jews,  Huguenots. Gretchen Gerzina in Black London mid-18th century accounted for one three percent of London populace.  Evidence of number of Black residents in city found through registered burials. Some black people in London resisted slavery through escape, others resettled  free men in London, awarded pensions, poverty-stricken beg on streets, "had no prospect of their subsisting in country by depredation on public or common charity." Observer said "black refugees from America and others by land or sea in his Majesty's service distress. White loyalists had no goodwill to new arrival of America. Harris List of Covent Garden Ladies from 1757 to 1795 on prostitutes' working in Georgian London, "mulatto" woman in 1789 "Eliza dark complexion, by thickness of her hair and eyebrows, is well-furred. Charged little more than worth of scarcity complexion in country imported from West Indies. During the 18th century, publications and memoirs on "black poor writings of Equiano. The former slave was unofficial spokesman for Britain's Black community. Memoir about his life entitled The Interesting Narrative of the Life of Olaudah Equiano.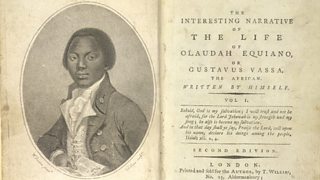 In 1786, Olaudah Equiano became the first black person to be employed by the British government, made Commissary of Provisions and Stores for 350 black people suffering from poverty who had decided to accept government's offer of assisted passage to Sierra Leone. In the 1787, Committee of Relief of Black Poor, sent 4,000 black Londoners into Sierra Leone in West Africa first British colony on continent. British subjects  recognize duty Royal of Navy defend black people from London. It was the view of British West intermarriage was abhorrent. The chair wrote to Standing Committee of West India Planters and Merchants and advice and assistance in procuring act of parliament "prevent Foreign Blacks brought to this country to remain. The  Indian Briton, Dadabhai Naoroji, stood for election to parliament for Liberal Party in 1886. He was defeated, leader of Conservative Party, Lord Salisbury to remarks "however great the progress of mankind and how far we advanced in overcoming prejudices, doubt if got to point of view British constituency elects Blackman. Led to discuss term, "black" to South Asians and Naoroji elected to in 1892 as a first Member of Parliament (MP) of Indian descent. In 2007, scientist found a rare paternal haplogroup A1 in a few living British men with Yorkshire surnames. This clade is exclusively found among males in West Africa but rare. The haplogroup brought to Britain enlisted as soldiers during Roman Britain or slave trade. Turi King, a co-author on study, noted the West African slave trade individuals arrived through slave route, as Ignatius Sancho or Olaudah Equiano high social rank. Some married in population.
Pablo Fanque, celebrated circus owner and performer in Victorian Britain. In 18th century British slave trade decline in response to changing public opinion. Great Britain and US abolish Atlantic slave trade in 1808. Cooperate liberating slaves from illegal trade ships off coast of West Africa freed slaves sent to Sierra Leone. Slavery abolished in the British Empire by 1834 stop profit of Caribbean plantations. Few blacks came to London from West Indies, West Africa, resident British black population trickled. Slaves or servants of West Indies and America.  Abolition virtually halt to Britain. Black population of Victorian Britain so small those living outside larger trading ports isolated from the black population. The black people and descendants in parish registers declined in early 19th century. Descendants of black servants Francis Barber, Jamaican-born servant lived in Britain in 18th century. Descendant live in England white. Abolition of slavery in 1833, black and Chinese seamen put down roots in communities in British ports abandoned by employers. Late 19th century, the race discrimination theories of scientific racism, felt whites superior race and blacks less intelligent than whites. Failed to support theories of such 'scientific evidence.' James Hunt resident of the London Anthropological Society, in 1863 in his paper "On Negro's place in nature" wrote,"Negro is inferior intellectually to European…and only be humanised civilised by Europeans. The 1880s, small groups of black in dockside communities in towns such as Canning Town, Liverpool and Cardiff.
Sara Forbes Bonetta, this West African princess goddaughter to Queen Victoria. Orphaned in intertribal warfare, given a "gift" to Queen Victoria. Despite social prejudice discrimination in Victorian England in 19th-century black Britons achieve good success. Pablo Fanque as William Darby in Norwich, become the proprietor of Britain's most successful Victorian circuses. Lyrics of the Beatles  song "Being for the Benefit of Mr. Kite!" Thirty years after 1871 death, chaplain of Showman's Guild said: Brotherhood of equestrian world has no colour line. Pablo Fanque of African extraction, he speedily made his way to the top of his profession. Camaraderie of the ring has only one test ability. Joseph Hillier, took over and ran Andrew Ducrow's circus company as Ducrow died. Walter Tull, professional footballer mixed-heritage British Army officer and fellow officers.
Members, British West Indies Regiment  on Somme, September 1916. These men pictured were Afro-Caribbean people fought for the British Army. World War London's Black communities on arrival of merchant seamen and soldiers, small groups of students from Africa and the Caribbea into London. The communities among the oldest black communities of London. The largest Blacks in the United Kingdom's port cities: of London's East End, Liverpool, Bristol, Cardiff's Tiger Bay, South Shields in Tyne & Wear and  Glasgow. In 1914, black population was at 10,000 from parts of British Empire. The number of black soldiers in British army prior to World War I low. A Black British soldiers in World War I Walter Tull, a English professional footballer, of Barbadian carpenter Daniel Tull and Kent-born Alice Elizabeth Palmer. Slave descendant Tull was a first British-born mixed-heritage infantry officer in Army 1914 manual of Military Law soldiers of not "pure European descent." Colonial soldiers and sailors of Afro-Caribbean descent in war settled in cities. South Shields community "coloured" seamen lascars and South Asia and Arab world  victim of  UK's first race riot 1919. Eight cities of non-white communities hit by race riot evacuated to homelands. Some white attacked "coloured" peoples in US, Caribbean, South Africa. The displaced after war struggle to integrate veterans to work force groups competing for jobs and housing. Australian British refused Racial Equality Proposal by Japanese at Paris Peace Conference 1919. In World War II black communities in London, Liverpool in Britain. Blacks, Caribbeans, West Africa, wartime workers merchant seamen, servicemen, army, navy and air forces. In February 1941 these 345 West Indians work in factories of Liverpool, made munitions. By 1943 were 3,312 the black American GIs at Maghull, Huyton Liverpool. By 1944 GIs 150,000 from America, 1948 blacks less than 20,000 to 1958. Learie Constantine a West Indian cricketer Minister Labour was refused service at London hotel sued for breach of contract awarded damages, changed racism towards acceptance and equality of all citizens in London.
The Empire Windrush in Black British history in 1948 of Jamaican invited to United Kingdom. In 1950 fewer than 20,000 non-white residents in Britain. After World War II, Black people from the British West Indies, settled in Britain less than decade. In 1951 population of Caribbean and African people in Britain 20,900. HMT Empire Windrush, the first Caribbean to UK in 1948 as West Indian  Black British in post-war UK. The British friction of white communities created Black British identity. 1950's, blacks embraced Black American culture imported by Black servicemen of World War II, music Jacqueline Nassy-Brown calls "diasporic resources." These close interactions between Americans and Black British inspired the Black British women to America married servicemen later return to the UK.
Ridley Road Market in Dalston, London, sells Afro-Caribbean music, textiles, food, goat meat, yams, mangoes, spices. In 1961, Africa Caribbean 191,600 is 0.4% of UK population. Black people in 1975, David Pitt appointed to House of Lords spoke against racism for equality to all residents of Britain. The Black members elected into British Parliament. By 1981, blacks 1.2% residents. By 1980s blacks from Africa, in Nigeria, Ghana, Uganda, Kenya, East Africa, Zimbabwe, Southern Africa. The Commonwealth Nigerians, Ghanaians used to British life, achieve best results at GCSE and A-Level, on a par or above performance of white pupils. The rate of inter-racial marriage between British citizens from Africa and Britons is still fairly low, compared to the Caribbean. Africans as part of mainstream British culture second, third generation African communities established. 20th century black Londoners, Great Britain, United Kingdom not Northern Ireland. First blacks elected to Parliament argue there still discrimination and socio-economic imbalance in London against the black people. In 1992, blacks in Parliament increased to six, in 1997 increased numbers to nine. Problems black Londoners face global high-tech information urban economy unemployment rates of blacks relative to non-blacks affect progress so far.  By 2001, Black British 2.0%.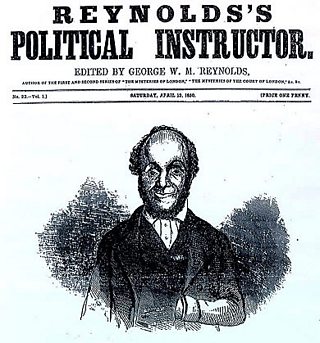 Part of first mass political movement in Britain, fighting for political rights for working classes, Cuffay was arrested and accused of "conspiring to levy war" against Queen Victoria. Transported to Tasmania, he received a pardon three years. Stayed agitating for democratic rights until his death in 1870. Though he forgotten, his legacy is an inspiration for those who believe in rights of the marginalised and the poor.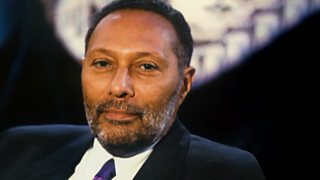 Glasgow Slave Master Street Names
Moors Built Europe: North Africa ruled 800 years in 11th and 17th centuries.
Slave Castles in Africa
Jesus Castle in Kenya
Onyeka, Moors, Black Tudors, African Presence in Britain,
Incomparable World by by SI Martin (Quartet, 1996)
Reconstructing The Black Past by Norma Myers (Frank Cass, 1996)
London Calling: How Black and Asian Writers Imagined A City by Sukhdev Sandhu (HarperCollins, 2003)
Imtiaz Habib's Black Lives in English Archives 1500–1677 Imprints Invisible  (Ashgate, 2008),
Fanny Eaton: Black muse  time forgot
BBC Culture: Challenging racism is art history
Onyeka's Blackamoores: Africans in Tudor England, Their Presence, Status and Origins.(Narrative Eye, 2013) Miranda Kaufmann's Oxford DPhil thesis Africans in Britain, 1500–1640 Black Tudors: Untold Story Oneworld, (2017)
The letters of the late Ignatius Sancho, Volume I, Letter XXXV
Yeboah, Staying Power History of Blacks in Britain
BBC, Hidden stories of Black History.