Emilie's journey started in September 2014 when the charity volunteering for in Uganda received a call about the new born boy in need. Baby arrived after the burial of a woman who died because of excessive bleeding after birth. So Adam was her child including 6 others yet had not received any breast milk or formula and no one able to care for him. Sadly, his biological mother left this world before even giving him a name," said Emilie. All took to Adam with random acts of kindness in and she became the little one's sole carer. And the sleepless nights were down to her, but they were no bother. She felt privileged to help the little helpless baby but felt she did not do much. Yet never a day went by to be bored to sit and watch him for hours.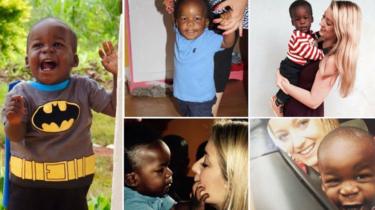 Over the next two years, Emily visited Adam as often as she could by working in a teaching job in the UK. But the short visits were not enough and she moved back to Uganda in August 2016 after finding work at an international school. Now Adam, who is two-and-a-half, lives with her full time while she tries to adopt him. Emilie said:  She feels like his mum already. We had such a strong bond every time I was coming out but especially now since he's been living with me. Emilie has to foster Adam until August before applying to the Ugandan courts to legally be his parent. So needs permission from UK to bring Adam back to Britain as he call her mum. She is hopeful they will live together in UK by the end of the year. Emilie plans to fund adoption until she lost her job in December. So prompted her to set up a Go Fund Me crowdfunding page to pay for the process. Emilie's parents help to support her living costs as she takes her teaching positions to cover Adam's fees.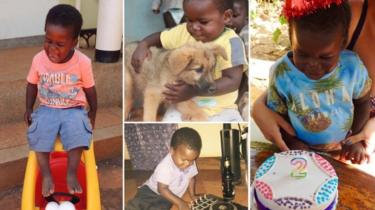 Emilie admits becoming a mum at age 25 though not on her agenda, she does not regret the path she has taken. It was not in my plan but the last two-and-a-half years in Uganda and Adam is all she thinks about. So either talking about or thinking about him imagines perhaps may not have kids for another 10 years but does not regret her decision and choice to be the mum to Adam. So will be amazing to bring Adam home as her own finally." While Emilie received overwhelming support for her decision, some online comments question why she wants to remove Adam from his home country. She is coming back to Uganda for him so wants to continue to do that," she said. Emilie does her best to keep Adam in touch with the village he comes to see siblings or neighbours. Emilie does her best as his mum though mother's love is the best most important things. And Adam will never get natural biological love from his mother because unfortunately she sadly passed and he was orphaned. Adam's story is how God turns what devil means for evil to turn to good blessings. So what is impossible with man is POSSIBLE with LORD God Almighty.  God bless all the kindhearted generous donors in Jesus Name. In a similar true story a little 2year old white who girl chose black doll was asked if she did not want white doll like her. She answered both are doctors and equally beautiful playing with black doll.