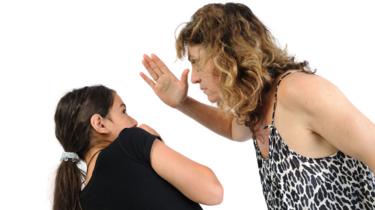 Smacking ban goes to public consultation. Plans to outlaw beating, slapping, kicking, smacking, spanking, whipping children in Wales are going out to a three-month consultation. The ministers said removing the defence of reasonable punishment would make it clear smacking is no longer acceptable. Charities including the NSPCC said this would bring Wales in line with dozens of other countries. But campaigners against the law fear it could criminalise ordinary parents. Minister for Children and Social Care, Huw Irranca-Davies, said: "As a parent of three boys myself, I know being a parent can sometimes be a challenging experience. "Our knowledge of what children need to grow and thrive has developed considerably over the last 20 years. We now know that physical punishment can have negative long-term impacts on a child's life chances and we also know it is an ineffective punishment."
Discipline is meted out by using alternative methods like, "grounding" punishment which means the child stays at home so cannot meet up with friends to go to cinema, party, or sleep over. The child's privileges like toys, games, computers, phones taken away or asked to stay alone isolated in their bedroom. Others sit in a corner alone for 5 minute to 15 minutes within sight of the adult to stay there based on their age  This helps calm a child down and diffuses tension but the child enjoys TV in bedroom or favourite toys, phone, computer, are taken away for a few days or months depending on what the child did. This happens often so some parents feel it is better than physically hitting them with a stick. Some do not have toys or own bedroom so parents find other ways like asking them to do chores they do not like to do to teach them a lesson. In other extreme cases the child may pay for items deliberately damaged in anger with pocket-money or mow the garden and lawn.
Scotland became the first part of the UK to confirm plans to outlaw smacking children last year. Now ministers in Wales want parents to choose "positive and more effective methods."Some people think carrots and sticks are choices that makes a difference depending on preference. The "rule of the thumb laws" made by Parliament allowed husband's to beat their wives with a stick the size of their thumb. God help the woman whose husband has the biggest thumb, you will not want to rub the wrong way. The proposed law would not involve creating a new offence but would instead remove the defence to the existing offences of assault and battery. So, any adult looking after a child would no longer be able to use physical or corporal punishment against them. Physical punishment has already been outlawed in schools and childcare facilities but Mr Irranca-Davies said it was time "to ensure it is no longer acceptable anywhere."
The Welsh Government is now allowed to legislate in areas of parental discipline, under the new Wales Act. The consultation runs until 2 April. The Bible says correct the child in love and not in anger because God Corrects those HE LOVES. So explain to the child you are not in a bad mood or hate them. Discipline must be done in context and effective against their behaviour. Mixed messages from parents does not clearly teach them why it is wrong to do something being punished and educate them on the effects of their action on their reputation, others and their peers and society in general. Safely nip the bad behaviour in the bud before it grows out of hand and becomes toxic and destructive. A lot of adults missed out on proper discipline as God said train the child so when they grow they will not depart from it. Children need to understand that discipline corrects and challenges bad behaviour so is not a negative cruel wicked vitriol. God tell parents in Bible not to provoke their children to anger so are to raise children to have consideration for others.
A recent TV documentary experimented the carrot and stick approach to see which was more effective. One group was harsh, relentless, no fun, almost military training style of elite soldiers. The other group observed a laissez faire approach, liberal, praising them, mingling appropriately. Both groups performed almost the same without any extra head start or advantage over the other. In extreme cases where a child's life or others are at risk, a meaningful discipline method is age appropriate and does not 'hurt' physically or kill them as happens sometimes. The stress and despair of the parents must never be put upon or projected on to the children. Parents with any psychological problems must seek therapy and not vent their anger on the children by harsh punishment in anger. In extreme cases children's hands are cut off as punishment for working too slowly or taking and eating food without first asking permission. Sometimes the health of children must be taken into account for suitable punishment. To stop lawlessness, recklessness of society children need discipline important for their future self-discipline to live peacefully with others in community. 
In Ghana the High Court ruled against smacking so children write apology letters. The Ho Polytechnic Basic School has instituted the writing of apology letters to replace corporal punishment in the school. Pupils now write apology letters, after a written report on the misdemeanor. So what does it mean to "spare the rod and spoil the child? This phrase "spare the rod and spoil the child means modern-day methods imply that if parents refuse to discipline unruly child the child will grow accustomed too set in ways too late to their change bad behaviour. Proverbs 13:24 says whoever spares the rod hates their children, but the one who corrects them loves them. This is not a licence for aggression and abuse of children for the slightest reason. Children lack FRONTAL CORTEX so do not fully understand life. So take time to make simple easy to understand visual images with rules to REMIND children. This can prevent forgetting rules and children will comply if the know the reasons why they are disciplined. Patents must set good examples to children.
Afterwards, explain again why disciplined, ask for apology from the child, hug and tell child you love them as is done in the UK.  Children mimic and copy adults so some behaviours reflect on the environment and the actions of the adults who need to set better examples and not pick on children mirroring their behaviour. Parent child bonding must not be destroyed by aggressive discipline or lack of discipline. The Bible says those who love their children care enough to discipline them. Whoever spares the rod hates child, but loves child if diligent to discipline child. A lot of brat, rude, bad behaviour can be traced to children left to own devices who grow up as Dennis the menace to society and untouchable majesty the child doted on by parents who think their beloved children do no wrong. This sensitive matter means each side is equally passionate about their approach. The danger is social workers called because of discipline the law 'criminalise' parents for training children for their own good. Yet some grow up and freely hit by batons for undealt with childhood issues.
Bible says the if a child listens and is disciplined that child lives long and it is well with that child. So discipline is not to inflict punishment for cruelty but to train a child into an upstanding valuable member of society. The purpose of discipline is to teach a child to understand the human rules and laws of society to fit in as an adult. Therefore unbred child will find the world harder than the child carefully trained from home to be self- aware and have self discipline and self respect. The world is full of untrained adults who act like children and have to nannied and apprenticed when they should be leaders helping other. The chaos in society and communities is because some have festered unruly children never disciplined because of saying " it hurts the parent too much to inflict pain" on a child. A trust worthy child is trained to fear God and respect fellow human beings and follow the golden rule. Vilifying parents for any form of discipline sends the wrong message to children who will grow up to make similar decisions in future.