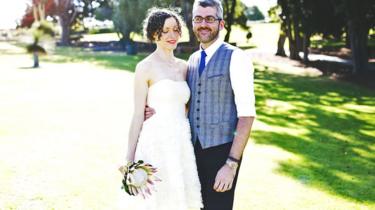 Lindsay, 36, a writer from Kent, and her Australian husband Glen, 38, first tried living without plastic in 2012. It started out as a month-long challenge so turned into a way of life for the pair who live in Perth, Western Australia. "I'm more the driver than him but we got involved at the same time," she says. "I'm the one that puts in more work but he agrees with all the values." So going plastic free for their wedding, in 2014, was a no-brainer.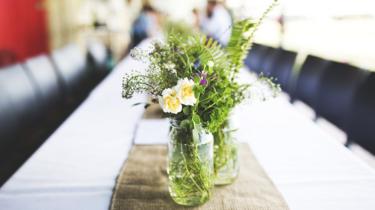 Plastic finds way into weddings in many forms of food storage, drink packaging, decorations, flower delivery – that's just the start. For Lindsay, who blogs about living without waste, trying to make her special day plastic free came first ahead of any other wishes. "We said we want to be plastic free 'how can we do that,' rather than saying, 'We want roses, we want to have canapes, can we do plastic free memorable but not break the bank. Simplicity was key. To me simple means no fuss and devoting whole weekends to projects was out, says Lindsay.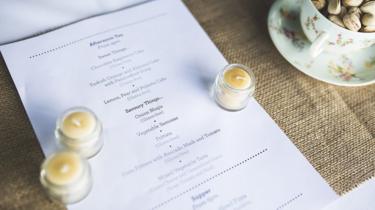 Involving suppliers from outset was the most effective way of making a plastic-free event happen, she says. "It's really about having conversations with people and explaining why you want to do it. People are willing." But its about taking matters into you own hands. "If you get stuff delivered to you, that's when it comes in packaging. It was making sure on the day we went to all the deli, the bakery et cetera so we could guarantee there was no packaging." Eco Wedding Styles done includes recycled materials.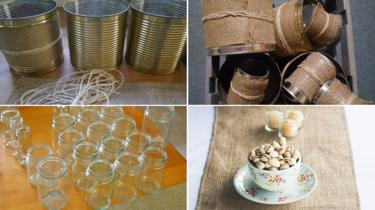 Invitations: electronic, sent via email or Facebook
Flowers: freshly picked by family and friends from their gardens, arranged in old jam-jars
Decorations: borrowed lace bunting from old tablecloths and curtains • tins fished out of recycling bins and wrapped in twine and in hessian ribbon, which was also used for table runners • hired tablecloths and tea cups • bought beeswax candles in jars
Food: local businesses focused on locally sourced produce • hired pizza oven • cakes from a bakery that didn't use plastic packaging • Indian snacks donated by a friend as a wedding gift
Drink: tap beer and cider • local wine • pre-made soft drinks served in jugs • loose tea and coffee • no straws
Tableware: venue's own crockery and cutlery (although having pizza minimised amount needed) • borrowed glasses
Gifts: guests told not to buy presents – to avoid any waste and wrapping
Dress: rather than spend hours trawling charity shops, the bride bought a High-Street dress she wore again and then sold on eBay
Hair and make-up: used make-up bride had • washed hair with bicarbonate of soda and vinegar
Favours/confetti: did without it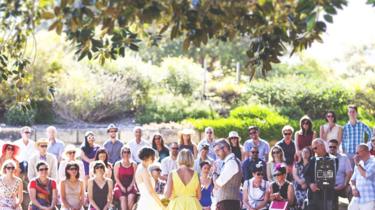 Lindsay and Glen married local bowling club in Perth Lindsay accepts achieving a 100% plastic-free wedding also meant relying on other people. For wedding, they hired a pizza oven and used a local deli to provide fresh ingredients without plastic packaging but did they know what went on behind the scenes? "It's possible some plastic that I didn't see… whether he got a packet of salad in a plastic bag, I don't know were counterbalanced by air miles required to fly her family albeit just four people to Australia. "In hindsight, I should have fallen in love with the guy in the village – but I didn't," Lindsay jokes. "I fell in love with a guy in Australia, so it's one of those things you have to compromise. My parents, my sister and brother flying out for a wedding – it's a one-off." They did decide to have the wedding as local as possible in the city of Perth, rather than the countryside, to reduce driving distances. How difficult for Eugenie to achieve? Wedding planner Katrina Otter says working with the right people is key, as some of the more "old-school suppliers" are less keen to adapt. "Make sure you have the right team on board, work with a team willing to do it or one where it's already part of their ethos." She adds: Bride and groom might not know plastic involved cutlery wrapped in cling film. No royal wedding is complete without a vibrant floral display.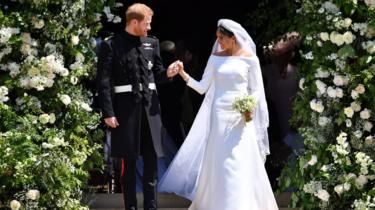 Flowers were a big part of the Duke and Duchess of Sussex's wedding day And, traditionally, a key part of those has been the floral foam – the bricks of green, spongy foam that provide a foundation for floral arrangements, as well as a water source. Katrina says finding an alternative to the non-biodegradable plastic material has become a big issue for the industry and many florists are looking to do it another way. The florist who created the displays for the Duke and Duchess of Sussex's wedding, Philippa Craddock, says she didn't use any floral foam for their big day. The number of couples requesting plastic-free weddings is on the rise, says Katrina, although it remains a small proportion. Another issue to consider for any bride having live TV coverage is the hair and make-up. Kate Arnell, who blogged about her zero-waste wedding, in 2014, says she found it tricky to find plastic-free make-up and hair products. There are a lot more available and since swapped to plastic-free alternatives she says. Whether Princess Eugenie opts for Lindsay's bicarbonate of soda, vinegar concoction on hair yet to be confirmed. Eugenie wedding wants plastic free on big day. In addition to venue, food and drink, music, the dress, hair and make-up, a bride's checklist goes on. And also Princess Eugenie added another factor into equation her wedding to be plastic free. The Queen's granddaughter, who is marrying Jack Brooksbank on 12 October, told British Vogue the couple's house was anti-plastic and want our wedding to be like that as well." So how realistic is it? Lindsay Miles discovered, there are quite a few things to take into consideration. If it is just one day, why bother? "A wedding is such a significant day that it's even more important to be true to your values than on any other day," says Lindsay. "You can't go back on your values just because you're getting married."
Are you ready for another royal wedding?
WATCH: Five ways to break up with plastic