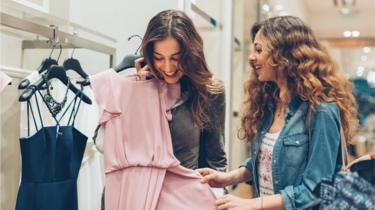 Fast fashion is harming the planet, MPs say environmental impact of disposable clothing in perfect condition needs to be tackled urgently.  Young people's love of fast fashion is coming under scrutiny of Britain's law-makers. MPs say fashion industry is major source of greenhouse gases overheating the planet. Discarded clothes are piling up in landfill sites and fibre fragments are flowing into the sea when clothes are washed. The retailers admit more needs to be done, but say they are already working to reduce the impact of their products.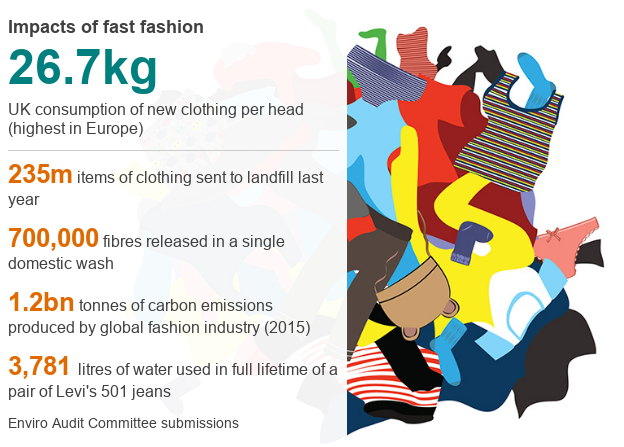 What do MPs say?
The House of Commons Environmental Audit Committee says there is a basic problem with an industry that relies on persuading people to throw away good clothes because they are "last year's colour." Psychilogical manipulation of a person feeling left out if not wearing the latest clothing means some even wear an item only once. So do not want to be seen photgraphed or attending function in same clothes. Those who do are even mocked and laughed at by their peers. It has serious consequences because it is affecting the environment. It quotes evidence that:
British shoppers buy far more new clothes than any nation in Europe
People buy twice as many items of clothing as they did a decade ago
Fish in the seas eat synthetic fibres dislodged from the washing
The MPs have written to the UK's top fashion bosses asking how they can maintain the £28bn benefit their industry brings to the UK economy, while reducing the environmental harm. They believe swift action is essential, because if current clothes consumption continues "…they will account for more than a quarter of our total impact on climate change by 2050", chairwoman Mary Creagh told BBC News. "Three in five garments end in landfill or incinerators within a year that's expensive fuel! Half a million tonnes of microfibres a year enter the ocean. Doing nothing is not an option."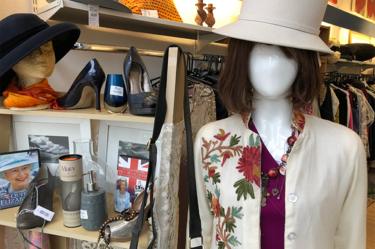 More clothing must be re-used or gifted
What are the solutions?
The committee's report to government could include a call for the fashion industry to create less pollution, a demand for longer life for garments and a ban on dumping clothes in landfill. The MPs also have concerns about social impacts. They believe fast fashion is fuelling quick turnarounds among suppliers, which may lead to poor working conditions. Among their questions to retailers are:
Do you pay the living wage and how do you ensure child labour is not used in factories?
Do you use recycled materials?
How long do you keep clothes, and how do you encourage recycling?
Do you incinerate unsold or returned stock?
How are you reducing the flow of microfibres into the sea?
The Retailers Response?
Peter Andrews, head of sustainability at the British Retail Consortium, told BBC News population growth and increased demand have led to an increase in the overall volume and environmental impact of clothing. But said members are now designing products that are made to last, and they are encouraging customers to return unwanted clothes for reuse. "We know more needs to be done, but the best answers will be achieved with collaborative global actions." The companies approached by MPs are: M&S, Primark, Next, Arcadia, Asda, TK Maxx and HomeSense, Tesco, JD Sports Fashion, Debenhams, Sports Direct International.
Science & Environment

Final call to halt 'climate catastrophe'
Climate catastrophe poses real threat to humany but some chose to bury their head in the sand like an ostrich hoping these problem disappear. Excessive use through greedy exploitation speeds up natural catastrophic disasters rapidly in areas even unused to earthquakes, flash floods, tornados, hurricanes, tsunamis, typhoons, cyclones, mudslides, drought volcanoes, wildfires, and other natural disasters? Such tragedies cause people to question God's goodness because the natural disasters are often termed "acts of God." No "credit" is given to God for years, decades, or centuries of peaceful weather enjoyed. God created the whole universe and the laws of nature Genesis 1:1 are at work. Natural disasters are a result of these laws at work. Hurricanes, typhoons, and tornados are the results of divergent weather patterns colliding. Earthquakes are the result of the earth's plate structure shifting. Tsunami caused by underwater earthquake. God allows natural disasters, earthquakes, flash floods, hurricanes, tsunamis to help deconstruct and reconstruct earth for centuries. The Bible says Jesus Christ holds all nature together in Colossians 1:16-17. So God could prevent natural disasters as God sometimes influences the weather. In Deuteronomy 11:17 and James 5:17. Numbers 16:30-34 God uses natural disasters as a judgment against sin. The natural disasters in Revelation chapters 6, 8, and 16 show punishments from God. God allows people to commit evil acts by freewill so does God allow the earth to reflect consequences of sin on creation. Romans 8:19-21 says, "The creation waits in eager expectation for children of God to be revealed. Creation subjected in distress to excessive decay exploitation brought on by a few greedy people. The fall of humanity to sin has effects on things including the world we inhabit. All creation subjected to decay." Sin is ultimate cause of natural disasters as the cause of death, disease, suffering DNA of Adam and Eve passed down. As consequences of sins, natural disasters occur to jolt mankind. God allows them to occur because the natural principles in place happen so tsunami kills many people located too closely in the natural habitats not meant to be lived in. God allow hurricanes to destroy homes of thousands of people in places the homes should not be. Some structural building materials unsafe due to fire harzards or heavy concrete kill unnecessarily. Such events shake human confidence to force people to think of eternity. Churches are usually filled after disasters as people realize how tenuous their lives really are and how life can be taken away in an instant. God is still good as amazing miracles occur during natural disasters that prevent greater loss of life. Natural disasters cause millions of people to reevaluate priorities in life. Hundreds of millions of dollars in aid sent to help people suffering. Christian ministries help, minister, counsel, pray, and lead people to saving faith in Christ. God can, and brings great good out of terrible tragedies in Romans 8:28. The earth will continue decay until glorious freedom of Children of God in Jesus establishes on earth." John 26:33 says, believers will have peace of God in troublous times of tribulations for Jesus has overcome the world. Above nobody brought nothing into the world and nobody will take anything out. So stop wasting resources misused to define identity, wealth, class or status. Life is not defined by material possessions as Jesus warned so why are people destroying natural resources to damage the earth affecting billions.

Recommended Resource: Act of God? Answers to Tough Questions: God's Role in Natural Disasters by Erwin Lutzer @ 
GotQuestions.org