Total eclipse 21st August 2017 Monday will happen and the Researchers from Aberystwyth University will be the first of five teams to record the latest total eclipse of the sun, which crosses the US on 21 August. The scientists joined an international team of solar scientists to study event. Called the Great American Eclipse 2017, the eclipse will last about two minutes and 40 seconds. Swansea-born singer Bonnie Tyler will perform  her 1983 hit Total Eclipse of the Heart while it is taking place. Tyler, who will perform on a cruise ship positioned in the path of eclipse, told Time magazine it was "so exciting." And Dr Joe Hutton and Steve Fearn from Aberystwyth's department of physics will be recording event in rural town of Mackay, Idaho. ABERYSTWYTH UNIVERSITY captions Aberystwyth physicists Dr Joe Hutton and Steve Fearn preparing for the Great American Eclipse.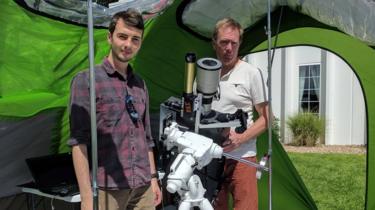 They will deploy a new spectrometer designed to capture the light during totality – when the moon completely blocks the sun's light. Dr Hutton said: "Totality only lasts two minutes in one given spot, but the shadow of the moon will make landfall in the USA for a total of about an hour and thirty minutes, as it slowly sweeps across. "Having these five observations points along this path of totality, can help build up time series of solar atmosphere using the eclipse observations, something which hasn't been done before on this scale. This eclipse predicted 2300 years ago by the prophets in Revelations 12 apocalypse predicted next year by the prophecy Christian website Unsealed. The solar event will spread across America on August 21 crossing 12 US states. And Western Europe, UK, Ireland, France, Spain will experience partial eclipse. It is the first total eclipse to travel from one coast of America to another across 12 states and 48 places almost 100 years so some believe this is endtime sign as eclipse leaves USA in a total darkness before reaching Europe partial eclipse.

A solar eclipse corona aura light creates diamond ring by sun sparkling bright so glitters. In the UK, the moon will cover 10% of the sun's diameter and 2% of its area. The partial eclipse starts at around 7.30pm and last around 40 minutes. The celestial event is first total solar eclipse to cross the United States from coast to coast in 99 years and the first to pass through any part of the lower 48 states in 38 years.  The next major eclipse will be on August 12, 2026, as a very large partial eclipse across Britain, ranging around 96% in Cornwall to 91% in Aberdeen. The next total eclipse visible in the UK is due in September 23, 2090. These eclipses are considered part of Daniel's sealed vision pointing toward the birthpang endtime events beginning great tribulations. A solar corona hazy aura of light surrounding the sun will be revealed. In the UK, the moon will cover 10% of the sun's diameter and 2% of its area. The partial eclipse will start at around 7.30pm and last for around 40 minutes. The eclipses discovered by NASA and other total solar eclipses revealed by Japan's Himawari 8 satellite in geostationary orbit around earth measuring weather patterns. Eclipse caused by moon blocking sun motion as Earth's real motion spins once a day on its axis. Planet earth rotates from west to east and sun rises from East so sets in West in sky seems going other direction.
Eclipse NASA/Goddard Space Flight Center, from eclipse.gsfc.nasa.gov.
History record eclipses with timings of the Biblical events interpreted as Divine messages or signs from God. God's Epicentre endtime since ancient Israel, and Jerusalem's impact on the world. And King Hezekiah, Judah's good king reformer was ill and asked God to spare his life. God heard him and extended his life 15 years, plus instructions for cure in 2 Kings 20:1–11 and Isaiah 38:1–7. In 2 Chronicles 32:24 and 2 Kings tells o Surely, Hezekiah's greatest Physician God healed him and preserved his life. Isaiah the prophet informed Hezekiah he would die from his illness. Hezekiah prayed for healing, and Isaiah was sent back to tell the king in message: The LORD will heal him and give him 15 years of life Hezekiah asked for a sign was to confirm healing. Then Hezekiah chose shadow to move back in 2 Kings 20:10. On March 5 in 702 B.C.E., the 16th year before Hezekiah's death, a prominent solar eclipse appeared over the Middle East recorded in NASA's 5 Millennium of Solar Eclipses said path crossed Arabian Peninsula obscured the sun over Israel more than 60 percent. It is similar event of rare Biblical sign that a hundred years later the Greeks talked about other eclipses. On 21st 2017 total solar eclipse will be visible all the way from the east coast to west coast. After that another rare solar eclipse like this will move across the country 7 years later in 2024. It is necessary to point out that an eclipse per se does not indicate end time by itself. Jesus said in Matthew 24:29 among other biblical passages link to end time events known only to God. The signs warn people to be more alert about with astronomical phenomena as a sign. The sun, moon, stars, meteors, and darkness upon earth like eclipses are mentioned in connection with end-times Bible prophecies. Jesus said there will be signs in the sun, moon and stars in Luke 21:25 so natural astronomical phenomena occurring is an event of many signs and wonders. Yet the end times approach specific agenda lies with God to determine. Eclipses and blood moons in Matthew 24:29 connect with the end time for immediately after the tribulation of those days the sun will be darkened, and the moon will not give light in Isaiah 13:10. The solar eclipse of the sun significantly darkens earth and the light reflected by the moon is gone. A lunar eclipse light reflected by moon reduces so fits darkness on earth but only God knows exact day of endtime.