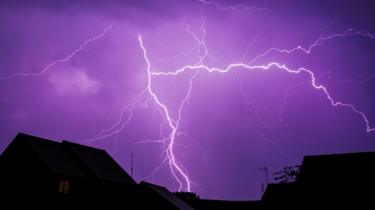 From God's throne room in the heavens proceeds lightnings, thundering, voices. God is in control of clouds as scriptures relates in Revelation 4:3 in Bible. These lightning thunderstorms are all part of 7 thunders sealed by Daniel for these endtimes. Lightning, and the rumblings, thunderstorms occurred rapidly at a rate of thundering sounds unheard and unseen before. Lightnings and rumbling thunderstorms often precede presence of God. The loud sound echo announces warning to people to get ready, prepare to encounter God. Priests announce the time, place, moment to meet in advancd and to help sanctify themselves ready to welcome God's Presence. They prepare to meet God to receive instructions, directions followed by the given special covenant agreement. Endtime lightenings and the thunderstorm is specifically preserved for the modern generations sealed until now. Thunderstorms occur in response to national issues God often uses to call attention with regard to their covenant agreement and remind all the nations. People remarked they had "never seen a storm quite like this" and said flashes were "stunning" as it happened in UK.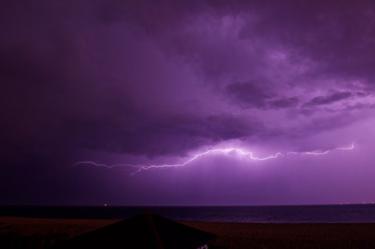 Dramatic and purple sky photographed over Hayling Island, off the south coast of England near Portsmouth, in the UK as thunderstorms moved northwards across the mainland. Many people got out their cameras to photograph and video Saturday night's electrical storm, called "utterly insane" and "like being under strobe light." The thunderstorms and torrential rain swept across parts of southern Britain with lightning flashing across sky. About 15,000 to 20 thousand lightning strikes recorded in four hours on Saturday night, BBC Weather said. It was the purple sky that confounded the people above all having never seen the sky turn completly purple. Visual colour was intensified by a strong trumpetlike relentless thunderings unheard before. So intense people called the emergency lines to report the strange sounds heard from heaven. Thundering concentrated from one direction, clearly heard.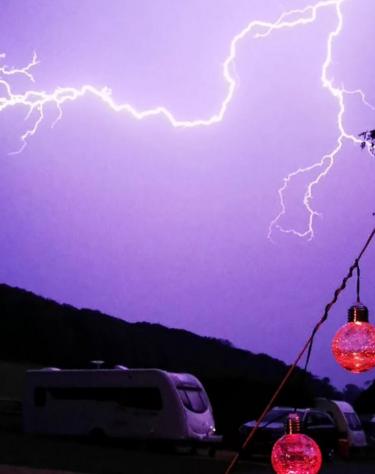 A caravan at a campsite in Henley-on-Thames when heavy rain and lightning storm struck. Lightning turned the sky purple over Leighton Buzzard and also in London. The BBC Weather presenter Tomasz Schafernaker called it "mother of all thunderstorms" as he watched it over London. "Oh boy! This is utterly insane" he said. "I've never seen a storm with such frequent lightning in my life I don't think. Mostly sheet lightning and loud flashes spectacular."Most people listen to weather forecasts for reports on weather and looking for scientific explanations taught in school. However, not many people are aware of Biblical sources of meaning of lightning of these thunderstorms. In the West Wellow, of Hampshire's is impressive photograph including picture produced by storm.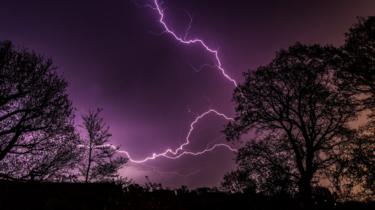 Forecaster Gemma Plumb, from the BBC Weather, said that as the storms pushed northwards across England on Sunday, more would be coming up over English Channel from the continent. Stansted Airport reported the delays to flights on Sunday morning after a lightning strike briefly left their aircraft fuelling system "unavailable." Lightening at times also strike planes if in the red zone path of lightning or thunder the flight therefore is cancelled until storm calms down. So  Met Office issued yellow warning for a heavy rain and flooding across Wales and most of England.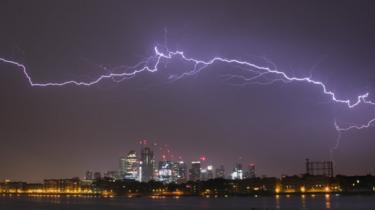 The purple thunder and lightening was seen in this scene above Canary Wharf in London. Later in the morning, storms brought more than an inch of rain to parts of Wales and the Midlands in just an hour. Parts of Wales and central and southern England could see further thunderstorms on both Sunday and bank holiday Monday, with the Met Office warning of possibility of power cuts, delays to trains and buses. People are advised to take notice to prepare against unforeseen changes to keep safe and warm. These rapid changes are part of climatic weather conditions taking place globally. Floods are taking place in deserts and snows falling in dry lands. Earthquakes are rampart than before as the world faces changes in weather patterns due to the man-made desires to control weather and clouds plus demands for fossil fuels increases.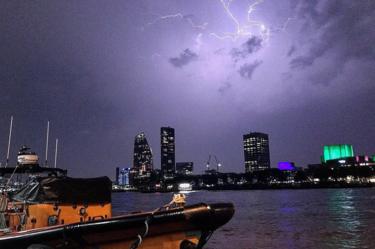 Bolts of lightning flash across the sky over the River Thames in this photo taken by RNLI late on Saturday night. Modern desire for perfect pristine place stops trees growing so no tree roots to absorb excess water cause flashfloods.  "All their flight desks are closed and there is just one small customer service desk with two or three staff. They were asking people to use the app but it isn't working, so they have now stopped doing announcement." Ryanair were unable to say how many of its flights had been affected. It said customers can get a full refund or free transfer. "We apologise to all customers affected by these disruptions, which are entirely beyond control. As passengers seeking a bank holiday getaway were forced to wait, hundreds of homes across the south of the country were left without power after the humid bank holiday weather broke late on Saturday night.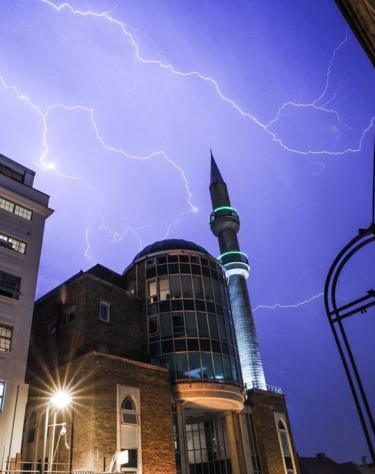 Bolts light up the sky over Suleymaniye Mosque in Dalston, east London. The Met Office weather warning for rain is in force until 06:00 on Monday and covers all of Wales as well as southern and central England. Flooding of homes and businesses could happen quickly, the Met Office said. It added that fast-flowing or deep floodwater was possible with damage to some buildings from flooding, lightning strikes, hail or strong winds. It comes after a warm Saturday, with top temperature of 27.3C in Hurn, Dorset. The best way to get news on the weather is check and update yourself. So thousands of passengers were stuck at Stansted airport on Sunday morning after a major thunderstorm caused flights delayed, diverted cancelled. The airport was brought to partial standstill after the storm which battered the UK with up to 20,000 bolts of lightning and left hundreds of homes without power – hit a refuelling depot. People were stuck on stationary planes for hours and some complained they were not given proper explanations for the delays or provided with refreshments. One passenger called the situation a "North Korea-esque" information blackout.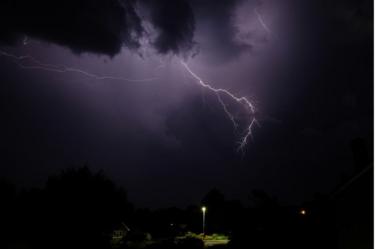 The lightning flashes is photographed bolts near the village of Broadwindsor in Dorset. Due to an earlier lightning strike, the aircraft fuelling system was unavailable for a period this morning," said a spokesperson. "Engineers have been on site and have now restored the system. However flights may still be subject to diversion, delay, cancellation. We apologise for the inconvenience and advise all passengers to check with their airlines for their latest flight updates."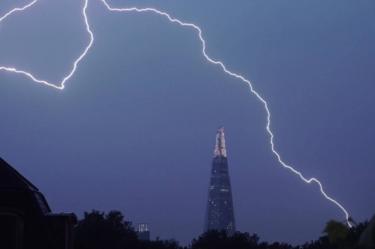 Long strike of lightning dwarfs London Shard, which stands at 310m. We have been on the plane since 7.45," said Guy Parker, who is on his way to Ibiza. "It's just being refuelled now. It's just going take a long time. The 6.05 next to us is just being refuelled so there's obviously a very long queue. "In the airport it was just normal: we didn't realise there was a problem until we were on the plane. Some people got very cross they were allowed on to the plane without being told." Scenes in the terminal described as "stoically British" as queues of more than a thousand people stretched across the airport. Guardian Today: headlines, the analysis the debates. Others claimed Ryanair, one of the principal airlines at Stansted operating with staff shortages appeared to leave them poorly placed to manage the chaos. "They've clearly not got the customer service in place to offer people other options," said Jack Dadds, whose flight to Brittany was cancelled. "All their flight desks are closed and there is just one small customer service desk with two or three staff. They were asking people to use app but it isn't working, so they have now stopped doing announcement."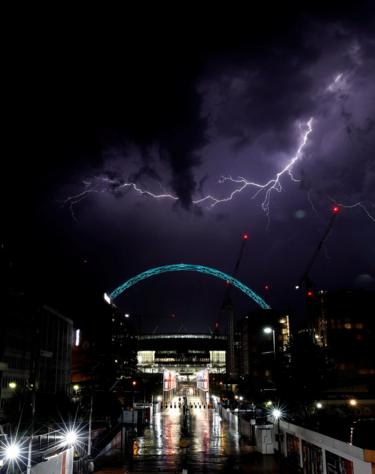 Lightning strikes at Wembley Stadium in London on Saturday night, Fulham beat Aston Villa in the Championship play-off final earlier in day. Ryanair were unable to say how many of its flights affected. It said customers can get a full refund or free transfer. "We apologise to all customers affected by these disruptions, which are entirely beyond our control," a spokesperson said. Passengers seeking a bank holiday getaway were forced to wait, hundreds of homes across the south of country left without power after humid bank holiday weather broke late on Saturday night. Heavy thunderstorms continue to affect parts of Wales, southern and central England through Sunday and into Monday morning, the Met Office said. It issued a yellow flood warning after torrential rain poured down overnight with more than an inch of rain falling within an hour on parts of Wales and the Midlands, causing power cuts and delays to trains and buses that are expected to persist throughout day.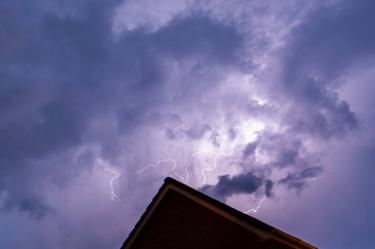 The cloudy sky was lit up in purple as lightning struck Tredega in the south Wales. Severe weather warning for parts of UK temperatures soar. The motorists in West Midlands and in the Bedfordshire area warned of the risks of driving on flood-hit roads and 17 alerts issued for parts of the Thames valley. Nearly 1,000 properties were left without power across the Midlands, with the majority of outages due to lightning. Birmingham neighbourhoods flooded after these heavy rainfalls and the thunderstorms swept through the region In Warwickshire, fire service said five properties struck by lightning, while in Dawlish, Devon, a telephone box burst into flames after a BT pole was hit. As the storm progressed, people across the capital and southern England posted images of lightning on Twitter and Instagram.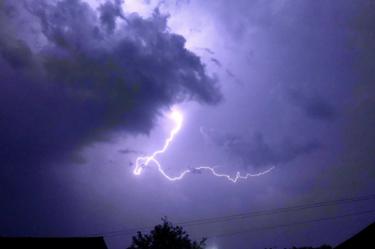 Hundreds of people in London took out cameras to snap these lightning storms, including in Plaistow, in the east of the capital. The Met Office meteorologist Charlie Powell said there somewhere between 15,000 and the 20,000 strikes across the UK overnight. "Temperatures overnight did not fall much below 15C (59F) or 16C: for the end of May that's a pretty hot and humid night, everything was primed," he said. "We had some storms coming in from northern France and some building up in the Channel and they sort of spread out and have been working their way in. It looks like there was one huge area of thundery showers that worked across London just before midnight." The London fire brigade said it had taken 505 weather-related calls overnight, although the majority related to flooding, no callers reported fires started by lighting strike.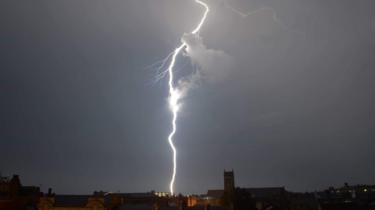 This picture is from Gravesend in Kent. A house in Stanway, Essex, lost its roof to a fireafter lightning struck it in early hours of Sunday morning. Firefighters worked on the blaze for almost three hours, eventually extinguishing at 04:30 BST. No injuries reported in incident.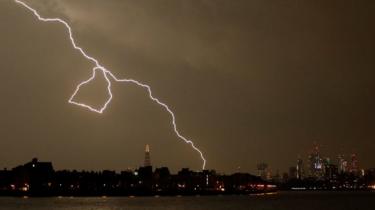 Met warned of flooding and the possible damage to buildings from the lightning, which is pictured here striking over the city of London.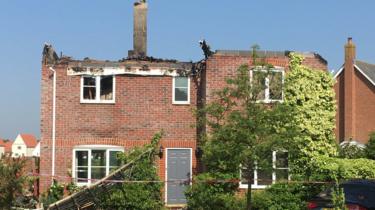 Firefighters arrived at a house in Essex to find whole roof alight. Andy Murphy (@andymurphy73) @  STN_Airport @ Ryanair # understaffed on a busy day, causing huge #delays at checkin & the security. Passengers rushed to board their flights to find lightning strike had taken out the fuel system & all flights delayed. No warnings on dep. boards #Stanstedpic.twitter.com/FcJo7z8p6c May 27, 2018. Supercar Lifestyle (@ Supercar_Snaps). Without a doubt, the most furious #lightning storm over London EVER witnessed!!! AMAZING!!! #storm #london#thunder pic.twitter .com/Vq6oM6fhQK May 26, 2018. Just as lightnings and rumbling thunderstorms precede God's presence before meeting HIS people on the mountain or Elijah in cave of Adullam hidden, God again uses endtime sealed lightnings, thunderings to forewarn imminent return of Jesus in Rapture and later the Second Coming on earth. Loud lightnings and thunderings plus voices will accompany the trumpet sounds to herald coming of Jesus in the Rapture in clouds. Lightening and such thunderings will usher in Christ return to earth. So part of endtime signs from God warning all the people everywhere to repent according to Acts 17. It is not God's wish anyone perishes as global events confirm endtime draws near although only God knows the time.  
BE SAFE DURING THUNDERSTORMS
Thunderbolts and lighting can be very frightening. But don't worry, there are things you can do to ensure that you, your family and pets stay safe until the storm passes. Stay indoors away from windows. Close all doors and windows, lock cat flaps to keep pets furry friends inside. Avoid bathing, showering switch off electrical appliances electrical storm can create power surges. After forecast, cancel outdoor activities, like golf and fishing trips as metal rods can conduct electricity.
.
If outdoors and cannot get inside ensure you won't be at risk of lightning strikes. The first to do is find if there's actually a risk. Wait to see lightning bolt the count seconds until you hear thunderclap if less than 30 seconds could be at risk. If you can, take shelter in car, windows closed. Sheds and isolated trees are not good covers. If swimming or in a boat, get to shore as quickly as possible, as water can conduct electricity. 
If you're outdoors and cannot get inside, there are steps you can take to stay safe
Thunderstorms battering parts of UK since Saturday. Stay low on ground If outside with no car or house to shelter in find low spot away from trees, fences and poles, telephone or metal poles. If skin starts to tingle or your hair stands on end, lightning about to strike. Crouch down, balance on the balls of your feet. Place your hands on your knees and tuck head down between them. This is called "lightning crouch," it makes you the smallest target possible, minimising contact with ground. If in group spread out, staying in a huddle can let lighting to travel from person to person. 
The map shows forecast for UK weather in pictures with dramatic lightning bolts strikes Britain on Sunday, May 27, 2018. Thousands of bolts of lightning Britain in a spectacular thunderstorm. Do not put up an umbrella or use your phone – anything with metal directs electricity into the body. If someone has been hit by lightning, call for urgent help. It is ok to touch them – they won't carry any electrical charge – so you can perform CPR if you know how. Once the storm has passed, give it half an hour or so before you venture out, as lightning can strike up to 10 miles away from the centre of the storm so a few bolts could still hit. The common saying "lightning never strikes the same place twice" is a myth. It can strike the same place twice and some experts believe it is highly likely.  Don't be too worried as chances of being struck by lightning are about one in 300,000. Stay safe and turn any mirrors around and Jeep water on you.