Confidence in God is inbuilt in the brain to receive information, process, to take an action, store, apply or discard based on relevance. So scientists successfully have mapped parts of brain enhancing positive thinking to enable reinforcing good thoughts. When we think about ourselves positively, we are stimulating parts of our brains involved in reward, motivation, pleasure, says Dr Stacie Grossman Bloom. According to Dr Stacie Grossman Bloom a neuroscientist who has three daughters who also has a successful career at the NYU Langone Medical Center in New York. She has examined the role neuroscience plays in boosting confidence. This is particularly useful to many people who need exactly that, she writes as part of this year's 100 Women Challenge. As primary carers or nurtures the mother's confidence rubs on a child in the formative years of growing up. A happy mother is a happy child and happy family so is important to ensure the confidence of the mother is especially enhanced and supported. It takes a whole village to raise a child so the woman's confidence is essential for the happiness of the spouse and vice versa. Confidence radiates in a person so is felt by those around that person so necessary to promote positive thinking. The world is so full of negative news it may seem impossible to think or to feel positive at any given moment. However confidence in God is the anchor of hope and joy in spite of adversity.
Confidence in God is unshaken by those circumstances of life having assurance God is still on the throne. Confidence is something many people want but do not know how to get. We need to embrace our abilities, our values and have a self-esteem to be successful. Without it, we are less likely to seek promotion, speak up in meetings and rise into leadership positions. This ultimately has enormous impact as various studies after studies shows having confident people at work in position of power correlates with the profitability collaborative environment and improved problem solving. So with some practice, we can use neuroscience to help to be more confident. The most influential or the inspirational names around the world every year are full of confidence. In 2017, challenging people to tackle the 4 biggest problems facing people today like glass ceiling, female illiteracy, harassment in public spaces and sexism in sport. With the help of all hopefully can be coming up with many real-life solutions and so we want you to get involved with your ideas.
Thinking positively we know enhances self-confidence like all other personality traits reside within our brains. Alhough a large part of architecture of the brain is predetermined yet experiences and the choices we make continue to shape us. Over the course of life we acquire new knowledge, abilities by modulating the intricate and malleable connections between the cells and circuits in brains. We can utilise neuroscience to silence our negative inner voices and boost our confidence. These strategies work by engaging "value areas" of the brain. When we think about ourselves more positively, we are able to stimulate the parts of our brains that are involved in reward, motivation, and pleasure. One output of this pattern of neurological activation is we literally feel good when confident, we hold our heads high.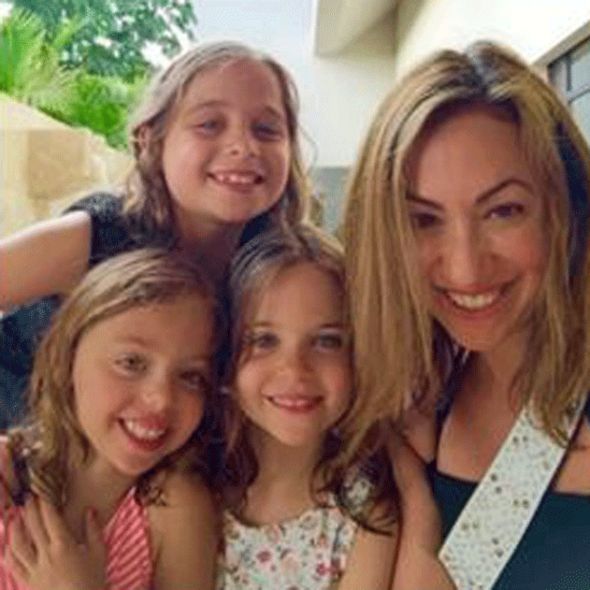 Dr. Bloom with her three daughters
A healthy positive feeling is contagious so promotes those around us to be more engaged with us, whether its colleagues, our friends, or troops. The reinforcing reactions we see and feel in response to our confidence feedbacks to our brains to encourage more activity. So the first step is to push back against obstacles we know stand in our way being mindful of situations and deciding to be confident. Making complex decision is a multi-step process that taps into our emotions and engages many other parts of the brain.
Train your brain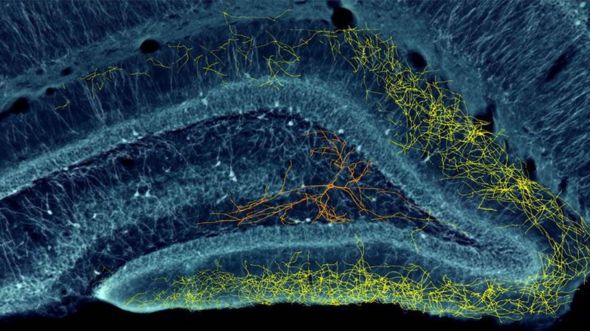 When we have made the decision to be confident, we have to start training our brains. The Above brain scan details by DR. GYORGY BUZSAKI, NEUROSCIENCE INSTITUTE, shows the orange structure here as one of billions of neurons that is often stretching out to make connection (synapses) you see in yellow (more than 75,000). Those connections are what we are tweaking when we learn to choose confidence Just like mastering any other talent, gaining self-assurance requires repetition and time. Every time we do or learn something new, our brains adjust to store our new skill or bit of knowledge. This happens because parts of our brains are plastic and synapses that connect our brain cells, called the neurons, to each other can be modified, strengthened, and even newly created to store what we have acquired in this case confidence boost communication. From a scientific perspective people can blame both nature nurture for stacking the odds against them when it comes to valuing themselves. A biological reality is that women secrete different levels of hormones than men so react differently to the same world around us.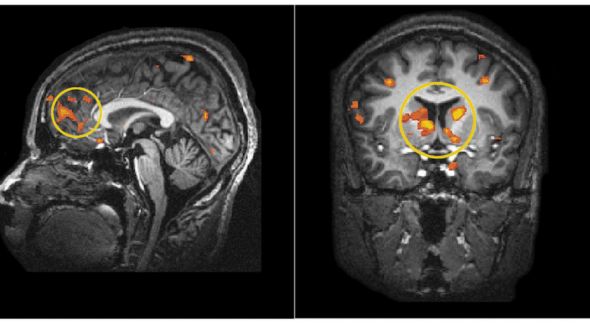 This brain scan shows "value areas" of the brain. DR PAUL GLIMCHER AND IFAT LEVY's image caption reveal the areas of the brain in these images that are coloured to show they are activated "value areas" of the brain. Women tend to have a desire to please others, to seek acceptance, inclusion and avoid conflict. The way women respond to a stressful situations is different to men. While the men tend to take more risk when under pressure, the women look for the surer solutions and reach out to connect with others to manage stress. These genetic differences are compounded by the fact that we are socialized differently from the moment we are born and a pink hat is placed upon our heads.

Boys and girls
As we grow up, young women are not necessarily taught to exhibit any self-confidence, and if we do, we are often criticized for being "snobby" or "stuck-up" or "bitchy" words seldom associated with men. We hear damaging terms like "women's intuition" suggesting that we aren't making strategic analyses, but basing our decisions on some ethereal gut feeling but study after study shows women and men equally data driven. And the relentless emphasis placed on how we look erodes our self-image and for most of us, gets worse over time. As a mother of 3 young girls, this resonates every time daughters receive another impossibly-proportioned doll designed for dress up, caregiving, or primping.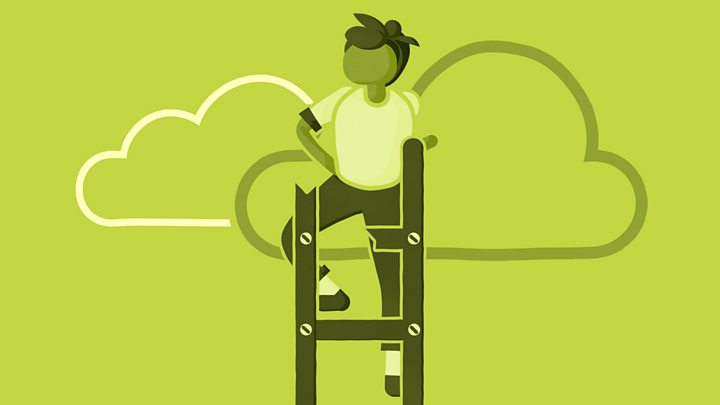 Some women in a perceived masculine job are treated with ridicule finding it hard to convince men they are as good and competent as required to do the job even with their identical qualifications trained by exact same Institute. These bias comes in underhand tactics, jokes derogatory of performance and hurtful comments that can affect confidence. It is sometimes deliberately done hoping it drives away unwanted females from an all male exclusive zone. These can be do traumatic for women that it is very necessary to educate men on how to act, behave or talk to women. Especially the women of diversity background raised in serious environments teach respect of the emotional feeling others. Healthy interactions are required in a civilised  society that prides itself on equal rights or equal opportunities. Women are still facing hitting a glass ceiling if they also desire promotion by climbing a broken ladder. It is well-documented we way we raise girls and women has a lasting impact on way they view themselves and their abilities. Negative messages will engender self-doubt and lead us to underestimate ourselves. The result is not only a nearly universal feeling of imposter syndrome but fear of making mistakes, suspicion of underperforming unattainable quest for perfection. This is what is shutting down when making a decision to be more confident.
Practice, practice, practice
It doesn't matter what level of self-assurance you start at, the more time and effort you dedicate to practicing being more confident, the faster your brain will change and the faster you'll master it. So it is important to remove ourselves from situations and people who make you feel bad because confidence largely comes from being in supportive environment. Environment comprises people around us and what we choose to focus our attention on. It is beneficial to concentrate on things that are empowering and to steer clear of exposure to images and contents that make us feel bad about ourselves. The way we choose to hold and to conduct ourselves is another factor. The mental simulations help envisioning ourselves finishing a race, speaking in public to a standing ovation, mastering job, getting a degree can all help build ourselves up. Just as a coach gives encouraging pep talk to the team before taking the field, we can give ourselves a confidence lift. Notably, these practices have an impact on our overall health and wellbeing, serving as buffer to stress, depression, and fostering good mental and physical health. When we choose confidence, we are rewiring our brains and we are able to change ourselves and our world, for the better. So how would you feel if you can become more confident, happier go influence people in a more confident manner. With God all things are possible.
Reblogged and updated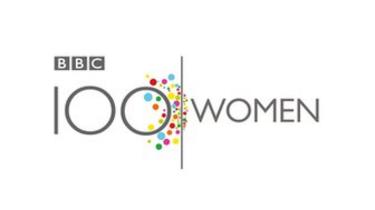 Dr Stacie Grossman Bloom is Assistant Vice-President, Policy & Administration, and Associate Professor at Department of Neuroscience & Physiology, NYU Langone Health.