A paper published in Science Advances Journal by industrial ecologist Dr Roland Geyer, from the University of California in Santa Barbara, and colleagues, calculated the total volume of all plastic ever produced at 8.3bn tonnes. Some 6.3bn tonnes is now waste and 79% is in landfill or the natural environment. This vast amount of waste has been driven by modern life, where plastic is used for many throwaway or "single use" items, from drinks bottles and nappies to cutlery and cotton buds.
500 billion plastic bottles
Drinks bottles are most common types of plastic waste. Some 500bn plastic bottles were sold globally in 2017 that is more than a million bottles per minute. 130bn were made by drinks giant Coca Cola.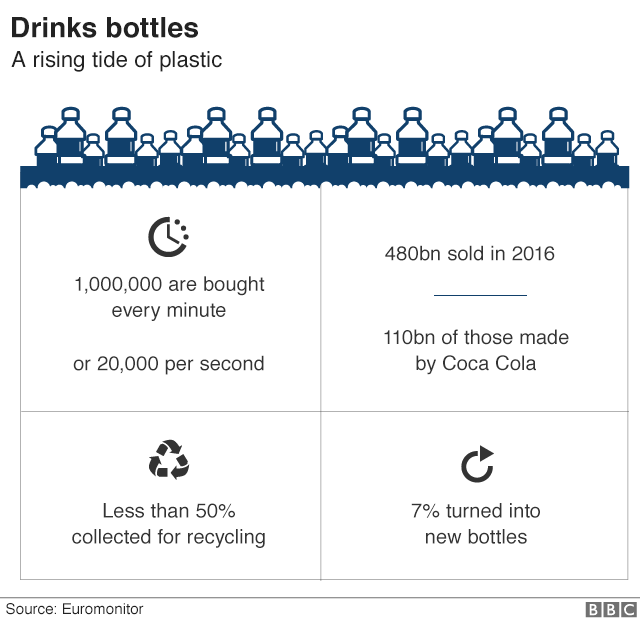 Some countries are considering moves to reduce consumption. These includes deposit-return schemes, improvement of free-drinking water supplies in major cities, forcing the producers to cut down overproduction. So much plastic waste ends up in the sea about 15m tonnes of plastic currently ends up in oceans each year. Scientists from National Center for Ecological Analysis and Synthesis and University of Georgia, Athens estimated the figure as 11m tonnes, and forecast that to rise to 20m tonnes by 2019. The study, published in the journal Science surveyed 192 coastal countries affected by ocean plastic waste, and found Asian nations suffered most.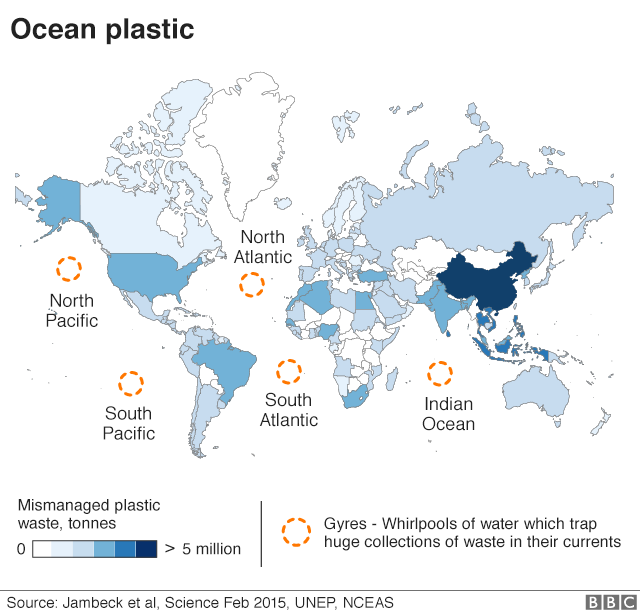 China and US, UK, among top of the list of countries mismanaging plastic waste, and contribute higher rate of waste per person. Plastic waste accumulates in areas of the ocean where winds create swirling circular currents gyres, which suck in floating debris. There are five gyres around the globe, but best known is probably the North Pacific gyre. It is estimated debris takes about six years to reach the centre of the North Pacific gyre from the coast of the US, and about a year from Japan. All five gyres have higher concentrations of plastic rubbish than other parts of the oceans. They are made up of tiny fragments of the plastic, suspended below surface phenomenon described as plastic soup. Hard-wearing qualities of plastics means some items take hundreds of years to biodegrade. There are moves to clean up the North Pacific gyre. An operation led by a non-profit organisation Ocean Cleanup has begun in 2018.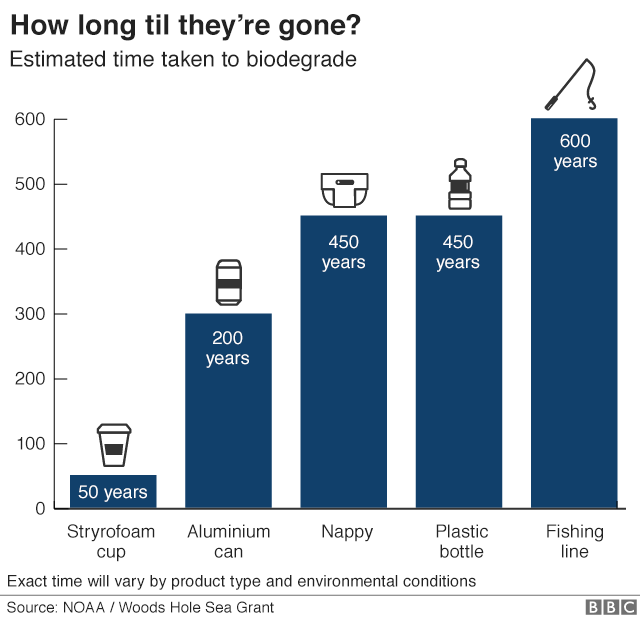 How are things in UK?
Marine Conservation Society finds 718 pieces of litter for every 100m stretch of beach surveyed during recent Great British Beach Clean Up. That was a 15% increase on last year.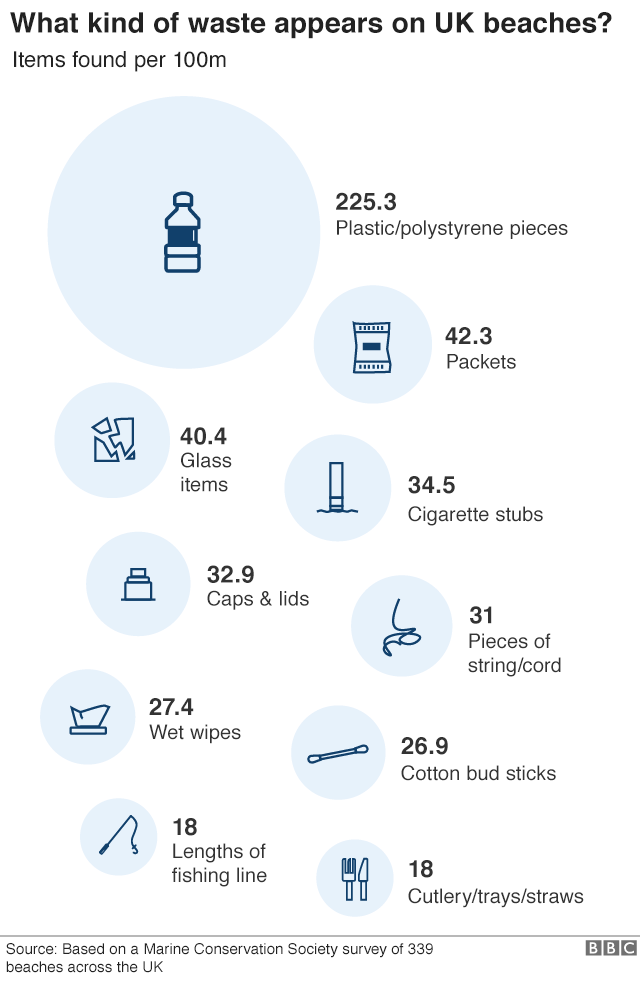 Rubbish from food or drink constituted at least 25% of litter collected, the MCS reported. The origin of a lot of the litter by public contributes is 35%. "Sewage-related debris" or items flushed down toilets instead of in bin, amount to 9%.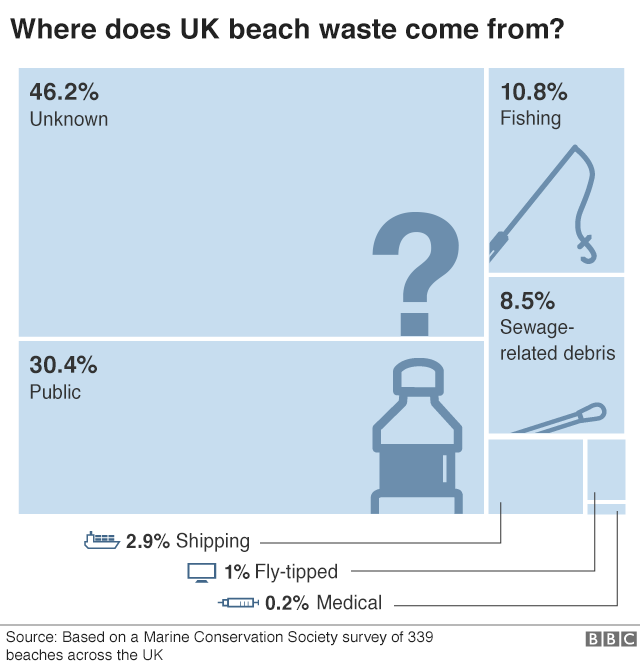 Plastic harms marine life
Sea birds and larger marine creatures, whales, turtles, dolphins, seal's danger comes from being entangled in plastic bags, other debris, mistaken for plastic food. Turtles don't distinguish between plastic bags and jellyfish as part of their diet. The plastic bags consumed cause internal blockages and result in death. Large pieces of plastic damage digestive systems of sea birds, whales, potentially fatal. Over time, plastic waste degrades so breaks down to tiny micro-fragments also causing scientists concern.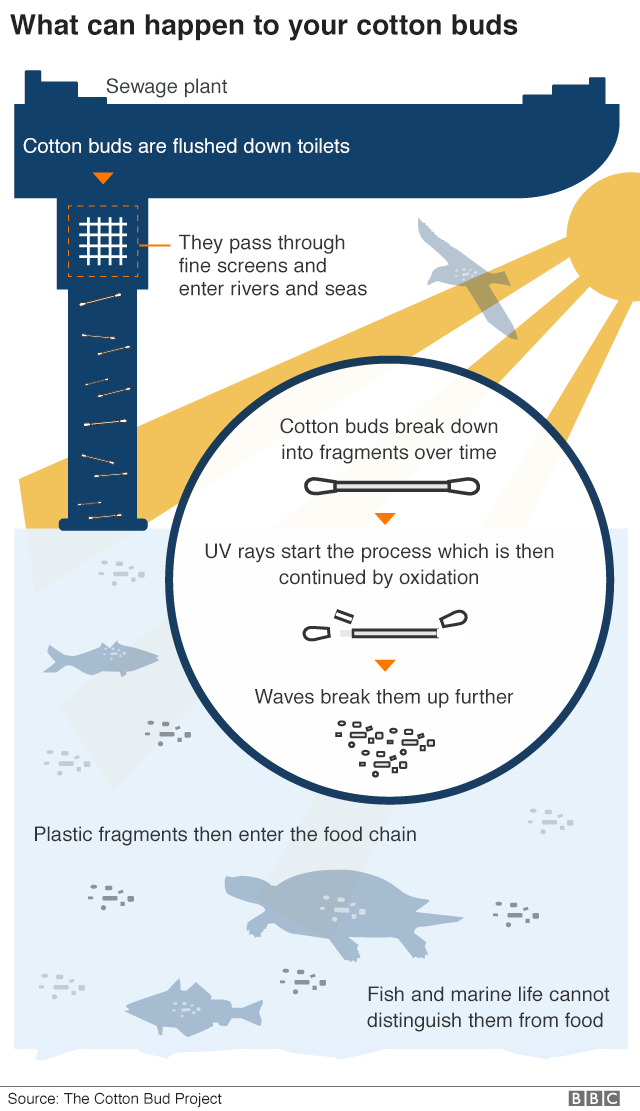 A recent survey by Plymouth University found plastic was found in a third of UK caught fish, cod, haddock, mackerel and shellfish. This can result in malnutrition or starvation for fish, and lead to plastic ingestion in humans too. The effect on humans of eating fish containing plastic is still largely unknown. But in 2017 the European Food Safety Authority warns of increased risk to human health, food safety given potential for micro-plastic pollution in edible tissue of commercial fish." A whales died after swallowing 80 plastic bags off southern Thailand.
Rescuers used buoys to keep the whale afloat during rescue attempt. The whale died in southern Thailand after it has swallowed more than 80 plastic bags. The small male pilot whale was found barely alive in a canal near border with Malaysia, Thailand's Department of Marine and Coastal Resources said. The whale  vomited five bags while rescuers used buoys to keep it afloat in a rescue attempt, an umbrella held to protect it from the blazing sun.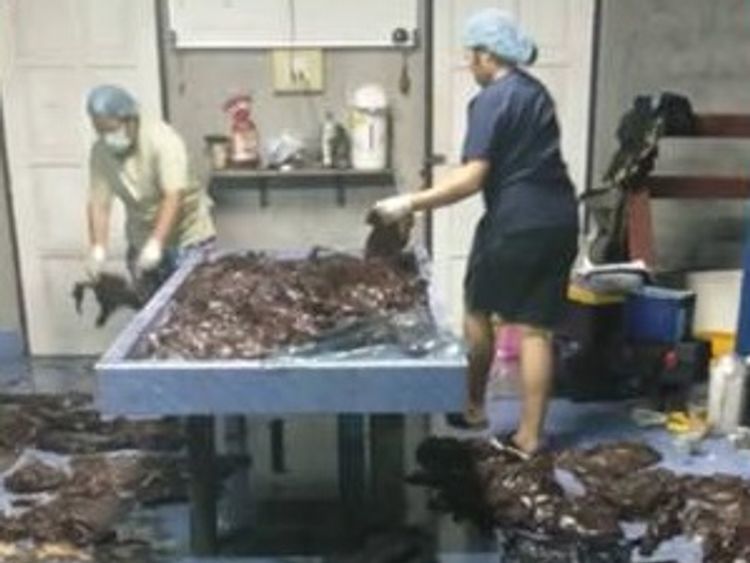 Plastic bags taken from whale's stomach piled together. A veterinary team tried "to help stabilise its illness" but the whale later died on Friday afternoon, officials said. An autopsy revealed 80 plastic bags weighing eight kilograms (18 pounds) in whale's stomach. Thon Thamrongnawasawat, marine biologist and lecturer at Kasetsart University, said bags made it impossible for whales to eat nutritional food. Shopping bags can be recycled for road materials, etc.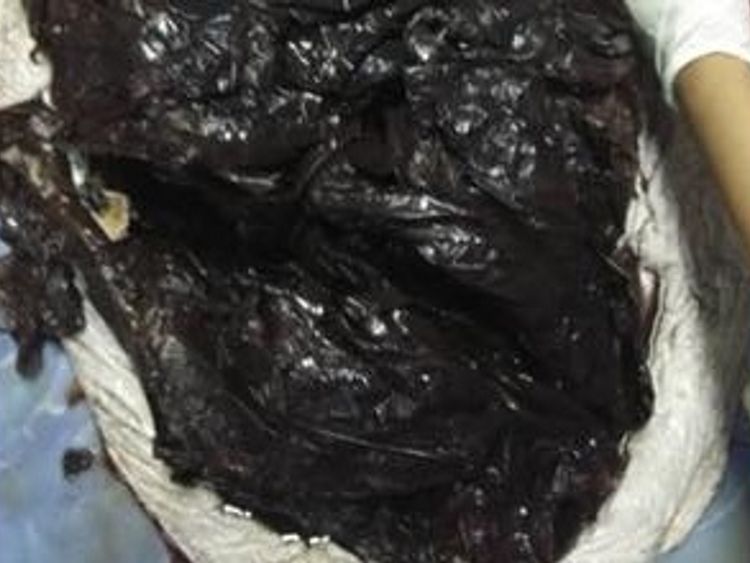 Marine biologist, Thamrongnawasawat said plastic pollution was huge problem. 80 plastic bags in stomach caused death, he said. Mr Thamrongnawasawat said, about 300 marine animals, including pilot whales, sea turtles and dolphins died each year in Thai waters ingesting plastic. He said: "It's a huge problem as the world uses lots of plastic washed in the sea and ashore."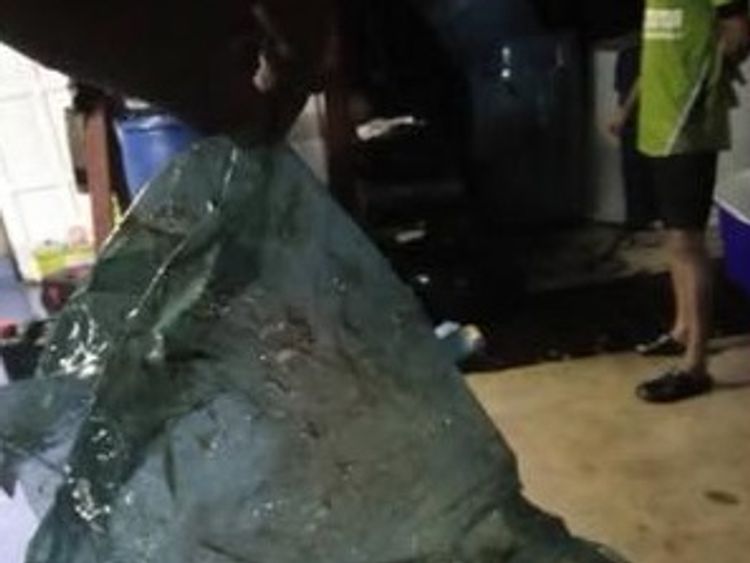 The plastic bags weighed up to eight kilograms (18 pounds). The pilot whale's plight generated sympathy and anger among global citizens. One Twitter user wrote: "I feel sorry for animal that did not do anything wrong but has to bear the brunt of human careless actions. A new way of solving pollution of rivers with plastic waste and debris is the use of  Trash Traps collecting litter before it flows further or piles up clogging rivers and sewages tunnels 
Bandalong Litter Trap™ is designed to float in waterways in order to capture litter before it flows downstream by using the current to guide debris into the trap. This performance floatable control technology continuously operating 365 days a year without any mechanical assistance to capture floating litter. The Bandalong is a proven, cost-effective solution for floatables control is the answer to the growing problem of litter in waterways. Bandalong Litter Trap is ideal in-stream solution for floating combined sewer overflows. The Bandalong Litter Trap is cleaning waterways in Australia and Asia for more than 15 years.
StormX™ is engineered to capture gross pollutants, handle powerful stormwater runoff at urban hot spots. Commercial grade, reusable nets to full capture of gross pollutants as small as 5 mm, including organic materials (such as leaves) that could reduce the levels of phosphorous and nitrogen in our water. This economical solution to litter and debris in stormwater runoff is highly effective for "first flush." To prevent flooding, built-in overflows allow heavy runoff to flow unimpeded.
Bandalong Boom Systems™ are installed across waterways, acting as a final barrier to collect or deflect debris. The floating boom sections are coupled together and spanned across a weir, waterway or dam to capture litter and prevent it from floating further downstream. The other wastes includes fishnets trapping whales in the seas.
Request Information
We can help clean waterways around your town or business or fishnet. And people must be educated to grow and preserve more trees and forests cut down cannot grow back the same way again, it takes hundreds of years. When this sort of damage occurs, a fragile ecosystem is disrupted. Animals will no longer have food when trees are cut. So plants, insects and animals that relied on a delicate balance disappear. People in are worried about deforestation that destroys natural carbon cycle. Acres of the national park's fragile ecosystem is being badly damaged to cater for global demands of soya, palm trees or vanilla. It is short-sightednes as trees start to disappear, the unique conditions that make soil perfect place to grow crops will start to disappear as well. Forests provide the right amount of rainfall, humidity and soil to grow brands of foods. Cutting down forest to grow more soya or palm makes it harder to grow quality foods on lands. Stop clogging the land and deforestation damaging earth.
:: Sky's Ocean Rescue campaign tells people to reduce single-use plastics. Find out more about campaign, get involved at www.skyoceanrescue.com
Alison Trowsdale, Tom Housden and Becca Meier. Design by Sue Bridge and Joy Roxas.