Revelation 16:8 says that the Sun will scorch earth through solar flares when the fourth angel pours out his bowl on the sun according to the Bible. As fourth angel pours out his vial on the sun the power was given to him to scorch men with fire. NASA's mission is to solve this apocalyptic sun scorching the earth as fast moving Biblical wildfires take place all over the world. Over 14,000 fire fighters tackling Holy fires said blaze is 10% contained on Friday in California today. The fire, one of several across the state, destroyed more than 19,000 acres of forest north of San Diego. Thousands of people are evacuated for their safety as fire rummages property destroyed. Experts warn that worsening weather conditions, with thunderstorms in the forecasts, could lead to "extreme fire behaviours" over the next few days. The news reveals wildfires hard to put out destroy lives and property on a daily basis. US National Weather Service says smoke from weeks of the California wildfires, and others burning in the western US, has drifted over a vast area, affecting air quality "across the northern Rockies into western and central Canada and south over northern Plains." Earth is getting hotter beyond normal sunshine causing changes to weather patterns. Scientists say earth is 1C away from Hothouse State that threatens the future of humanity' when temperatures reach 2C above previous pre-industrial levels. Due to such concerns NASA's Parker Solar Probe will explore sun's atmosphere in their mission launch on Saturday. The agency's first mission to the sun and outermost atmosphere, the corona. The Parkaer probe launches at 3:33 a.m. ET Saturday from Cape Canaveral, Florida, United Launch Alliance Delta IV Heavy rocket one of the world's most powerful rockets. The launch window will remain open for 65 minutes. If probe doesn't launch on Saturday, the window for a successful launch doesn't close until August 23. The probe is about the size of a car uses powerful rocket to escape Earth's orbit to change direction and reach the sun. The launch window was chosen because the probe will rely on Venus to help it achieve an orbit around the sun. Six weeks after launch, the probe will encounter Venus' gravity for the first time. It will be used to help slow probe, like pulling on a handbrake, to orient the probe so it's on path to the sun. The probe will circle Sun 24 times in 7 years to relay images beamed to NASA. Experiments selected for Solar Probe Plus are specifically designed to solve two key questions of solar physics as to why is the sun's outer atmosphere so much hotter than the sun's visible surface and what propels the solar wind that affects Earth and our solar system, said Dick Fisher, director of NASA's Heliophysics Division in Washington.
"We've been struggling with all these questions for decades and this mission should provide those answers." The spacecraft will approach the sun as its revolutionary carbon-composite heat shield withstands Sun's temperatures exceeding 2550 degrees Fahrenheit and blasts of intense radiation. Spacecraft will have an up close and personal view of the sun enabling scientists to better understand, characterize and forecast radiation environment for future space explorers. NASA invited researchers in 2009 to submit science proposals. And Thirteen were reviewed by a panel of NASA and outside scientists. The total dollar amount for the five selected investigations is approximately $180 million for preliminary analysis, design, development and tests. The selected proposals are: Solar Wind Electrons Alphas and Protons Investigation: principal investigator, Justin C. Kasper, Smithsonian Astrophysical Observatory in Cambridge, Mass. This investigation will specifically count most abundant particles in the solar wind, electrons, protons and helium ions and measure their properties. The investigation is designed to catch some of the particles for direct analysis. Wide-field Imager: principal investigator, Russell Howard, Naval Research Laboratory Washington telescope will make 3-D images of sun's corona, or atmosphere. The experiment will also provide 3-D images of solar wind and shocks as they approach and pass the spacecraft. This investigation complements instruments on spacecraft providing direct measurements imaging plasma and other instruments sample.
Fields Experiment:
 by the principal investigator, Stuart Bale, University of California Space Sciences Laboratory in Berkeley, Calif. This investigation will make direct measurements of electric and magnetic fields, radio emissions, and shock waves that course through sun's atmospheric plasma. Experiment serves as giant dust detector, registering voltage signatures when specks of space dust hit the spacecraft's antenna. 
While NASA' sun's mission takes place other Scientists are concerned about recent extreme Sun's heatwaves affecting the earth's rising temperatures.
Scientists said the planet will reach a 'Hothouse' state when the temperatures reach 2C pre-industrial levels. Earth's global temperature is 1C away from a climatic tipping point, threatens future of humanity, scientists warned. Experts added the planet is just decades away from events that would trigger runaway global warming. Threshold is reached when average global temperature is 2C higher like the pre-industrial times, research suggests. The findings show Earth's temperature is already half way there. If the tipping point is reached it creates a "Hothouse Earth" state of uncontrollable climate change. The event would pose "severe risks for health, economies, political stability, and ultimately, habitability of the planet for humans," as international scientists wrote in journal Proceedings of the National Academy of Sciences.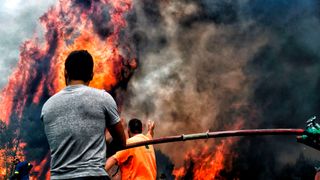 The extreme weather this research has highlighted 10 feedback processes that were predicted to kick in around 2C of global warming. Feedback mechanism would act "like the rows of dominoes" spinning the world into state of climate change that will alter the landscape of the planet. In the long-term, Hothouse Earth climate will stabilise at a global average of 4C – 5C above pre-industrial levels, the study shows. If that happens it will render swathes of planet around equator uninhabitable, with sea levels up to 60 metres (197ft) higher than they are today threatening coastal cities. The research refers to "tipping elements" that could turn natural carbon storage systems or "sinks" into powerful greenhouse gas emitters. Professor Johan Rockstrom, a leading member of the team from University of Stockholm, Sweden, said: "These tipping elements potentially act like a row of dominoes.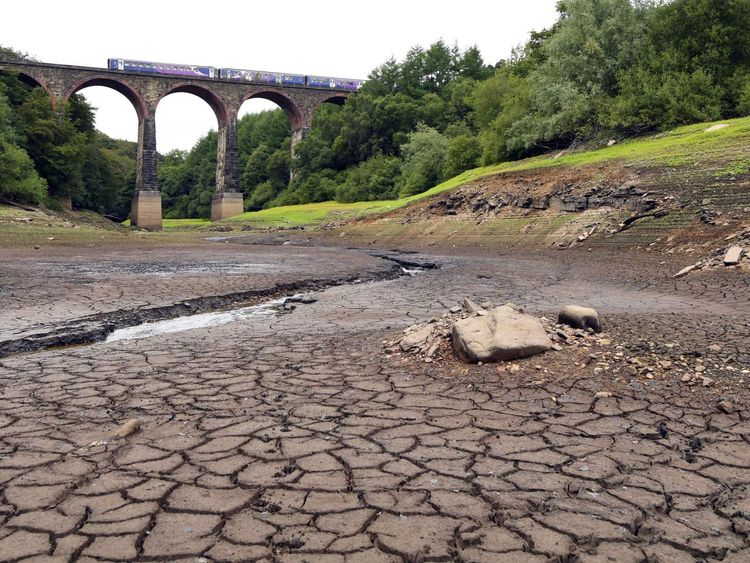 Part of Wayoh Reservoir near Bolton left parched by UK heatwave. "Once one is pushed over, it pushes Earth towards another. May be difficult or impossible to stop the whole row of dominoes from tumbling over. "Some places on Earth will become uninhabitable if Hothouse Earth becomes the reality." The tipping point dangers identified are: thawing permafrost, release of methane trapped on the ocean floor and weakening land and ocean carbon sinks. Others include increased carbon dioxide production by ocean bacteria, Amazon rainforest die-back, coniferous forest die-back, reduced northern hemisphere snow cover, loss of Arctic summer sea ice, reduced Antarctic sea ice and melting polar ice sheets. The scientists wrote: "Our analysis suggests Earth system is approaching a planetary threshold that can lock in a continuing rapid pathway toward hotter conditions – Hothouse Earth. "This pathway can be propelled by strong, intrinsic, biogeophysical feedbacks very difficult to influence by human actions, a pathway not reversed, steered or substantially slowed.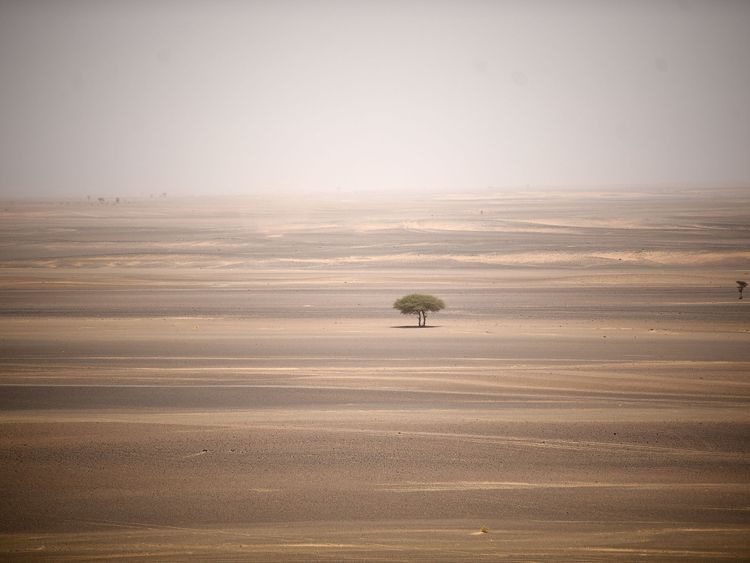 Experts have warned swathes of the planet could be left uninhabitable. The Deep cuts in greenhouse gas emmission as well as concerted efforts to remove carbon dioxide from the atmosphere are required to avoid a Hothouse Earth state, the researchers added. They said this could be done both by preserving natural carbon sinks using technology. Dr Phil Williamson, climate researcher from the University of East Anglia, said: "In the context of the summer of 2018, this is definitely not case of crying wolf, raising a false alarm. The wolves are now in sight." Chris Rapley, professor of climate science at University College London, said: "Previous research has shown that an increase in the mean global temperature of 11-12C makes more than half of land area currently occupied by humans uninhabitable." A runaway heat to new uncontrollable hot state would represent an existential threat to humanity and the majority of existing species."The scientists warning comes as the Met Office said Britain's heatwave could continue for several months, with higher than the average temperatures likely until October. The Coastal cities across the world are affected because of rising sea levels caused by climate change. Increased sea levels occur because thermal expansion heats water because of extra heat and it melts polar ice causing floods.
Science and Bible agree that the Sun is scorching and destroying earth as seen globally. Some people think the sun will only scorch during Great Tribulation but tribulation is going on now since the time of Jesus on earth. Mankind's own actions compounded and speeded up the Sun scorching earth before that great and terrible day of the LORD. The angel will be given power to scorch people with fire. Instead of catching soothing drops of rain, the people of the earth will burn as part of Judgments of Revelation 16. The Book of Revelation indicates that Earth will be adversely impacted by major solar flares from the sun in the future. Earth is completely scorched by X-rays radiations from the Sun. Trees burn and wildfires on earth increase carbon monooxide smoke that kills. Trees are being burnt or destroyed as predicted in the Bible. These things are  literal so people must be educated to know what God is saying or doing on earth. Giant solar flare scorching earth are hoped to be controlled by mysteries unfolded by mission to the Sun. Bible  prophecies talk about giant solar flares scorching earth and at some time in the future by angel's his vial upon the sun as and power is given to him to scorch men with fire. Sun scorching earth is allowed by God to let people know the consequences of over-exploiting earth's resources from centuries of reckless use damages natural resources and humans on earth. Earth will be restored as the New Earth and the New Heaven comes down to Jerusalem with God Dwelling among men on earth. Pray and ask God for HIS Mercy to save you in Jesus Name for eternal life.