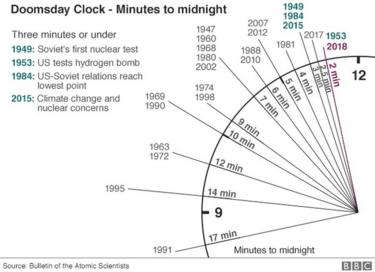 Apocalyptic doomsday timeclock moved two minutes toward global nuclear war threats and conflicts. Doomsday clock is a metaphor for vulnerable catastrophes in the world as deemed to be. Concern grows about a possible nuclear war and the global threats pushing forward their symbolic Doomsday Clock by 30 seconds two minutes before midnight. A Bulletin of the Atomic Scientists (BAS) said it had acted because the world was becoming "more dangerous." The clock, created by the journal in 1947, is metaphor for how close mankind is to destroying the earth and some inhabitants in the process. An amalgamation of world events points to growth spurt surge of global tragedies. It is getting closest to apocalypse since 1953, the year the US and Soviet Union tested hydrogen bombs. Last year, the clock moved forward by 30 seconds by the Scientists. Behind decision was an announcement of move in Washington DC on Thursday, and the BAS said the decision "wasn't easy" and said it was not based on a single factor. However, BAS President and CEO Rachel Bronson said "in that year's discussions, nuclear issues took centre stage once again."So the team of scientists singled out series of nuclear tests by North Korea. They dramatically escalated tensions on the Korean peninsula and led to a war of words between North Korea and the US. BAS referred to new US nuclear strategy and expected to call for more funding to expand the role of the country's nuclear arsenal. Rising tension between Russia and West was also a contributing factor. It is interesting this major players in the Armaggedon war alliances have set up magazines of ammunitions all over the world in strategic locations causing the sporadic tensions of territory turf wars. Worst of all the suppliers of the guns or bombs selling trillions worth of armour are monitoring the outbreaks of wars in many countries. These alliances explode into major Armageddon conflict against God HIMSELF taking back nations from all these factions to establish Kingdom of God on earth through Jesus Christ.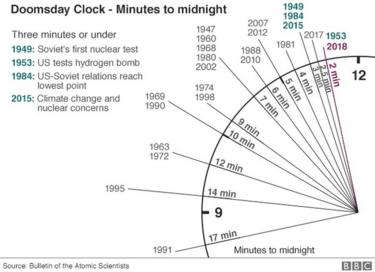 The "weakening of institutions" around the world in dealing with major global threats including climate changes were other major concerns the scientists said. They mentioned US President Donald Trump's "unpredictability" pointing to his controversial tweets and statements. The doomsday Clock's minute hand on the Doomsday Clock is the metaphor for how vulnerable to catastrophe in world is deemed to be. Media caption WATCH how the Doomsday Clock changed from 1947 up to last year. So symbolic device created by Bulletin of Atomic Scientists in 1947 founded, University of Chicago, 1945 by group of scientists who helped develop first atomic weapons has group including physicists and environmental scientists from around the world. They decide to adjust clock in consultation with their group's Board of Sponsors including Nobel laureates. The threats compared to previous years show the rapid rate of simultaneously dangerous global events. When created in 1947, the clock's hand stood at seven minutes to midnight but changed to more than 20 times from two minutes to midnight to 17 minutes before midnight in 1991. So during 1962 Cuban missile crisis it was considered by many analysts to be the closest the Cold War face-off between the US and the USSR came to escalating into a nuclear war the Doomsday Clock stood still at seven minutes to midnight.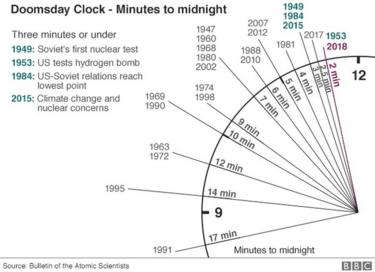 The BAS says: "The answers to seeming anomaly are that the Doomsday Clock captures trends and takes into account the capacity of leaders and societies to respond to crises with reasoned actions to prevent nuclear holocaust. "Cuban Missile Crisis, for all its potential and ultimate destruction lasted a few weeks; but lessons learnt quickly apparently show United States and the Soviet Union installed the first hotline between two capitals to improve communications. It negotiated 1963 test ban treaty, ending all atmospheric nuclear testing." In fact, the Doomsday Clock was moved back to 12 minutes to midnight in 1963. What is interesting about this doomsday clock is it is direct fulfilment of the apocalyptic prophecy predicted in the Bible. It is in a timeline with Daniel's 70 years sealed as a prophecy for endtime of the world. Precise timing depends on the various cataclysmic event unfolding concurrent with Book of Revelations and Ezekiel 38 among other Prophecies. Jesus warned the world about the events 3 thousand years ago in Matthew 24. The warnings are not exclusive private matter of past disciples or to only Israel. This events are recorded in the Bible including the stages of how it unfolds and methods used by God and mankind. The nations involved are named in the Bible and the consequences affect the whole world. There are times when you have such rapid-moving fires … no amount of planning is going to result in a perfect scenario, and that's what we had to deal with here," Honea told the Action News Network. In northern California, when Paradise was evacuated, the order set off a desperate exodus in which many motorists got stuck in gridlocked traffic and abandoned their vehicles to flee on foot. People reported seeing much of the community go up in flames, out of 22 homes only two survived fires including firemen's homes lost and supermarkets, businesses, restaurants, schools and a retirement center. Paradise is about 180 miles north-east of San Francisco. Rural areas fared little better. The homes with propane tanks exploded in flames. 'They were going off like bombs,' said Karen Auday, who escaped to a nearby town. In Hollywood people suffered recurrent Biblical wild fires affecting celebraties' paradise homes. The wild fire came so quickly residents had no time to gather medications or documents. Firefighters carried people from homes, put them in empty seats of the neighbours' cars, said Carol Napoli, 74. Napoli left with friend, friend's son and her mother in her 90s had to leave behind her oxygen tank too risky near fires. It was reported people sought refuge overnight in the church.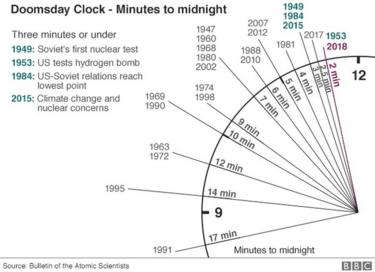 A few minutes of news shows sudden tragedies, traumas, earthquakes, floods volcanoes, wildfires, flash floods, rivers in deserts due to climate changes. Seas and rivers are polluted by plastic waste damaging flora and fauna of natural beauty of the earth. Ozone damages the carbon cycle causing acid rains destroy crops, causes cancer in the animal food chain consumed by humans. The toxic chemicals sprayed to increase a hybrid genetic modified food with a synthetic  chemical fertilizers and pesticides are all accumulated damages. Hitech robots and machines replace humans jobs so billions unemployed through no fault of their own. Conglomeration of pressure on deprived families exploited by a few inner circles all add up to God's Wrath to fastrack doomsday destructions. GOD unleashes destruction reconstruction in stages through earthquakes, volcanoes, natural disasters, wildfires, sinkholes, landslides, mudslides, tsunamis, capture attention of people to wake up and be prepared for Rapture. Though Jesus said, there will be trouble in the world God provides escape for eternal life to recreate perfect sinless world for those who believe. All who doubt, mock, are left behind to go through worse things yet to come. Jesus said the world has NEVER such evil before and will NEVER see such evil again after Armageddon. It is in Bible people will cause wars to cull populations while building the caves for themselves to hide in. But is biggest joke because nobody hides from God to any safe place beyond God's reach. Scripture says there is nowhere to go to from HIS PRESENCE, if you go under the sea God is there, if you go above the skies God is there. It is time for a change of heart to examine yourself and seek God's Mercy and Grace because these perilous times are getting worse. When God instructs HIS angels to increase damage to earth it will destroy one-third of the humans, one-third of trees, one-third of seas and rivers one-third of ships sink in the sea. Confusing climate patterns can distort perception to disorient people, animals, gadgets by 24/7 unusual light changes affecting navigation systems, weather changes of chem trails, fracking leaving whales trapped in shallow waters. Make personal choice to obey God to be in HIS Kingdom through HIS Son Jesus Christ. God is slow to anger, so does not want anyone to perish delaying HIS Wrath but releases these warning signs to alert people to pay attention before it is too late. So scientists confirm these events in the Bible predicted to unfold globally daily. It is decision time today to choose to believe God's Word to be saved for an eternal life under Jesus Christ in Israel. 
More on this story
'Doomsday Clock' to stand still amid nuclear tensions

Trump and the nuclear codes

The British people preparing for the end of the world

Video

Prepping: 'How I would survive an apocalypse'