Henry VIII of England's Angel gold coin measuring 29mm, with a weight of 5.12 grams. This was among the King's first coinage struck at the Tower, Royal Mint.
The legend around the coin: HENRIC VIII DI GRA REX AGL Z FR around the image of the Archangel Michael slaying the Dragon.
PER CRVCE TVA SALVA NOS XPC REDE. A ship bearing the royal shield and cross, the letter "H" and rose flanking cross.
Queen Elizabeth I's gold angels differed little from Father's her name positioned right of Archangel's depiction minted between 1578 and 1581. At Kenilworth in 1575 Queen Elizabeth I often publicly prepared for healing ritual associated with Angel coins 'prostrate on knees, body and soul rapt in prayer.' Known to lay hands on subjects, and made sign of cross, with gold angel, over location of sore or affliction. The inscription on the reverse side of her Angel coins read in Latin: "This is the Lord's doing and it is marvellous" for healing itself or words spoken by then-princess Elizabeth upon learning of death of older sister Queen Mary I to make her Queen of England!
An angel example issued by King Henry VI as king of France. The coin weighed 2.34 grams and was struck between the years 1427-1449. The legend: HENRICVS: FRANCORV: AND: A(nglia): REX. Image of Archangel Gabriel over coats of arms of France and England. On reverse, the legend: XPE: VINCIT: XPE: REGNAT: XPE: IMPERAT's simple cross flanked by a lily and leopard. People literally used death coins Chanol obol to pay the river crossing toll in afterlife. Others used the coins hold eyes shut during funerals. So yet again the expression of death has a function of duality just as life after grief is a double-sided. One remembers loved one's memories but continues to live in the here and now simultaneously. And gratitude continues to increase in value  as study after study has found a robust association between higher gratitude and wellbeing. Protection from stress and depression, fulfilling relationships, better sleep and greater resilience." It can be a simple spending part of every day for two weeks writing a list of three things for which grateful. "As pages in diary fills up with a scribbled gratitude started to find concept less vomitous, so Sarner wrote. After four weeks counting gratitude keeps doing it. Even in a midst of death and grief can find joyful ending of pain and suffering, gratitude of years spent together, privilege of medical care and ability to see and bury loved one as friends gather to support or help family, memorial service, giving thanks to God for the gift of eternal life IN CHRIST and worship God, sing songs praising God use Psalms and Bible verses to reinforce trust in God. Faith comes by hearing the word of God, do not let grief overwhelm you to destroy you. Commit family into God's Hands to protect you from further evil destructions and to cover you with Jesus BLOOD in JESUS NAME.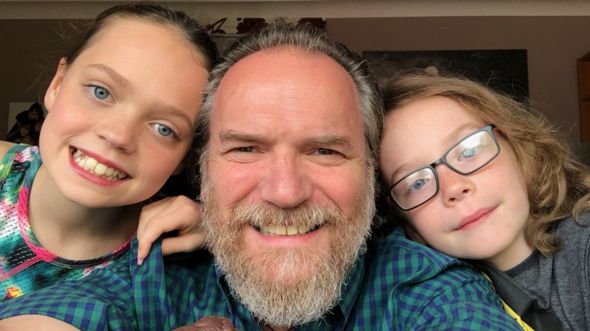 Gary Andrews with daughter Lily (11) and son Ben (eight) unexpectedly death lost partner of 19 years. His 41-year-old wife Joy died suddenly about a year ago. Over the last 12 months discovered for him, the answer is doodling – a doodle a day to cope with grief. Gary, animator and illustrator worked on Fireman Sam and for Disney, began his doodle diary, shared on social media on 55th birthday in 2016. Uses digital media at night to do little sketch based on things happening daily." Following her death, 27 October: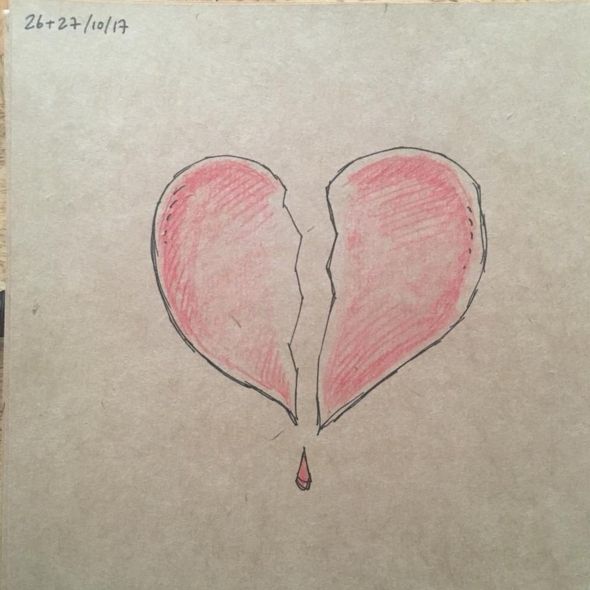 Image copyrightGARY ANDREWS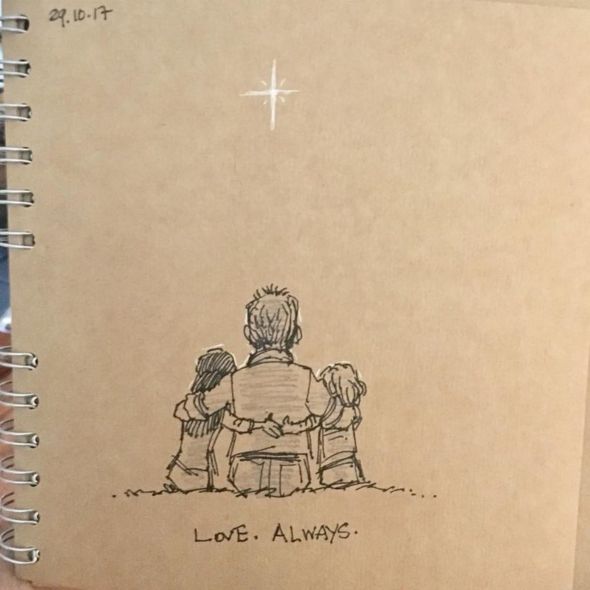 Image copyrightGARY ANDREWS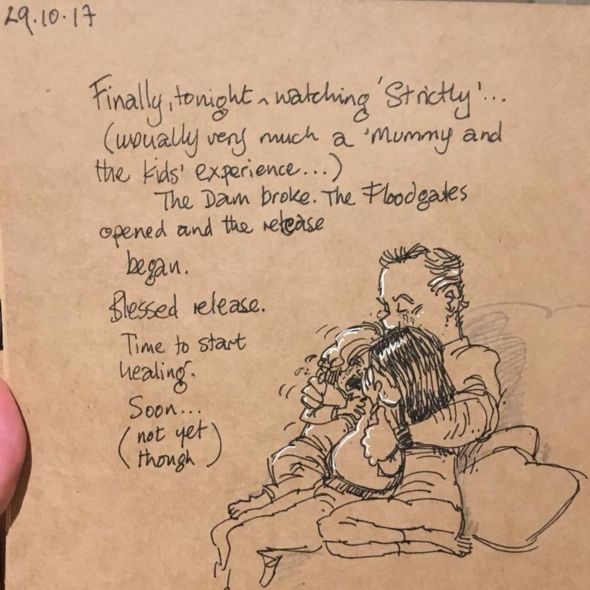 Image copyrightGARY ANDREWS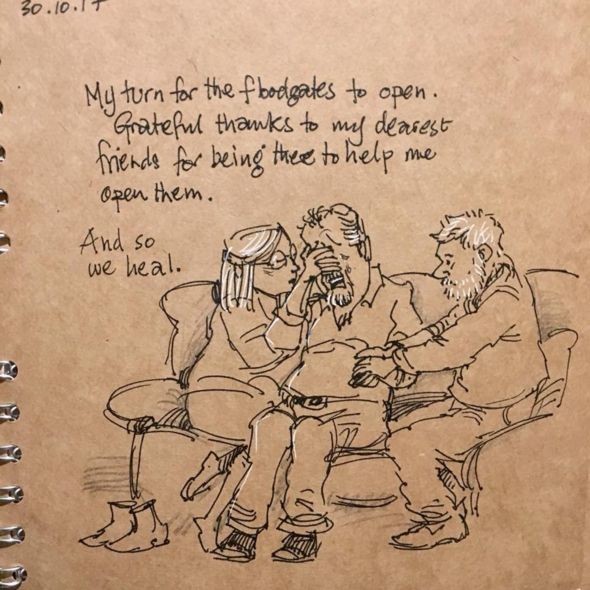 Image copyrightGARY ANDREWS. His week started with wife waving him off at Heathrow Airport on a Monday for a work trip to Canada. A few days feeling ill with flu-like symptoms, Joy was taken to hospital on Thursday with suspected kidney infection, condition deteriorated rapidly. On the Friday at 03:15 she died from multiple organ failure caused by sepsis. Gary, in the departure lounge in Vancouver waiting for emergency flight home, was told when he landed back in the UK. He had lost the woman he had been married to for 13 years, the person he describes as his best friend, and the mother of his two children Lily, then 10, and Ben, seven. At times a rollercoaster up and down sadness or joy depending on triggers of a music, favourite foods, scents friends, activities. Despite the pain must remain to live for that person too who wishes a happy life for loved ones after passing. It's important to try for their sake to pull through and smile again, eat, dress well and begin living again. First few days of bereavement of grief, worse; sudden change of direction by unexpected death forces one to make life without the loved ones. God's angels surround us to help with the family sent from God the Comforter. The Holy Spirit helps grief to be borne in hope through assurance of eternal life in resurrection. There is no specific formula for grief or sorrow so people deal with pain in their own way meaningful to them. Do what you can, ask friends and family to help with any issues made complex by death. It's not weakness to ask for help and do not wait for people to "offer" help first because they may feel like giving you a private space to grief. Talk about loved ones, laugh over their jokes, keep on in life do not stop living because they want you to be happy even grieving for them.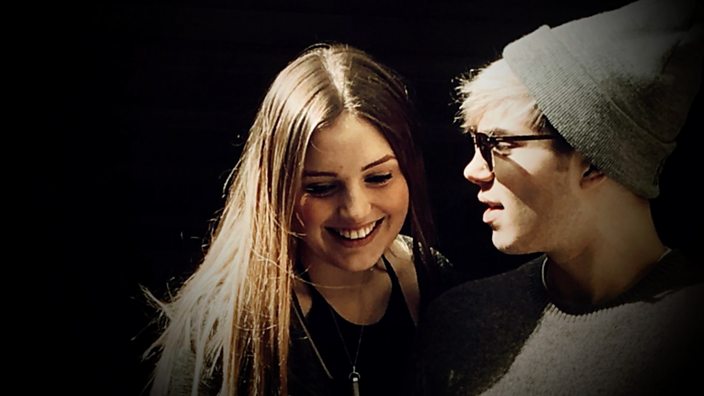 George Shelly on his sister's death says "There are no rules when it comes to grief it's about doing what feels right for you." One thing that massively helped me is learning how vital exercise is for mental health. I started exercising when I started getting angry, towards the end of last year. I was punching walls in fits of rage and had load of broken knuckles and scabs, a mess taking frustration and force out on objects and on myself. So started doing meditation in my room, and went to yoga classes, a brother Will, who is a marine, taught me how to lift weights and it's made me feel so much better mentally. I'd go into the gym with a knot of frustration, anger and turmoil in my stomach, and leave feeling it was untied. The documentary made about grief was trying to come to terms with Harriet's death. When I started filming, I couldn't say Harriet's name out loud without breaking down. It was intense and so damn hard. But hearing other people's stories of grief, and how they dealt with it, is part of learning how you deal with it yourself. And I learnt that it's important to allow yourself to feel vulnerable, to accept the crutches that work for you or for antidepressants see a psychiatrist. There is no right way of dealing with this pain you need to know there is support out there, and to not be afraid to ask for it. GEORGE SHELLEY on BBC THREE shared his experience with mental health as it's something I never thought in a billion years I had to deal with. Through shock, you question what life is a lot. When you have that much of a dramatic change in life, you change. You look in mirror and you're faced with different person. Losing Harriet is something I am going to deal with for the rest of my life. I feel her smiling with me wherever I am. Her birthday is Christmas day so my future kids will know it's Christmas, but that it's also Auntie Harriet's birthday. We'll keep saying name keep to remember.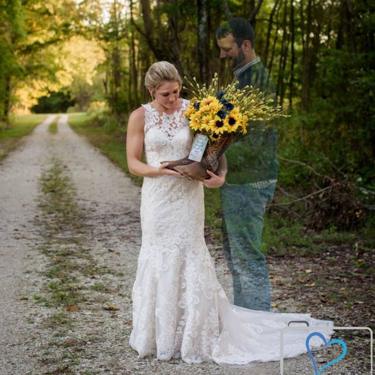 Mandi Knepp wanted to show strength so brave for self and others but knew Kendall will not come back after death. A photographer surprised Jessica with final picture side-by-side with fiance for wedding day as part of healing process for Jessica and family. In group is family and friends, some Kendall's colleagues from a fire department he volunteered before killed attending an accident.
"I told them not to worry about coming. I know the guys usually late at wedding and so they don't want be there. But got a surprise when all the guys were there standing in the spot where they would have been at the church. I was in shock they took time and they cared enough to do that for me. The images went viral when her photographer posted them on Facebook. Although that changed what Jessica had wanted to be that personal moment, it also brought extra meaning.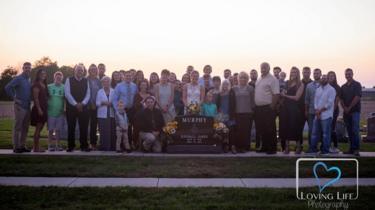 "I got messages from grieving people I don't know, telling me stories and how strong and brave I was. They said if I do it so can they. Photos highlighted many ways people grieve if they lost loved one particularly at a young age. After photos felt did something good, felt bit stronger but next day comes and brings back all the sad moments and emotions about him." She says the photos made her feel closer to Kendall sees him now laughing at it going viral. He brought the strength to those pictures honestly felt presence.
Speaking to The Telegraph at Christmas Miss Lamplugh's father opened up on how he wondered how his daughter's life would have turn out. Mr Lamplugh, former solicitor aged 87, East Sheen south-west London does not dwell on the thought for long. Ever since his 25-year-old estate agent daughter Suzy disappeared, believed murdered, July 28 1986, he displays stoic dignity even though hers has been one of the most high-profile and enduring cases of a missing person in recent times. Thirty years on, Mr Lamplugh says: "Time passes. You move on. I don't picture her or daydream about her. Diana and I brought it to an end when we held a press conference at Scotland Yard to announce that we felt we had done all we could to find her. "You can go on to destroy your life and other people's lives," he adds. "Take control over your life again, we imagined she would have said, 'You have done enough,' while it doesn't stop you thinking don't agonise.' No trace of his daughter was ever found and no one has ever tried or convicted of her murder. He won't say if he thinks Cannan or anyone else is to blame. "It was a good lead. It may be right, I don't know. The fact is, she is never going to come back and that is the way it is," he said. "My grandchildren may know they had an Aunt Susan who mysteriously vanished 30 years ago," he admits, "but I have never talked to them about it. My wife Diana and I determined the lives of our other children Richard, 57, Tamsin, 54, and Lizzie, 47, would not suffer as a result of our loss. Suzy herself always believed life was for the living. It was one of the last things she said to Diana before she disappeared.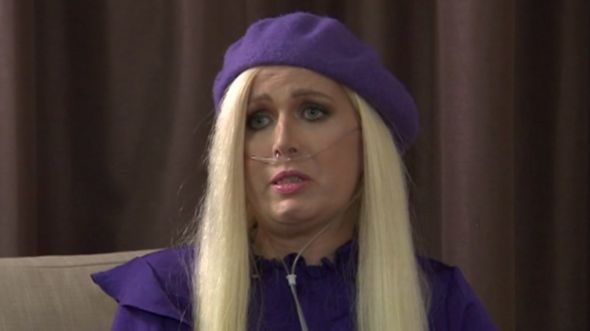 Terminally ill Miss Hellyar wants to stay in Newcastle where she has lots of her friends. This terminally ill woman who had hoped to raise £5,000 to pay for her funeral has smashed her target. Shirley Hellyar, 40, from Glasgow, thought she beat cancer travelled to Newcastle to celebrate her 40th birthday this month. However, while visiting friends suffered chest pains and scan revealed condition was terminal. An online fund has raised £5,570 so far. Ms Hellyar is in a hospice in Newcastle with weeks left to live. She was diagnosed with the lymphoblastic lymphoma in 2017 as a tumour detected in her lung. Early September this year, she said the tumour had shrunk and she was well enough to travel to Newcastle where she lived for years and used to work as a sexual health worker. Miss Hellyar is in St Oswald's Hospice in Newcastle, where she wants to remain and be close to friends. She said: "The kindness people show is unbelievable so has reinstated my faith in humanity." More than 250 people donated to the fund to help her parents Elizabeth and Gordon pay for her funeral, as well as travel costs. Message of support offered to provide services at funeral or places for her family to stay in Newcastle. Val Campbell called it a "tragic situation" so Martin Robson said he was moved to tears. He wrote to Miss Hellyar: "I can't imagine what you are going through but I wish you love and more. Holding your hand from afar." If you believe in God you know that in year King Uzziah died, Isaiah saw GOD Sitting ON HIS Throne in heaven, looking like a man in Isaiah 1:1 in Bible. Isaiah's grief over the king's death made him seek Face of God more than ever before. GOD Comforts people through Holy Spirit comforter so lifted above sin and sorrow into PRESENCE of the LORD. And King David encouraged himself in the LORD in time of adversity and sorrow. Grief is an occasion people run to God, churches are full if disaster strikes. People recognise their human limitations and need a Saviour so turn to God in pain. Its best time to maintain Covenant with God consistently not only in good times but vulnerable times too. Do not blame God and become angry to denounce reject God for not preventing death of a loved one. It's not God's fault so be realistic about circumstances of life and human decay. The devil comes to steals, kill and destroys but God gives eternal life more abundantly so GOD is still in the Throne despite death of loved ones. Eternal life brings reunion of the family and friends to live forever in eternity into infinity. A temporary loss by death is for only a short season in life, compared with joy believer have in Resurrection in Christ to live forever in Jesus Name. GLORY to God.
More on this story
Terminally ill cancer patient raising money for her funeral
By Georgina Rannard, UGC & Social news