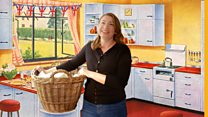 Submitting to my husband like it's 1959 made me traditional wife: #TradWives. A growing movement of women who promote ultra-traditional gender roles in the family. A search of the hashtag '#tradwife' on social media shows images of cooked dinners and freshly-baked cakes with captions like, "A woman's place is in the home" or "Trying to be a man is waste of woman." Term 'tradwife' is controversial because of its associations with far right, in the United States. But many self-described tradwives reject that association. Alena, who lives in UK, says it's "submitting to and spoiling her husband like it's 1959" and supporting a return to "traditional English manners, lifestyle and values."
A modern 21st Century woman wants  marriage on her own terms regardless of traditional expectations it's her way or the highway without compromise. Its a contradiction of wanting to play a role of married life but live as single woman with/out child/ren runs a shock wave to traditional family duty of commitment. A freestyle modern marriage competes with man on equal terms, pay their way contributes to mortgage, bills and calls the shorts. Quite confusing modern men totally unprepared for modern roles. Its women who seem to earn more than men who decide to exchange traditional role to become breadwinner to bring home the bacon. Paternity leave is three months with paid leave seems enough proposition but time taken off to care for newborn not enough.
If returns to work who pays the bills or cares for baby if both of parents work, do not have nanny, grandparents, au pairs? Will part time work be enough to cover costs of running a home including the needs of their baby? There is a vast difference between wo/men's nurturing in most countries. Women with career ambitions ask men, who like to spend time with families to become stay home dad is conundrum of painful choices. If leaves baby at day care centre must pay all the costs including sending food and nappies for the baby plus costs of care for baby. Women who hold positions of power in a workplace culture is stacked against them. Some modern women live life through the social media Facebook's friends list. Their virtual friends cheer them on, like their posts agreeing with all they do but forget about real family. 
Women particularly those who combine marriage and career with motherhood. Those who give up their fulltime work to be housewives seen as lazy and work shy. Those who work and don't have full time with the baby are mom shamed as uncaring? Can women ever do anything right with expectations of managing the home, family, business in living fulfilled lives? Domestic chores and finances are major issues affecting modern families. They work hard to pay mortgages, rent, cars, housekeeping, student loans and to save for the children's college education put more pressure and stress on family. They juggle husband, baby, work, home simultaneously to have it all. Keeping a job full time and maintaining the family without support takes a toll on people. It important to remember nobody created exclusively isolated as an island. This is why God puts people in families even if you can't stand them you need support. Many babies travel with busy working mums can affect settling emotionally if butterfly babies constantly on the move.
Its a big mistake couples make thinking monogamous marriage means cut off a family and live by yourselves. Marriage is part of a bigger family that helps to make the marriage possible and work as part of a team. You need help and the emotional support of family to grow and mature as a couple. Respect elders, don't think your academic education or status makes you superior because now married. Your family loves you more so cares about you more than you realise because blood is thicker than water. Be humble and honour parents so you will live long and it will be well with you. Do not gain the whole world and lose your soul for fame and money illusions. Jesus said a person's life is not in the material things accumulated but in how you treat God, friends and family determine eternal life in Christ Jesus.
Produced and filmed by Alex Gatenby
Executive Producer: Rob Brown
Commissioning Editor: Nisha Diu