God's stars in Bible of sun moon planets  exist before the science and technology evidence of the universe God created. In Bible God talks of sun, moon and stars. Scientists observe and investigate how God made  things work to develop and understand life better. Scientists focus on studying the universe, observe events in heaven passing day and night. Astronomers are observe cycles of seasons related to the positions of the sun, moon and planets. The calendar and time depends on events to predict weather, storm, eclipse of the sun and moon every year. Pattern of stars help find direction in their travels grouped stars named 12 constellations of sun, moon, stars or planets. Astronomy as a science of ancient Greeks by Galileo Galilei who observed change of many motions in astronomy. Earth spherical shaped knowledge observation discover more about Universe. God's prominent twelve Mazzaroth crown stars in three groups: Capricornus Aquarius, Pisces, Aries focus on the Jesus' redemption of Church "Body of Christ." God's Aquarius Jesus, living water Comforts, believers in Holy Spirit in John 16. Water pouring Aquarius star Sadalmelik (R) pouring out, Sadalsuud (L) pours out." His right knee star: Skat, "He who goes returns so the pagan gods counterfeit God's stars. Greeks, Roman's Aquarius, Aphrodite and Venus, moon. God's water bearing Living Water refreshes His people in Numbers 24:7, 1 Corinthians. 10:4. Jesus said drink living water and never thirst again. His water springs everlasting life in John 4:14 as Jesus pours Holy Spirit in Bible purifies by power of Divine grace and salvation in Isaiah 32:1, 2; 33:21.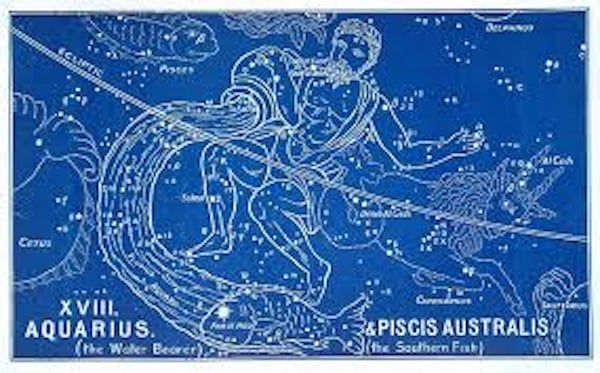 Aquarius fulfills prophecy in pouring out Holy Spirit in Isaiah. 44:3, Joel 2:28. The Holy Spirit, to Christians Aquarius' South Fish (Puds Australis) water flows to new fish believers who accept Jesus' call to come and drink." These majestic heavenly stars' living water is renewing to transform God's Church. The heavens are abode of only one God Jehovah who sends Apocalyptic messages through the sun and moon day and night in Genesis 1.16. God's firmament of stars, the KING of universe sit on HIS THRONE adored by cherubim and seraphim and host of angels. With eyes much sharper than an eagle's, God, from HIS heavenly vantage point looks on earth so sees everything. God's heavenly realm correlate with HIS earth manifest presence enthroned in a body Temple through HIS Spirit. Hearts of true believers point overhead to God as citizens of heaven as dwelling place. God speaks to people from HIS throne in heaven send angelic messengers with HIS instructions. Heavenly movements and seasons are messages from God but humans to try to build a tower reaching to heaven in Genesis 11.1-9. The Sons of God broke rules to cohabit with human women in Genesis. 6.1-4. Humans know earth is temporary abode until rapture. Elijah, Enoch, Moses, Baruch Paul, went to heaven came back with knowledge in 2 Corinthians 12.2-4. Jesus' ascension in His resurrected body was literal change in location to heaven. Planets and stars impact human fate as God of Heaven emphasize his cosmology astronomical dimensions as the ruler of earth and as purveyor of social and personal secrets. Theory of eclyptlic revised equinox in 50 B.C.E. cycle scientific basis hard data. Jesus slays bull depict death sign Taurus Jesus rule. God's Kingdom Christianity is interpreted in context of Jewish culture and Bible so Jesus' early message is time is fulfilled. Kingdom of God is at hand so repent and believe in Gospel in Mark 1.15, Reign of God is here. Trust in good news to proclaim acceptable year of the LORD in Matthew 4.17. Almighty Father God controls great cycles from heaven of precession of equinoxes. In heavenly gospel stars Pisces rising vernal equinox recording of actual event. Fishermen in the Gospels use fish and fishing symbols event in all four gospels Jesus feeds the 5000 with five loaves and two fish. The loaves like manna from heaven and two fish identifies Jesus as beloved Son close connection between Jesus and heaven. A prayer teaches disciples: Our Father heavens hallowed be your Name your kingdom come, may your will be done, on earth as it is in heaven. So Christian prayers, Jesus directs hearers to Father God in heavens and coming of kingdom to put hearts and minds in agreement with all the happenings in heaven. And God's kingdom will come on earth.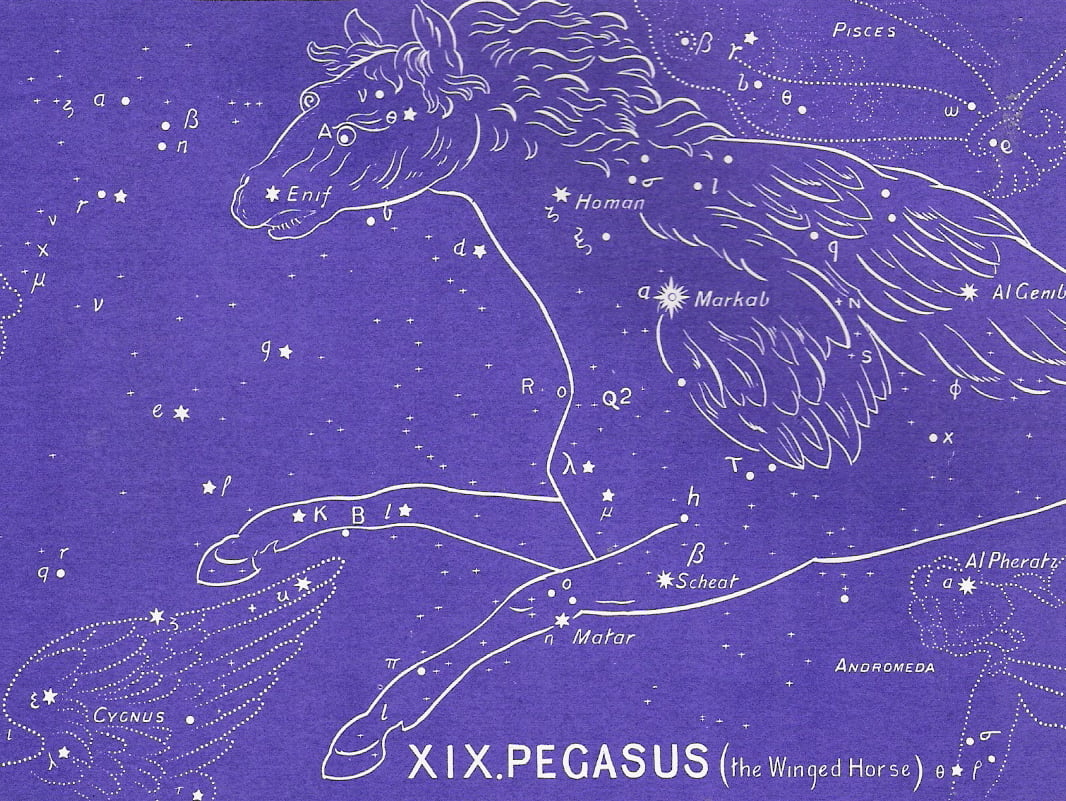 Pegasus will return swiftly as the divine messenger to bring joy in Isaiah 64:5 so  biblical prophecy predates pagan myth. God's messenger Pegasus, moved with heavenly speed reports affairs of men, shook nations "to restore liberty, peace, and blessing to God's people." Pegasus is Pega, Peka, Pacha 'chief' and sus, 'swift' is Jesus' swift quick coming soon return. Four-starred square Pegasus: Markab is by wing, "the returning;" Scheat, top of left leg, "goes and returns;" Enif, by ear is branch;" Al Genib tip of wing feathers carries; Homan top wing above waters Matar body causes plenteous overflow. Glad tidings carried on wings of Spirit of God by flying horse messengers who spread message of grace and salvation to the ends of the earth. Pegasus' hoof, Cygnus flying Swan 81 stars is "circling and returning" return of the Redeemer.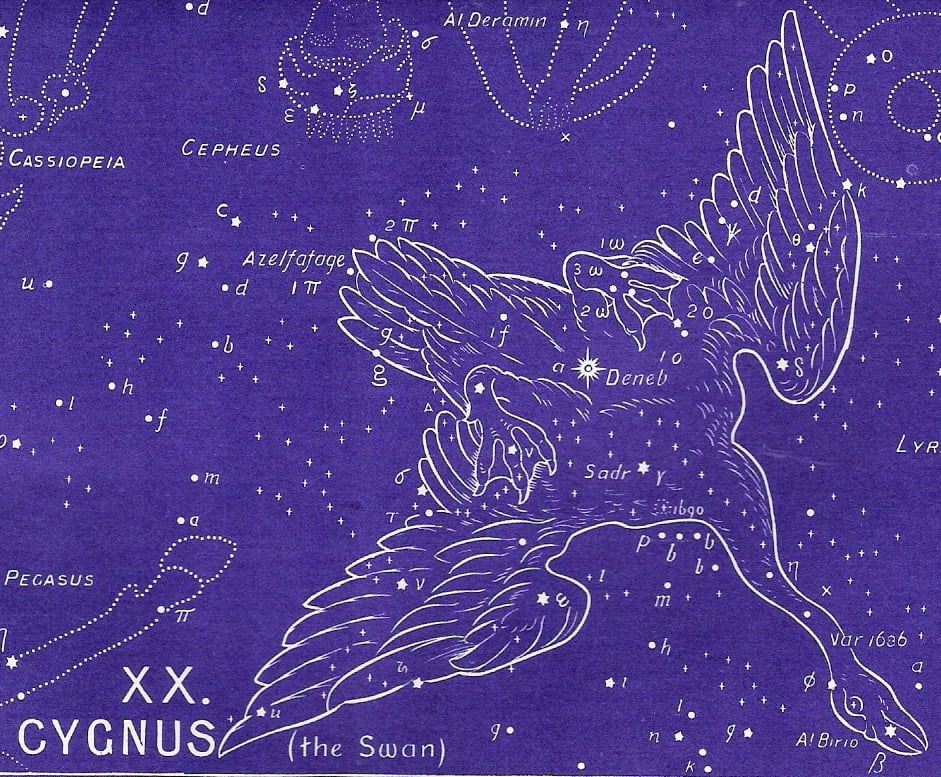 The swan majestic bird of the waters is emblem of purity, dignity, grace on body stars form a cross, from head to tail and from wingtip to wingtip. A brightest star is: Deneb, "The Lord Comes" and Arided "He shall come down." The astronomers say Cygnus "intermediate link planetary worlds." Is first or second magnitude six of third, twelve of fourth so some these never set. Its five double stars and one is quadruple. The binary star 61 Cygni is the most known in the heavens. It is one of nearest to our system of fixed stars so two connected stars of revolution by each other progressive, uniform motion moving thousands of times faster than swiftest body known to our system. The  constellation's complex galaxy has left astronomers starstruck for centuries. So Cygni tuition orbiting stars gravitational binds each other varies in strength and brightness of starlight. Gospel Aquarius reveals is "beautiful picture of the most precious Gospel truths." Jesus' heavenly waters of life and salvation of beautiful  Seed of the woman, slain, risen lifted up to everlasting Glory; Magnitude of Jesus flows in dry thirsty world new creation joy of life good news to all people. Grace of Cross of Jesus to all nations spread on wings Lord shelter by the LORD. Waters of meek Jesus' "thirsty come quench by drinkers. Josephus said constellations of God shows Adam, Seth, Enoch, Gospel in Sky PROPHETIC RECORDS LIFE MISION OF MESSIAH JESUS CHRIST. Mazzaroth TRUE Original Messianic Significance in tge question to Job: Can you bind cords of Pleiades or loose bands of Orion? Can you bring Mazzaroth in his season? Or guide Arcturus with his sons? Do you know ordinances of heaven? in Job 38:32-33. Christian truth in mazzaroth has one major focal point of life and mission of Jesus Christ. Messiah symbols in twelve and 36 other signs six to seven thousand years in Mazzaroth. The constellations of Christian symbols Gospel in the sky point to coming of Christ, relationship to His people, Israel, Biblical patriarchs. The constellations literal passages from  Bible. The serpent extends a third night sky signify archangel lucifer's rebellion against God took one-third of heavenly host with him in Revelation 12:4.
Capricorn Jesus is scapegoat for Israel's sins. Virgo virgin birth and Leo is Jesus Lion of Judah, KING of Kings rule earth in His Second Coming. Gospel in Stars: or Primeval Astronomy, first in 1882, rejected by Christians. Constellations from divine prophetic source impressed on writer's mind connection studies of marvelous wisdom of God embodied in the Great Pyramids of Gizeh." Scientists studied the Great Pyramids found construction design revealed a greater knowledge of science and mathematics planet's movements. Researchers found these constants of Pi (3.141592643… and Phi (.618 Fibonacci Series and Golden Section). Pythagoras learnt in Egyptian mathematical science from by earliest civilisations. God's constellations: "God said, Let there be lights in firmament of heaven to divide day from night for signs and season, days and for years. Genesis 1:14. Greeks and Romans borrowed the original symbols of Biblical floods. This geographic event connect impact on the of Adamites Hebrews in Mesopotamia, India, Tarim Basin of Mongolia before Noah's Flood. The Hebrews after Flood as ancestor Heber moved into territory with his people, five generations after Noah. The Hebrew's social interaction in India, Britain, Egypt, China, remnant Adamites exists in Xingiang Province of southwestern Mongolia. Signs, omens portents in skies watched saw predicted comets of doom eclipse heaven's symbol came true. Ancient world news of wars, royal births, deaths of notable people an astronomical BIG NEWS. Astronomy science of astronomer-priests kept their profession to themselves. Sophisticated discipline of comparative statistics star and planet positions correlate to earthly events. Old Testament, ancient texts by many Hebrew authors edited through history religious leaders from Scriptural understanding. Many popes have their own personal astronomers but publicly hide Biblical truth."
Old Testament history, ethics, prophecy.  accurate diligent search of Scriptures of numerous statements Christian Identity interpretation of Bible historical science says waters reached top of Mt.Everest. Creationism teaches all races descend from Adam and Eve from Noah's family, right after Flood. Focus of Christians put natural history, science, Bible in proper perspective. Ancient knowledge of the specialists astronomer-priests. Literacy and mathematical knowledge available to few people. The Bible contain wealth of.astronomical information in an extra-biblical, Hebrew Christian literature, passed down parallel with Bible contain knowledge. Magi located Christ child by known prophecies concerning Him as skilled astronomer-priests. Greeks and Romans Seiss says "Albumazer attribute the invention of both Zodiacs to Hermes; and Hermes, according to Arab Egyptian authorities patriarch Enoch. Josephus and Jewish rabbis affirm 'starry lore' had origin antedeluvian patriarchs, Seth and Enochi in p. 22. Hermes, Enoch, Adamite patriarch and scribe, casts a new light on ancient knowledge and wisdom. The different cultural names, titles cross-reference ancient record find the Enoch Adamites same as Hermes of Egyptians. Seiss felt this identification is accurate. Seth, son of Adam lived 930 years had sufficient time to study pictures in sky or meaning. Genesis 2:19-20 says Adam  named species of animals, beasts and birds. God named all stars as pointed to Job, Amos, HE designed constellations and named prominent stars. Seiss says astronomy observatories, monuments of modern archeology reveals wealth of scientific knowledge possessed by the astronomer-priests. Temple, monument, tombs of ritual dances, sacrifices, pagan rites synchronise the constellation stars  movements. Archeologist's pre-history record of geology confirms numerous catastrophes of planet civilizations that were destroyed. Tsunami, volcanoes or past earthquakes floods destroyed flora and fauna and Pompei, Aztecs in Global planetary tragedies.
Sailors used stars for navigation on high seas at night constellation mathematical systems used to communicate with the others. Twelve Tribes of Israel:- Dan is Scorpio sign, eagle or phoenix emblem. Judah Leo Lion. Reuben is Aquarius, the man. Ephraim is Taurus the bull. After exodus from Egypt Israel's twelve tribes camp in a square formation three tribes on each side. When they camp, the four leading tribes, Reuben, Dan, Ephraim, Judah at frontline points others on each side of the lead tribes. Each tribe's coat of arms on flags battle-shields match Mazzaroth Anglo-Saxons descendants of Twelve Tribes. Jews from tribe of Lion of Judah part of Covenant of Abraham. Fowler, Swift and Comparet, in book End Time Revelation describe Joseph and sons Manasseh, Ephraim Gemini; Zebulon, Cancer and Issachar Aquarius; Asher Libra; Gad Saggitarius; Simeon Aries; Naphtali is Capricorn and Reuben – Taurus; Dan – Scorpio and Benjamin – Virgo; Judah – Leo; and Levi – Pisces p. 78,79. Page 77 says: "Adamic Race on eighth day pre-Adamic creation brings in law and order of Kingdom of God. Adam disobeyed God and Scripture says Jesus Christ the Seed of the woman  took place of the first Adam. Second Adam Christ will restore whole creation in Romans 8:5-23 and Isaiah 11:1-16 is excellent. In Bible Book of Revelation's four beasts: "first like lion, second a calf, third face as a man, and fourth beast w flying eagle." in Revelation 4:7 sign Leo, Lion (Judah); Taurus, Bull (Ephraim); Aquarius Man (Reuben): Scorpio Eagle (Dan) replaced by scorpion. Significance of Mazzaroth from Adam in Messianic interpretation.
Christ's Significant star in Virgo first sign around Leo says Seiss, p. 27 in the ancient Christian prophetic Mazzaroth Virgin Mary mother of Christ Messiah the Seed. In the Bible Jesus Christ from the branch tribe of Judah is Messiah the "root of Jesse," "branch of David" "born of virgin" symbol of constellation Virgo and Leo Revelation 12 biblical sign with dragon. Messiah story of Christ's virgin birth is copied by the other religions. In Prophecy of Mazzaroth on Jesus Christ of Nazareth has Hebrew name Ihesu is significant Ieza in Greek, Christ. In Latin Jesu, in Ye Olde Aenglische Yesu modern English Jesus. 4,000 years prophesied Messiah will be called by name of Ihesu Jesus. Hebrew or oriental dialect Coma means "Desired One" Messiah desired one: desired by all nations is to come, in Haggai 2:7. Christians say, "maranatha," "He comes" secret way to tell Christian from a non-Christian respond "Yes, He comes." Non-Christian say, what are you talking about? 'Coma' state of prolonged unconsciousness of Jesus' state of True Israel today. Centaurus Centaur is half man half horse. holds a sword or spear to throw and the horse is charging into fray. Symbol of Jesus' dual nature God and man Cavalryman charges against forces of evil. Jesus is struck down by forces of political, economic ecclesia of His day as Rome saw a spiritual threat of the temple money lenders, Pharisaic priesthood hated. Bootes (Arcturus): the Great Shepherd is Named by God to Job in Hebrew root, Bo, "come," Bootes "the Coming One," expected Messiah "desire of nations." His power calms sea, raises dead His complete  power demonstrated His Second Coming His future Kingdom reign. Show Bootes holding sword in His right hand staff of Great Shepherd. Left hand holds sickle reaps harvest of men. Two symbols of Christ's dual mission as Shepherd and reaper in Second coming.

Libra balance scale of justice in Job 31:6 and commerce in Revelation 6:5. Christ is perfect Justice of God for sins of the world in Roman 5:8-9. Balance weighing money symbol of business libra symbol of Tribe of Dan in Genesis 49:17. Divine Justice of God in Deuteronomy 10:17; Acts 10:34; Romans 2:11; Galatians :6; Ephesians 6:9. God's final Judgement in 2 Timothy 4:1; Hebrews 4:12; 10:30; 12:23; Jasher 4:12. God does not tolerate injustice in Isaiah 30:18, 61:8, Malachi 3, Revelation 15:20; 19:18 sin God Judges in Genesis 2:17; Romans 5:16-18; 6:23; 1 Corinthians 15:22; Jasher 1:15. Jesus has paid God for sins in Romans 4:25; 8:3; 2 Corinthians 5:21; Galatians 3:13; Hebrews 9:26, 28; 1 John 2:2. Justified work of Christ on Cross. Resurrection of the Lord in Romans 2:16; 14:10, 12; 1 Corinthians 4:5; 2 Corinthians 5:10; 1 Pet 4:5. Jesus perfect Justice of Throne of God in Psalm 33:5; 89:14; 97:2; Isaiah 33:5; Acts 10:42; Hebrews 8:1; 12:2. Rule in millennium Justice Isaiah 28:17; 42:1-4; 61:8; Jeremiah 33: 15 rod of iron in Psalm 2:9; Revelation 2:27; 12:5; 19:15. Satan, fallen angels rebellious against God in Matthew :41; Revelation 20:10, tried to usurp authority of God to rule on the LORD'S Throne in Isaiah 14:14 burn in Lake of Fire with unbelievers. Judged in great white throne judgement of unrighteous in John 3:18; Acts 17:31; Hebrews 9:27; 1 Peter 4:5; Revelation 20:14-15; 21:8. Nations destroying Israel judged in Joel 3:2, 11-12; Zephaniah 3:8; Zachariah 14:2-3; Revelation 16:14 governments ministers of justice in Proverbs 29:4; Romans 13:4. Revelation 6:5-6 balance scales measure and weigh possession of land in Isaiah 28:17; 34:17; Jeremiah 31:39; Lamentations 2:8; Ezekiel 47:3; Zachariah 1:16, Isaiah 28:17, Amos 7:7-8, Isaiah 34:11;40:12, Proverbs 16:11; Leviticus 19:36; Job 6:2; 31:6; Psalm 62:9; Proverbs 16:11; Isaiah 40:15; Ezekiel 45:10; Daniel 5:27, Jeremiah 32:10; Isaiah 28:17; 34:17; Jeremiah 31:39; Lamentations 2:8; Ezekiel 47:3; Zachariah 1:16; 2 Kings 21:13. Psalm 89:35-37 Sovereign power authority Godstar Gospel constellations.
The scales of Libra symbolize Messianic judging of humanity. Christ's walk upon planet earth from 2 B.C. to Passover, 33 A.D. required all human beings to attain true justice. He redeemed Israel set as example of His coming Kingdom. The stand and arms of scales as cross. Using this symbol, the scales may represent a judging of individual soul or the judging of cultures and people. This symbol to Israel nation first given Gospel message of Kingdom judged by actions. He said, If you love me obey my commandments. in John 14:15. Christians depend on the Gospel of Kingdom and repentance. " I baptize you with water to repentance…but He shall baptize you with Holy Ghost and with fire," John the Baptist said of Jesus in Matthew 3:11. Scales of Libra symbolize nations of earth hanging in the balance judged by Messiah. Nations judged Him First so He judges in Second Coming. Daniel said Jesus' Kingdom has no end unlike the nations gone down in history. So nations and Israel must learn lessons. Redemption from fall of Adam through shed blood of Christ and then Judgment. Remnant of overcomers and 144,000 will be rewarded in Kingdom. All Israel redeemed from sin of Adam but only those in Christ accepted qualify given the Kingdom. "The nations angry  your wrath is come, time for dead to be  judged to give reward to your servants the prophets, saints, that fear your name, small and great; then destroy those who destroy earth in Revelations 11:18. More judgement in Lamentations 3:15 is from stars, meteors, asteroids, catastrophic damage hits Earth of orbit nearby NASA survey show. Asteroid, comets, 5 and 10 km (3.1 to 6.2 miles) in diameter smash into Earth years ago on collision course with Earth. Book of Revelation 8:10-11: Third angel sounds A GREAT STAR falls from heaven burning like a torch fall on third of rivers and springs of water is Wormwood. A third of waters become wormwood so many die from the water because its made bitter. Large comets hit earth, asteroids damage as predicted in Bible. Wormwood asteroid star falls from heaven contains the gas cyanogen. Astronomers say the hydrogen cyanide comets cyanogen gas mixed with water forms hydrogen cyanide causing death. Comets produce poisonous bitter water in the Bible proves a judgement of God. Wormwood prophecy asteroids, comets humans have no way to deal with these asteroid devastation by major object in sky strike earth in bible prophecy. NASA knows some comets do this. It poisons water causes thirst and starvation kills many people one third of earth.
The Southern Cross was visible from the northern hemisphere but by precession slipped below horizon seen only in the southern hemisphere. Its four-cornered stars mark cross prominent in southern sky as Big and Little Dippers are in the northern sky. According to Seiss, "It was last seen in horizon of Jerusalem about the time that Christ was crucified." The Hebrew name for constellation is Adom, meaning "cutting off. Daniel's prophecy of 70 weeks, crucifixion was predicted: "Seventy weeks was determined on your people, holy city to finish transgression, and to make an end of sins, and to make reconciliation for iniquity, and to bring in everlasting righteousness, and to seal up the vision of the prophecy, and to anoint the most Holy." In 70 "weeks" of years, totaling 490 years history. Jesus Christ fulfilled this prophecy so was crucified after 69th week, as Daniel prophesied in verses 25 and 26: "Know and understand from the going forth of commandment to restore and build Jerusalem to Messiah the Prince is seven weeks and threescore and two weeks. After threescore and two weeks Messiah be cut off." Command to rebuild Jerusalem was by the Decree of Artaxerxes, the king of Persia. The Book of Ezra records this Decree: "And even I Artaxerxes, the king, do make a decree to all the treasurers beyond the river, that whatsoever Ezra the priest, the scribe of the law of the God of heaven, requires of you be done speedily." – Ezra 7:21. Jones in his book, The Secrets of Time, said decree made in year 458 B.C to 458 BC plus 490 equals 33 AD. The year Christ's crucifixion, April 4 Passover. The Book of Daniel 9:26 says Messiah is "cut off"  26-33 AD. Sixty-nine and one-half weeks of years is 69.5 equals 486 and one-half years add 486.5 to 458 B.C, 29 or 30 A.D. depends on half year original decree is made from 1 B.C. to 1 A.D. Add 1 year to calculation prophecy of middle of last week in time of Jesus Christ's baptism by John. Gospels says He is thirty years when baptized, "Messiah shall confirm the Covenant with many for one week and in the midst of the week He shall cause sacrifice and oblation to cease." Daniel's prophecy tells us the "midst of the week" was beginning of His public ministry, culminating in the crucifixion.
Week 26-33 AD confirms Covenant with some in Israel from Baptism His specific mission cause sacrifice and oblations to cease. From His baptism to His death on Cross time spent to abolish the priestly rituals of animal sacrifice. The Messiah confronted, scribes, Pharisees, priests conducting ritual. As He was "cut off," these sacrifices and oblations "cut off," NEVER PERFORMED AGAIN. Christian Zionists and will rebuild Temple and Jews start blood rituals. Judeo-Christian some think rebellious Jews undermine Yahweh God in Christ. The Cross symbol of Messiah "cut off" and scales of Libra, in history B.C. to A.D. Anno Dominae is "year of our Lord" of His coming. Jesus Christ is focal point in history. His death on cross redeems His people from sin of Adam and Eve's sin in Garden abolishes ritual sacrifices and priests. So Israelite priests never practiced rituals under John Hyrcanus and Herod, Edomite Jew Pharisees replaced Judah Israelite priest by Levites. As Judeo-Christians say three and half years of Daniel's 70 weeks anti-Christ will appear last 3.5 years before a Judgment Day. 7 years of tribulation of Daniel's prophecy refers to Messiah's 3.5 year ministry. Reigning High Priest and heir to throne of Judah was usurped by Herod. The anti-Christ final three and half years tribulation time Titus Roman destroyed Jerusalem and Temple "the city and the sanctuary. This prophecy is end-time literal city Jerusalem in Israel returns to Jesus and Zionists. The city of Jerusalem belongs to Yahweh but Titus destroys it to punish Jews as Jesus said. The Ezekiel Temple of Jesus rebuilt as a House of Prayer for ALL NATIONS go to Jerusalem to worship God. Nations that don't go to worship God in His Millineal Reign in Israel will not have rain says Zechariah 14:17. Jerusalem is worship centre of God the KING LORD of hosts all bow to KING Jehovah. Revelation 21 :3, A loud shout from the throne of God in heaven says, God's HOME IS AMONG HIS PEOPLE HE WILL LIVE WITH THEM and they will be His people forever.
Jesus on city of Jerusalem said, "Behold, your house is left to you desolate. I say to you, You inhabitants of Jerusalem shall not see me henceforth till you shall say, Blessed is He who Comes in the Name of Yahweh." The city of Jerusalem of Jews, Messianic remnant in Name of Jesus city Jerusalem blessed by Jesus is God's Dwelling place in all the earth. So God's inhabitants praise Name of Yahweh and Yahshua. Jesus prayed to Father forgive them for they know not what they were doing on His Cross at Calvary. So Lupus, victim of Centaur slain wolf or Lupus in  Arab tradition sheep or lamb. In Coptic and Egyptian traditions, constellation symbolizes Horus life a victim sacrificed like Messiah Jesus the Lamb of God. And Crown Corona constellation Borealis is sign of the Redeemer's second coming.  He wore crown of thorns as humanity's rejection of Him, His message of selfless Love, obedience to Commandments of Law and heavenly citizenship. So Libra Cross, Lamb Victim, Crown coronation KING of Kings after Armageddon battle in millennial reign and later Judgment Day. Conflicts in world symbol scorpio in Arabian tradition, Al Akrab conflict between good and evil. A dark red star center of constellation Antares, 'wound' "tearing of flesh" torn between good and evil." Conflict between lucifer fallen angels, earth and Christ, the Redeemer, with His people Israel. The scorpion was given power to pierce side of Christ on Cross. Christ's death and an earthquake tore curtain of Temple symbolizes God's rending His mantle so all boldly enter in Holy of Holies through Blood of Christ.
Jesus crushed head of serpent shown struggling with Ophiucus. The snake tries to grab Corona crown for itself but Ophiucus is holds serpent from getting crown. The brightest star Alyah in the serpent's neck, means "accursed," Unuk, "encompassing," serpent's influence and power. The Bible confirms satan is "the prince of this world" in John 12:31. The Ophiuchus, restrainer lifting up his foot to prevent attack trying to crush head of the serpent. Genesis 3:15, serpent is told by Yahweh, "the Seed of woman Adamic bloodline shall bruise your head in Eden Garden. Revised English Bible, Oxford University Press in Genesis 3:15: "I shall put enmity between you and the woman, your brood and hers. They will strike at your head and you strike at their heel." Imagery of Ophiucus and serpent 100% agreement with prophecy is symbolic of conflict between God and satan. Greek and Roman Ophiucus is Aesculapius god of healing. Messiah Jesus Christ known for His Miraculous healing. Hercules is kneeling on his right knee holds club in his right hand. In left hand holds three-headed serpent to crush with club. This Revelations 16:13 says dragon beast and false prophet with satan's fallen angels. The beast mystery Babylon uses finance and false prophet ecumenism of world's religions movement to eliminates bible necessary for return of the Messiah. In Bible Jesus said, "No one comes to the Father but through me," in John 14:6. All who reject Messiah as Son of God will be destroyed. Christ for the last 2,000 years is calling all to repent. Israel and Messianic Jews shall be saved after time of Gentiles ends miraculously identify with Christ. Hercules left foot crush the head of serpent, draco dragon. Hercules all-conquering hero, half god, half man as Messiah in prophecy of Genesis 3:15 part God part man crush serpent head.
The sky in December, January evenings, is golden star, brightest one at night of the same spectral type or colour as our daytime star sun. Star Alpha Aurigae or Capella brightest light in constellation Auriga Charioteer Good Shepherd Jesus. Capella is biggest and brightest yellow star visible in sky bigger, brighter than sun in absolute terms 42 light-years our sun is eight light-minutes. Golden star, Capella Latin for nanny goat Goat Star.
Capella in the night sky mid-latitudes of the U.S. and Europe, Capella is far to the north to be seen at night all year round. In the Northern Hemisphere, it's best in winter the golden Capella high overhead. Capella is the brightest star in a five-sided star pattern constellation Auriga. Is shape difficult to reconcile as a man driving chariot but the noticeable pattern easy to find. Capella asterism has pattern on the sky dome of three faint little triangle stars called The Kids, makes Capella recognizable. Jesus the good Shepherd cares for His goats and His sheep in His fold.
Seven Churches Revelation Churches of Apocalypse, Seven Stars in Jesus hands angels of Churches Asia Early Christianity in Revelation in Asia Minor now Turkey. Revelation 1:11 on Greek island of Patmos, Jesus Christ told John: "Write on scroll to the seven churches: In Ephesus, Smyrna and to Pergamum, Thyatira, to Sardis and Philadelphia and Laodicea. Churches refer to community local congregations of Christians in each city, and not building in which they gathered for worship.
Ephesus (Revelation 2:1-7)  church known laboured hard not fainted, separate themselves from wicked; admonished for having forsaken its first love (2:4)
Smyrna (Revelation 2:8-11) church admired for tribulation, poverty; is to suffer persecution (2:10)
Pergamum (Revelation 2:12-17) Is church 'satan's seat' or 'throne' is to repent from false teachers (2:16)
Thyatira (Revelation 2:18-29) — The church loves charity, "latter works greater than former held teachings of false prophetess (2:20)
Sardis (Revelation 3:1-6)  church has a good name to fortify itself to return to God and repent (3:2-3)
Philadelphia (Revelation 3:7-13) — church steadfast in faith kept God's word endure patiently (3:10)
Laodicea, near Denizli  Laodicean Church) (Revelation 3:14-22) — The church lukewarm to God (3:16)
TAURUS, Hebrew word bull, ox is "shur" is "to return" or "come back." Brightest star Aldebaran is "follower." The second brightest is El Nath. Two stars in Taurus are Hyades and Pleiades. Hyades means "congregated." Pleiades is Hebrew for "gathering" Greek "Pleistos" or "Pleion" is "many" "the excellent" or "the great." Japanese name of Pleiades is Subaru and Persian Soraya. Ancient Greek is "the clusterers." Bible refers to Pleiades "seven stars" in Job 9:9, 38:31-32; Amos 5:8; Revelations1:16, 20. In Job Pleiades, in Revelation Christ holds seven stars as seven churches gathering escape in the rapture of church. Seven churches stars applied it to His Church. Christ gave us main Bible constellation. Bull "returns," in end time Christ return. The bull wild ox rages towards enemy with two long pointing horns forelegs charge forward. Prophecy of Christ coming Judge, Ruler Lord of earth in Deuteronomy 33:17; John 5:26-27. Coming in destruction of wicked by Christ in His judgment. Jesus resurrects Taurus Scorpius disappears. Taurus, Bull, ox, head lowered horns point forward, untamable charges forth rampaging, raging, head down brings destruction to all in his way. Taurus bull emerge out of Aries Lamb changes into Bull. Taurus constellation in September in Hebrew: Reem Wild ox Shur root is coming to rule. Al Debaran, bright, red star in bull's eye is "Captain," "Leader," Governor." In Psalm 22:28 Royal power belong to LORD Jesus to rule all nations. Elnath at tip of left horn is "Wounded" Slain." Palilicium judge Vergiliae center turn around and Pleiades circlet of stars on shoulder is "Congregation of Judge." 1 Corinthians 6:1-3: " Believers to judge the world and angels" So "sailing stars," Greek seamen set sail if visible. Hyades group of stars on face of Bull congregate cluster of "rainy stars," begin at autumn or rainy season. In Numbers 23:22 God's power led Israel out of Egypt strong as a wild ox. Jude 14-15 says Lord's coming is judgment with countless thousands of holy ones execute judgment on people. In Deuteronomy 33:17 Joseph majesty of young bull reem has horns of a wild ox will gore distant nations drive them to ends of earth. My blessing of multitudes of Ephraim or thousands of Manasseh." Psalm 92:10: You make me as strong as a wild ox and anointed me with finest oil. Job 39:9-12: Will wild ox be tamed? Will spend night in your stall? Can you hitch wild ox to plow? Will it plow a field for you? Given its strength, can you trust it? Can you leave, trust ox to do your work? Can you rely on it to bring home your grain to deliver to your threshing floor? Hyades, V-shaped cluster of stars form face of Taurus. Pleaides thousands of years connected to agricultural seasons inspire poets and guided sailors, ancient buildings align to collect light from star cluster Parthenon and Mayan temples. Subaru Japanese word Pleiades means the congregation of the judge or ruler Hebrew kimah heap. Syriac is Pleiades Succoth or  booths. Job 9:9: He made all stars the Bear and Orion,  Pleiades and constellations of southern sky. Job 38:31: "Can you direct movement of stars bind cluster of Pleiades, loose cords of Orion Amos 5:8: The LORD created these stars
Pleiades and Orion turns darkness into morning and day into night. He draws water from oceans and pours it as rain on the land the LORD is HIS name. The Lord is COMING TO RULE in the truth in prophetic testimony of Jesus by spirit of prophecy in Revelation 19:10. Creation eagerly waits for Jesus in Israel coming with saints like Pleiades and Hyades.
Constellation Sagittarius archer symbol of bow like "a white horse and He that sat on him had bow went to conquer in Revelations 19:11. Saggitarius, rescuing hero, riding on a white horse, is utterly victorious in mission to "kill the beast." Saggitarius is, Jesus Christ returning "in power and great glory" not as sacrificial lamb. "I saw heaven opened, and behold a White Horse; and He that sat upon him called Faithful and True, in righteousness judges and makes war" Revelation 19:11  In December 21, 2012, Sun eclipsed the Galactic Center intersection of Galactic Plane and Ecliptic, rotational plane of our solar system. The Sun was right in the crosshairs of two intersecting planes Galaxy and Solar System in front of the Galactic Center formed Cross in the Sky. Galaxy Milky Way Cross Galactic Plane Sagittarius points at Galactic centre. The plane of Solar System ecliptic 25 degrees off Galactic Plane Solar System tilted against Galactic Plane Cross as X in Sky. Sun died at center of X on December 21, 2012 astronomers say occurs few years. Lyra, harp by eagle symbol: King David type of Messiah prototype warrior-king, all-conquering hero. Saul, hated out of pure jealousy, like Jesus sacrificial lamb achieved power. A sovereign, build his empire successor Solomon achieved a greater fame and wealth. King David prophecied Jesus, the LORD said to my Lord sit at my right hand until I make enemies footstool. King David talked of resurrection of Jesus who will not leave his soul in Hades. Star Vega is brightest in constellation in northern hemisphere Vega "He is exalted warrior triumphant."
Ara, Altar funeral pyre symbol worldly empires of mortal men, always founded on ruthless persecution of people totally consumed by fire in biblical prophecies of battle of Armageddon. The 8th beast in Revelation 18 describes merchants in international commerce nation-states. Corporations larger gross international economic interests override interests of sovereign nations. IMF, World Trade Organization and international treaties  GATT and NAFTA emphasize the bottom line to detriment of wages, unions, the environment, health, rights of citizens and borders. The global community of nations is Empire of Oil, Banking, Big Pharmacies, War-Mongers all led by the 8th Beast Banking Syndicate Revelations 18 , 19 & 20. United Nations committee passed off humanitarian "solution to all of man's problems." The beast deceives the whole world in Revelations 6:12. So United Nations Organization fooled the world to think "global governance" will establish "peace." But "peace" concocted by corporate moguls and government bureaucrats, George Orwell's Corporate State entities, looked on for "security." It reassures humanity more civilized than ancient past. But 20th century is violent all of history so 21st century not better. The Corporate Global Tyranny is sold to gullible public in name of "democracy" and "peace." Colleges and bureaucrats in love system provide curriculum, pay, benefits, pension. Jesus timeline is from heavenly realm of days, months, years planets, Sun, Moon, Mercury, Venus, Mars, Jupiter, Saturn, pluto movements of stars in night sky each has a path of its own connect heavens to earth Sun's cycle is related to our waking, sleeping, crop growth. The moon relates to tides, menstruation, childbirth all correlated. 
God's star dragon constellation in the northern sky body coils halfway around Pole Star in Ursa Minor. This draco is lucifer who took with him one-third heavenly hosts rebel. "There appeared another wonder in heaven great red dragon his tail drew third part of stars of heaven cast them to earth," in Revelation 12:3-4. The draco incorporates one-third night sky, constellation matching book of Revelation. Hercules' left foot crushes head of draco at Second Coming or on Judgment Day. Names of various stars in constellation confirms:  Al Waid "he is to be destroyed;" Grumian "deceiver;" Thuban – subtle  Rastaban, -" head of subtle." Mazzaroth, Gospel in Sky links with Bible. The Goat Capricorn dual animal, body tapers into fish. Seiss says, "...this goat fallen down attitude of dying one leg doubled under body the other powerless to lift him. His head drooping and sinking in death." Biblical definition of scapegoat, Leviticus 16:5-10. Messiah sacrifice is symbolized in fish tail. This scapegoat's death gives life to fish signs, Aquarius and Pisces. Jesus' followers as fishers of men and the light of the world Two stars in constellation Gedi or "Jedi" knights of Star Wars and Dabih, names mean "sacrificial death." Jesus is given His life in scapegoats sacrificial death.
The Arrow Sagitta kills Christ signifies Christ's death on Cross the Christian symbol of "the death of death" so Jesus conquers death to achieve eternal life. The body is killed but not the soul in Christian theology wake in immortal destiny in heaven goes back to God. The eagle Aquila wounded falling eagle star   Al Tair means wounded, Al Cair, means "wounded in heel," and Al Okab, means "scarlet-coloured.covered in blood." The three stars describe Messiah's sacrifice on Cross. Delphinus, Dolphin fish from body of dying goat is Christianity alive after Roman persecutions. From Nero to Diocletian, Romans didn't exterminate Christianity. And Constantine's mother Helen of Wales, a devout Christian of British descent, made Christianity the state religion. The religion, Catholicism, universalism preach Christ but actively engaging in blatant imperialism. City of Rome ransacked by the Germanic tribes branch of Anglo-Saxon Israel converted to Christianity fishers of men. Aquarius, water-bearer: "If any man thirst let him come to me and drink," in John 7:37. This water flows from urn is Gospel of Jesus Christ. Gospel, influenced by teachings of activism of the faithful Anglo-Saxon preachers. Constantine's teaching most persuasive widespread of all teachers in history. Aquarius symbolise this legacy The Sermon on Mount says compassion must take place of vengeance, humility take place of pride those who lead serve rich should give generously to poor. The ruling classes did not care for message, their power maintained by combination of superstition and oppressive conquest
God's stars as the Southern fish, Pisces Australis, is positioned exactly at end of the water stream pouring out of urn of Aquarius. The symbolism is: Dispersed Israel gave Jesus and Bible to Gentiles drinking in Gospel of Jesus Christ, "the life-giving waters." The Gospel received and spread by Israelites of Dispersion to whom Apostles were sent from Israel as witnesses in Isaiah 43:10 for Messiah. In Old Testament, New testament histories God's true witnesses demonstrates the Gospel good news through God's people Jews. "God's Chosen" through Covenant history study Torah and Holy Bible by Messianic Jews a blessing to all nations sojourned. The antiSemitic persecution forced them to keep Talmudic teaching interpretations in belie Holy Scriptures in Synagogues. God uses Pegasus, the Winged Horse third horse symbol, or first two centaurs. Seiss, "says this horse Pegasus flying, brings Gospel from one nation to other Homan waters Markab  returns, Scheat goes and returns, Pega  chief returns in victory. So 'white horse' in Revelation symbol of victory of Jesus Christ over forces of anti-Christ. The Swan like "scapegoat" story of Abraham and his son, Isaac in Genesis 22:1-18 has Messianic context of Jesus Christ willing scapegoat dying death through torture and humiliations for our redemption. Is body dying victim transformed into His Glorified body Ascended as Christ into heaven. Star names means: Deneb, Lord or Judge to come; Fafage to shine forth  Adige, fly swiftly. Like Pegasus, Cygnus carries Gospel into all nations literally flying across world. Nothing stops these two messengers. The death of Christ and News of His life resurrection is mission spread globally. Pegasus and Cygnus as Two Witnesses of Revelation killed in a period of three and a half years. They turn people to Gospel, before the return of Jesus Christ. They fulfill prophecy as Two Witnesses prophesied killed by the forces of anti-Christ left in streets for all to witness. Their message confronts all forms of evil, materialism, temptations of sex, drugs, wealth, commercialism in living rooms via television, radio, print media. Christians study, read Bible and attend churches for Christianization of Christmas so celebrate Jesus by Merry Christmas. Commercialism of capitalism materialism of socialism, communism, skepticis attack Gospel as anti-spiritual forces. Before the October Revolution in Russia, Lady of Fatima told children if the world did not repent, communism tries to blight planet. Sex scandals in the Catholic priesthood uphold their saintly image rather than doing anything about irreparable harm being done to parish children. This Church, Jesus says: "They draw nigh to me with their lips, but their heart is far from me." Christian piety is a thing to remember days the Christians used to say grace in public restaurants. Church hierarchy, lip service paid to the Gospel spiriyual warfare while New Age movement rampant evident in even the established churches. Two Fishes swim in separate directions joined at tails is the schism between Churches, Chosen people, Israel. Many people abandoned faith to reconcile in Christian identity Bible. Creationism is challenged by the historical approach of Judeo-Christian churches established valid in the Bible.
God's star the Band Seiss says is Bible patriarchal church and new Christian Church seem to hold Christianity back from achieving its destiny. Rabbinical priesthood reject Messiah so recognize priesthood to control laity rituals, pomp circumstances. Displays not substitute for righteousness to achieve justice is a self-preservation. A Nicolaitanes priest assists in process of simple people like saints, Mother Theresa, Jacob Boehme examples in the Kingdom of God in our daily lives. Priestly bureaucracy enemy of the Spirit entrenched material world clericalism. Christian Identity two band holds fish anchored at neck of Cetus sea monster. Two streams fishes struggle to get away from Judaism, religion of Pharisees and Judeo-Christianity gives Jews credit for Israel giving Scripture. Judeo-Christian God's chosen people break free of tether of conflict now one in Christ. Cepheus is Crowned the King Seiss' says is friend protector of Fishes Glorious King, wearing royal robe holds branch scepter on head crown of stars. He seats in power, one foot on solstitial colure, other on pole-star, right hand grasps Ribbons. Bears Scriptures present exaltation Glory of Jesus Christ. Symbols of Cepheus Jesus crowned is enthroned crown of thorns is replaced by crown of stars in Revelation 12. Cepheus "royal Branch" Jesus heir to throne of David, Royal House of Judah. victory. The star Al Dermain, means "quickly-returning Coming as thief. Al Phirk is "shepherd" points to conflict of good and evil of Redeemer self-sacrifice Jesus. Personal and spiritual healing by compassion, forgiveness of ignorance, arrogance, rebellion, sin in Matthew 25: 31-46. Ultimate triumph of Jesus' Gospel in sky Jesus coming in Glory Revelation says. He will rule using God's Law, final choice between Good God and evil satan in Kingdom of God. Truth destroys lies deceiving people of puppets working for the beast and false prophets. Parable of wheat and tares in Matthew, 13 on the Judgment Day. Churchianity, God starts judgement punishes evildoers by Jesus, of tares evil ones harvested burnt in the lake of fire. So wheat good faithful ones harvested and Kingdom given to them. Jesus Israeli State International Zionism a final VICTORY of Jehovah Nissi Mighty One in Battle. Yahweh, planned scheme overcomes rhetoric of politicians, those in leadership guided and motivated by greed, personal ambition, power not by justice. Economics of oil of international finance serve power, money, commerce not public good. Man's Peace is fragile extreme choice for dominance. Gospel of Prince of Peace Jesus Kingdom is not personal gain, egotism, selfishness but a self-sacrifice and fellowship. Gospel in sky is God's given amount of time warns their own way time is running out.
God's stars is Jesus Christ's message to Israel first and to all nations over 2,000 years to warn endtime culminates in Armageddon battle. In Andromeda is man-ruler in Scripture, Bride of Christ in Revelations, Christ's Second Coming is to judge evil in world and marry His Bride of Christ Christian Israel, Church is grafted in Bride. Revelation of Christ teaches a Real True Gospel of Kingdom Glorifying God's Authority on the earth. Jeremiah 5:31, 2 Peter 2:1 says the false teachers Jesus warns: "wolves in sheep's clothing. Revelation fire and brimstone Christianity says saved remnant elect to make it into God's Kingdom era. Some say Andromeda is Bride of Christ with Christian Israel. Those bound by chains of false teaching do not attend Wedding Feast of the Lamb. Hosea, talks of false religion like a "woman" bound by own devices need great spiritual revival. So people of faith seek truth, justice, from pulpits of ecclesia, media and academia. AI technology superiority enhances life enables easy quick access to do things or go places. The presumption is correct but worldly fame and fortune does not impress God. The Babylon woman owns business empires of materialism control merchandise. In 1882, Seiss on Church Apostasy falling away from Gospel of God's Kingdom in 2 Thessalonians. 2:3 must maintain steady faith in a Church true to principles of Jesus Christ. A weak broken-down, afflicted false cleric pays lip service to ideal One World Religion unwilling to throw off dogma shackles for Covenants Promises to True Israel. Andromeda represents a downtrodden afflicted by the prosperity Christendom wealth blamed for failures of globalism. Andromeda is 'Babylon' Christian, Israel to break free from chains of unbelief.l
God's star The lamb Aries means "chief, head." The Syriac name Amroo, "lamb" Arabic, Al Hamal is the "sheep, gentle, merciful." Jesus Christ is Lamb of God coming in rapture cloud. Nephele is clouds in Hebrews 12:1 great cloud of witnesses lay aside every weight and sin easily beset us run with patience race set before us. The cloud of witnesses living and the departed believers in Matthew 24:30, Mark 13:26, 2 Peter 2:17, and in I Thessalonians 4:17 and Jude 12 cloud literal Rapture physically from earth in Great Tribulation. But others left behind Great tribulation in refiner's fire. Book of Revelation 1:7, Jesus Christ will come in the clouds in great glory to rescue us from evil one with angels. Saints judge world in Luke 12:1 and in Revelation 2:9 and 3:9. Aries is Jesus leader rescuer of His people Israel lead by angelic cavalry in cloud saves from evil. Christ Messiah sacrificed Himself and teaches, give up selfish desires in favour of God's Real Kingdom. Ten Commandment in faith serves as example of Messiah, prophetic kingdom of kings and priests. Teachings of saints is not to dwell on materialistic world. Judeo-Christianity is to apply the Revelations 22:14 to promote liberty in Christ for hope in the world. Cassiopeia, woman enthroned sit on a throne one hand holds branch Bride of Christ the symbol of groom Christ branch of David enthroned because He is victorious. She comes in family of Yahweh by marriage delivered, rescued as star constellation means. Seiss on supernova Cassiopeia, in Sixteenth Century: Astronomers saw a star, surpassing in brilliancy splendour appeared tenth of November, 1572, after shining in continuous sixteen months is gone never since seen" Church caught up to invisible world in Rapture. Cassiopeia Western Church from Edict Tolerating of Constantine in 310 A.D. each month symbolizes a century of history to 1910, assassination of Archduke triggered WWI. From 310 to 1910, Christianity and civilization, brighter and brighter. Humanistic arguments of scientific age violent and destructive in history, wars of political conquest, planned financed.
God's star Cetus in southern hemisphere below the ecliptic two fishes of Pisces attached to neck of beast by two tethers. The fishes struggle to free themselves as Cetus sea monster devours Andromeda in throat of Cetus star Mira the "rebel." Star of two tethers of fishes attached to neck of Cetus is Menkar, chained enemy. Two fishes trying to get away victims of Cetus to subdue to capture in tail of sea monster star Diphda "to overthrow" evil lucifer rebel against God, in Cetus, in his role tries to capture Christian world and Israel. Christ the Fisher of men rescues monarchs of Europe direct descendants of House of David tracing genealogy to King David. Catholicism's universalism is not the same as remnant Christianity parallel throughout history. Christian Zionism is the ultimate expression of promises of Covenants inheriting the Kingdom plan of Yahweh ordained His remnant to prevail against forces of evil. Yahweh remnant of Israel purified in refiner's fire to appreciate process of God's government written in hearts to  accomplish mission on earth. Yahweh permits the redeemed in HIS Presence.
God's star Perseus, warrior with sword in his right hand in left hand holds head of Medusa slain. The Breaker's power to break up legions of darkness opens the seals of Revelation of serpent, lucifer, satan to be punished. Perseus cuts off Medusa's head presented to "Marru and free you" Christendom believers saved as Jesus crushes head of satan. Phineus, tries to prevent this Perseus wedding Andromeda so Perseus must overcome him. Jesus at Second Coming claims His bride. Phineus is the Apostate Church, ignoring Gospel of the Kingdom. Jesus says end time world "will be as in days of Noah." The Bible says self-indulgence by all rebellious ones who do not repent are destroyed by fire. Taurus, the Bull in Aramaic Targum in Psalm 92:10 unicorn horn symbol of power emblem of Tribe of Joseph. Joseph in Egypt and release of faithful in Christ, prophetic Mazzaroth ox like elephant of two horns Ephraim, Manasseh, Joseph's two sons led tribes from slavery into promised land. Born and raised in Egypt familiar with lay of land, prepared the way of escape. These two boys are Messianic Israel grafted in with Gentiles. Britain's Magna Carta is in Bible Divinely inspired documents for freedom. Pleasures of materialism stillo unhappy ignore spiritual nature incapable of solving problems get worse compassion, better, service obedience to laws of Yahweh in Christ redeemer. The Pleiades, seven stars Seven Churches of Revelation, saved riding back of Taurus. Some Bible scholars interpret Taurus as symbol of indomitable Christian Spirit marching through timeline of history. It Divinely ordained progressive waking True Israel to her Identity and destiny.  This Great Awakening of True Israel in Cetus immovable object, and Taurus the irresistible force crush head of serpent. Jesus teaches obedience to Yahweh's Commandments and of service to fellow Israelite family. "I come FIRST to the lost sheep of House of Israel.""Love the LORD your God with all your heart and with all your soul and with all your mind. This is the first great commandment. And love  your neighbour as yourself. On these two commandments is all law and prophets." in Matthew 22:37-40. Deuteronomy 23:2 promotes diversity in Peter's vision to kill and eat. Jews and Gentiles tried to kill Him in John 7:1. Orion, the Glorious Prince, Bullinger, "Orion is ancient word Oarion Hebrew root, means light. Orion is light ancient Akkadian was Ur-ana, the light of heaven," in Witness of Stars. Orion by name in Bible God the Divine creator of heavens and earth. Job refers to God "Who made Arcturus, Orion, and Pleiades and chambers of south,"Job 9:9.
Stars: Betelguese is the "branch coming Rigel, "foot crushes,"Bellatrix, "destroys" and Al Mirzam, "ruler." Three stars of Orion's belt"three kings," Magi brought three gifts to Jesus: gold, frankincense and myrrh gifts of monarch. Orion, the promised Kingdom Ruler is Messiah. In The Orion Mystery, symbol of pyramid complex Giza, Robert Bauval, Adrian Gilbert on: "celestial figure constellation Orion, three pyramids of Giza match Orion's Belt lay out of stars with uncanny precision intensity of stars by apparent size, corresponded with Giza group three stars, three pyramids, three Orion kings." (p. 122-123.) Nile River links to the three pyramids as Milky Way corresponds to Betelgeuse, Bellatrix Al Mirzam builders of pyramid complex. Holy Family flee to Egypt from persecution of Herod. The children of Israel's numerous intimate direct symbolic relationships to Egypt. The Great Pyramid and Jesus priesthood thousand of years before Israelites taken captive in Egypt. Jesus Christ said He is "stone builders rejected" in Luke 20:17. The Great Pyramid lack Capstone so Jesus Christ is Capstone of civilization rejected. Prophetic Mazzaroth on Great Pyramid of life and mission of Messiah timeline history who lived in Egypt. 
God's star in some Books on the subject erase the ancient legacy of Adam and descendant  most prominent Messiah in Luke 3:22-38. "Deep national hatred is of significance ancient writing in reign of Cheops, Egypt invaded by movement of people from East overwhelming advance Cheops surrendered. Country conquered without battle and mysterious Stranger exercised supreme authority commands Cheops all heathen temples and shrines closed and all idolatrous worship cease. For this reason died hated despised ruler of suspension of worship by idolatrous Egyptians, authority of Invader-King had taken up residence at Gizeh. And Cheops ordered 100,000 of his people in quarries to cut and haul stone used for the Great Pyramid. On completion of the structure for thirty years this mysterious Stranger, left Egypt and built Salem or Jerusalem. Were foreign invaders and Stranger who built Great Pyramid Sethites descendants of Adams' son, Seth and priestly rulers, Shepherd Kings," p.71. Riffert identifies architect Enoch ancestral patriarch. Do Three Wise Men of ancient knowledge have legacy astronomy of the Prophetic Mazzaroth. "Magi powerful members of one of two assemblies elected Parthian monarchs and wielded great influence in empire of Parthia. One was members of royal family Arsacids other priests Magi and non-royal blood the Wise Men. Magi and Wise Men Megistanes…Greek word 'wise men' 'magian,' 'Persian astronomer or priest.' Parthia governed all Persian territory in time of Christ, and Wise Men cited in Bible Megistanes high Parthian officials." October-December  "Ensign Message," p. 23-24, excerpt from Steven Collins book, Lost Ten Tribes of Israel Found. Magi from Israelites Dispersion  participate in Festival of Pentecost with the Apostles. Jews not associated with a Parthian nations in history. Adamites discover Israelite heritage in Parthia. Jews are Edomites, Canaanites, Khazars, three nations at war with True Israel. The Tortuous River Eridanus of Judge is river of Judgment by fire. "A fire goeth before Him, and burns up His enemies round about Him," in Psalm 97 correlate Eridanus with Milky Way Cross. Auriga: Wagoner or Shepherd carries she-goat and two kids in his lap, protecting them from harm. In right hand holds a set of reins drives horses or oxen. She-goat and kids His flock rescued regathered to Himself. The reins corporeal power His government takes hold of earth rescued  House of Israel, House of Judah joined by Christ with Ephraim and Manasseh the Taurus Bull.
God's star Gemini twins Dendera shows male and female walking hand in hand. Adam and Eve of prophetic significance by King as his Bride. Coptic term Gemini is Pi Mahi is "united joined." Gemini is symbol of Jesus married to the Bride of Christ. Book of Revelation 19:9 tells us Wedding Feast of Lamb, comes after the Judgment Day. This is a time of great joy after the great tribulation is the victory celebration. Principal stars Al Henah, means "hurt, wounded," Pollux,  ruler, judge," Wasat is "seated" "put in place." Revelation 21:9-12: "There came to me one of seven angels…saying, come here, and I will show you the lamb's wife…And he showed me a wall great and high and twelve gates and names written of these Twelve Tribes of Israel." Bible says Bride of Christ"church grafted in with Israel, Covenants. Lepus, Hare enemy of Christ at Second Coming was serpent trodden down under Orion's foot. In Egyptian language star Bashti-Beki, is "offender, confounded." Stars Nibal, "mad," Rakis, "caught," Sugia, "deceiver" is rebellious against "God's chosen people Israel has suffered things accused of killing Lord Jesus and their prophets persecuted in I Thessalonians 2:14-15. God's Judgment Day deals with enemies of Israel.
Eridanus river is lakefire describing scene when the Lord Jesus reigns:
Psalm 97: 3 A fire goeth before Him, burns up His enemies round about. 4 His lightnings enlighten the world as the earth sees and trembles. 5 The hills melt like wax in the presence of the LORD of the whole earth. 6 The heavens declare his righteousness, and all the people see HIS GLORY.
Agrees with scripture of "the Day of the LORD," "when Lord Jesus shall be revealed from heaven with His mighty angels, IN FLAMING FIRE taking vengeance on all those that know not God, and that obey not the Gospel of our Lord Jesus Christ"
2 Thessalonians 1:6 See its righteous thing God recompense tribulation to them that trouble you; 7 And to you who are troubled rest with us, when Lord Jesus shall be revealed from heaven with His mighty angels, 8 In FLAMING FIRE taking vengeance on them that know not God that obey not gospel of our Lord Jesus Christ 9 shall be punished with everlasting destruction from the presence of the LORD'S, and from the GLORY of HIS power; 10 When He shall come to be Glorified in His saints and admired in all believers as true testimony of among you who believe in that day.
This is true Eridanus Gospel reality written in stars of fire, and words of truth men must hear warning to "flee from the wrath to come and to stand and abide in the day of Jesus  Coming. To stand when He appears in Malachi 3:2. To can stand before His indignation as righteous rejoice but His fury is poured out like fire on wicked. Revelation says Jesus sits in clouds with sickle harvesting wicked with wrath of God into lake of fire and brimstone. In Revelation 14:10 & 21 all who worship beast drink the wrath of God poured out without mixture so tormented with fire and brimstone in the presence of God and angels. God's angels join Jesus thrusts sickle to earth poured out winepress of God's wrath blood river 180 miles long.
God's stars Canis major great dog Sirius, or the Prince "Top Dog Star" root, Sir, is Egyptian and Hebrew, Naz-Seir is "sent prince" Jesus "Nazarene" Naz-Seir-ene, faithfulness. Canis Minor Second Dog  is the companion of larger Canis Major. Main star Procyon Noetic "redemption." Significant faithfulness to their masters in Gemini. Gemini looks ahead to time of Christ's rule on earth many faithfully follow him. Many disillusioned with the materialism new faith emerge. Victory is guaranteed for Faithful: "Throne of God and Lamb and servants serve him: They shall see his face and his name shall be in their foreheads"in Revelations 22: 3-4. Covenant True Name of Yahweh is Faith of Israell having brand new name, Christian Identity. The Crab Scarabaeus Seiss symbol to refer to Church began underground in persecution, hibernates in cocoon emerges in light! Patriarchal Church of Israelites and Judahites Grace period of 2,000 years harvest, Judgment Day. Gospel" center of Cancer asterism Praesepe. star cluster means multitude, offspring, innumerable seed." Covenant promises made to Abraham and Sarah became literal parents of innumerable multitude of offspring confirmed. God  Yahweh said to Abraham: "My covenant is with you father of many nations. I will make you exceeding fruitful and nations of you and kings come from you. I will establish my covenant between me, your SEED generation descendant eternal to God and your SEED after you shall keep my covenant you and your SEED after your descendants Genesis 17: 4-9. Seed is zerah, "offspring" grafted church." To Sarah, Yahweh said: "I will bless you and give you a son to be a mother of nations; kings of people shall be of you in Genesis 17:16. Isaac in Genesis 21:12 prophecy,  fulfilled. Ursa Minor: Lesser Bear long tails, bear-like creature. Dubah or Dob is fold in sheepfold. Seiss believes twenty-four elders, Twelve Patriarchs of Israel plus Twelve Apostles in Revelation
God's star the Great Bear Ursa Major Greater Sheepfold guarded by Arcturus. Arabic name is Al Naish, means "the ordered or assembled together." Star name Mizar, "guarded or enclosed place," Dubheh, "herd, fold," Cab'd al Asad, multitude of assembled," El Acola, "the sheepfold," and Aish, star-cluster is "community." In Isaiah 40:10-11 says, "Yahweh Elohim will come with strong hand, and his arm shall rule for Him…He shall feed his flock like a shepherd: shall gather lambs with his arm carry them in His bosom gently leads all with young." The "young" renewed by Jesus Christian Identity message remnant. Messiah told Apostles: "Go not in way of other nations of city of Samaritans go rather go to lost sheep of the House of Israel Matthew 10:6. Apostles are Ursa Minor, Lost Sheep of greater sheepfold Ursa Major. Jesus said go into all the world starting from Jerusalem into the The uttermost parts of the world. Apostles travelled on many missionary journeys into all the world. Prophetic Mazzaroth agrees with Scripture. Argo: Ship is historical Joshua and Israelites or trials and tribulations of Christianity through centuries. Argo, Ship protection from terrors of the deep is Ship Gospel of Jesus Christ message of service and compassion, individually or collectively. True Christians practice life of compassion in spite of world lives in. "My Kingdom is not of this world, Jesus said by self-sacrifice so in victory share Gospel of Jesus Christ's return to Reign in Jerusalem as KINGS of KINGS AND LORD OF LORD'S is Leo Lion Messianic symbol Messiah's victory in Revelation 5:5, "Weep not: the Lion of tribe of Judah, root of David, prevailed to open the book, and loose seven seals." As victorious lion destroys satan and his followers on the earth like King David. Jesus will Reign as a powerful monarch ready to build His empire. His time of self-sacrifice is over; He enjoys the fruits of His Victory.
Jesus paid the price on the Cross for all mankind's redemption but some try to pay for redemption by false cross Jesus warned about. There is no way one can obtain salvation through good works for the price is deficient. The sheep enter in for God works of love or compassion to obey God not to gain favour of God for salvation freely given by Jesus Christ. By His blood through Calvary Cross Jesus opened the way to enter holy of holies into the Presence of God boldly in Jesus Name.  On the other side of the scales is a star called Zuben Al Chemali, meaning "the price which covers." It is a picture of the price paid by Christ's redemption of the sinner on The Cross of crucifixion in 1 Peter 2:24. The constellation Libra's three sidepieces tell the story of price of redemption. Crux Southern Cross first three constellations related to Libra is a group of stars form Southern Cross. The ancient Crux in northern hemisphere is not seen it lies below southern horizon in ancient star charts south represented by hell and north represented heaven. The constellation reveals the price Jesus paid as the Seed of the woman in order to redeem mankind. Lupus is a second constellation related to Libra known as Lupus but in Latin is called Victima the victim. The seed of the woman became the victim upon the cross in so doing, became price whose blood covers sins.
Corona Borealis
The third constellation in Libra is called Corona Borealis the Northern Crown. It is a beautiful semi-circle of a half dozen stars located in northern hemisphere is Corona crown of thorns in Matthew 27 :29 mocking Jesus but God Crowns Him with many a crown. Believers throw all crown at the feet of Jesus in Revelation as the saints worship God in heaven. So Lupus victim dead wolf symbolizes Christ dying substitute in 1 Corinthians 15:3. The Planets of God show Covenant as rainbow reminds mankind of God's mercy and compassion in story of Libra is man as a sinner weighed in balances of God's justice and found wanting. The seed of the woman came to become the victim to pay price for our sins. He died as substitute on the Southern Cross that He might gain for us a Northern Crown. Scorpio is third great constellation and represents a scorpion, in some early cultures, depicted as dragon or serpent. In the 7th century B.C. is shown trying to seize the lamp. Scorpio wants to be the angel of light of the world. In other cultures, Scorpio is trying to sting heel of the mighty Ophiuchus, who is seen in the ancient star charts wrestling with a great snake, called Serpens. While the Scorpion is trying to wound the heel of Ophiuchus, the head of Scorpio is being wounded. The word Scorpio means "the lawless One," representing the serpent antiChrist crushed under Jesus' Feet.
God's star Zephaniah 3:8 declares: "Wait upon me, says the LORD, until the day I rise up to the prey: for my determination to gather nations I assemble kingdoms to pour on them MY indignation all MY fierce anger: for all the earth shall be devoured with fire of my jealousy." Fire and brimstone sermons in the pulpit of Christian churches, must warn of God's Day of Wrath by the God of Judgment. Penalty of unbelief is loss of redemption all sinners pardoned in Bible but reality is unrepentant punished by God. Jesus refuses to try to even convert them in Matthew 13:10-15. God gives up on the deluded reprobate minds in Roman's 1. Spirit of lucifer, deceives the Christians appeasing beast, cannot be converted cast down to earth for judgment in 2 Peter 2:4 is vanquished. So satan cannot coexist with Yahweh as an unrepentant bitterly complaining victim of his own circumstance. The freedom of this evil perpetual rebellion curbed forever. God says vengeance is mine says the LORD." A fleeing serpent Hydra, archangel of materialism lucifer, who rebelled with one third of the heavenly host. Hydra is fleeing from God's wrath and Egyptian  Knem is vanquished conquered Hydra is so is Al Phard, "put out of way," Minchir al Sugia, "punishing of deceiver." Cup of Wrath is justice for satan's time is up so either with God or against Him. Cervus, Raven body eaten by serpent scavenger Cervus cleans up dross left from final conflict. Ancient star Her-na, "enemy broken," Al Chibah, "the aflicted," and Minchir al Gorab raven tears to pieces." In Book of Revelation John "saw angel standing in sun; cried with a loud voice to fowls fly in midst of heaven, Come and gather yourselves together to supper of great God; To eat flesh of kings and flesh of captains and flesh of mighty men in Chapter 20: 17,18. Christianity of God forgive sins in fire and brimstone faith confirmed by prophetic Mazzaroth. Hell damnation await those who refuse to repent as Bible teaches in Book of Life.
Idolatry in Temple of Yahweh in Ezekiel 8:3 The Spirit of the LORD lifted Ezekiel up between earth and heaven in vision of God to Jerusalem to entrance of north gate of inner court, saw idols provoking God to jealousy stood. 4 And before me was GLORY of God of Israel. 5 HE said to me, "Son of man look to the north." So I looked, in entrance north of gate of altar I saw idol. 6 HE said to me, "Son of man see utterly detestable things Israelites are doing here, things that drive ME from MY sanctuary. 7 HE  brought me to entrance to court. And I saw a hole in the wall. 8 HE said, "Son of man dig into wall I did so saw doorway 9 told, "Go in and see wicked and detestable things done here."10 I went in and I saw all over walls all kinds of crawling things and unclean animals and all idols of Israel. 11 In front of them stood seventy elders of Israel, and the Jaazaniah son of Shaphan standing among them. Each had censer in his hand of fragrant cloud of incense rising. 12 He told me, "Son of man, have you seen what the elders of Israel are doing in the darkness, each at the shrine of his own idol? They say, 'The LORD does not see us the LORD has forsaken the land. 13 "You will see them doing things even more detestable." God 14 brought me to entrance of north gate of house of the Lord, and I saw women sitting mourning god Tammuz 15 HE said to me, "Do you see this, son of man You will see things more detestable than this."16 Brought me into inner court of house of the Lord, and there at entrance to the temple, between portico and altar twenty-five men with their backs to the temple of the LORD and faces towards east bowing down to the sun in east. 17 HE said to me, Is it trivial matter people of Judah do detestable things, fill land with violence and arouse my anger? Look at them putting branch to their nose 18 I will deal with them in anger; I will not look on them with pity  or spare them though they shout in my ear.
Josiah Stops Pagan Worship
2 Kings 23:1 King Josiah summoned all leaders of Judah and Jerusalem, 2 and together went to Temple, with priests and prophets and the rest of the people, rich and poor alike. Before them all the king read aloud whole book of covenant found in Temple.3 He stood by the royal column made covenant with the LORD  to obey and keep HIS laws, commands with all his heart and soul, to put into practice demands of covenant written in the book. All the people promised to keep covenant. 4 Josiah ordered High Priest Hilkiah, assistant priests, guards at entrance to bring from Temple all objects used in worship of Baal of god Asherah and STARS. The king burned all objects outside city near Kidron Valley and ashes taken to Bethel.5 He removed priests kings of Judah ordained to offer sacrifices on pagan altars in the cities of Judah and places near Jerusalem all the priests who offered sacrifices to Baal, to SUN, MOON, PLANETS and STARS. 6 He removed from Temple symbol of god Asherah out of city to Kidron Valley and burnt it pounded ashes to dust scattered at public burying ground. 7 Destroyed living quarters in Temple of the temple prostitute women wove robes for the worship of Asherah. 8 He brought to Jerusalem priests in cities of Judah, and whole country who desecrated altars by offered sacrifices. He tore down altars dedicated to goat demons of gate built by Joshua, city governor to left of main gate entering city. 9 Those priests not allowed to serve in Temple, could eat unleavened bread for priests. 10 King Josiah destroyed Topheth pagan place of worship in Hinnom Valley none could sacrifice his son or daughter as a burnt offering to god Molech. 11 He removed horses kings of Judah dedicated to the worship of Sun, burned chariots used in worship near living quarters of Nathan Melech, high official. The altars, kings of Judah built on palace roof above King Ahaz' King Josiah tore down the altars of King Manasseh in two courtyards of Temple, smashed altars thrown into the  Kidron Valley. Josiah destroyed altars Solomon built east of Jerusalem, south of Mount of Olives to worship idols of Astarte god of Sidon, Chemos god of Moab, Molech god of Ammon. 14 King Josiah broke stone pillars to pieces, cut down symbols of god Asherah, and grounds covered with human bones. 15 Josiah tore down place of worship in Bethel, built by Jeroboam son of Nebat, led Israel into sin. Josiah pulled down altar, broke stones in pieces pounded to dust, burnt image of Asherah. 16 Josiah saw their tombs on hill took bones and burned on altar. Josiah saw a tomb of prophet who predicted idol altars and its destructions. 17 Whose tomb is that" he asked. People of Bethel said "Tomb of prophet from Judah predicted all things you did to this altar."18 Leave it," Josiah ordered "his bones not to be moved." So his bones were not moved as a prophet from Samaria. 19 Cities of Israel, Josiah tore down all pagan places of worship built by kings of Israel who aroused the LORD'S anger. He did same to altars in Bethel. 20 He killed all pagan priests on altars they served and burnt all human bones on altar, returned to Jerusalem.
Josiah Celebrates the Passover
21King Josiah ordered people, celebrate the Passover in honour of the LORD God as written in the book of Covenant. 22 No Passover like this one had ever been celebrated by any of the kings of Israel or of Judah, since the time when judges ruled the nation. 23 In the eighteenth year of the reign of Josiah, the Passover was celebrated in Jerusalem.
Other Changes Made by Josiah
24 To enforce laws written in the book the High Priest Hilkiah found in Temple, King Josiah removed from Jerusalem and the rest of Judah all mediums and fortunetellers and all household gods, idols and the pagan objects of worship. 25 There had never been a king like him before, who served the Lordwith all his heart, mind, and strength, obeying all the Law of Moses; nor has there been a king like him since. 26 But the LORD'S fierce anger aroused against Judah by what King Manasseh did did not stop. 27 The LORD said, "I will do to Judah what I did to Israel to banish the people of Judah from MY SIGHT and will reject Jerusalem the city I chose and Temple, place I said was I should be worshiped." People exiled temple destroyed till now but returned to recreate Israel in 1948 as nation of God in Aliyah from all the nations dispersed into. The Temple will be rebuilt so God and Jesus worshipped again in Jerusalem eternally forever. So Lion Messiah victorious in Revelation 5:5, "Weep not: the Lion of tribe of Judah, root of David, prevailed to open the book, and loose the seven seals." So victorious lion destroys satan and his followers on earth like King David Jesus reigned as a powerful monarch ready to rebuild His empire. His time of self-sacrifice is over; He enjoys fruits of His Millineal Reign to beyond infinity over the whole world.
God Warns Star Gazers
Ezekiel 8:16: 
Then He brought me into the inner court of the LORD'S house. And behold, at the entrance to the temple of the LORD, between the porch and the altar, were about twenty-five men with their backs to the temple of the LORD and their faces toward the east; and they were prostrating themselves eastward toward the sun.
Deuteronomy 4:19
"Do not to lift your eyes to heaven to see sun, moon, stars, or host of heaven to be drawn away and worship them or serve them. The LORD God created all things in whole heaven.
Deuteronomy 17:2-5
"If there is found in any of your towns the LORD your God gives you a man or woman doing evil in the sight of the LORD your God to transgress HIS covenant gone to serve other gods or worship the sun moon or heavenly host as commanded
in Israel take them outside city and stone them to death.
Job 31:26-28
If I look at the sun when it shines or moon in splendour and my heart is secretly enticed threw kiss from my mouth iniquity calls for judgment as I have denied Jehovah God.
2 Kings 23:5-11
He put away idolatrous priests the kings of Judah appointed to burn incense in high places in cities of Judah or surrounding area of Jerusalem who burned incense to Baal, to the sun, moon constellations host of heaven. He took Asherah from house of the LORD ioutside Jerusalem to brook Kidron, and burned it, ground to dust, threw dust on graves. He broke down houses of male cult prostitutes in house of the LORD, women weaving hangings for Asherah.
Jeremiah 8:1-2
"The LORD, "will bring bones of kings of Judah bones of princes bones of priests bones of prophets and bones of inhabitants of Jerusalem from graves. "To spread to sun, moon, host of heaven they loved, served or 
gone after, to worship. They will not be gathered or buried but a dung on face of the ground.
Jeremiah 43:13
He will shatter obelisks of Heliopolis in Egypt and temples of gods.
Courtesy Credit images:
ABC: Julie Ramsden