Matthew 17:24-27;22:15, Mark 12; Luke 20, Jesus said, Give to Caesar what belongs to Caesar, to God what belongs to God. The Biblical accounts of Gospels in Capernaum said tax collectors of two drachma temple tax asked Peter if Jesus pays tax, he said He does. If Jesus paid taxes then what did Jesus teach His disciples? Matthew records two taxes  Jesus paid in Matthew 17:24-27; 22:15-22 temple tax and tax to government in Rome. People asked Jesus: "Is it right to pay taxes to Caesar?" It was a ploy to set a trap for Jesus. But He saw through their attempt to manipulate Him and falsely accuse Him of asking people not to pay.
So obliged to pay the tax, Jesus paid His taxes with the coin from the mouth of a fish Peter caught. Tax collector cornered Peter and asked if Jesus paid the temple tax. Later in Matthew 17:2427 Jesus said to Peter at home, "Simon, does the kings collect taxes from their own children or from other people? Peter answered the others. And Jesus replied we don't want to cause trouble go cast a net in the lake and the first fish you catch open mouth, and you will find a coin. Use coin to pay your taxes and mine." Take it and give them for my tax and yours."
Jesus told the Pharisees and Herodians to give to Caesar things belong to Caesar in Mark 12. The issue is controversial as people disagree on how the government spends money. Some people feel angry because their needs are not met though they pay tax. The Bible example of Jesus to pay taxes again in Gospel of Matthew Mark and Luke are other account of the Pharisees trying to trap Jesus to find the reason to accuse him. In Matthew 22:15-22 Pharisees went out and laid plans to trap Jesus to use His words against Him.
Pharisees disciples with Herodians said "Teacher," they said, "we know you are sincere so teach the way of God in truth. You are not influenced by men. Tell us, what is your opinion? Is it right to pay taxes to Caesar or not?" Jesus, knowing their evil intention said, "You hypocrites why are you trying to trap me? Show a coin for paying tax." They brought him a denarius and He asked them, "Whose head inscription?" They said, "Caesar's. Then He said to them, "Give to Caesar what is Caesar's and to God belongs to God." When they heard this, they were amazed so they left him and went away.
If Jesus refused ​to pay or He condemned Caesar they will accuse Jesus of inciting rebellion. People had no choice but to pay as Jesus also did. And Zachaeus a tax collector climbed a tree to see Jesus passing by. Impressed Jesus dined in his home during meal he decided to restore money he extorted by collecting taxes in Mark 2:13-17. In Psalm 24:1, The earth is the LORD'S and everything in it but life requires money to function, pay staff, provide services, resources, processing, printing costs, transporting goods. And maintaining the structures and repairs restoration, regeneration, grounds and gardens etc. Too numerous to list costs of services provided by the nations. Amazon, Google, Wealthy Offshore accounts do not pay tax proportionately fairly like others.
Jesus and His disciples voluntarily gave to the Temple tax and state to set a good example. Taxes paid directly to local tax collectors who decided what people pay. Tax collectors paid by charging people more to earn money.  Levi, the apostle was the customs official in Capernaum taxed imports and exports as he liked. The Jews hated him because he worked for Rome and betrayed his countrymen.  Zacchaeus was a chief tax collector for the Jericho district notorious for taxes changed meeting Jesus of Nazareth.
People are saying the tax exemption for Churches are unfair making mega rich pastors super wealthy multimillionaires Church members struggle to pay bills, food, mortgage, health insurance, fees or basic necessities of life. Private jets, mansions get bigger, fleet of cars longer but members poor. Its a major source of tension rich multi billionaires are state sponsored in extravagant lifestyles. Schools reduce hours, hospitals cut staff budget reduced. The churches use tithe, offerings, donations, for salaries wages, cost of projects, feed orphans, help poor under the radar, homeless, HIV, disaster flood victims, TV ministry, preaching, teaching Gospel Message of Jesus Christ, Evangelism etc. among wonderful work  of God. Admission fee puts people off so first time Benny Hinn was at NEC entry was free. Thousands turned up with no room for overflow solved crowd control next visit with ticket admission. Only a few people turned up venue was almost empty. God said nobody must enter HIS Presence empty handed so Jesus talked about the widow's mite even poor give. In Exodus 23:15 God said, no one shall appear before ME empty-handed. Also in Exodus 34:20 God said no one must appear before ME empty-handed. Again in  Deuteronomy 16:16 God said do not appear before the LORD empty-handed.
Gap between the rich and poor widens causing hunger and the stress, pressure, unemployment, lack, in deprived areas. No resources for disadvantaged so most public servants cannot get on the home ownership ladder. Many depend on the food banks despite their hard work and education. Zero hour job wastes time of trained staff without job or income. And the popular highly influential Christian leaders spew wrong ideas as 'Christian Ideas.' Don't be misled…Study the bible yourself to know the truth of the Word of Christ. Read Bible as JesusFollowers and Christian's. Some think Churches must follow Jesus' example to provide fairly for the least in society too. So gap between rich and poor widens as many continue to suffer daily, starve and die in the most advance developed wealthy countries. Unfortunately a Class divide disproportionately allocate lion share to themselves as the world watches them flaunt it in their faces daily. 1 Timothy 6:10 says the LOVE of money is the root of all evil. Craving more money is cause of all evil in doing so wander from true faith so pierce themselves with sorrow.
A Christian family is fined taxes saying it is against God's will to pay taxes. The  Christian family refused to pay income tax because its "against God's will" but are ordered to pay more than A$2m tax (£1.1m $1.4m) to Australia's tax office. It is Christian debate Rembertus Cornelis Beerepoot and Fanny Alida Beerepoot of Tasmania do not pay income tax since 2011 as their religious right. Their farm was seized and sold by a local council in 2017 for not paying seven years of tax rates. Ms Beerepoot told the court: "We don't own anything because it is God's." The siblings represented themselves in Supreme Court of Tasmania Wednesday, after did not pay $930,000 in income tax or other charges in 2017 ABC News said.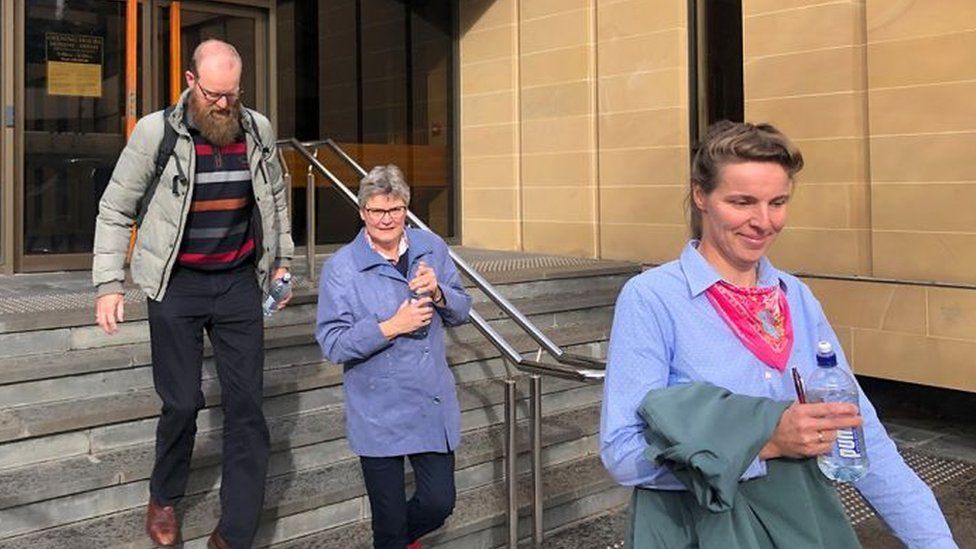 Rembertus Cornelis Beerepoot (left) and Fanny Alida Beerepoot (far right) seen here outside the court in Tasmania. Mr Beerepoot argued the law of God is the "supreme law of this land" and making people pay tax weakens dependency on God, leading to "curses… in the form of droughts and infertility." "Transferring allegiance from God to Commonwealth means rebelling against God breaking first commandment," he said, according to the public broadcaster. In judgement, Associate Justice Stephen Holt said he believed Beerepoots' belief is genuine but there is no reference in Bible to support their argument said, "In my view Bible said civil matters and law of God two different spheres." So siblings ordered to pay sums of – Ms Beerepoot A$1.17m and Mr Beereport A$1.16m to cover income tax, administrative penalties, interest charges" and costs in court documents. Do you agree with these views? The church provides for the poor marginalised in society, homeless people and medical care. They use resources to print Church materials, Bibles, maintain  Church buildings, costs of running premises, pay staff, TV programs and other costs. Is it fair to target Churches to let off trillionaires boasting about how much profit they make but hide it in offshore accounts and tax free havens pretending to have no money? Jesus told a rich young man go sell all your riches to help the poor and come follow me. God's resources are more than enough to provide for all 8 billion people on earth with surplus if fairly shared and distributed.
COURTESY CREDIT AND IMAGES:
BBC News Excerpts Reblogged & Updated
Australia
Google search freestock images