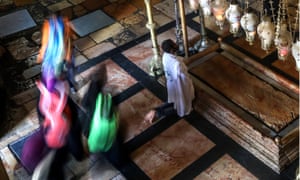 Growing movement of organisations in Jerusalem are offering the intercession proxy prayer services to Christians and Jews willing to sponsor pay for their divine requests delivered in the Holy City of God. For a millennia, pilgrims longing to connect with God on Middle Eastern hills sacred to Christians and Jews. Businesses and fundraising charities tap into a global market among those who are unable to visit the ancient walled city but want to hire a surrogate to pray in their stead. A website, Holy Land Prayer, provides a tiered set of services, ranging from $15 to $40 (£11 to £30), for a priest to read out prayer in Church of Holy Sepulchre, Jesus is believed to be crucified, buried and resurrected. "We want to help the people experience the power of prayer in their lives, when they feel like they cannot pray for themselves," site says. The top-end option includes lighting a candle and the placing of individual's photo next to it, with video footage sent by email. Holy Land Prayer in email to Guardian hundreds of prayer processed monthly, with most money donated to the Church considered the holiest site in Christianity. Salvation Garden, a startup company, runs a sophisticated website operating in four languages, people fill out form for bespoke prayer requests. A customers chooses pre-written prayers, like "Our Father" or suggested prayers on healing, but they can write their own and select a priest they need to deliver prayer Catholic, Orthodox or Protestant. The basic prayer service is free, paid-for extras include video of the prayer being carried out or a printed certificate to be sent by post. Salvation Garden told the Guardian it believes Holy Land should be accessible to all, including those who cannot make it to Jerusalem. It said a lot of requests came via Facebook, and the company is to release a smartphone app soon. For Jews, holiest site for prayer is the Western Wall. Revered as one of the last remnants of Temple Mount, people place slips of paper containing written prayers into the cracks of the limestone wall. Now, several Jewish groups offer to print and place prayers sent to them by email, often for free. One "Western Wall prayer delivery service" offers to deliver prayers within 30 days for $29, or an "express" 24-hour delivery for $79 (discounted from $99). Another Jewish charity raises funds, asks for donations, starting from $2 day for "prayer agents" often rabbis or Torah scholars praying at the wall on behalf of the donor for 40 consecutive days. The most elaborate service's minimum donation of $3,600 offers 10 people praying daily plus extra includes reading entire Book of Psalms.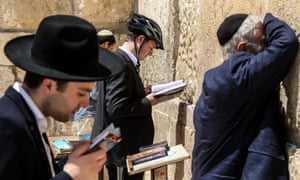 Jews praying by Western Wall. Western Wall Prayers was set up by Batya Burd-Oved says most common prayer request is in relation to marriage, followed by healing. "But, I'll tell you, we're praying right now for someone to pass their bar exam, or for the kids to get a job, or for custody of children," she said. "People will pray for anything. Anything they do not have control over." Burd-Oved, a devout Jew, set up the foundation after meeting her former husband just days after he finished 40 days of prayers at the ancient stones. He had been praying for a wife following a string of failed dating attempts. Convinced by strength of practice, Burd-Oved started offering to pray for friends at the site and said 80% got their wishes. During the past 13 years, the charity has grown to employ close to 40 rabbinical scholars who have little income. A large part of donation goes to them and communities. Clients are expected to conduct own prayers at home for entire period for agreement in prayer. Burd Oved said that most people chose the $2 a day option but the $3,600 package got picked occasionally. "It's a lot of money huge ordeal not everybody has so much money to spend." Prayer is answered freely by God in Jesus Name through Holy Spirit. GOD requires all to sponsor HIS resource centres, venues to cover costs of running the premises for prayer. Maintenance and bills are paid as God commands that HIS servants eat shrew bread and receive offerings. God and Jesus work through chosen human beings on HIS Behalf ministering to HIS people. So she said she believed in her work. "You're going to laugh, but even though I live in Old City probably hire people for myself seven or eight times a year because sees how powerful it is." King Solomon also prayed that when people come to pray in the City of David, God should have mercy, hear and answer prayers. Some people for health reasons or pregnant cannot pray effectively and some young children. Prayer of agreement is strong prayer because one defeats a thousand and two defeat 10,000 as the Bible says. At times situations in life is difficult to pray but groanings through Holy Spirit is heard by Jesus our HEAVENLY INTERCESSOR who prays to Father God on our behalf in Jesus Name. This year ends tonight so be encouraged to pray if possible or join in agreement as there is no distance in prayer. Thank Father God for seeing you through this year, sustaining you to be alive today. Commit family, friends, colleagues, nations, leaders into God's Hands covered by blood of Jesus include enemies to be saved in Jesus Name. And Have a Happy New Year Thank Jesus and Give GLORY to God. Stay blessed forever and ever.
SUPERNATURAL MIRACLE TESTIMONY 
God is indeed Wonderful as miracles of Muslim man in Egypt killed wife shows. Because she was reading the Bible and then buried her with their infant baby and an 8 year old daughter.
حيث ان الفتيات دفنوا و هم أحياء ! و قام بتبليغ الشرطة بالحادثة متهما العم بجريمته . و بعد 15 يوما يموت أحد أفراد العائلة . و عندما أرادوا دفنه , وجدوا تحت الرمل الفتاتان الصغيرتان على قيد الحياة .
The girls were buried alive! then He reported to the police an uncle killed the kids. 15 days later, another family member died. When they went to bury him, they found the 2 little girls under the sand – ALIVE!

هذه الحادثة أغضبت الناس و حكم على الرجل بالإعدام
The country is outraged over incident, and the man will be executed.
وقد سؤلت الفتات الكبرى عن كيفيت بقائها على قيد الحياة , فقالت : ' كان يجيء إلينا كل يوم رجل , كان هذا الرجل يلبس ثياب مشعّة و كان له جروح نازفة في يديه , كان يأتي و يطعمنا . و قد أيقظ أمي و بتالي فقد أستطاعت أن ترضع أختي. 'قالت الفتات هذا الكلام في مقابلة على التلفزيون المصرية الوطنية , و أفادة امراة مسلمة عبرأخبار مؤكدة. قالت فيها على التلفزيون الشعبي : ' كان هذا بلا شك السيد المسيح , لأن لا أحد غيره يستطيع فعل مثل هكذا أشياء! '
The older girl was asked how she had survived and she says 'A man wearing shiny clothes, with bleeding wounds in his hands, came every day to feed us. He woke my mom so she could nurse my sister,' she said. She was interviewed on Egyptian National TV, availed Muslim woman news anchor. She said on public TV, 'This was none other than JESUS, because nobody does things like this!'
المسلمون يؤمنون بأن السيد المسيح يستطيع فعل هذا , ولكن الجراح تشير إلى أن السيد المسح حقا قد صلب , وأيضا من الواضح أنه على قيد الحياة ! , وأيضا من الواضح أن الطفلة لا تستطيع أن تخترع قصة مثل تلك , و أساس فإن من المستحيل بقاء الطفلتان على قيد الحياة بدون معجزة حقيقية ,
Muslims believe Isa (JESUS) would do this, but the wounds mean He really was crucified, and it's clear also that He is alive! But, it's also clear that the child could not make up a story like this, and there is no way these children could have survived without a true miracle. Muslim leaders are going to have a hard time to figure out what to do with this, and the popularity of the Passion movie doesn't help! With Egypt at the centre of the media and education in the Middle East so be sure this true story spreads.
السيد المس يح ما زال يقلب العالم رأسا على عقب! رجاء دع هذه القصة تنتشر بين الناس. يقول الله : 'أنا سأبارك الشخص الذي يضع ثقته فيّ.' أرميا 17.
Christ is still turning the world upside down! Please let this story be shared. The Lord says, 'I will bless the person who puts his trust in me.' Jeremiah 17.
رجاء أرسل هذه الرسالة إلى كل قائمتك والله سيكافئك بوفرة! ! ! !
Please forward to all on your list GOD will reward you abundantly!!! Please finish reading before you do not anything else right now. Read this to the end. God says, I know you will give your time for me. I love you and always bless you. I am always with you. I need you to spend 30 minutes of your time with me today to pray and Just praise. Today I want this message across world before midnight. Will you help? Please do not cut it and I'll help you with something you are in need of. A blessing is coming your way. Please drop everything pass it on. Tomorrow will be Best Day of your Life. Send this to friends Trust God."
#received and forwarded #
*Forwarded as received 👆*