Water, salt and oil used in the Bible in prayers to GOD. Father ALMIGHTY LORD GOD the MOST HIGH GOD in Jesus' Name we call YOU through the Holy Spirit and pray to use water to drink to live and wash ourselves. Thank you for precious gift of water we pray and ask you to bless this water in the Mighty Name of Jesus. Thank YOU God for blessing water to continue to enjoying this gift. In Genesis 1:2, You sanctified water in the beginning, Your Spirit hovered above the waters. Peter 3:5 says "the heavens and earth formed out of water and by water by the Word of God. Hebrews 11:3 says through faith we understand world formed by Word of God so the things seen are made from invisible unseen things.
YOU Sanctified water in the Holy Bible brings life into the seas and rivers miraculously by God's Spirit to sustain life. We have life because we drink water and live earthly life. Thank YOU GOD for the water and food from earth irrigated fertile land by water to bring life to creation. We bless water in rivers in YOUR HOLY NAME; We bless lakes, oceans, ice deposits, mountains, sources of water and under surface of earth and atmosphere. 80% of the body and earth is water to sustain life. We bless water in our body, LORD God, bless us in Jesus Name. As water quenches thirst in Mark 9:41, clean our body to circulate blood flow distributing oxygen. Jesus the Living Water talked to the Samaritan woman in John 4:9-14. So Water from Jesus satisfies and refreshes releasing new life. References to water in Bible by Early Church practices used water to clean, detox, release new life.
iving Water restores life, brings health joy and happiness to help deepen faith in God. Water is important in our lives because the body needs water to live. It is said without water body survives not more than 7days in good health. We are cleaned and redeemed by Living water Jesus Christ. Our LOVING FATHER GOD ALMIGHTY we thank YOU for leading your people through waters of the Red Sea to freedom to Promised Land. The water parted to save Israel but the same water drowned Egyptians as God heard their delivered them. God remembered HIS Covenant with Abraham and descendants as King David to put his Seed on Throne. Thank you Jesus for passing through depths of hell and death to open the way of salvation for all. Holy Spirit to sanctify water washing us as we use this water. Jesus was buried and rose again in Christ we rise in Him to find freedom as God's Children in Christ Jesus. We praise you, LOVING FATHER, for the gift of YOUR Son Jesus baptized in the River Jordan. You sanctified water in person of YOUR SON Jesus Christ baptized in water in river by John the Baptist. God's Spirit came on Him to reveal YOUR Beloved Son to hear Jesus the true Messiah. His followers baptize all who turn to Him sanctified by baptism with water in the Name of God the Father, the Son and the Holy Spirit. Father, we ask you to bless this water so those baptized are cleaned in the water of life. filled with YOUR Holy Spirit to know they are YOUR Beloved children safe in Christ. Moses helped cross the red sea with your people so help us God.
The water parted to saveAs YOU sanctified water in the Holy Scripture miraculously to wash lepers clean and cured Naaman, army commander from Syria healed so cures-all diseases as the water touched their body in the Name of Jesus Christ. Oh Lord God, help us to live by faith in your goodness and love and to have faith in your healing power, faith in your deliverance, faith in your blessings, faith in your Mercy, faith in your plan for our lives in Jesus Name. The water parted to save Thank you Father God that you can use anybody including a housemaid to tell her master commander of Syrian army to seek prophet in Israel for his healing. Miraculously  you directed the prophet to ask him to go and bath seven times in river Jordan. Although angry and he felt embarrassed for publicly displaying his secret leprosy disease changed his mind and was healed. The Glory goes to Jesus for the healing power imparted through GLORY OF GOD. God's Living Spirit is in water because His Spirit hovered over water to produce fish and sea mammals to sustain life. The miracle power using water once again is manifested by God to prove God uses any method HE likes to heal people who have faith to believe to receive freedom from pain, affliction, shame, stress. Drinking water is highly recommended healthy lifestyle to boost blood oxygen circulation. Water cleans both the inside and outside of the body to keep clean and healthy daily.
Clean water sprinkled on a person after prayer cleans all the impurities of idols. In Ezekiel 36:25 God sprinkles the clean water to clean all uncleanness from all idols to clean you in the Mighty Name of Jesus. Clean water washes defilement to understand God's WILL and to restore conscience. Effects of spiritual filth is cleaned by a sprinkling of clean water makes clean, healed pure. So Naaman wished to pay but offer refused took the worship of God of Israel and on the soil of Israel, Jehovah's own land taken back to Syria to remind him to serve God and freely by choice. Bible Mysteries and the Prophecies fulfill Messiah Yeshua Jesus sending of Holy Spirit from Heaven in the form of fire. Fills some like lightning in forehead and travels through body like a million volts of beautiful warm electricity. The Ruach haKodesh Holy Spirit flows like water rushed through the body. During Sukkot the priests in Jerusalem Temple sacrificed 70 bulls as sin offerings to the LORD to forgive the sins of the 70 nations in the world. Messianic prophecy of Zechariah 14:3 says of Sukkot and Yeshua one day will fight the nations against Jerusalem on Mount of Olives and mountain will split in two. Yeshua returns to rule earth and Zechariah verses 16–19 says people on earth who survive battle are required to visit Jerusalem each year to worship the King, Lord Almighty, to celebrate the Feast of Tabernacles or they will have no water or rain. Average a person last without food 30 days but without water seven days. Pool of Bethesda is a living history testimony of water to clean, heal sick. Jesus healed the disabled man on a Sabbath day waiting for 38 years for the angel to stir the water to be healed.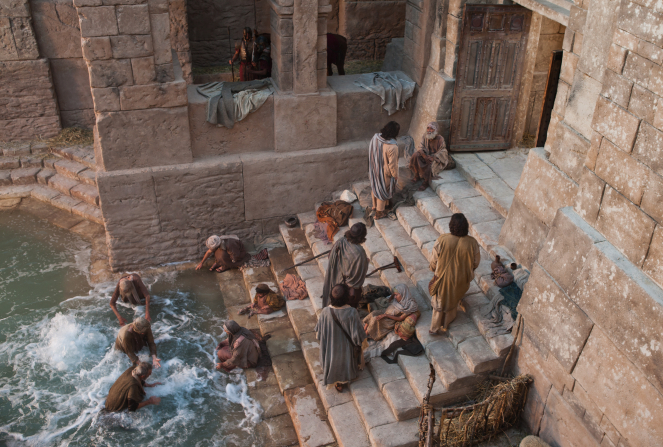 All souls thirsty for God will be filled in John 7:37–38, Jesus says: "If anyone is thirsty, let him come to Me to drink believes in Me, as Scripture said, streams of Living water will flow within him." Yeshua fulfilled the water pouring ceremony at Sukkot! God performs miracles during 40 years in desert Leviticus 23:33-43, provided manna, sandals and clothes never wore out. Fall harvest in Exodus 23:16 one of three Biblical holidays Jewish people go to Jerusalem to worship the LORD. In John 7:2–3, it says: "When the Jewish Feast of Tabernacles came Yeshua's brothers said to Him, 'You ought to leave here and go to Judea. Jesus went to Temple in Jerusalem with disciples to celebrate Feast of Tabernacles ate meals and slept in sukkah booth and fulfilled prophetic water pouring ceremony of Sukkot. Morning procession of priests go to Pool of Siloam accompanied by men and women dancing to the LORD with music rejoicing. At the Pool priest drew water with golden pitcher, other priests recite Isaiah 12:3, You will draw water in joy from wellspring of salvation (Ushavtem mayim b'sason mimayney haYeshuah. A Jewish circledance song Mayim, Mayim (Water, Water) sang. The Pool of Siloam symbols well of salvation Hebrew word Salvation means Messiah Yeshua. At Temple thousands wait for procession return from Pool of Siloam announced by three-fold trumpet blasts. The priest with golden pitcher approach altar and pours water offering while  musicians play holy instruments and all sing Hallel in Psalms 113–118.  John 7:37 says Yeshua was there during the Water pouring ceremony, and He declared in a loud voice: "If anyone is thirsty, let him come to Me and drink.  Whoever believes in Me, as the Scripture said, streams of living water will flow from within him in John 7:37–38. At Sukkot, Hallel is sung in synagogues around the world. People sing Psalm 118:22 Bible Messianic Prophecy about Yeshua! 
A day after Yeshua proclaims He is the fulfillment of Psalm 118:22, He healed a man blind from birth spit on the ground made some mud with saliva, and put it on the man's eyes. Yeshua said to him, "Go and wash in Pool of Siloam water the priest drew holy water and priests recited: "With joy you will draw water from the wells of salvation." The man went and washed and can see!!! Yeshua healed him physically and his eyes were spiritually opened to believe Yeshua is the Messiah of Israel. Jesus fulfills the Scriptures and used holy living water to heal as apostolic churches do today. Holy Spirit open all eyes for understanding to see things of God more than before in Ephesians 1 :18. God creates man in HIS OWN Image to give understanding for Spirit to join to God in the soul. Sin contaminates separates from God's flow of Holy Spirit hindering answers to prayer. Clean water restores to God and gives righteous relationship to God to gain knowledge, insight of God's plans and HIS purpose for your life.
Clean water sprinkled on you brings the living Presence of God to you so a better worshipper. The clean water, sprinkled with washing of water by the word washes and regenerates the mind, body, Spirit and soul made alive to God in Mercy by the Grace of God, restoring the glory of man obtained by salvation in Christ. So sprinkles clean water from heaven God's dwelling place drops on you cleans by miracle power operating on you washes sin so the Light of God, comes to expel darkness so your deeds are reproved in John 3:19, 20 so we see light in God's Light. Gospel is preached as faith comes by hearing Word of God in Spirit and in Truth it penetrates your mind and heart to stir your conscience. So you shine more towards perfect day in Prov. 4:18. You read Scriptures more so hear the Truth to increase belief and Trust God and Obey HIM more. So the sprinkling of clean water on you keeps you in harmony with God. Abomination of sin and curse of the law is removed by God from you to submit to the WILL of God in humility. God sprinkles clean water to remove stiff stubborn neck to please God. Plane in US sprinkles 100 gallons of holy water.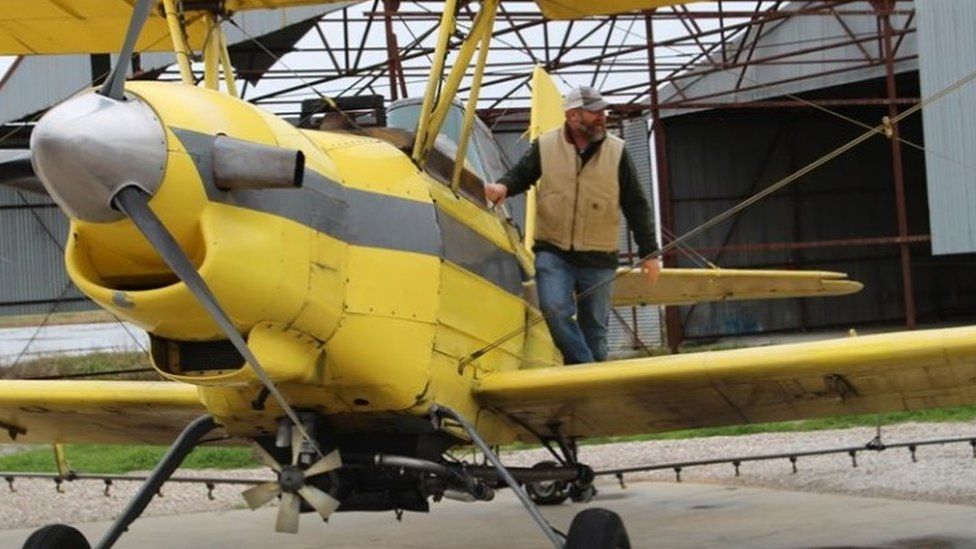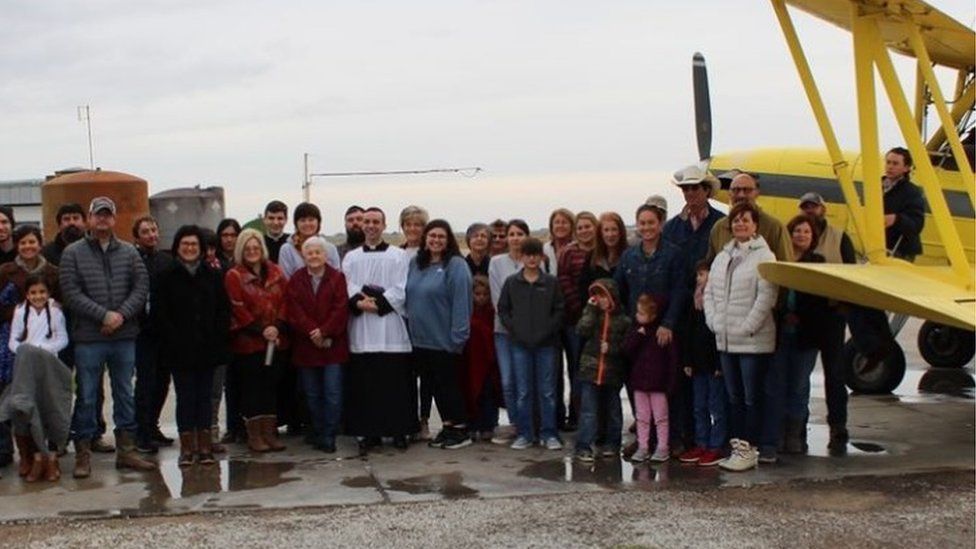 The parishioners brought the water to be blessed before the flight. A US Roman Catholic church in south-western part of Louisiana came up with a novel way of blessing parish. Rev Matthew Barzare of St Anne Church in the rural community of Cow Island took up the suggestion of a parishioner to spray 100 gallons (454 litres) of holy water from a plane. His parish is spread over a wide area so Rev Barzare decided a crop dusting plane would be a quick solution. There are plans to make it an annual event using 300 gallons again in the following years.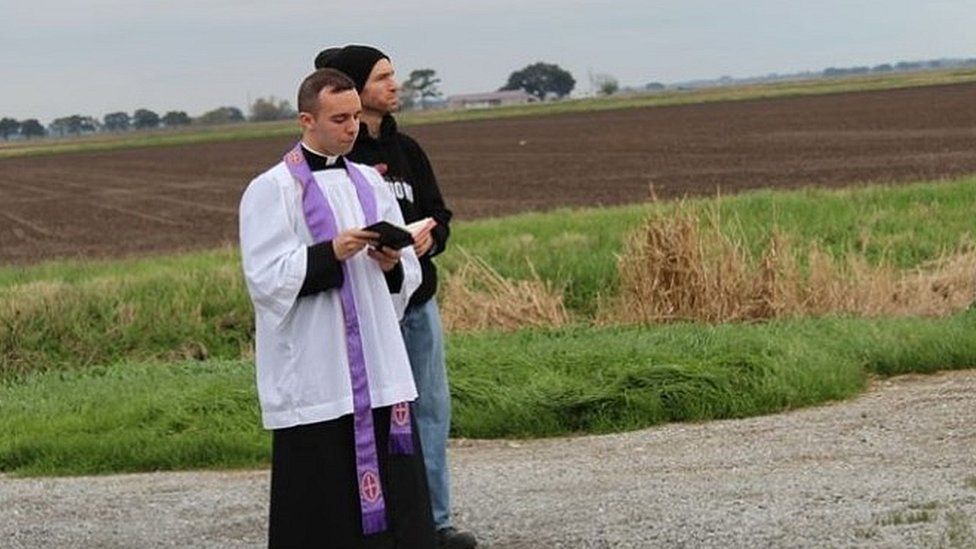 The Rev Matthew Barzare reads from the Bible before take-off. The water was sprayed onto the town and surrounding farms in the run-up to Christmas, the Diocese of Lafayette said. The idea came from the parishioner L'Eryn Detraz, the resident Cow Island works a missionary in Ohio. There is a tradition of blessing the fields and local community, around harvest times, the Rev Barzare told NPR radio. Church-goers carried water to a local airstrip where it was blessed before being loaded on aircraft. Your conscience is cleaned from guilt and weight of sin to enjoy the blessings of God by Jesus Atoning Blood He who believes in Me, as the Scripture has said, out of his heart will flow rivers of living water in John 7:38. The reward of faith is great and endless. So believer enjoys life more even more abundantly in Jesus Name. The River of Life cleans iniquity that pollutes to defiles Spirit of God stops vile abominations in Christ.
Jesus heals self-loathing self-abhorrence blocking eyes from love of HOLY God so cleans to renew Spirit to receive pardon and the forgiveness in Christ purifying efficacy. And the Blood of Jesus sets you free from sin and sorrow to wash away guilt of filthy sin. A clean heart bears good fruits of Holy Spirit in Galatians 5:23, gentle, kind, tender, submissive obedient to Word of God. You set your heart on the things above seated in Heavenly places in the world but not part of it so shapes and forms, your affection to love God in Christ love people as Jesus dwells in your heart sits at the right hand of God. Clean water sprinkled on body changes you to new creation in Christ, old things pass away. The love of God shed abroad in your heart by the Holy Spirit kindles joy of the LORD GOD in you a testimony to all who see you. Jesus washed the feet of disciples by water to make clean and Peter said,  "Lord, not my feet only, but my hands and my head." Jesus said,"If I wash you not you have no part with me, a person who has a bath needs to wash feet as the whole body is clean. A clean water sprinkled on you cleans face eyes washes away mucky life. Christ blood washes renewed Spirit daily continually to keep you clean. Ephesians 5:26 says you are made holy, cleaned by washing with water through the Word of God as water clean believers to heal and make whole. The word of God is sharper than two-edged sword, cuts through marrow and bones discern thoughts of the mind and hearts. GOD knows inner thoughts of the mind and sees deep into hearts. Anything not of God is flushed out by the Living Water ministered in Jesus Name. And Jesus Walks on Water in Matthew 14:22-36; Mark 6:45-56; John 6:16-24 to teach us to keep our eyes on Jesus. Let us keep looking up to Jesus the author and finisher of our faith.
He makes it a point that by faith Peter too could walk on water. This event is very significant for lesson on faith in biblical account proving Jesus' miracle of walking on water convinced disciples that He was indeed the Son of God and not a ghost as they thought. Jesus again demonstrated HIS Power and authority over elements walked on water under His Feet. This context shows that water teaches us lesson Peter too walked on water by faith keeping eyes on Jesus. SoPeter in Acts 5: 12-16 and Paul in Acts 19: 11, 12 by their hands as apostles did many signs and wonders among people. Acts 5:15-16 says sick people brought to streets on beds and couches so shadow of Peter passing by heals them. 16 There came multitudes out of cities round about to Jerusalem, bringing sick folks, and those vexed with unclean spirits so they were all healed. In Acts 19:11 God did special miracles by Paul 12 so from his body brought to sick handkerchiefs or aprons, and diseases departed from them, and evil spirits went out of them. These texts together shared mystery of God through Holy Spirit in Jesus Name in New Testament accounts. Christian church in Jerusalem used faith in God witnessed in healing miracles apostles performed including casting out of evil spirits. People from all around v. 16, too many, it was impossible for apostles to lay their hands on everyone. Peter the leader had power to heal in his person so his shadow of passing was sufficient to cure. Luke refered to healing power in his Gospel 8:43-44 about woman with flow of blood for twelve years touched fringe of His garment so flow of blood ceases at once. Lord Jesus declared "in the presence of people" she is healed of affliction touching His clothing, said, "Daughter your faith made you well go in peace." It is good to understand that the workings of God's Grace through people in Jesus Name. In Acts 19:19 Paul burnt all magic and spell books, charms, amulets because God forbids consulting mediums for advise or help. Fire cleans and purifies dross like water, salt or oil sanctifies the believer to become holy to enter GOD'S PRESENCE through BLOOD of Jesus. God uses things to set free and to maintain salvation daily.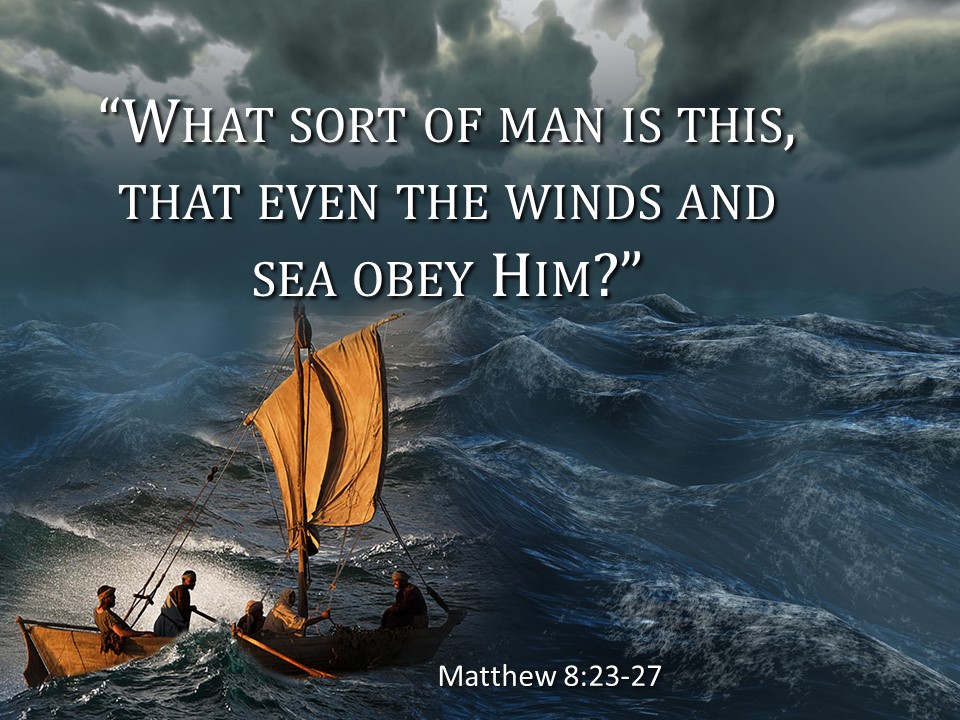 Jesus calms strong windstorm raging at sea while in the boat with the disciples. Jesus got into a boat so disciples followed him and there arose a great storm at sea so the boat swamped by waves but Jesus was asleep. They woke him, saying, "Save us, Lord; we are perishing." He said to them "Why are you afraid, you of little faith?" He rose and rebuked storm at sea and said PEACE BE STILL so there was great calm. The men marveled, said, "What sort of man is this even winds and sea obey Himsays Matthew 8:23-27. The Lord of heaven and earth will move mountains and still raging seas by faith in Jesus Name. Navigating stormwaves that rock and roll boat but through it all, Jesus keeps stopping attack of evil to try to drown God's people in lifestorms. The confidence is knowing we are not alone Jesus is with and Holy Spirit prays for us in Romans 8:26. It may feel like Jesus is not listening or not understand why prayers aren't answered but the Lord sees challenges and brings help. Trust Jesus in control in wonderful calm in the face of our storm while the storm rages knowing that the storm will pass, or the Lord will still the seas and order the winds to cease. Because lifestorms come and go so we face tomorrow because Jesus lives in us in God.
PRAYER IS MADE AFTER CLEANSING
Petitions to God, direct prayers to God grants specific requests in the Bible, Church's writings, rabbinic literature, Torah, Talmud, Today.
Invoke Holy Spirit of God Calling upon Holy Spirit of God help evoke Spirit of God in prayer to support an individual or group. If cannot pray yourselves then Holy Spirit intercedes through groaning tears.
Focus on God in Christ helps to train a person praying to focus on Almighty God by meditating on the word of God. So worthy to enter His Presence through Jesus Blood.
Divine Support Prayer to God in Jesus Name to help seek Divine support through Spirit of God.
Transforms Life by prayer to seek God to change our human nature through prayer to strengthen us to live according to the word of God.
For prayer of Intercession GOD says in Jeremiah 29:7 S

eek PEACE in city you live, pray to 

LORD

 God for city's peace is your peace… 

11 

I know the thoughts I think towards you says the

LORD

 God thoughts of peace so not of evil to give you an expected hope in the end. 

12

So call on ME, pray to ME and I will hear you. 

13

Seek and find ME, Search for ME with all your heart.

Cleans from idol contamination to sanctify to be Holy and acceptable to God Almighty. God's power over idols was shown when dagon fell and broke to pieces in presence of Ark of Covenant in the Bible after capturing it in war against Israel.
USES OF SALT FOR PRAYER IN BIBLE 
The phrase 'the salt of the earth' from Bible, in Matthew 5:13 says you are the salt of the earth: but if salt loses savour how can it salt. Excellent meaning of the salt of earth by Jesus refers to value of salt in same way believers are valued by God. Salt is used as symbol of sacred sign in ancient Israel in Numbers 18:19 and 2 Chronicles 13:5 as a salt covenant of friendship so eating salt together is sign of friendship. Penalty for violating a salt a covenant was death. Salt cleans rivers to remove the toxic bitterness to restore life referenced in Scripture in 2 Kings 2:19-22 as prophet Elijah poured the salt into Jericho's water springs. The water was detoxified and made pure once salt was released into it. Jesus refers to salt in Luke 14:34-35 about believer's impact on the earth by His teachings in the Bible. Salt is important it paid wages of Roman army so word, 'sal' + ary = salary. Salt enhances food taste and is a preservative. Salt keeps roads safe in the winter against slippery roads and to prevent chaos on roads and pedestrians falling. Salt is used in saline treatments and salt is mixed with water to hydrate body fluid level to restore health by mouth or drip in veins into body. Salt is sprinkled directly on surfaces and with prayer to consecrate property dedicated to God to restore premises invaded by the evil spirit demons. Salt is sprinkled in rooms or across threshold or in other places to invoke God's Divine protection cover. In time of Jesus salt is used to clean and to sanctify by special deliverance prayers in church. Salt is given to people before entering Catholic church for a baptism many times in a year in specific rites of cross traced on forehead, tasted blessed salt repeated often. Augustine blessed regularly with sign of Cross  seasoned with God's salt. Salt used to heal a mind drenched or weakened by stress of the world. Salt is used to bless catechumens or in the baptism of infants in church. 
Gather and consecrate salt.
Read aloud Psalm 103.
Obtain clean natural water.
Sprinkle holy salt in water
Pray over the water solution
Invoke Holy Spirit on water
Ask God and Jesus to Intervene
Use your Holy water in Jesus Name
Thank God for answer to prayer
Testify of the Goodness of God.
OIL USED TO ANOINT/PRAY IN BIBLE
Use of oil in Scripture is multi-faceted so involves anointing of priests or released to heal. God uses the rivers and the land involving elements for visual prayer in God's perspective to redeem or heal in Leviticus 25:23-24 or 2 Chronicles 7:14. Premium expensive perfume in Song of Solomon 1:12; 4:13–14 and gospels' show woman anointed Jesus in Mark 14:3; and John 12:3. Spikenard is a pure perfumery in King James Version but translations say "pure nard." Spikenard has a strong, distinctive aroma essential oil quality that clings to skin and hair so continues to give off scent perfume for a longer time. Some have the medicinal properties seethed in herbs as special ingredients used depends on a purpose for it. Mary of Bethany broke alabaster jar of spikenard in John 12:3  to wash Jesus' feet with oil as her best offering to show appreciation of her love for Him. This jar of spikenard ointment was of high value but poured it out on Him. Her extravagant gift it to show the best gift is worthy of her Lord, so she was willing to give everything as act of worship seen in Numbers 18:29. In John 12:7 Jesus told Judas the oil gift offered by her is valuable gift anointing Son of God is the Ultimate Sacrifice for world's sin in John 1:29; 2 Corinthians 5:12. Mary's act of anointing Jesus' feet is a form of worship. And anointing oil is mentioned 20 times in Scripture used in Old Testament to pour on the head of high priest and descendants. Sprinkled in tabernacle on furnishings to mark as holy and set apart to the LORD God in Exodus 25:6; Leviticus 8:30; Numbers 4:16. The special "holy, anointing oils," are strictly forbidden from reproducing for personal use in Exodus 30:32-33. The recipe for anointing oil in Exodus 30:23-24 contains myrrh, cinnamon and other natural ingredients. Anointing oil used in Mark 6:13 by the disciples is to anoint the sick and heal them. In Mark 14:3-9, Church elders anoint sick with oil for healing. In Hebrews 1:8-9 Christ lasts forever anointed by God, oil of gladness and Holy Ghost fire sent on Pentecost.
Anointing by fire in Upper Room took place on the day of Pentecost and 3000 people saved. Oil is the symbol of Holy Spirit in the Bible seen in parable of the wise and foolish virgins in Matthew 25:1-13. Christians anointed by the Holy Spirit are led into all Truth by God's Grace and Comfort so anointing from Holy One of God makes you know God's Truth in 1 John 2:20. In the Bible olive oil is used to light lamps in Leviticus 24:2; Exodus 27:20. Olive oil is used for anointing in Exodus 30:23 – 25 or part of grain offering in Leviticus 2:1–10. The kings are anointed with olive oil sign, chosen by God to rule in 1 Samuel 16:1. Olive oil is used to sanctify priests in Exodus 29:7 and tabernacle and all furnishings in Exodus 40:9. Olive oil used in cooking as trees grow in Israel in Deuteronomy 8:7–8 and people use it for butter or animal fats. So olive oil symbolize joy and health in Jeremiah 31:12; Hebrews 1:9. In time of judgment olive oil is said to fails in Joel 1:10. Modern churches are built literally like times of Jesus and have practical application using water, salt and oil to heal and deliver in Jesus Name. Believers use anointing from God through Holy Spirit, the same yesterday, today and forever in Jesus Name. Jesus and disciples ministered using water as token symbol from God accordingly to express their faith in the Name of Jesus. Depending on needs of each church the water, salt and oil is used to minister and to deliver in Jesus' Mighty Name. Thank God in Jesus Name for these gifts used by all who believe in using them today. Even if your church doesn't use these items you can still be healed in Jesus Name by prayer of faith yourself if in agreement with others a believer defeats a thousand, so two defeats ten thousand according to word of God. Prayer in private closet God answers as corporate prayer of needs in Jesus Name. It is good to understand Biblical principles to educate yourself to study to answer those who ask questions concerning the use of water, salt and oil for prayers in the church today. The Holy Spirit leads each person to use water, salt, oil as God directs them and ministers in Jesus Name. Thanks and GLORY to God, Glory, Jesus for restoring mankind's glory in forgiveness of sin and made whole.
Bible says honey is good in moderation. God told Israel their land flows with milk and honey in Exodus 3:8. God's word like honey in Proverbs 16:24 sweet to the soul and health to body. Jacob sent balm, honey, spices, myrrh, nuts to Joseph in Egypt in Genesis 43:11. Jonathan ate honey and renewed his energy In 1 Samuel 14:24-30. Honey fed people in Deuteronomy 32:13,2 Samuel 17:29, Psalm 81:16, Ezekiel 16:13,  Matthew 3:4 Proverbs 25:16. Isaiah 7:15-22 said, He will eat curds and honey so infant Jesus fed in Luke 2:52. In Luke 24:42 Jesus ate piece of broiled fish and honey-comb as He appeared to disciples after resurrection. 42 Jesus took the piece of broiled fish 43 and ate it in front of them. John the baptist in Matthew 3:4 ate locusts and honey. God's Word is like honey sweet to the soul like a honeycomb. Honey means an abundance, prosperity luxury delicacy in the Promised Land. God's abundantly provides for HIS people. Honey in Bible is joy, good health, pleasant words like honeycomb. John ate little scroll sour in his stomach is sweet as honey in his mouth prophesied to many peoples, all the nations, languages and kings in Revelation 10:7-11. Honey is sweet so can affect the body check label get expert advise from your doctor. If too much is eaten it can make you sick. Honey is mentioned in the Bible 61 times. Honey is sweeter than sugar id everlasting so never spoils or expires if its stored correctly. 5,500-year-old honey and ncient food found by Archeologists with a remnant of 40 wine jars in an ancient wine cellar the largest and oldest wine cellar in Near East in Northern Israel built around 1,700 B.C.E. May be still drinkable it a 3,714 years storage not too long aged wine. Honey around the world found by archeologists or deep-sea divers discover ancient foods and drink buried in thousand-year-old tombs, or in shipwrecks and dug up from prehistoric settlements. Ceramic jars containing world's oldest honey the archaeologists found about 5,500 years old discovered in the tomb of a noblewoman in Georgia near Tbilisi. They say honey never expires and this honey is really old. Divers examining a 2,000-year-old shipwreck discovered in waters off coasts of Italy found 200 pots on board contains fish, grain, wine and oil. A three thousand year old honey tasted exactly sweet as a freshest one harvested. Honey is revered in ancient Egypt and recently older honey in the world was found in Egyptian tomb. The 3,000 year old honey placed in honey pots in the tomb of deceased pharoah King Tut to keep him happy on his celestial journey into afterlife. Honey Baby in jars mellified or the mummy confection medicinal created by steeping a human cadaver in honey. The concoction in Chinese sources in the Bencao Gangmu 16th-century pharmacologist Li Shizhen. Process is not body donation mellification before death. Donor stops eating food eats honey bathes in honey. Body waste secretions and sweat consist of honey. Donor's body placed in stone coffin filled with honey in a century contents turn confection heals broken limbs andailments. Burmese priests preserve chief abbots in coffins full of honey, not candy or mellified human mummy in medicine, make making brown paint in Europe until 1915. In addition to its natural use as a sweetener, honey is an anti-inflammatory, antioxidant and antibacterial agent. People use honey  to treat coughs, burns and promote chronic wound healing. Honey has more uses some people mix honey with hot water and lemon or cinnamon, ginger and black pepper for colds but check with your doctor if doing so.