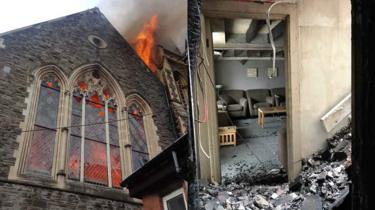 God's Consuming Spiritual Fire Power is again demonstrated in preserved prayer room saved intact despite devastating fire that destroyed the Bethel Community Church. A miracle happened at the heart of the church when God's Supernatural Fire POWER saved HIS WORDS recorded in sermons. The Bible says God puts HIS WORDS ABOVE HIMSELF so human fire did not destroy God's preserved words on tape. Even in the midst of adversity, tragedy or spiritual attacks God always comes through with a testimony of His Word. In this case literally preserving precious priceless sermons that GLORIFIED HIS Holy Name. The father of current pastor passed into heaven 18 months ago and heaven and the angels ensured God's words did not perish. The prayers of the righteous avails much as proved by the Holy Presence of God in the church. The Bethel Community Church prayer room survived unscathed in the devastating fire which tore through the church. The pastor of the fire-ravaged church said it is "quite incredible" that a prayer room survived relatively unscathed.  Worshippers speculated a "spiritual fire" protected the room, Pastor Andrew Cleverly said.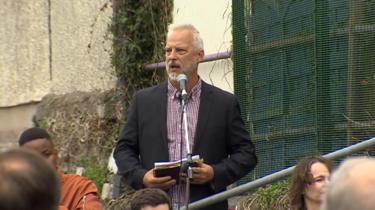 Mr Cleverly is hoping to retrieve tapes of his late father's sermons which are stored in the room. About 95 firefighters and police officers responded on 15 June but it took until the following evening to put out the blaze. A 43-year-old man and a woman, aged 36, were arrested on suspicion of arson released pending further inquiries. An image released from inside the church shows a room and furniture within it apparently untouched by the fire. "Pastor Andrew Cleverly called for the community to "stand up and be strong" after the fire. Mr Cleverly said some of the community had "found comfort" in the belief that its use as a prayer room had shielded it from the fire.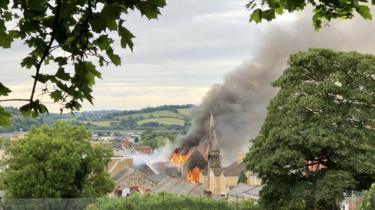 It is quite incredible really," said Mr Cleverly, who got image from engineer. "Said it was left untouched. And there was no fire door, I think it was just a wooden door. "People are taking comfort in the belief that the reason the room was still intact was because of Spiritual Fire which the ordinary fire could not penetrate.Bethel Community Church dates back to the 1880s. Mr Cleverly's father was the former church pastor who passed away 18 months ago said the room was used to store audio tape recording of father's sermons. "When it is safe to do so, will to try and retrieve them," he said. And a special service will take place nearby at Havelock Street Presbyterian Church from 15:00 BST on Sunday. "It will be a special time of reflection and a time to come together," added Mr Cleverly. "I would like to thank the Havelock Street Presbyterian church which has very, very generously offered us a space for worship."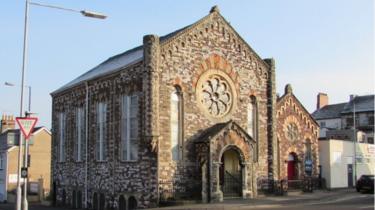 The Pastor has thanked Havelock Street Presbyterian Church for offering his congregation a place to worship. He also thanked the community and the local businesses for supporting the church. "Sometimes it takes something like this that shows how a community comes together," he added. The 130-year Grade-II listed Bethel Community Church on Stow Hill in Newport was destroyed after a fire spread from an old nightclub next door. The significance of this true story is at times tragedy destroys physical structures and the material possessions but God helps to strengthen faith and the Spirit of God in believers encourages us to continue by faith because it is well with our soul in Christ Jesus Name. Material things and structures can be replaced but the Spirit of God in mankind is irreplaceable for eternal salvation.