Jesus preached a social gospel typically to diverse audience of religious leaders, governors, media, officials, the masses, to reach their heart, mind, body, soul to relate with others on Godly terms. This theme King put in historical context as part of social justice to bring awareness to each other. Especially with regard to God's superabundant human resources provided and entrusted to all as stewards. Reverend King, the prophet, theologian, scholar, preacher, pastor dwelt on these social gospel themes analysing society's lifelong struggles for economic justice, empowerment of the poor working-class people of all colours. King described himself as "profound advocate of social gospel" who tried to teach the capitalist system not to put profit, property rights ahead of basic human rights demanded people have adequate food, education, housing, decent job, well paid income. His more revolutionary quest for social justice, society above racist poverty, prevention of war not celebrated as his peaceful civil rights movement. Martin Luther King Jr. emphasised there is no intrinsic difference between workers. And King told American Federation of Labour and Congress of Industrial Organizations (AFL-CIO) an American important trade union in 1963, that skin colour, ethnicity must not divide those working for a living, he said. "Economic justice," King said, required land so men must not take all the basic necessities to give luxuries to the few," and "where all our gifts and resources are held not for ourselves alone but as instruments of service for the rest of humanity." Same year, King called on President J. F Kennedy to honour emancipation of African-Americans from slavery in 100 years before. King said, a new freedom agenda is necessary.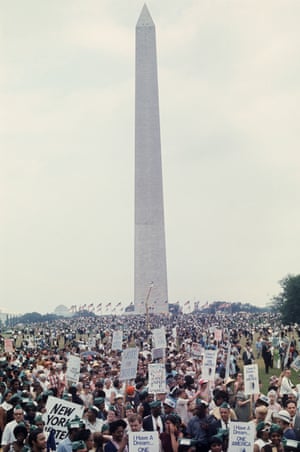 This agenda was not only about civil rights so 28 August demonstration culminated in King's "I Have a Dream" speech publicized 4th April Washington for Job Freedom. It was result of many years of organizing by black workers and their unions. In his speech, King said nations gave former slaves a "bad check" promise of freedom that did not materialize. And generations later, his dream is for equal rights for substantive change in people's economic and social conditions. Though country's adoption of Civil Rights Act and Voting Rights Act completed "first phase" of freedom movement King said. The "second phase" was for "economic equality" so everyone could have a well-paying job or basic level of income with decent levels of healthcare, education and housing. In October 1966, 100,000 copies of the booklet A Freedom Budget for All Americans, with introduction by King distributed by unions. Freedom Budget proposed a second New Deal to promote job growth of living wages for public spending on social goods. After 50 years since Martin Luther's demand for equal human rights for all people, it is sad go say things have gotten worse. Although it is true that great strides are achieved since 50 years, some of these issues got worse for working classes. So many are suffering although they built the country and their labour, resourses or blood sacrificed as veterans to fight and defend country they do not receive the due entitlement. As a matter of fact society has shifted from human centred needs of Marlow's hierarchy to selfish few depriving the majority. The divide of haves and have nots intensified and so many thousands now homeless and without food daily. It is scandalous tons of perfectly good food, clothes, items are thrown away instead of giving it to poor starving and dying daily. Government issued final warning to the businesses to report gender pay gap by midnight it emerged Conservative party did not plan to file its own figures until a day after the deadline. Amber Rudd, the minister for women and equalities as well as home secretary, said there was no excuse for businesses not to be transparent as deadline on Wednesday 4th approached warned them refusing to report is breaking law. 
Those with 250 or more employees had until before midnight to meet the legal requirement to report a pay gap data to government or face enforcement action by Equality Commission. 50 years after Martin Luther King's pleas for the social and economic system justice still society seems worse off. Jesus said the rich are getting richer while the poor get poorer due to greed of those in charge of God's resources misallocated. Hardworking people are poorest dealing with lack of resources, hunger, poverty inspite of challenges keep their heads up high with dignity. Those in charge label them "lazy" underclass not worth same equal treatment. Those entrusted responsible to provide equally for them hurt them by their unfair policies. The world sees more wealth and more resources than ever before limited exclusively to those few privileged at the top. They ensure all their needs and luxurious wants met but despise other's needs and refuse to provide for them. Many suffer and die needlessly because of such treatments and unfair policies. #Paymetoo women's platform seeks justice from boardrooms exclusively run by men without realistic knowledge of women and family needs. Society is still run by draconian policies that treat women as inferior weaker sex not competent as male counterparts. So refuse to recognise great talents and the achievements of women globally in all spheres of life. Some men literally think paying women well diminishes power over them use pay gap to bully women. Interesting colleagues trained by same experts, graduates of same universities, employed by same company refuse to pay them equally because is male and other female. Gender is used to punish career women working twice to run the home, family and gender discrimination at work. 21st Century women in space contribute to all aspects of life. Behind every successful man is a woman and men need women's input so pay well. It is important macho policies recognise a need to provide to help working-class children's life chances and wellbeing as they are introducing policies actively to make their lives worse. Look at anti-welfare measures like cutting "in-work" benefits freezing housing and children's benefits. So education system scrapped education maintenance grants, stripped school budgets so teachers are unable to afford paper for their pupils. Closure of local youth clubs and children's centres as research from Barnardo's this week finds funding to early-years children's services has been cut by 50% in some areas since 2010. Families now choose between eating and buying medicines. 
People gather at the end of Poor People March on 19 June 1968 in Washington DC. Photograph: Arnold Sachs/AFP/Getty Images Before travelling to Memphis in 1968 to participate in garbage-workers' strike King had been criss-crossing the country for weeks, promoting a multi-racial coalition to pressure Congress to reallocate money from Vietnam war to money for human needs. King called it Poor People's Campaign so promoted an economic bill of rights for all Americans including five pillars of meaningful jobs at a living wage; a secure and adequate income; access to land; access to capital, for poor people, minorities; ability for ordinary people to play truly significant role in government. It was, King said, a "last ditch" effort to save America from the interrelated evils of racism, poverty and war. Historians constantly search for and reshape knowledge of the past, based on challenges faced in their own times. Public awareness focus on King's "first phase" of the movement, for civil voting, rights, a plethora of scholarship sees King as inconvenient hero who led a movement beyond civil rights to more fundamental economic or social change.
Everything decent and fair in American life is under threat, King said in his time so all must do well to remember a fight for economic justice as King's dream for better encompassing American society. Remembering King's economic justice, broadly conceived helps understand the relevance of his legacy today. It helps us to realize King's moral discourse of the gap between "haves and the have-nots" from his role in labour movement and civil rights movements. Remembering eloquent man in the Lincoln Memorial in 1963, remembers King as man on the streets, sitting in jail cells, or as a man rousing workers at union conventions and on union picket lines. Remembered as nonviolent surrounded by a violent police, screaming mobs, and physically assaulted by white racists sometimes. It is essential all nations remember King's crusade seeking justice and fairness for all alternatives to America's exploitative racial capitalism. King is remembered as a pioneer helping to understand the agenda for modern times. Exploitative capitalism will come to an end as Bible warns in the book of Revelations.
Adapted from To the Promised Land: Martin Luther King and the Fight for Economic Justice by Michael K Honey. Copyright © 2018 by Michael K Honey. With permission of the publisher, WW Norton, Inc. All rights reserved