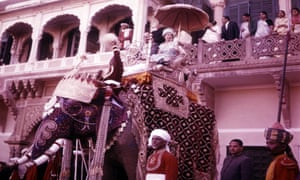 A Professor of Commonwealth institutions discusses championing of multiculturalism changes of Brexit taking place. Global affiliated countries of colonial master colonies from 1965 elected leaders after independence to be head too. Says conferred leadership by automatic birth as empire head needs to change after Brexit. But is xenophobic antimmigration actions of a few racists justify complete separation of longterm friendships? Equinsentially intergenerational commonwealth of the nations is being put to the test. People query the
Commonwealth post-colonial club of nations complicated relationship to past empire. Some ask what happens when British Queen dies? With various decolonising conversations around the world, from
Rhodes Must Fall
to
Black Lives Matter,
is it time Commonwealth considers decolonising relationship to former colonial ruler Great Britain? In various decolonising conversations in the
world some ask what happens when British Queen dies? Rhodes Must Fall to Black Lives Matter Can Commonwealth consider decolonising its relationship to the former colonial ruler Great Britain? Commonwealth members question the privilege leadership colonial institution.
The head of Commonwealth
is inherited by crown officially so
no single country head. Commonwealth headquarters in London is history quirky empire routed rationale of convenient geography. The Commonwealth's power flows through London conferred by monarch into the former colonies. Maintains old centre periphery dynamics of empire. Queen is head of Commonwealth complements power associated with the monarchy?
Commonwealth of Nations is a group of countries. Originally, called the British. Commonwealth of Nations founded in 1926 when the British Empire began to. break-up. There 53 member countries of the Commonwealth of Nations, all except Mozambique were part of the British Empire. Changes have taken over the years in terms Commonwealth relations. There is a joke that wealth is common if it belongs to colonial nations as natural resources Western countries need to survive. The West depends on a Commonwealth for resources but are the colonial nations prospering as much as colonial master from negotiations?
Perhaps strong association with crown made sense in the early years, when the Commonwealth's goal of bridging the economic gap between "developed" and "developing" countries as the coloniser and colonised was envisioned through north-south flows. But is this the case? The world is a more complicated place than the Commonwealth secretariat's establishment in 1965. Global economy flows through several centres, including emerging economic powers members of Commonwealth India and South Africa.
Commonwealth of Nations is a group of countries. Originally, called the British. Commonwealth of Nations founded in 1926 when the British Empire began to. The symbolic relationships of old is said not suit the postcolonial world so people seeking alternatives. So real question is if commonwealth countries completely depend on West economic development codependent relationship seems to need each other more. The natural resources flow from postcolonial regions into the Western world, processed and sold back indispensable manufactured goods is so crucial. These includes food, medicine, services, computers among the modern gadget lifestyles of postcolonial nations. Like Brexit itself, sentimental feelings of relative deprivation causes people often to feel sense of injustice by association. It becomes strong obsession to detach to achieve more individualist nationalist goals. Cooperation among nations cited as hinderance to good success so this is reinforced until people take action vote to leave. Only to realise politics is much more deeper than anticipated without really fully understanding implications in advance until it is then too late.
Refusal to contribute millions requested into EU triggered Brexit but departure equally demands payment. So question is, contributing to protect international interest abroad by union members as a united front better than paying without same privileges a new reality unforseen in advance. This complex set of Brexit is new grounds being negotiated through trade deals with individual nations is part of the consequences of Brexit. The point is before powerful leaders make inciteful statements without properly researching or doing homework first nation's suffer. Lack of understanding of real issues of basic necessities: food, water, medicines hits the postcolonised nations most. Often its innocent women and children who bear brunt of macho policies flexing muscles to prove point. Is there any perfect alternative possible to counteract these feelings some want to impose on all? Living history repeats itself with 70 years of relentless wars of past still lingering today dealt with?
Peaceful friendships seem a better choice options than the bitter vitriol of hatred sewn by the few. Ignorance is bliss so some who demand changes lack knowledge of the past histories and consequence's effects on such nations. It sounds progressive to be rid of colonial times of servitude of codependence but alternatives worse divisive seeds. The truth is all nations on earth need each so must learn to be able to listen and Value differences God created for HIS GLORY. The former Canadian prime minister Lester Pearson remarked  the Commonwealth has gone from having an emperor to a king to a head. Despite upheaval of decolonisation, there is still no diversity in who serves as head. The organisation's diversity is represented by position of secretary-general, which provides the real leadership on a world stage. Shridath Ramphal of Guyana, the longest serve Commonwealth secretary general (1975-1990), championed the Commonwealth as a family of nations that fostered a common humanity.
And the international aspiration of the Commonwealth said "the supremacy of community over otherness the negation of dominion and racism." That sounds nice, but possibly not terribly truthful. Ramphal embraced the Commonwealth as represented values based on equality and anti-racism, while downplaying the inherent contradiction. Commonwealth exploitation, violence, deeply ingrained racism that made its existence possible. Commonwealth members risk making the same mistake if they fail to seize this opportunity to infuse institution with a new leadership structure. Is the United Kingdom by extension the British crown capable of moral leadership required to fulfil this role? Can monarchy reinvent itself facing past or current exploitation of its former colonies? The Brexit vote revealed Britain's nationalist isolationist position world affairs. Leave sentiment campaign fuelled by xenophobia racism against immigrant colonial nations.
Politicians campaigning for Brexit did so with imperial nostalgia mixed with the white man's burden; the alternative they proposed went back to Britain as a special status in the Commonwealth as first among equals. Is this questionable foundation so Britain cannot be trusted to champion internationalism and fair multiculturalism? Cameroon's struggles are these relics of British colonialism as Eliza Anyangwe wrote in the Guardian. Is this is an opportunity to reconsider a democratic approach to Commonwealth leadership. And to use it to refresh these organisations to make it relevant to the majority of its members. Electing titular head from outside Britain's royal family would increase the international spirit of this "family" of nations. But can there be a Commonwealth without Britain as head a Commonwealth without Britain?
In fact why not rethink the structures of the Commonwealth altogether? Perhaps the head of the Commonwealth could be a title auctioned off? There are plenty of oligarchs in London who will be willing to pay for privilege and money brought in from such auction could be invested in a fund for reparations. That would be no less fair than simply conferring the title by dint of birth. However history shows where monarchy is destroyed it is tyrants who take over so worse than before. Power shifts into hands of the vying groups and military hunts who makes things for citizens but enrich themselves in offshore foreign accounts
Deprive the people, enrich their cronies and their families while their people suffer. Royalty is stable with potential to unite people if the excesses does not deprives hospitals, schools or essential lifeline services. This means ensure fair share of resources. People are literally dying in many countries due starvation while watching leaders flaunting wealth in their faces and give them relentless speeches about life. The Commonwealth citizens are under economic colonialism struggling to pay IMF loans borrowed from the colonial masters. Postcolonial masters ensure a firm grip on resources stunts growth of past colonised nations. Described as "institutionally racist" what would Jesus say about this?
Reblogged Original Article: Nalini Mohabir
Nalini Mohabir is assistant professor of postcolonial geographies at Concordia University, Montreal