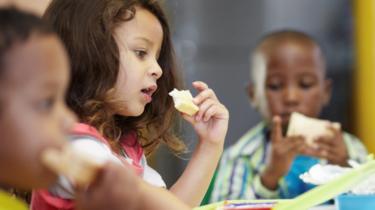 'Free nursery places' cost so much that parents pay high fees for 'free nursery scheme.' The impression is created that free nusery places are guaranteed to all parents to free their time to get back to work. As if raising children 24/hours a day 365 days a year is not already full time work. With pressure to abandon children to work elsewhere or lose the benefits for rent, food, warmth, clothes and shoes, families are stressed beyond limit. So parents must 'work' elsewhere to qualify for consideration for nursery places for children. And these complex arrangement must tie in with working hours and school times. During holidays parents must find childminders to go to work. Those who want to raise children fulltime first before working cannot do so because it's compulsory so cannot be negotiated. This system is damaging the needs of children in early years because they have stressed parents too tired to nurture or teach them in some cases. So have no choice but to take loans go pay nursery fees getting into unnecessary debts. Parents are blamed and punished for daring to have children yet society needs to multiply to replenish earth. So many people in the Bachelor's village in China because of such punitive policies that controls families.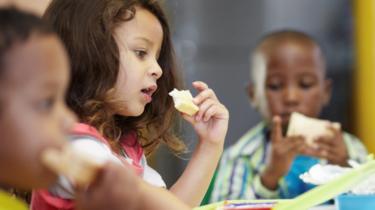 Many nurseries now charge for meals and snacks. Parents are subsidising a new flagship "free" nursery scheme for three- and four-year-olds in England from  own pockets, a survey suggests. So nurseries making up losses by upping fees for younger children and charging for meals and nappies, a survey of 1,662 providers suggests. The survey, by the Pre-School Learning Alliance, suggests only a third are delivering the hours totally free. The government says it is investing £6bn in childcare by 2020. It added charges to parents on the scheme must be voluntary. The poll of nurseries pre-schools or childminders carried out since the 30-hour free childcare scheme came into effect in September shows the challenges facing families. In families both parents are working more than 16 hours a week, earning under £100,000 each, qualify for the scheme. It expands the number of free hours childcare for this age group from 15 a week.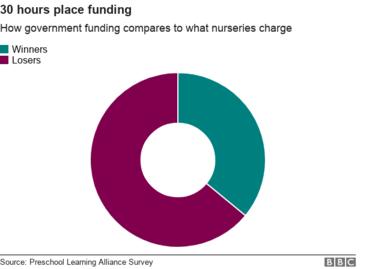 'Nursery Making losses'
Nurseries and pre-schools warned they will struggle to make ends meet because the hourly rates they are receiving from the government are too low. Nurseries and pre-schools with cross-subsidising previous entitlement of 15 hours a week with fees from non-government funded children dont make ends meet. Survey conducted online by alliance members, over a third said they making up losses by upping fees for younger children. So charges for items meals and nappies are made as third of settings responded.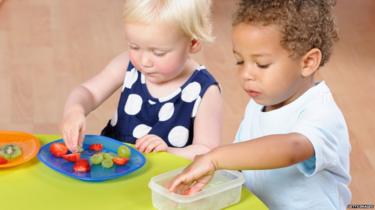 Some nurseries make ends meet by the charging of more for younger children. Most said hourly rates received from the government were below what they charged parents not on the scheme and failed to cover costs. A fifth thought they may not be financially sustainable by next year so some alteady closed down. A nursery told alliance: "Funding rate not increased for seventh year, coupled with the cost of the increased pension contributions and increase in living wage and minimum wage, seriously concerned about our future survival." More than three-quarters (some 77%) said if the funding stayed the same next year, it would have a negative impact on the business 44% described negative impact as "significant." Other providers said: "It is not financially sustainable. If the funding rate does not increase, the only way we can still offer the places is by charging for extras, [in other words] charging for the gap in underfunding."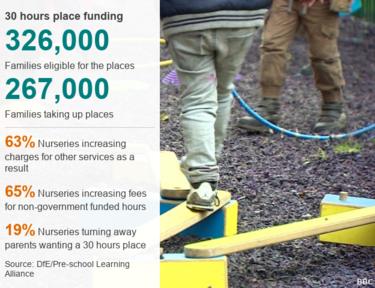 'Funding crisis'
Chief executive of Pre-School Learning Alliance Neil Leitch said: "It's clear from these findings that the government's flagship childcare policy is failing both providers and parents. "Respondents have laid out in black and white that the 30 hours policy is simply not working, with a continued lack of adequate funding leaving many with no option but to pass the funding shortfall on to parents. "This left parents to pay price for government underfunding through often unexpected charges for things like nappies, food and trips but government continues to claim that it's delivering on its promise of 'free' childcare." He said since policy announced, the childcare sector had repeatedly said the scheme would not be sustainable in long term. "Thousands of parents and providers have now joined Fair Future Funding campaign to demonstrate concerns. So "The government has more than enough evidence of a childcare funding crisis as familes suffer so here it is." He added if ministers did not want to leave parents picking up tab or more nursery closures they need to increase funding urgently. The National Day Nurseries Association chief executive Purnima Tanuku said: "These are extremely worrying findings and sadly echo our own research over the last year. "The government needs to be honest with providers and parents 30 hours childcare is not 'free.' There is significant shortfall between the official government funding rates and cost to nurseries for childcare." A Department for Education spokesperson said: "We are investing record amount of around £6 billion every year by 2020 childcare will double 'free childcare' to working parents to 30 hours a week, saving up to £5,000 a year per child. "Providers can "choose" to offer 30 hours and pattern of days and hours offered parents. We have always been clear the government funding is not intended to cover costs of meals or additional services. "However, while providers can charge parents for additional extras this is not condition of the child's place."
Reblogged and Updated
By Hannah RichardsonBBC News education and social affairs reporter