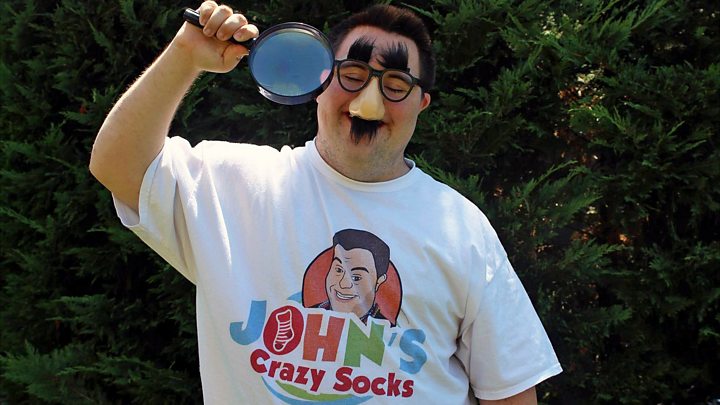 A million dollar sock entrepreneur with Down's syndrome makes fun socks sold globally says Joshua Cheetham Business reporter, BBC News. The socks, 'let me be me' and "Pull up your socks" isn't just a phrase to John Cronin. It is the key to his entrepreneurial success. In 2016, the 21-year-old told his dad, Mark, he wants them to start a business after graduated from high school but wasn't sure what kind. "My first suggestion was a fun store, but we didn't know what to sell," says John, a native of New York's Long Island. Next he considered a food truck, but there was one problem: "We really can't cook!" jokes Mark. Colourful socks were the passion of John. Eventually they settled on an idea."John had worn crazy and colourful socks his whole life, so it was something he loved and suggested we should sell socks," says Mark. "Socks are fun and creative and colourful, and they let me be me," says John, who has Down's syndrome.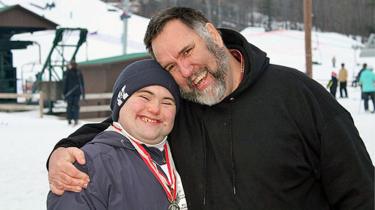 John with his father Mark and with that, John's Crazy Socks was born. A year on, they say they've made $1.4m (£1.03m) in revenue, raised $30,000 for charity, shipped socks to customers including Canada's Prime Minister Justin Trudeau and former US President, George HW Bush. 'Thank you' notes' are sent online store has around 1,400 different kinds of socks, featuring everything from cats, dogs to barbeques to Donald Trump. An order is shipped the same day with a pack of sweets and a hand-written 'thank you' note, and John will deliver them himself if you live nearby.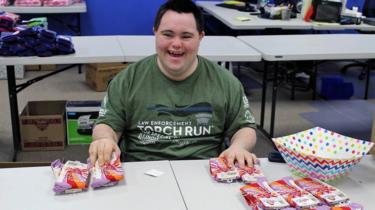 John really is an inspiration, says Mark. As the face of the business, John attends trade events, speaks with the customers, suppliers, and comes up with initiatives like, "Monday madness mystery bag" or "Sock of the month" club. Mark deals with the technical aspects of running business. "John really is an inspiration," says Mark, adding that he never gets any special treatment. "He works very hard in this business. We're usually in the office before 9am and frequently don't leave until after eight at night."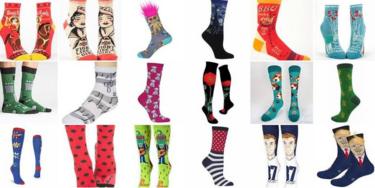 A selection of socks sold by the online store. In a year, the pair have shipped over 30,000 orders. So donates 5% of all profits to the Special Olympics, which holds sports events for the people with learning disabilities. John competes in games in sports as basketball, soccer and hockey. He designs "awareness socks" to raise money for charities including the National Down Syndrome Society and the Autism Society of America 'spreading happiness.' "We have a social mission and a retail mission, and they're indivisible," says Mark. I don't think it's enough anymore to just produce a service or produce a product. I think there has to be values attached to that, and we have a model that's showing that." "What we're doing is spreading happiness," adds John.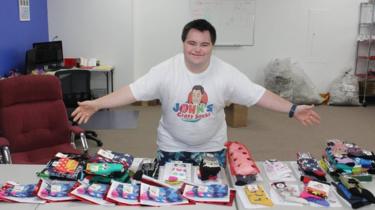 John preparing orders for delivery at his office. The company wants to get more disabled people into work, and nearly a third of staff have a disability. "We're working to show people with disabilities and learning disabilities can do things too," says Mark. "When I talk to employers I tell them it is absolutely imperative that they hire people with disabilities."Not because it's the right thing to do, not because they're nice guys, but because everybody is looking for good workers. "This vast, untapped pool of great workers are available." 'It's been a joyride. The pair say one of their biggest challenges has been keeping up with demand. In the first month, John's Crazy Socks delivered 452 orders. Three months later this rose to over 10,000 and they soon had to move into larger premises to cope with pressure. "We've been a little surprised at how fast it's grown," says Mark. The wider socks market is growing too. Globally worth more $42bn in 2016 expected to reach more than $75bn by end of 2025, said Transparency Marketing Research.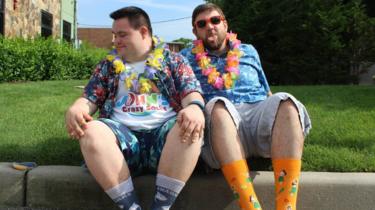 John with friend and former employee Sam. "Most of us wear some a sort of a uniform to work it might be a suit, it might be khakis and a polo shirt, it might be an orange jumpsuit," says Mark. "Yet you can wear a pair of socks and express yourself, adding some colour and flair, and you can do that for $10 or less." Their sock-success has also been boosted by increasing attention from news outlets and their growing popularity on social media. They've garnered more than 90,000 likes and over a million video views on Facebook. Mark admits it's been a learning curve. He's a Harvard graduate who's spent his career in healthcare management and law. Retail and the sock business is new to me, but we're learning and having fun, I have perfect partner," says Mark.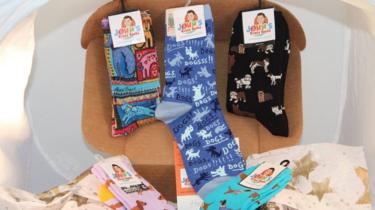 You can express yourself through your socks 'for less than $10', says Mark. We have been asked, well what do you do when you have a conflict? We really haven't had any. It's been a joyride," he continues. "We've always been very close and always spend a lot of time together. It's a very good partnership because we both share in the mission. We both know we need each other. If this was John's Serious Socks, it's not really going to be working." Giving an opportunity to others is what they are proud of so far. "It makes me happy as I like helping all the customers and I like working with my Dad," says John. "For me it's the model," adds Mark. "It's the demonstration that we can build the company based on giving opportunities be that giving back or treating people well – and that we can be successful because of that."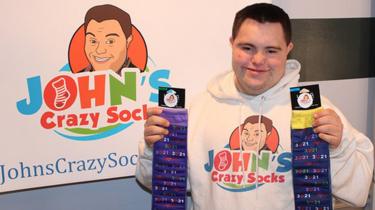 Down's syndrome never holds me back says John. Mark and John hope to build on their success and turn a profit in the second year. They'll be offering custom socks and opening a wholesale line to sell onto other small businesses. The pair also want to build a studio in their offices for "John's Crazy Socks Network" to produce more social media content. So,"Down's syndrome never holds me back," says John. This is an amazing story and inspiration to people to hope for the best and enjoy their passion to become global business success model.