Today's world of young people obsessed with using smartphones are affected as teenagers have no Frontal Cortex Brain. This generation who spent their entire childhood and adolescence with USD of computers or smartphones feel effects, including negative impacts on mental health, says author Jean Twenge. Both children and parents can cut down on endless addictive use of computers ny ceasing the plug for starters, allowing supervised use within specified times including the smartphones and TV. A whole generation defines their identity by social media damaging family life, communication or socializing life skills. Many look Dow 24/7 without any breaks so affecting their sleep and mind throughout the day into the early hours of the morning. Many sleep less than 6 hours and function on clouded fogged heads we without clarity of thought or spatial awareness to adapt in dynamic here and the now moments of life. This 'victims of technology' success cannot blame their additive cybercondriac's inadvertent lifestyle creation as addicts on computer gadgets, phones constantly monitored due to obsessive fear of their missing messages. And so people are too busy online in fear of missing messages that some put their lives at risk. Many lost lives not paying attention on the roads or when crossing traffic lights so endangered themselves and motorists. Now extreme measures are taken to endure safety on pavement light guides for 'smartphone zombies.'
Pavement lights have been installed at a pedestrian crossing in a Netherlands town to help smartphone users cross the road safely. The light strips designed to catch the eye of people looking down at their device changes colour to match traffic signals. The lure of games and social media has come "at the expense of attention to traffic", said councillor Kees Oskam. Dutch road safety group VVN said idea "rewards bad behaviour." It is not a good idea to help such mobile phone users look at their phones," said Jose de Jong of VVN, the Dutch Traffic Safety Association. We do not want such people to use phones when dealing with traffic, even when walking around. The people must always look around them, to check if cars are actually stopping at the red signals." The lights have been installed on a trial basis at one crossing, close to 3 schools in Bodegraven. The company that developed the technology says it hopes to offer the strips to other towns in the future. Similar pavement lights are being tested in German city of Augsburg to help so-called "smartphone zombies" navigate level crossings.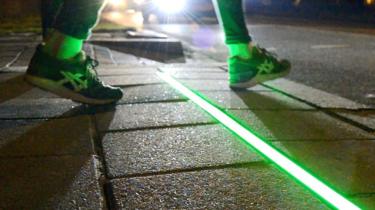 Honolulu in Hawaii has become the first city in the world to ban people from looking at their phones or other digital devices while crossing the roads. The law, passed in July in an attempt to reduce injuries and deaths that occur while people are distracted, came into force on Wednesday. First offenders will face fines of up to $15-$35 (£11-£26) while repeat offenders face fines of up to $99. Urgent calls to the emergency services are exempt from the ban.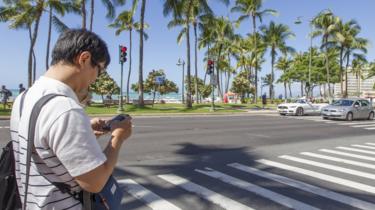 The Distracted Walking Law states that "no pedestrian shall cross a street or highway while viewing a mobile electronic device." The National Safety Council in the US added "distracted walking" to a list of injury risks in 2015, the same year a study in the Journal of Safety Studies found that hundreds of American pedestrians a year were injured while engrossed in their phones. Other countries have tried to find technological ways of dealing with the problem of "smartphone zombies", from an app that scans the area to warn phone users of oncoming traffic, to pavement lights that change colour with the traffic lights but, are in the line of sight of someone looking phone.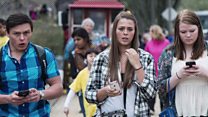 Not playing outdoor sports or engaging in any physical activities unless gadget oriented therefore impacts their health and emotional well-being. This curious evolution in technology affects lifestyle connections, collaborating, awareness, appreciation of natural environment. Is replaced by downward spiral of looking down without switching off smartphone to look up at natural beautiful world. So overwhelms human mind by too much information cluttering though process. It causes unnecessary anxiety and panic attacks seen in some people. Teenagers with diets lacking in fatty acids become anxious adults. Omega-3 deficiency is widely recognised as a major risk factor associated with such neuropsychiatric conditions as depression, schizophrenia and bipolar disorder. Existing research has consistently shown the importance of good omega-3 status during critical development periods of perinatal and adolescent life stages. According to new research imbalances in adolescence may have long term implications for emotional well-being and cognitive functions said co- lead author of study concluding: "Omega-3 PUFAs dietary deficiency during adolescence and in childhood found strong increases in anxiety and anhedonia which lead to decreases in specific cognitive functions in adulthood." Adolescence is important time in development. The structure and function of brain changes most during adolescence, meaning it is important for individuals this age to maintain healthy diet. However it tends to be time when exact opposite happens. Independence means they start making their own food choices and as a result skip nutritious options in favour of easily accessible convenience foods typically lacking in nutrients, omega-3 polyunsaturated fatty acids. Diet is critical as fact omega-3 polyunsaturated fatty acids cannot be produced by the human body and must be obtained through food. The study involved latest research conducted by a multi-institutional French research team with result published in Journal of Neuroscience.
This subject requires teens cut down sugar intake and junk food so human's genetic make-up impact of nutrients must be taught more in schools to help educate pupils and parents from the early years. It must be a general study course for knowledge and awareness throughout life. The damage caused by lack of these nutrients is irreparable so must be taken seriously. A balanced diet meal is essential especially in the early years and adolescence at which point diet requirements need omega-3 fatty acids most. Glamorous poor diet during adolescence reduces levels of nutrient in prefrontal cortex region important in regulating emotions risks, consequences nucleus accumbens primarily involved in addiction. It explains why addictive behaviour is most prevalent in teenage years. The low-quality diet weakens connections between neurons in these regions, impairing brain development and resulting in observed emotional and cognitive changes. Research result supports earlier research of long-term consequences of the poor nutrition in adolescence and importance of making sure food choices contains the nutrients essential for brain health. Breakfast is key for parents to ensure kids are well nourished in the morning and given vitamins to supplement foods eaten. To eat more fresh greens and vegetables everyday enhances brain performance.
Dr Rachel Andrew offers her advice for teens struggling with anxiety:
Seek appropriate help if you feel you need it
Remind yourself that it only forms a part of your strengths, talents and abilities
Try and practise mindfulness to stay in the moment, as your anxiety will drive you to constantly think of the future and worst case scenarios
Try to stay focused on the present and more manageable situations
Take a break on social media or at least have moments in the day where you switch alerts off
Cyberchondria" is fuelling the epidemic health anxiety of people as 1/5 NHS appointments is hypochondriacs and those with irrational fears, experts have warned. Researchers from Imperial College London said internet searching and use of fitness trackers is heaping pressures on busy hospital clinics. The Health anxiety is estimated to cost NHS more than £420 million each year in outpatient appointments alone, with millions more spent on needless tests and scans, they warned. Instead, such cases should be offered a course of counselling, psychiatrists said, following a five-year study of patients treated in five English hospitals. Researchers said the internet was feeding a "silent epidemic" of health anxiety, where harmless ailments could be mistaken for terrifying diagnoses. And they said the growth of fitness trackers was likely to increase levels of hypochondria, heaping pressures on cardiac clinics and neurology units.
Dr Helen Tyrer, a senior clinical research fellow at Imperial College London, said the anxiety was often triggered by an event, such as the patient suffering a health scare, somebody in their family getting ill or dying, or a celebrity their age dying or getting sick. The internet is fuelling unnecessary health scares as they are convinced they have or are developing a serious underlying disease, or that an existing medical problem is much more serious than it is," she said. "The belief is held despite all medical evidence to the contrary." Lead author Professor Peter Tyrer said the internet appeared to be fuelling the trend: "We suspect it is increasing in frequency because of this cyberchondria," he said. "People now go to their GPs with a whole list of things they've looked up on the internet and say 'what do you make of this?', and the poor GP, five minutes into consultation, has 4 pages of reading to do. Although,
"Dr Google is informative it does not put things in the right proportion," he said.
The study, funded by National Institute for Health Research tracked 444 patient with severe health anxiety at cardiology gastroenterology, neurology respiratory departments. Some had genuine health complaints, or had suffered from them in the past but all had abnormal levels of anxiety. Those given the cognitive behavioural therapy saw a significant drop in anxiety levels five years on with similar death rates to those given the standard NHS care counselling led to discovering life-threatening illnesses researchers found.