Image caption Amanda Wong and her daughter Naomi use the Goldman Sachs nursery. So Head into nursery into the Goldman Sachs building on London's Fleet Street and you're greeted by wall to wall marble, a bank of receptionists and a water feature in the London City. But wind your way past lifts through an anonymous fire door and you enter a world that couldn't be less corporate. The sounds, colours and laughter of a nursery. The Goldman Sachs Children's Centre is both incongruous anomaly as the only on site childcare facility in the Square Mile. Started in 2003 to offer back up provision for staff, it takes kids between the ages of three months and 12 years old. The expense or regulatory requirements for such a facility are the main reasons why it is unique – and peculiar to a bank with deep pockets. This is part of a day of BBC coverage looking at the cost of holiday childcare. Find out at bbc.co.uk/business or follow conversation on social media using the hashtag #Childcare. According to latest figures from the Chartered Institute of Personnel and Development, only 5% of businesses in the UK offer childcare in workplace. Anecdotally, this is almost exclusively made up of large employers because they have the money and space to allow for it. They include government departments, Royal Mail, a variety of universities, Microsoft and Toyota. There are tax breaks for those companies that do.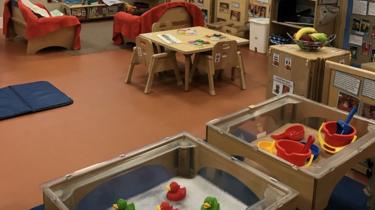 Childcare facility at the Goldman Sachs takes children from three months to 12 years old. Employers who include their childcare costs as the part of employee remuneration package, attract tax and National Insurance and obligations. But employers that offer in-workplace nurseries do not and they get relief for the day-to-day running and capital costs of providing the service, for example heating and lighting, and premises.
Flexible work
It might be seen as a perk but an onsite childcare flourished in the immediate post-war years out of necessity. A labour shortage meant women were needed to work and factories and mills started to offer the creches that allowed them to. Dr Laura Paterson of Oxford University, who specialises in history of women's employment, says childcare provision by businesses died away in the 1950s as the need for women became less acute and the way they worked changed. The. "Part-time and flexible working hours reduced need for workplace nurseries to some extent," she says, "Women who worked from the 1950s to the 70s tell us they did part-time jobs when children were young to fit around school hours. They worked in the evening so their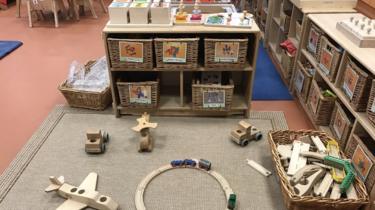 partner could care for their children. Goldman Sachs are allowed 20 days of emergency childcare a year. But what about the people working full-time at Goldman? For Amanda Wong, who project manages new trades for the firm and is a mum to 12-month-old Naomi, children's centre has been a lifesaver. Ms Wong put her daughter into nursery same day she returned to work, shortly after Naomi turned nine months. "It has made me feel a lot more relaxed and mentally ready to come back to work a lot earlier than I would have and I think it helps new mums with separation guilt or anxieties about returning to work," she says. Though she admits it is not ideal to take a one-year-old on the Tube through central London each day. Yet it makes a great difference child is within reach in vicinity giving parents peace of mind. Assured the child is in safe hands, well taken care of by employer pecks.
Ishmeet Rayit, who manages Goldman Sachs Children's Centre, tells me they have a higher staff ratio than Ofsted regulations require (one-to-two in the baby room rather than one-to-three), because they need to make children who might not be familiar with them, settle in quickly. Of the 5,500 people who work in the office, about a quarter are registered users. Each parent at the bank gets 20 free "back-up" days to use the centre, renewed each year. The most coveted facility in the centre is the after-school and holiday programme where the 5-12 year olds come. It's stuffed full of bilingual books and toys, showing just how multicultural the bank is. "The kids call it an office day," Ms Rayit says. "They get taken out for lunch by their parents and they make friends here." Parents are only allowed to book 10 days of this holiday service at a time, the room can accommodate 12, and the waiting list to get in is long.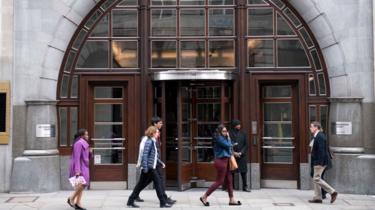 Goldman Sachs is in two old newspaper offices on London's Fleet Street. Sally Boyle, the international head of human resources at Goldman, says it is a "significant cost" to the firm – but it is worth it. We are definitely seen it have an impact on retention of a smallish group of women but important women who wouldn't have stayed I suspect if they hadn't been able to manage that childcare in a way that they can here," she says. The centre is run by Bright Horizons, largest provider of workplace nurseries in the UK. Goldman pays it a monthly management fee, and parents who need childcare beyond that paid for by the bank, deal directly with the nursery. A spokesperson for company says demand for onsite care increasing. "In today's competitive talent market, recruiting and retaining exceptional people is high priority for organisations. "On site childcare has been identified as a key factor in encouraging parents to return to work and, in turn, helping organisations to thrive".
'Chronic shortage'
But Rohan Silva, whose Second Home drop-in work spaces are planning in-house creches, says the barriers to entry today of setting up onsite childcare are enormous. "The Ofsted accreditation process takes at least three months, and costs hundreds of pounds in registration costs and consultancy fees. In addition, there are multiple additional inspections each year, plus a chronic shortage of trained staff," he says.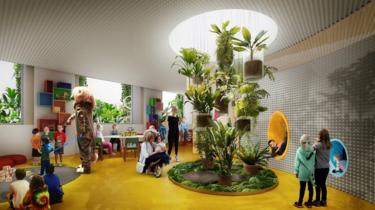 Second Home found designing its onsite creches difficultAnother challenge is the fact that so few architects and designers have ever designed childcare facilities, because so few are created by property developers. That means thinking from scratch the issues around access and child-friendly materials," Mr Silva says. He believes it's a vital way of allowing more parents to work. "The UK's rate of maternal employment is 27% lower than other Western countries making childcare more accessible will make a big difference. "This is especially true of single parents – who are much more likely to be unemployed, and for whom access to childcare is the biggest barrier to finding work" Mr Silva adds. A recent Institute of Directors survey backs this up. It found over half of its members think that the cost of childcare hurts careers – particularly those of women. It is currently consulting on whether to open a creche for its members. For now, though unlike those women working in factories after the war, the option of taking your child to work is offered at a company's largesse rather than out of compulsion. And it's reserved for a privileged few.