One in three cases of dementia could be prevented if more people looked after their brain health throughout life, according to an international study in the Lancet. It lists nine key risk factors including lack of education, hearing loss, smoking and physical inactivity. The study is being presented at the Alzheimer's Association International Conference in London. By 2050, 131 million people could be living with dementia globally. There are estimated to be 47 million people with condition at the moment.
---
9 facts of dementia risk
Mid-life hearing loss – responsible for 9% of the risk
Failing to complete secondary education – 8%
Smoking – 5%
Failing to seek early treatment for depression – 4%
Physical inactivity – 3%
Social isolation – 2%
High blood pressure – 2%
Obesity – 1%
Type 2 diabetes – 1%
These risk factors – which are thought to be modifiable – add up to 35%. The other 65% of dementia risk is beyond the individual's control. Source: Lancet Commission on dementia prevention, intervention or care. Though dementia is diagnosed in later life, brain changes usually begin to develop years before," said lead author Prof Gill Livingston, from University College London. "Acting now will vastly improve life for people with dementia and families and, in doing so, will transform the future of society." The report, which combines the work of 24 international experts, says lifestyle factors can play a major role in increasing or reducing an individual's dementia risk. It examines the benefits of building a "cognitive reserve", which means strengthening brain's networks so it can continue to function in later life despite damage.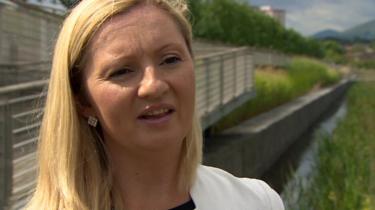 Image captionEve Laird is taking part in a study on how to prevent dementia. Eve Laird, from Dumfries, is worried about dementia because her mum is living with the condition. She decided to make some changes to her lifestyle. "I'm terrible for eating processed foods and takeaways and I've really been trying to cut back on that."I definitely drink a lot more water than I used to – and I don't drink as much coffee now. "I actually took part in the Edinburgh marathon. For that I joined the Dumfries running club – I go there once a week." She says she felt so much better for the exercise, and for improving her diet. "I felt a lot healthier and mentally sharper as well. It's something I'd really like to continue, but it is hard to stay on track." "I just think the small changes can make such a big difference."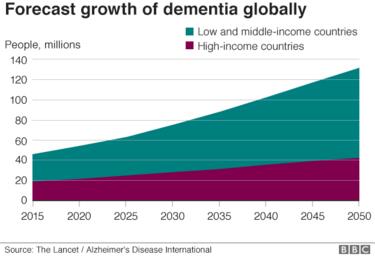 Failure to complete secondary education was a major risk factor, and the authors suggest that individuals who continue to learn throughout life are likely to build additional brain reserves. Another major risk factor is hearing loss in middle age researchers say this can deny people a cognitively rich environment and lead to social isolation and depression, which are among other modifiable risk factors for dementia. Another key message from the report is that what is good for the heart is good for the brain.
'Positive changes'
Not smoking, doing exercise, keeping a healthy weight, treating high blood pressure and diabetes can all reduce the risk of dementia and cardiovascular disease, and cancer. The researchers say they did not have enough data to include dietary factors or alcohol in their calculations but believe both could be important. Dr Doug Brown, director of research at Alzheimer's Society, said: "Though it's not inevitable, dementia is currently set to be the 21st Century's biggest killer. We all need to be aware of the risks and start making positive lifestyle changes." Dr David Reynolds, chief scientific officer at Alzheimer's Research UK, said: "Alongside prevention research, we must continue to invest in research to find a life-changing treatment for people with this devastating condition."
BOTTLED SCENT DATED IN ADVANCE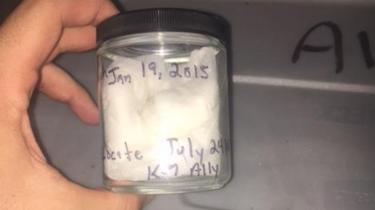 A woman with dementia who went missing in Florida was found by a police dog in a matter of minutes, because she bottled her scent in advance. The Citrus County Sheriff's Office said the woman used specialist scent preservation kit. It can hold a person's scent for up to seven years. She stored the scent two-and-a-half years ago and a picture of the jar showed it was dated January 2015. The scent preservation kits involve rubbing a pad on a person's underarm, sealing it in a sterile jar so police dogs have the reliable scent to smell before looking for a missing person. Manufacturers say they work better and more quickly than articles of clothing, because they are not contaminated by other people's smells or smells from the environment. Dogs have a stronger sense of smell than humans and working police dogs are trained to sniff out drugs, people and in some cases corpses. So in this case, the missing person was found and the dog earned a celebratory ice cream.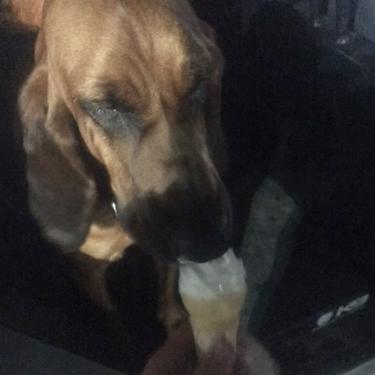 The dog, Ally, was rewarded with an ice cream after finding the woman.
LACK OF SLEEP LONG-TERM EFFECT 
Lack of sleep long-term causes parts of brain's synapses to be 'eaten' by other brain cells, according to a new study by researchers at the Marche Polytechnic University in Italy. Astrocytes are a cell in the brain that clean out worn-out cells and debris. Scientists studying the brains of mice found these cells were more active when the animals had been deprived of sleep, breaking down more of the brain's connections. "We show for the first time that portions of synapses are literally eaten by astrocytes because of sleep loss," research leader Michele Bellesi told New Scientist. That is not necessarily a bad thing, as most of the synapses affected were larger and more mature, like old pieces of furniture and probably need more attention, cleaning said Bellesi. The more worrying finding was that 'microglial' brain cells, which seek out damaged cells and debris, were also more active in brain experiencing chronic sleep deprivation. "We already know sustained microglial activation observed in Alzheimer's or other forms of neurodegeneration," Bellesi said. And previous research found chronic sleep deprivation increases so-called plaques in the brain thought to be a main cause of Alzheimer's and other dementias.
Sleeplessness and associated lack of productivity costs UK economy over £1billion a year, according to a study from Benson Beds.
UK adults lose 200,000 working days a year due to sleep issues.
66% of insomniacs cite work stress as reason for inability to sleep.
A study from the Sleep Health Foundation has found a third of adults have made a mistake at work due to tiredness.
Follow Fergus on Twitter
---
What measures are you taking to prevent dementia? Let us know about your experiences. Email haveyoursay@bbc.co.uk with your stories.
Please include a contact number if you are willing to speak to a BBC journalist. You can also contact us in the following ways:
Reblogged