In Bible in Daniel 2:1-4 the Iraqi king Nebuchanezzar had a dream of statue of gold, its breast and arms silver, its belly and thighs bronze, legs iron, feet partly iron and partly clay which troubled him. 5. The king commanded the Chaldeans to make known to him the dream and its interpretation or they will be torn limb from limb and their houses made a rubbish heap. 6" But if you declare the dream and its interpretation you will receive from me gift rewards and great honour so tell me the dream and its interpretation. 7 They answered a 2nd time and said, "let the king tell the dream to his servants 8 and we will declare the interpretation. 10 The Chaldeans answered the king and said, "There is not a man on earth who could declare the matter for the king, and no great king or ruler has ever asked anything like this of any magician, conjurer or Chaldean. 11"Moreover, the thing which the king demands is difficult and there is no one else who could declare it to the king except gods whose dwelling place is not with mortal flesh."12 Because of this the king became indignant and very furious and gave orders to destroy all the wise men of Babylon. 13 The decree went forth the wise men should be slain; and they looked for Daniel and his friends to kill them. 16 Daniel went in and requested of the king to give him time to declare the interpretation to the king. 17 Daniel went to his house and informed his friends, Hananiah, Mishael and Azariah about the matter,18 so they might request compassion from God of heaven concerning this mystery, so Daniel and his friends will not be destroyed with the rest of the wise men of Babylon. 19 So the mystery was revealed to Daniel in a night vision by God in answer to prayer.
Then Daniel blessed the God of heaven; 20 Daniel said, "Let the name of God be blessed forever and ever, For wisdom and power belong to Him. 21"It is He who changes the times and the epochs; He removes kings and establishes kings; He gives wisdom to wise men And knowledge to men of understanding. 22"It is He who reveals the profound and hidden things; He knows what is in the darkness, And the light dwells with Him.… 23"To You, O God of my fathers, I give thanks and praise, For You have given me wisdom and power; Even now You have made known to me what we requested of You, For You have made known to us the king's matter." 24 Therefore, Daniel went in to Arioch, whom the king had appointed to destroy the wise men of Babylon; he went and spoke to him as follows: "Do not destroy the wise men of Babylon! Take me into the king's presence, and I will declare the interpretation to the king." 25 Then Arioch hurriedly brought Daniel into the king's presence and spoke to him as follows: "I have found a man among the exiles from Judah who can make the interpretation known to the king!" 26 The king said to Daniel, whose name was Belteshazzar, "Are you able to make known to me the dream I have seen and its interpretation?" 27 Daniel answered and the king and said, "As for the mystery which the king inquired, neither wise men, conjurers, magicians nor diviners are able to declare it to the king. 28"However, there is a God in heaven who reveals mysteries and He has made known to King Nebuchadnezzar what will take place in the end – time. This was dream and visions in your mind in your dream. 29 O king while asleep your thoughts turned to what would take place in the future so God revealed mysteries to you of what will take place. 30 But as for me this mystery was not revealed to me for any wisdom residing in me more than other living man but for the purpose of interpretation to mankind for the future in you the king to understand thoughts of your mind.
31"You, O king, were looking and behold, there was a single great statue; that statue, which was large and of extraordinary splendour, was standing in front of you, and its appearance was awesome. 32"The head of that statue was made of fine gold, its breast and its arms of silver, its belly and its thighs of bronze, 33 its legs of iron, its feet partly of iron and partly of clay. 34"You continued looking until a stone was cut out without hands, and it struck the statue on its feet of iron and clay and crushed them…The dream was an outline of world history to come, each type of metal represents a different king and kingdom. Nebuchadnezzar was the head made from gold to endless EVERLASTING KINGDOM LIFE OF JESUS.…35" You saw the stone cut out of the mountain without hands broke in pieces the iron, brass, clay, silver, gold.Then the iron, the clay, the bronze, the silver and the gold were crushed all at the same time and became like chaff from the summer threshing floors; and the wind carried them away so that not a trace of them was found. But the stone that struck the statue became a great mountain and filled the whole earth. 36"This was the dream; now we will tell its interpretation before the king. 37"You, O king, are the king of kings, to whom the God of heaven has given the kingdom, the power, the strength and the glory;…38 and wherever the sons of men dwell, or the beasts of the field, or the birds of the sky, He has given them into your hand and has caused you to rule over them all. You are the head of gold. 39"After you there will arise another kingdom inferior to you, then another third kingdom of bronze, which will rule over all the earth. 40"Then there will be a 4th kingdom as strong as iron; inasmuch as iron crushes and shatters all things so like iron that breaks in pieces, it will crush and break all these in pieces. 41"In that you saw the feet and toes, partly of potter's clay and partly of iron, it will be a divided kingdom; but it will have in it the toughness of iron, inasmuch as you saw the iron mixed with common clay. 42"As the toes of the feet were partly of iron and partly of pottery, so some of the kingdom will be strong and part of it will be brittle. Daniel interprets the dream 43" that you saw the iron mixed with common clay, they will combine with one another in the seed of men; but they will not adhere to one another, even as iron does not combine with pottery. 44"In the days of those kings the God of heaven will set up a kingdom which will never be destroyed, and that kingdom will not be left for another people; it will crush and put an end to all these kingdoms, but it will itself endure forever.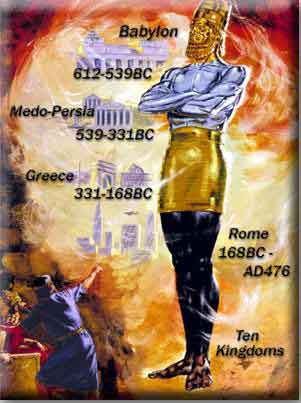 45"In as much as you saw a stone cut out of the mountain without hands crushed the iron the bronze, the clay, the silver and the gold, the great God has made known to the king what will take place in the future so dream interpretation is trustworthy. 46 Then King Nebuchadnezzar fell on his face and did homage to Daniel, and gave orders to present to him an offering and fragrant incense. 47 The king answered Daniel and said, surely your God is a God of gods and a Lord of kings and a revealer of mysteries, since you have been able to reveal this mystery. 48 The king promoted Daniel and gave him many great gifts, and he made him ruler over the whole province of Babylon and chief prefect over all the wise men of Babylon 49 Daniel made request of the king, and he appointed Shadrach, Meshach and Abednego over administration of the province of Babylon while Daniel was at the king's court. Daniel explained the stone cut out without hands, breaks image in pieces upon his feet of iron and clay. The iron, clay, brass, silver, gold, broken pieces together become chaff of the summer threshing floors so the wind carry away and no place found for them. The 10 kingdoms amalgamated into a new conglomerate confederation state so yielded their power, authority and control to absolute monarch's for 42 months Revelation 13:1-8, revelation, 17:9-17. God of heaven will take over and consume them as the stone headed by Christ smites the image and becomes a great mountain that fills the whole earth. In the days of these kings the God of heaven will set up His Kingdom which shall never be destroyed or left to other people but break in pieces and consume all these kingdoms and shall stand for ever. The Great God made known to the king what shall come to pass in the dream. So this is certain and sure interpretation referring to the glorious return of our Great God and Saviour Jesus Christ to set up Millennial Kingdom after defeat of rebellious nations. 
Turn to Revelation 19:11-16 "And I saw heaven opened, and behold a white horse; and he that sat upon him was called Faithful and True, and in righteousness he doth judge and make war. 12 His eyes were as a flame of fire, and on his head were many crowns; and he had a name written, that no man knew, but he himself. 13 And he was clothed with a vesture dipped in blood: and his name is called The Word of God. 14 And the armies which were in heaven followed him upon white horses, clothed in fine linen, white and clean. 15 And out of his mouth a sharp sword with it he should smite the nations: and he shall rule them with a rod of iron: and he treads the wine press of the fierceness and wrath of Almighty God. 16 And he has on his vesture and on his thigh a name written, KING OF KINGS, AND LORD OF LORDS." We are seeing the image of Nebuchadnezzar's dream coming to life again before our very eyes. If you are not sure you are saved, it would be a good time to trust Christ as your Saviour. I would urge you to call upon the name of the Lord and be saved. Additionally, Hosea prophesies that the two houses of Judah and Israel will eventually be re-unified in the Messianic Era under a single leader, as also foreseen by Daniel, Isaiah, Ezekiel, and Zechariah, among other prophets and writers.  (Daniel 7:13–14; Isaiah 9:6–7, 11:1–16; Ezekiel 37:25; Zechariah 14) This leader is Yeshua HaMashiach (Jesus the Messiah). "And the children of Judah and the children of Israel shall be gathered together, and they shall appoint for themselves one head.  And they shall go up from the land, for great shall be the day of Jezreel in Hosea 2:2, 1:11, 3:3–5) The City of David, Yerushalayim BECOMES THE CITY OF GOD WITH CHRIST ON EARTH.The Holy Spirit FROM God IS WITH THE beloved Jerusalem SO THE BEST IS YET TO COME!" WE have an INHERITANCE that is incorruptible, undefiled, and that does not fade away. It is reserved FROM heaven AND THEN ON EARTH for you.  You are being kept by the power of God through faith ready to be revealed in the Last Days as stated in I Peter 3:5. In Revelation 7:3-8, 12, 17, the political kingdoms of statue are 4 beasts out of the sea destroyed fighting againt God's Kingdom on earth.
The Lord Jesus Christ and His Gospel spread everywhere in the times of Constantine it was still more glorious, being further extended, and enjoying great peace, liberty, and prosperity: in the times of Popish darkness, a stop was put to the progress of it, and it was reduced into a narrow compass; at the Reformation there was a fresh breaking of it out again, and it got ground in the world: in the spiritual reign it will be restored, and much more increased, through the Gospel being preached, and churches set up everywhere; and Christ's kingdom will then be more extensive; it will be from sea to sea and from the river to the ends of the earth; it will be more peaceable and prosperous; there will be none to annoy and do hurt to the subjects of it; it will be no more subject to changes and revolutions, but will be in a firm and stable condition; it will be established upon the top of the mountains, and be more visible and glorious, which is here meant by its being "set up": especially this will be the case in the Millennium state, when Christ shall reign before his ancients gloriously and they shall reign with him; and this will never be destroyed, but shall issue in the ultimate glory; for now all enemies will be put under the feet of Christ and his church; the beast and false prophet will be no more; and Satan will be bound during this time, and cast into the lake of fire and brimstone, with all the wicked angels and men. BE encouraged stirRED up in your most holy faith. The best is yet to come because SOON AND VERY SOON THE KING OF KINGS WILL COME FOR YOU. "I saw heaven standing open and before me was a white horse whose rider is called Faithful and True. With justice He judges and makes war. His eyes are like blazing fire and on his head are many crowns. He has a name written on him no one knows but He Himself. He is dressed in a robe dipped in blood and His name is the Word of God" (Revelation 19:11-13). His kingdom shall not be left to other people like Babylonian monarchy, Medes, Persian monarchy, Grecian monarchy to the Romans; but this shall not be left to a strange people, but given to saints of the most High; see Daniel 7:27. God of heaven will set up His Kingdom Through JESUS the Rock of Salvation Stone, causes men and nations to crush, stumble, fall and break in pieces Isaiah 8:14. To persistently reject Jesus is to court judgement and left as dust. The Messiah, is the Rock cut out, but not by human hands which smashes into the nations of the world and completely obliterates them in Daniel 2:31-45. Matthew 21:44 calls to faith, an appeal to open one's eyes and see that Jesus is indeed the Son of God sent into the world. The verse is a strict warning against rejecting Jesus Christ. He is the sure for those who believe but an immovable stumbling stone for those who do not.
It it shall break in pieces and subdue all these kingdoms the Babylonian, Persian, Grecian, and Roman the 3 swallowed them up; besides, the rest of these monarchies signified by beasts in prophecy, are said still to live, though their dominion is taken away, Daniel 7:12, the same nations include denomination and whatsoever kingdoms shall exist, when this shall be set up, shall be broken to pieces,and utterly destroyed, or become subject to it. In 1 Corinthians 15:24,  it shall stand for ever throughout time in this world and to all eternity in another; it will be an everlasting kingdom interpreted by Irenaeus an ancient Christian writer in the second century, of the resurrection of the just. he said, "the great God has signified by Daniel things to come. this prophecy is confirmed by the Son Jesus Christ the stone not cut out by hands who shall destroy earthly kingdoms to bring everlasting Kingdom of Eternal Peace. The resurrection of the just in God of heaven shall raise up a kingdom which shall never be destroyed;" So it is perfectly true, none of the wise men could do undertake recall and meaning of the dream." There threats of the king was averted implied by the king, who demanded men do what they could not do. They declared only gods could reveal it to the king as Daniel confirmed. Only God is Sovereign  and has omnipotent authority to work among nations to bring out God's original program of restoring mankind to himself. Jesus will come back so we must continue to be busy with His work to deliver the Gospel, help, feed poor in community. The needs are great  so support Jerusalem, pray and bless God's Chosen People. The Creator God is The One who can do that for us, and make known that to us, which none on earth can, particularly the work of redemption, and the secret designs of God's love to us therein. Daniel confirmed to the king the dream was of great consequence relating to the affairs and changes of this world. Let those whom God has highly favoured and honoured, lay aside all opinion of their own wisdom and worthiness, that the Lord alone may be praised for the good they have and do.