Eunice and Ivy are Christian believer sisters who grew up on the other of a university fence. Eunice used to sell fabrics and textiles in her stall in the market shopping centre. Then she was advised to change her job due to a change in circumstances. Soon Eunice started selling tomato on a tray in front of university student halls of accommodation to university students for a few years. Afterwards, she was approached by the university to supply tomatoes due to the good quality of her tomatoes to the university cafeteria. God blessed Eunice from selling a few baskets of tomato daily to sell tons of crates and truck loads of tomato to the cafeteria, restaurants and other catering departments of the University.
So Eunice was able to successfully transition to selling tomatoes to increase her stock supply as business entrepreneur woman. She travels to  buy tomato from farmers who supply her with the best quality tomatoes produced. However, although she lived right behind the university with modern facilities including piped clean drinking water, she had to use polluted water from the river. Eunice and Ivy had no direct access to water from the university. This is because of demand pressures of water use due to size of the university population. Ivy and Eunice had to walk for 6 miles through the campus to a generous person's private home to fetch much needed clean water.
Carrying containers on their heads they waded through a local river knee-deep with water on their heads towards home. Then they saw in the distance flashing sky lights with stars booming with music denoting an event and a celebration. They inquired and found out it was a Gospel Revue. So they went home and changed into an appropriate dress to suit the occasion. During a break at the Gospel festival, Eunice and Ivy talked to people who told them of help available from local water developments projects in vicinity.
After much deliberation, Eunice and Ivy it was important to take action to do something about the water problem. Desperate times call for drastic solution measures. Eunice and Ivy decided to dig a well in the village. Although it cost a lot of money to hire the digging equipment, they chose to do so. So used their savings and investments to provide clean water in the village. The public standing water pipes provided by Eunice and Ivy's generosity and kindness are similar to these ones seen here. So most people are not privileged with indoor running water taps in the privacy of their homes. So walk to fetch water daily.
Being faithful in business brought good prospects to improve the lot of Eunice and Ivy by the grace of God. Through blessings received, Eunice and Ivy managed to improve their lot in life. By the obedience to wisdom and experience from Godly Counsel, Eunice and Ivy changed burden of carrying water to solve problem as they could within their ability. With development and growth of their business they hope to invest more in the community to create more jobs and better opportunities for all.
Their dream situation is to install a running tap water connected hot water and cold water pipe lines eventually in future as they are able. God was able to transform the lives of Eunice and Ivy to help their community to benefit from God's Favour. Eunice and Ivy now run wax fabric fashion houses and sell  catwalk displays globally in addition to their lucrative tomato contract with the university.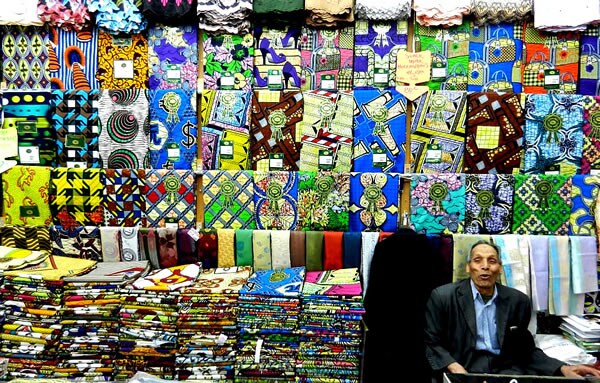 Only God Can Promote like He Promoted Eunice and Ivy because Promotion Comes from God. So whatever God calls you to do, do it with passion, devotion, humility, dedication plus goodwill and might to God's Glory in Jesus Name. Do not sit there feeling sorry for yourself for what you do not have. Look around you and inside you to recognise what you do have and can do with humility and in obedience to God's Will, plans and Purposes for your life.With God all things are possible. So trust God to bless your talents, skills and abilities to enrich you to bless others in Jesus Name. Give thanks to God and share your testimony like Eunice and Ivy did to encourage others to believe in God too.
Courtesy: Image Credit