Jesus calls the disciples to make them fishers of men. It Christ Jesus who enables and empowers to become efficient competent fishers of men. Matthew 4:19 states followers of Jesus Christ must be fishers of men like the disciples. The disciples were seasoned and experienced fishermen. While busy on the job at work, Christ called and chose them to become fishers of men.
Fishermen are extremely hard working people. Most risk lives in all kinds of extreme weather conditions to bring best catch of fish to people to enjoy. Sometimes gone for weeks or months at a time into deepest waters chasing fish best environment. Christ Jesus saw that their natural desire and sacrifices to bring the best fish qualified them to the supernatural human fishing job description.
They fitted perfectly qualities of endurance and unpredictable experiences of fishing. No two days on the sea are quite the same. With high tide, low tide, storms, avalanches, drought and risk to life. They were suitable as fishers of men yet without guarantee of best fat cat multimillion bonuses paid by Christ for their services. They had bounty days of abundance so abound yet other days of no catch so no source of income despite their hard work and efforts put in.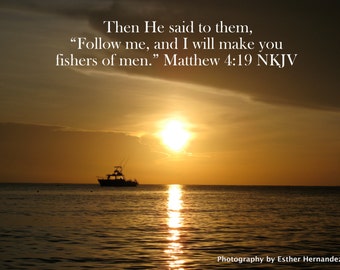 For a controversial total stranger you never met or knew passing by to turn up at your office and workplace in almost talk to you seems a no no. To have the guts and audacity to demand you drop the only reliable job you ever knew for many generations to follow Him sounds almost ridiculous and insane. But that is Christ for you which is why the establishment and its system could not figure Christ out. Jesus did not follow high horse protocol standard selection sophisticated methods for high priests.
Requiring years of Bible College Seminary training, induction, approval by executive committee board members hand picked by the CEO. They had to go through rigorous novitiate apprenticeship training on the job for qualified status. Christ chose these fishermen for the spiritual and practical knowledge and track record. Christ knew their upbringing of Jewish Torah in the synagogue and at home prepared them for knowledge and understanding of the word of God. They were responsible for upkeep of their family as responsible men so used to taking care of  family.
Many feel I do not qualify to be a fisher of men because I cannot express myself well, has no College Education,did not go to Seminary of Bible College. Some feel they do not know or understand the Bible or feel mature spiritual to talk to others about salvation. Others may feel life circumstances are not yet in order or good to declare Christ to people. In extreme cases personal problems or the past seems to deter from facing others as fishers of men. They feel not perfect enough so unable to face the name calling. 
Some too comfortable in own skin may not bother to leave luxury cosy lifestyle. To associate with people perceived not of class, kind, status, wealth. To some it cost too much to declare boldly as fishers of men. Fiery furnace suffering, persecution trial in Christ cost too much to bear, so feel uncalled to fish for men. Thinking sheer burden privilege pressure managing fish school harvest outweighs material rewards. Yet to dedicate life to be responsible for maintaining harvest of fish is a great job. To ensure fish stays fresh, preserved in right environment, temperature, stored properly is not easy task. Fish stock's regular supply available prepared dressed to serve to impress Christ and God is tough job not for faint hearted. 
The fisherman equips the fish live in fresh, clean, pure environment. So appealing aroma of fragrance of Jesus in appropriate holy, righteous garments is a commitment and long-term process. So the cycle continues throughout the fishes' lifetime under management of  the fisherman until the Master Jesus collects His fish Order. The job descriptions as described above therefore means some count the cost. By worrying about implications, some abandon ship even before it sets sail. Yet billions of people need to hear Gospel Good news for personal salvation.
Christian believer fish in the Strength of the GOD Almighty, through Power of the Authority of Christ Jesus Name as the Head of the Church. Fishers of men remain grounded and rooted in Christ as the branch of the True Vine. Secular worldly manipulation salesman tactics to get rich scum scheme will not work. Fisherman of Christ have an eternal calling beyond the material rewards of man -made get rich quick bonuses. This implies sacrifices, self denial as opposed to self serving aggrandisement, dedication, no cheering fans so accountable to God. Remuneration is excellent counted by number of souls won. 
So is not very popular with material monetary reward wages, salary, number of complementary benefit mechanisms. The Prince of Peace Christ Jesus gives Peace which Passes All Human Understanding in God's Creation in Peaceful Environments. And He said to them, "Follow Me, and I will make you fishers of men. Their ships and fishing were lent to Christ Jesus to use to preach. By following Jesus in Luke 5:1-11 the disciples caught more fish which breaks all records.

Human fishing profession is the greatest business for soul winning. Regardless of our profession or daily labour, there is need for Jesus' followers for only one true work. Simon Peter, like you and me, understands the greatest honour and thanksgiving is to win souls for God. The fishermen had spent all night fishing, and now had beached their boats, and were off to the side cleaning their nets. Most likely, they were able to harvest more than ever before. Yet with Christ on their team their fate changed.
Christ rewarded them so asked them to launch into the deep. As Christ feels and sees so meets all needs on the job. So put into action the characteristics needed to be a great fisherman, and see how they can also make you into great fishers of men so this word applies to all of us. To become a fisher of men you need to seek God's face and with the help of Christ you can in Jesus Name. With God all things are possible. When God calls He equips and provides Divine Helpers to team up with for God's Glory.
Jesus' sweet voice is calling and saying, Follow me and I will make you fishers of men. It is is important to note although we are not made all we shall be, the fields are ripe for harvest. God is sounding a call to all Christians to participate in bringing in end – time soul winning. Courses specialize in training person-to-person evangelism. Get help if willing to accept and obey Christ's Command to be fishers of men.
Courtesy, Image Credit
Adriaen Van De Venne Fishing for Souls