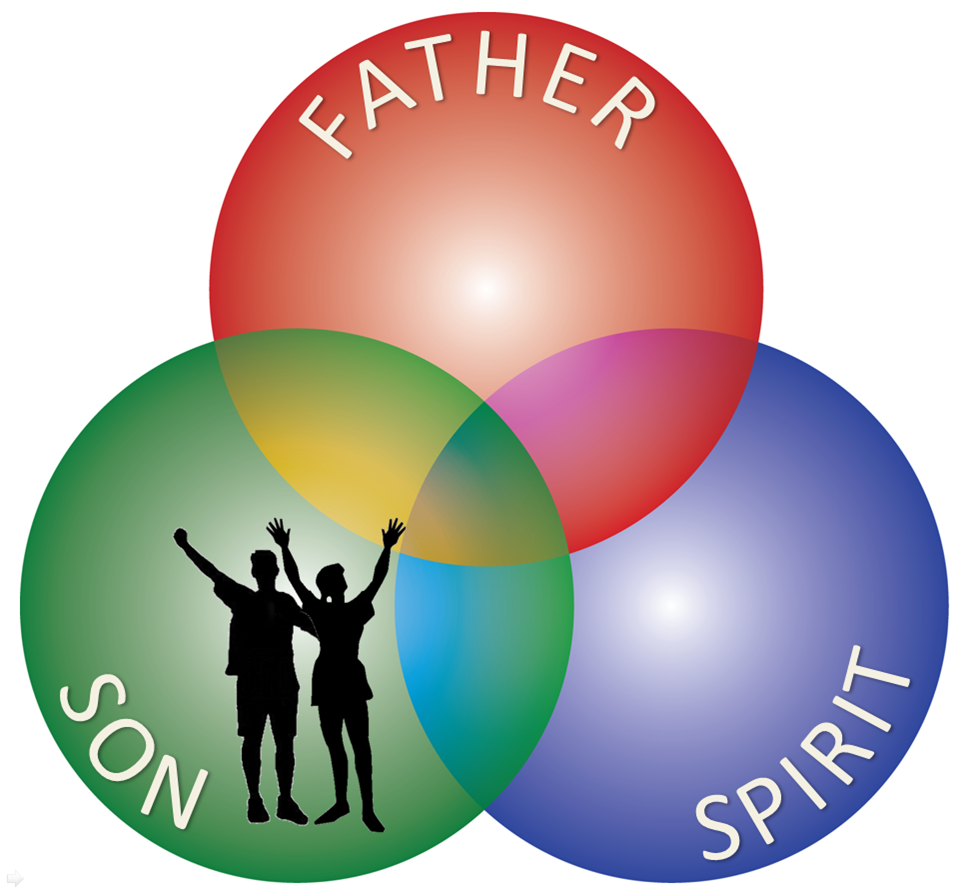 In 1 John 5: 7, GOD the Father, God Christ the Word, God Holy Spirit all 3 are One so bear record in Heaven. Biblically known Godhead in Acts 17:29, Romans 1:29, Colossians 2:9 is 1x1x1=1. Colossians 2:9 clearly states theotés deity of Christ in Bible for in Christ dwells the fullness of Godhead bodily.
The term Trinity is not in Bible but derived from Latin triune, trinitas, triad, trinus, threefold. Christians believe GOD exists in three forms, GOD the Father, God the Son and God the Holy Spirit.
In Genesis 1:26, GOD Almighty, the Godhead said to Christ His Son, and the Holy Spirit, angels, Let US make man in OUR Image so they made man in GOD'S IMAGE and GOD'S LIKENESS.
In Job 38:7, GOD, Antemortal Christ Existed in visible heaven in ancient times before creation.
In Jeremiah 1:5 Before GOD

formed

 people in womb, GOD knew us in spirit in pre-existence.
In Job 38:7 All Sons of GOD, Christ in Trinity, grand council of Heaven, daughters rejoice as Co-creator partakers of GOD'S Divine Glorious Image. So shouted, Blessed GOD for creation, celestial heavenly bodies, stars, moon, praise GOD, singing with joy for the great success of creation of life.
In Isaiah 9:6-7, For unto us a Child is God Christ in flesh is born as Son of God. So Government shall be upon His shoulders. His name shall be called Wonderful, Counsellor, The Mighty God, The everlasting Father, The Prince of Peace. Of the increase of His Government and Peace there shall be no end, upon throne of David, and upon His Kingdom, to order it, to establish it with judgement and with justice from henceforth even for ever. The zeal of the LORD of hosts will perform this.
In Isaiah 45:21 There is no GOD apart from Righteous GOD, Saviour, None But GOD ALMIGHTY.
In Matthew 3:16-17, 

Jesus was baptised, immediately he went up from the water, the heavens opened to him and He saw the Spirit of GOD descend like a dove coming to rest on Him;

 and GOD's voice from heaven said, "This is my Beloved Son, with whom I am well pleased." SO GOD ALMIGHTY CALLED CHRIST JESUS HIS BELOVED SON. 
In Matthew 28:19, Christ said, All Authority in heaven and earth is given to me, therefore go teach and make disciples of all nations, baptising them in the name of the GOD the Father, God the Son and God the Holy Spirit. Teach them to listen to observe to do as I command you as I am with you always till end of the world. Amen. Christ will Reign over all Empowered by God's Authority .
In John 1:1-3, In the beginning was the Word, and the Word was with GOD, and the Word was God. All things were made by Him; and without Him was not any thing made that was made. In Him is life for Light of men shines but darkness does not understand or comprehend it.
In John 10:30 Jesus Said, I & Father are One Dwelling Together in Spirit in 1 Accord in Unity Love.
John 14:6, Jesus  Said, I am the Way, Truth, Life, No one comes to Father GOD Except through me.
In John 14:16, Jesus said, I will ask Father to give you Holy Spirit as Helper, to be with you forever.
In Acts 4:12, Christ Jesus under heaven is HIS ONLY SAVIOUR for Christian born-again believers.

In Roman's 8:14, All led by GOD'S SPIRIT are GOD'S Sons and Daughters in Name of Christ Jesus.

In 1 Timothy 2:5 is ONE GOD, One Mediator Between GOD And Man, THE MAN JESUS CHRIST.
In 1 John 5: 7, 3 bear record in Heaven, Father GOD, God Christ Word, God Holy Spirit all 3 One.
In 1 Corinthians 2:9-16, Jesus is God in flesh on earth when baptised the Holy Spirit indwells our heart and soul. GOD the Father, Jesus His Son and The Holy Spirit are One in Spirit but roles are different. Trinity means 3 in One but GOD is Godhead and the Holy Spirit confirms Christ in us.
In 1 Corinthians 8:6, For us there is one GOD, the Father, from whom are all things and for whom we exist, and one Lord God Jesus Christ, through whom are all things and through whom we exist.
In 1 Corinthians 12:3, it is by Spirit of The LORD GOD to call Jesus Lord God through Holy Ghost.
In 2 Corinthians 13:14, Grace of Our Lord God Christ, love of GOD, fellowship of Holy Spirit is all.
In Galatians 4:6, GOD sent Christ into our hearts to know GOD by Christ bringing us to Himself.
In 1 Peter 1:1-2, GOD's elect… chosen according to foreknowledge of GOD the Father, through the sanctifying work of the Holy Spirit, for obedience to God Jesus Christ and sprinkling by His blood.
Matthew 28:19 speaks clearly of the Father, the Son, and the Holy Spirit. However, if you read this verse carefully, you will see that the Three have just one name. It says, "baptizing them into the name" (not names) "of the Father, and of the Son, and of the Holy Spirit." There are Three with one name the Triune God in the Trinity. Believers accept God by faith in Christ not by logical reasonings.Trinity was first used in 18th Century to mean Trinitarian doctrine teaching GOD exists in a form of 3 persons. The term Trinity describes a relationship of One God not three gods. GOD Almighty works is in three persons. Trinity does not mean tritheism, three beings together as GOD. The word Trinity is used in effort to define the fullness of the GODHead in terms of His unity and diversity. In John 4:23, True worshippers worship Father GOD in Jesus by the Holy Spirit. Christians believe Jesus is Eternal God as the 2nd person in Trinity, equal in nature with Father GOD and Holy Spirit. GOD. The Godhead is GOD, Christ, Holy Spirit distinct in action, yet all 3 work together as One. All 3 Unite in Spirit as One like a marriage of 2 =1. So GOD'S Divine Marriage is in Christ's the Groom's Unique Role as Head of the Church His Bride. In Divine Trinity, God, Jesus, Holy Spirit's Virtue attributes by Authority of GOD EMPOWERS to worshipped and do the works of GOD .
GOD made Moses God to Pharaoh in Exodus 7:1. Disciples reflect Christ in Spirit, actions, behaviour, so called Christians in Acts 11:26 in Antioch Pisidia in Syria. In Deuteronomy 10:17, The LORD GOD is GOD of Gods and LORD of lords, the Great, Mighty, Awesome God who does not show partiality nor take bribe. GOD executes justice for orphans and widows, shows His love for aliens giving shelter, food and clothing  Jesus said believers are Gods in Psalm 86:6 so Scripture evidence proves Triumphant doctrine of  Triune GOD, God, Holy Spirit by Power of Attorney Invested in God Christ by GOD. Christ sits on Right Hand of Father God so demonstrate understanding of Jesus as God in Biblical view. Christ is First 'Born' Royal Heir of GOD and joint Heir with believers. Families name 1st born sons, 'Junior' identical to Senior father's name. So lawful rightful owner entrusted with asset inheritance. Mystery of GOD in Christian belief has God Christ as Authorised Head of Church. ONE GOD operates in 3 persons distinct as GOD, God Christ, Holy Spirit in relationship of origin before creation. Father GOD generates Begotten Son, Holy Spirit proceeds to act on earth. Father GOD and Son God work through Holy Spirit.
The 3 are one in all, co-equal, co-eternal, co-substantial yet GOD. The work of creation and grace is a single operation by all 3 divine persons. GOD the Father, through God the Son and God Holy Spirit work with one accord, with same vision, passion, sentiment and interest. Disciples agree to love one another to dwell together in unity, as the LORD GOD to command His blessings. In Psalm 110:1, The LORD GOD said to my Lord God Christ, "Sit at my right hand, until I make your enemies your footstool." JEHOVAH, YAHWEH, ADONAI, Called Christ Lord God. Father GOD ALMIGHTY Jesus refers to Only True GOD in John 17:3 as GOD the Father in 1 Corinthians 8:6. An accurate rendering is GOD ALMIGHTY GOD empowers God Messiah as ultimate perfect representative of LORD GOD ALMIGHTY. Versions of Bible capitalize tetragrammaton YAHWEH LORD GOD ALMIGHTY as Father, The Lord God Jesus Christ in Hebrews 1:8 on GOD ALMIGHTY'S THRONE in Psalm 45:6 FOREVER and EVER. The Absolutely Omnipotent, Supreme GOD'S REIGN and SCEPTRE is Consigned to God Christ in Hebrew 1:8. GOD Confers On Christ His Son Divine Eternal Throne of Righteousness to rule GOD's KINGDOM. Christ is the Divine King of kings on GOD'S Eternal Throne through the promised seed of King David.
Some strongly believe GOD Originator of Life Authorised His Power to God as Christ Jesus Who always existed from the beginning. Jesus Christ is most definitely God, co- created Adam and Eve, the first man and woman, in GOD'S Image. GOD is Creator of universe.  Bible says, "Through Christ all things were made; without Christ nothing was made that was made in John 1:3. This includes all the stars, original animals, plants, angels in Colossians 1:15. Supremacy of GOD, is seen in The Son of GOD, in the Image of the Invisible GOD, as Christ is the First Born over all creation. Others think Trinity is like identical triplets from one cell mitosis working together equally with similar power with own unique roles
In Matthew 16:15-16, Peter said, "You are Christ, Son of the Living GOD. Jesus said Holy Spirit revealed Him to Peter.
In Mark 9:37 To receive Christ is to receive GOD.
In John 3:16 GOD loved the world He gave His only Son so all who believes in him will not perish but have eternal life.
In John 5:11:12, This is the testimony: GOD gave us eternal life in His Son. He who has the Son has life; he who does not have the Son of GOD does not have life."
In John 5:23 to honour Christ is to honour GOD.
In John 8:19;In John 14:7 To know Christ is to know GOD.
In John 12:44; John 14:1 To believe in Christ is to believe in GOD.
In 12:45; 14:9 To see Christ is to see GOD.
In John 15:23 To hate Christ is to hate GOD.
In John 10:38, Christ said, "Even if you do not believe me, believe evidence of miracles, you hear. Understand the Father is in Me and I am in the Father. Christ is God equally because GOD Chose Christ to Rule and Reign.
Revelation 19:15-16, Says out of Christ mouth goes a sharp sword, to smite the nations: to rule them with a rod of iron: and tread the wine press of the fierceness and wrath of Almighty GOD. He has on His vesture and thigh a Name written, KING OF Kings and LORD OF Lords.
In Romans 1:29, the Godhead invisible things from creation of the world are clearly seen and understood by the things made, even GOD'S Eternal power and Godhead without excuse.
In Colossians 2:9, In Christ Dwells All the Fullness of Godhead bodily as the Head of the Church.
In Acts 17:29, offsprings of God do not think of Godhead as gold, silver, stone, graven art man's device. GOD Gives Power to Christ as God to make GOD'S enemies His footstool. Some world religions describe Godhead as co-joined so try to box GOD into compartment to decide Boss, Head, In- Charge, Leader, Star, Spokesperson to try to understand Godhead. Others wonder if Christ is EQUAL TO GOD. JEHOVAH GOD X God Jesus Christ X God Holy Spirit = TRINITY. GOD is the Ultimate Source of all 3's Power. GOD calls Jesus Only Begotten Son and Christ calls God Father so implies Christ Honours and Obeys Almighty GOD above Himself. There is ONLY ONE TRUE LIVING ALMIGHTY GOD SO PRESENTS HIMSELF IN 3 FORMS AS GOD PLEASES. Christ is GOD'S HEAD OF CHURCH so GOD EMPOWERS Holy Spirit to help GUIDE and LEAD into ALL TRUTH TO COMFORT. In Isaiah 66:12-13 GOD IS COMFORTER SO permitted JESUS to send Another 2nd Comforter promised in John:14:16 on Pentecost in Acts 2:4. Notice John 14:16-17: "I will pray the Father God shall give you another Comforter, that he may abide with you for ever; the Spirit of truth." The Son prays to the Father Father would send the Spirit. Hence, the Father, the Son, and the Spirit are all present at the same time. During Jesus' Baptism, GOD'S  Holy Spirit descended as dove on Jesus with God's Voice Recorded Saying This is My Beloved Son, in whom I AM Well Pleased in the gospel of Matthew 3:13-17, Mark 1:9-11 and Luke 3:21-23. Here again all 3 the Father GOD, the Son Jesus and Holy Spirit work together as One. In Ephesians 3:14-17 Paul says that he will pray the Father to grant us to be strengthened by His Spirit in our inner man that Christ may make His home in our hearts. In this passage we have the Father, the Spirit, and Christ the Son. As a university professor emeritus in infant classroom adapts message to level of understanding, so GOD ALMIGHTY made Himself God in Christ Jesus to reveal Himself to mankind's level of understanding and maturity. Popular texts deny God- Christ due to man's misunderstanding or mistaken interpretations. GOD ALMIGHTY, God Christ and Holy Spirit may not be seen or felt always but within Christian's heart. For GOD'S Spirit gives zeal to do the works of God as God Christ did.
Christ said believers will do greater works, as they have a lifetime on earth longer than 3 years Jesus did the works of GOD. GOD's Spirit in believers empowers to do works of GOD as Members of GOD'S Family bear seal mark of GOD as His Children on earth. GOD is all things to all men according to how they perceive GOD. 2 Corinthians 13:14 says, "The grace of the Lord Jesus Christ, and the love of God, and the communion of Holy Spirit, be with you all." Here are mentioned the grace of Christ the Son, the love of God the Father, and the fellowship communion of the Holy Spirit. All Three are present at the same time. All three work together for the good of mankind to reconnect back to God to turn from wickedness. God gives many chances to repent to get a new heart as God's people to be perfect in Jesus the Greatest Fisher of men to reconcile all in peace through one heart of love to God.
| | God, the Father | God, the Son | God, the Holy Spirit |
| --- | --- | --- | --- |
| is the Creator | Genesis 1:1; 2:4; 14:19–22;Deuteronomy 32:6; Psalm 102:25;Isaiah 42:5; 45:18; Mark 13:19; 1 Corinthians 8:6; Ephesians 3:9;Hebrews 2:10; Revelation 4:11 | John 1:1–3; Colossians 1:16–17; 1 Corinthians 8:6;Hebrews 1:2; 1:8–12 | Genesis 1:2;Job 33:4;Psalm 104:30 |
| is unchanging and eternal | Psalm 90:2; Psalm 102:25–27; Isaiah 43:10; Malachi 3:6 | Micah 5:2; Colossians 1:17;Hebrews 1:8–12, 13:8;John 8:58 | Hebrews 9:14 |
| has a distinct will | Luke 22:42 | Luke 22:42 | Acts 13:2; 1 Corinthians 12:11 |
| accepts worship | Too many to list | Matthew 14:33; Hebrews 1:6 | — |
| accepts prayer | Too many to list | John 14:14; Romans 10:9–13; 2 Corinthians 12:8–9 | — |
| is the only saviour | Isaiah 43:11, 45:21; Hosea 13:4; 1 Timothy 1:1 | John 4:42; Acts 4:12, 13:23;Philippians 3:20; 2 Timothy 1:10; Titus 1:4, 2:13, 3:6; 2 Peter 1:11, 2:20, 3:18; 1 John 4:14 | John 3:5; 1 Corinthians 12:3 |
| has the power to resurrect | 1 Thessalonians 1:8–10 | John 2:19, 10:17 | Romans 8:11 |
| is called God | John 1:18, 6:27; Philippians 1:2, 2:11;Ephesians 4:6; 2 Thessalonians 1:2 | John 1:1–5, 1:14, 1:18,20:28; Colossians 2:9;Hebrews 1:8; Titus 2:13 | Acts 5:3–4; 2 Corinthians 3:15–17 |
| is called Mighty God | Isaiah 10:21; Luke 22:69 | Isaiah 9:6 | — |
| is omnipresent/everywhere | 1 Kings 8:27; Isaiah 46:10 | Matthew 28:18–20 | Psalm 139:7–10 |
| is omnipotent/has power and authority | 2 Chronicles 20:6, 25:8; Job 12:13;Romans 1:20; 1 Corinthians 6:14; Jude 1:25 | John 3:31, 3:35, 14:6,16:15; Philippians 2:9–11 | 1 Samuel 11:6; Luke 1:35 |
| is all-knowing | Psalm 139:2; Isaiah 46:10; 1 John 3:20; Acts 15:8 | John 16:3, 21:17 | 1 Corinthians 2:10–11 |
| has the fullness of God in him (not just "a part of God") | N/A | Colossians 2:9 | — |
| gives life | Genesis 1:21, 1:24, 2:7; Psalm 49:15;John 3:16, 5:21; 1 Timothy 6:13 | John 5:21, 14:6, 20:31;Romans 5:21 | 2 Corinthians 3:6; Romans 8:11 |
| loves | John 3:16; Romans 8:39; Ephesians 6:23; 1 John 4:6, 4:16 | Mark 10:21; John 15:9;Ephesians 5:25, 6:23 | Romans 15:30 |
| has ownership of believers | Psalm 24:1; John 8:47 | Romans 7:4, 8:9 | — |
| is distinct | Matthew 3:16–17, 28:19; John 17:1 | Matthew 3:16–17, 4:1,28:19; John 17:1 | 1 Samuel 19:20;Matthew 3:16–17, 4:1,28:19 |
| is judge | Genesis 18:25; Psalm 7:11, 50:6,94:1–2, 96:13, 98:9; John 8:50;Romans 2:16 | John 5:21–27; Acts 17:31;2 Corinthians 5:10; 2 Timothy 4:1 | — |
| forgives sin | Micah 7:18 | Luke 7:47–50 | — |
| claimed divinity | Exodus 20:2 | Matthew 26:63–64 | — |
| is uncreated, the First and the Last, the Beginning and the End | Isaiah 44:6 | Revelation 1:17–18, 22:13 | — |
| lives in the believer | John 14:23; 2 Corinthians 6:16; 1 John 3:24 | John 14:20–23; Galatians 2:20; Colossians 1:27 | John 14:16–17; Romans 8:11; 1 Peter 1:11 |
| has the godly title "I Am," pointing to the eternality of God | Exodus 3:14 | John 8:58 | — |
| is personal and has fellowship with other persons | 1 John 1:3 | 1 Corinthians 1:9; 1 John 1:3 | Acts 13:2; 2 Corinthians 13:14;Ephesians 4:30;Philippians 2:1 |
| makes believers holy (sanctifies them) | 1 Thessalonians 5:23 | Colossians 1:22 | 1 Peter 1:2 |
| knows the future | Isaiah 46:10; Jeremiah 29:11 | Matthew 24:1–51, 26:64;John 16:32, 18:4 | 1 Samuel 10:10, 19:20;Luke 1:67; 2 Peter 1:21 |
| is "LORD of Lords" | Deuteronomy 10:17; Psalm 136:3 | Revelation 17:14, 19:16 | — |
Courtesy image credit
Fridolin Leiber: The Holy Trinity